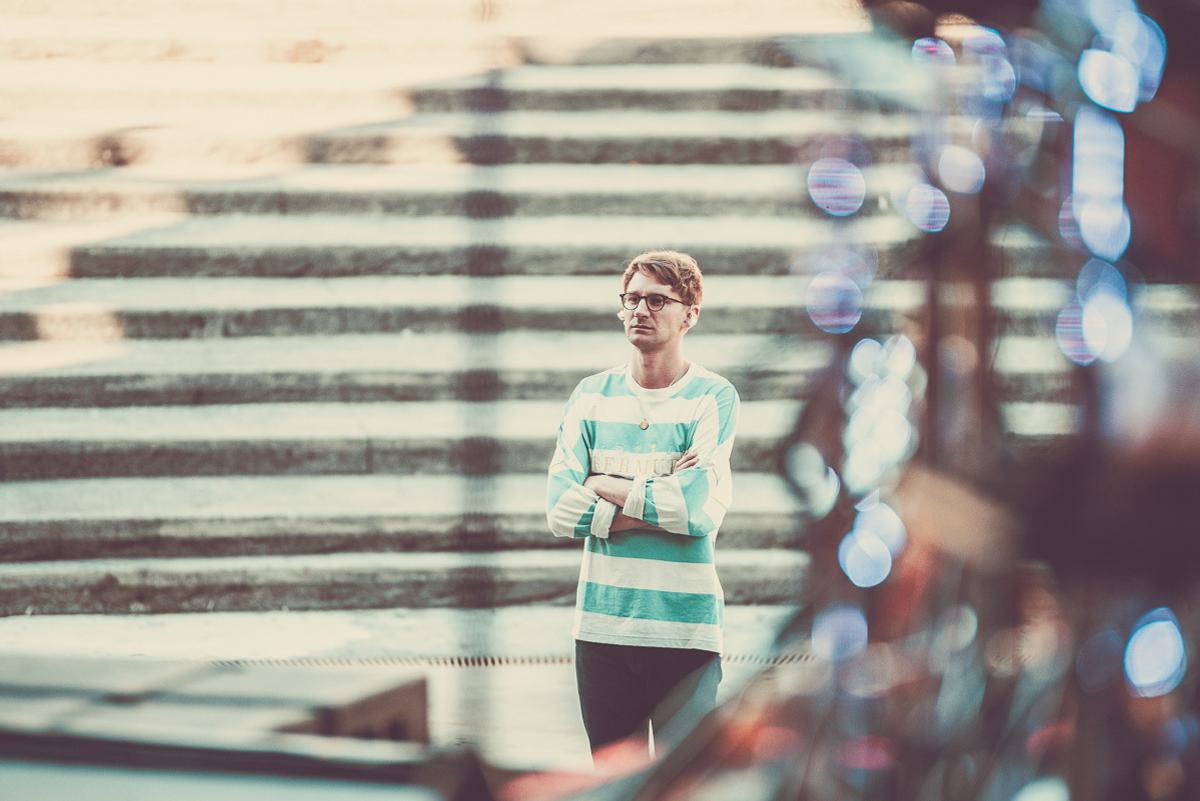 To move forward, Glass Animals had to return to their traumas
29 July 2020, 08:00
While his best friend and bandmate was fighting for his life in hospital, Dave Bayley had a long time to ponder the future of Glass Animals - dusting off his hardest memories, he chewed them up until they turned into the band's third album Dreamland.
In July 2018, Glass Animals had to cancel a tour while they were halfway through it. It's the call every artist fears making while they're on the road but that can't compare to the feeling of hearing your best friend has been hit off his bike by a lorry.
While cycling through Dublin, Joe Seaward's leg was broken on impact with the lorry and he suffered a complex skull fracture that required immediate brain surgery. Unable to move or speak, the life waiting ahead of him and the future of his band suddenly turned into a game of days rather than years.
"I had another idea for a record before this one, before Joe had the accident. But I scrapped the whole thing," Bayley tells me while locked down in his London home. He's the creative force behind Glass Animals and when he's not working on music for the Oxford four-piece he's writing for other pioneering artists like Joey Bada$$, Flume, 6lack, Wale and Khalid. While Seaward went through rehabilitation, Bayley put anything Glass Animals related to the side and focused on session writing.
Wrestling with mortality forced the whole band to come to terms with their limitations. Having only been able to speak one or two words at first, Seaward was determined to work through his rehabilitation and miraculously found himself behind a drum kit within months. Just over a year later he was on stage with the band again.
After almost writing an entire album about his infatuation with space, stepping away from the band and penning some of his most personal work for other musicians revealed a vulnerable fragment of Bayley's brain. If he was going to jump back into his tropical studio and get to work on the next iteration of Glass Animals exotic and psychedelic pop songs, he was going to have to open up to himself.
This meant revisiting childhood memories, gritting his teeth through difficult conversations again and reliving past guilt. The second Glass Animals album, How To Be A Human Being, involved a completely different approach. Made up of stories from people Bayley had met on the road, it was a recipe for success and drove their popularity both overseas and in the UK, including playing the main stage at Coachella and huge sets at festivals like Glastonbury and Primavera Sound.
With their third album, Dreamland, Bayley had to go through the hardest time of his life to be brave enough to share his songs with the world. "I feel naked," is how he describes it. As a passive listen you'll find some of the band's most visceral and moving songs yet, but hidden behind engrossing production and his signature sassy delivery are lyric sheets that retell his life.
Tackling toxic masculinity, crushing breakups, helplessness and beyond, the journey through Dreamland is both vivid and complex. It's an album that asks far more questions than it answers but Bayley's contemplative approach has helped turn Glass Animals third record into a vulnerable album Bayley hopes people can see themselves in.
BEST FIT: You guys delayed this album a few times. Was that a reaction to global lockdown or something else?
DAVE BAYLEY: That video of George Floyd. It was the most horrifying thing I've ever seen. That kind of stunned me. So I was just like, "stop. We are not releasing anything." The civil rights movement is the most important thing in the world, especially now. When you release music, you demand a little bit of people's attention. At that moment we didn't deserve it. I didn't want to talk about music. I wanted to think about the movement and what was happening and not talk about music. No single song is as important as the civil rights movement.
I guess I had a minute of being paralyzed by that and not knowing how I could ever release anything ever again. We can keep building and keep fighting for things that we believe in to answer rights movement.
A lot of artists have delayed releases to wait for tours but you're feeling ready now some time has passed?
We've kind of lost a chunk of the pie, which is touring. It's a big chunk. It's like losing a leg which we've had to replace. So that's what makes me feel uncomfortable about releasing an album now. But I think we've gotten to a point where everyone's got the same landscape in front of them and you have to find a way to replace that leg. Until then we're just trying to find new ways to interact with people in the same way that you'd interact on tour and hang out with fans.
I know you like to play songs with more energy on stage. Dreamland is probably the first album you've made that sounds like that live show.
That's cool to think. I guess it's meant to sound like that. I wanted to capture all types of energy and emotions across the record, then take those as far as I could. So there's some really heavy stuff. There's some really sad stripped back stuff. There's some really strange stuff that we've never done before too though. Things like reverse song structures and weird key or tempo changes within pieces of music - bonkers shit.
But hopefully it's subtle enough that you don't actually really notice it's happening. That's always the trick with weird shit. You have to do it in a way that people don't necessarily notice it's happening. That's what gets me off. When you hear something really fucking weird and it's on the radio. That's what excites me. It's almost like they've tricked you.
I think people are kind of embracing the popiness of pop songs and then fucking with the production behind it a lot. I love it. Sophie is a prime example of that. She is one of my favourites.
Your production sound is quite distinctive and visual. You've described your first album Zaba as a "thick rainforest". Do you feel like you're stepping outside of that space with Dreamland?
I definitely wanted it to be diverse. The idea for the album was that it goes through life from my first memory until now. And I guess I just want it to embrace the fact that life does take you through everything. It's not just joy the whole time. That would be terrible. A lot of my favourite records do that. I love In Rainbows for that exact reason. I think that's brilliantly diverse. Channel Orange is a great example too with so many different songs. Albums that put you through the full range of emotions. I think you can't really get the full punch of sadness without the happy and you can't get the full happy without the sadness.
A lot of life's best moments are juxtaposed by the worst. After Joe's accident did it feel like this was the record you had to make?
It's a rollercoaster all the time. I guess in that way, it feels like despite what's happening in the world the record has actually landed at quite a good time. Because when I was writing the record it was right after Joe's accident. The future looked really fucking bleak and I was stuck in a hospital waiting for news but there was nothing happening. So the only place to go to stop yourself going absolutely crazy with anxiety is your memory.
You start thinking about your past because there's nothing in front. All your plans have been chucked in the air and you don't know where you're going to go. I was meant to be on tour with Joe for a couple of years but no - gone. Then Joe started recovering and I started writing the album with a lot of that still floating in my head. Then Coronavirus happened and everyone's future is thrown up in the air again and there's nothing to go out and do or look forward to. I found myself back in the same headspace along with all of my friends. Kind of a similar headspace to when I was in that hospital.
"The whole record is all about looking backwards...trying to appreciate that a lot of the memories I have can take on quite a different meaning when you see them in a different light and you've lived more."
Is it fair to say going through the trauma with Joe helped prepare you for your plans to be thrown up in the air again?
Maybe. I think I'd sort of gone through it a bit and had learned how to deal with that kind of thing. I guess a lot of this album is about sort of embracing that uncertainty and embracing the fact that you don't really know how you feel or what to feel. That's when all this music writing happened. That's when the most exciting things can happen. I learned to embrace that weird limbo state. And I also realised that a lot of life is like that. When a big thing happens in life, you are just kind of floating and you're going with it and you don't necessarily know how you feel.
Do you ever think about the kind of music you'd be making if Joe hadn't had his accident or do you prefer to stay away from thoughts like that?
I didn't really think about it. I always think of concepts, so when we finished the second record I sat down and I was like, "oh, I really like space now. I'm going to make us a bunch of space tracks that sound like they're in space". I made a shitload of music that sounds like space and bought all this space age equipment. I went through a couple of other phases and finally reached a point where I wanted to write this album about happiness, but in a pessimistic way because I can never actually be happy. I had most of an album that was like that topic. Some of the skeletons of those songs made it onto this record, but really I just scraped most of it and started again. Joe's accident is definitely responsible for the direction that this album ended up taking.
The first song I wrote was "Dreamland". The title track. I remember I wrote half of it and then stopped myself. I could feel there was something in it. I had the idea for the track and I wanted each line to be a question that references a certain part of life. And then I got halfway through and told myself to finish it when everything else was done. So that was the last song I recorded as well.
The whole record is all about looking backwards. It's all about trying to appreciate that a lot of the memories I have can take on quite a different meaning when you see them in a different light and you've lived more. You start digging up weird memories and things that you never really thought you'd remember again.
Are there any particular songs you can remember discovering new things about your past life?
There's a song called "Domestic Bliss" on there. It's really dark and really sad. I remember seeing someone with bruises on their face as a kid. I didn't really know what domestic violence was. I was really young. I didn't know what was going on at all. And I guess rather than looking forwards, I've been recontextualising a lot of those memories with the rest of life that has happened.
I hadn't thought about most of the things I've thought about while making this record in a very, very long time. You put concrete over everything because you're so busy doing random shit: Taking out your trash, cleaning, doing your laundry, fixing the plumbing or making sure your mum's okay. Everyday stuff just ends up piling up on top of all those memories and you forget what happened. This record was actively trying to peel off all that stuff and look at it differently. I don't think there's any part of it that really looks forward other than just accepting the past.
There's this lyric on "Dreamland" which I was really curious about. "You've had too much of a digital love / You want everything live / You want things you can touch / Make it feel like a movie you saw in your youth." Are you talking to yourself?
There are a couple songs on the record that sort of address that people spend too much time being fucked up by the internet and you wish you could go back to a moment where that wasn't a thing at all. Back when you didn't compare yourself to everybody around you all the time and you could watch a movie from start to finish without looking at your phone and appreciate it. Not just a movie though. It's everything. I think people rarely sit down and actually do things properly.
At the same time, I love it. But there's this huge problem. Everyone ends up comparing themselves to these false versions of everyone else. Falling in love with and being jealous of airbrushed versions of life.
That's something you're tackling a bit lyrically on "Heat Waves". The note you posted on social media when you released the single talks about living life without filters too.
That happens a lot in this record in terms of me being quite open. I don't know. I try not to let myself get away with anything. I definitely felt guilty at a lot of points realising I'd done bad things. And "Heat Waves" is sort of leaning into that. I felt guilty in this particular circumstance that I couldn't fix something. You grow up being taught you're supposed to be this hero and you can do anything. Just put your mind to it and swallow your emotions. I grew up in Texas and over there if you're a boy you're meant to join the football team and be strong and cook meat and fix cars and stuff. And I was just so different to that.
I had to figure out that it's okay to feel shitty and guilty that you couldn't fix something. Actually the guilt is probably not okay, but it's okay to acknowledge that you can't do something. Everyone's been telling you your whole life, you should be able to fix everything, but it's just bollocks.
I think a lot of people are going to be looking at this album through the lens of Joe's accident. You say that's a time when you felt helpless so is that something you've considered when making these songs?
Actually no one's ever actually made that point. I haven't even thought about that, but I'm sure that is probably something to do with why I wrote that song. It never clicked in my head, but that was definitely one of the moments where you just can't do anything to help. I could help in the way that I could make him as comfortable as I could or make sure I was there when he woke up and if he wanted to listen to music. I don't know if he could hear it. You can't be that hero all the time.
What was it like showing these songs to Joe and the rest of the band?
It was quite strange. I really care what they think. Them and my family and friends. I was really nervous but I'd kind of done it before on "Agnes" with the previous record. That was definitely a bit of a catalyst. I didn't want to put that song on the last record. They did. That was the only personal thing I'd written before Dreamland and I didn't want it to see the light of day. I can't really perform it live even. The last couple of times I've tried I just haven't been able to do it and stopped. There's a lot on this album like that. Remembering that my friends were so encouraging about that track was the thing that allowed me to show them these new songs.
The other thing I noticed is while I was writing for other people, they really responded to the personal stuff. I could write quite personal songs for someone else because they're singing it so it's fine because you're one degree removed. I think when someone is vulnerable - and I kind of started to realise this about a lot of my favourite songs that other people have written - you see yourself in it and you feel less alone.
The first song that stood out to me as representing a specific moment in your life was "It's All So Incredibly Loud". The production behind it is so complicated I thought there might be a story behind that?
The song is about a moment. Just three seconds. I don't know what else there is to say. It's about saying something to someone that you know is going to destroy them and really hurt them and maybe change their life forever. I've been on both sides. I've been in the situation where I'm on the receiving end of that kind of information. It's always an out of body experience when I've done something like that. You watch yourself say it and the words come out and hit the other person. Then it's just silence while those words penetrate, but at the same time you can hear it. It's so quiet that it's incredibly loud.
There's a shit load going on in the song. It started off quite stripped. Just with the keys actually. It was just that and the vocal as the synth opened up the whole way through and got louder. Then the filter opened up and started to kind of blossom. It's like white noise almost. I thought about just leaving it like that. Then we started playing around with some stuff. Drew messed around with some strings on it, which I thought was great. Now there's a lot happening but it's all subtle. It's all very subtle but it's all building at the same time. Then there's that bit in the middle where the whole thing goes through a phaser.
Now you've put so much of yourself and your life in these songs are you nervous for people to hear it?
I feel a bit naked. I will feel naked when it's out and people are listening to it at least. It feels like as each song comes out I'm taking off another article of clothing. I always say that releasing an album is like sending your kid off to school. You've done everything you can to prepare your child. Then they head out the door and hopefully makes friends.
After your first two records found much more success in America, are you excited to release your first album in the UK as a much more well known name?
I'm happy with that. I'm glad we're able to make another record in the first place, but yeah, this feels like I'm the one who's going to school. I genuinely have that first day of school feeling where you just don't know what's going to happen. But you're going naked. The good thing is that my best friends have heard it now and my mum has heard it and our management team who I really trust. Maybe they're my underpants.
I was excited to see you've embraced the fruit imagery you've been toying with. You've got "tangerine", "melon" and "coconut" in different song titles.
It all got a bit out of hand with the pineapples on the last record. Touring became a different beast and they had to ban you bringing fruit into festivals we played. We've gone for tangerines on this record so hopefully we'll be better off this time.
It's just part of who I am. I think food gives you an amazing context. It brings back time periods. It's very nostalgic. All these sensations take you back to different points in your life. There's a song called "Space Ghosts" that mentions Hot Pockets and Dunkaroos. That song really focuses on the fact that I grew up in America. It puts me at that age again where I was eating those foods. But it doesn't stop at food and smell. I talk about other people's music quite a lot in the lyrics and that contextualises things. Quite often, if I'm talking about a TV show or a certain era of life, I'll try and remake sounds from that time.
The songs are about all different periods of life. I was thinking back to what I was listening to in different periods and trying to pull that in. So for instance, on "Incredibly Loud", during that time period I was listening to a lot of Radiohead and especially Kid A. So I was trying to pull a few things out of that book of sounds and place them in Dreamland. "Idioteque" builds into an explosion from just those bare cords. That's what makes having people like Denzel Curry on the album so special. Having someone young who is doing something so different adds so much to the record.
I thought I could hear a lot of West coast production when I heard "Tokyo Drifting". So that was intentional?
That song and "Space Ghosts" are about that age when I was listening to stuff ike Eminem. Not just West coast stuff. A lot of Dr. Dre and Snoop, but I was also listening to mainstream hip hop radio. There was a rap station in America where I was. It was stuff like Missy Elliot and Busta rhymes. Everything that Pharrell, Timbaland, and Dr. Dre produced. I loved the way those songs made me feel. I was referencing that era in the rest of the lyrics so I totally went in on the production. I asked our friend, Derek Ali to help out too. His producer name is Mixedbyali. He's Dr. Dre's protégé and he ended up mixing it. He does all the West coast stuff. I'd told myself that in a dream world it would be him. That was like the icing on the cake for that one.
I didn't mix anything by myself on Dreamland. Normally I would, but not this time. We went for all sorts. David Wrench who did the last record and Manny Marroquin who does a lot of Kanye's stuff, they both jumped on board this time around. They're geniuses.
But you did make the decision to put a few audio clips of your mum on the album. Why did you decide to do that?
Yeah. I think there's a secret one at the end of "Helium" as well. There's some other secret messages in there too. Someone's noticed one of them, which is good. I'm curious to see if anyone even gets it when it's out because some of them are buried deep.
After finishing with such a brave and personal song like "Agnes" on How To Be A Human Being, how did you end up choosing "Helium" as the curtain closer this time?
I think that might be one of my favorites in the record. It's sort of a summary. It's meant to be quite uncomfortable. Almost like a song in reverse. Actually, I did the song and then flipped the whole thing round. Initially it started with that guitar line. I'm going to take a look at the lyrics now. This is the part where I finally actually reference my mum who's been narrating the record. That was a last minute decision. It became clear that she is the thing that ties everything together. And I got all the old time movies she made and found the moments I felt explained how my life has been.
"Helium" is framing everything as a relationship and that awkwardness at the beginning of a relationship. "Will we? Won't we? What's going on? Is this right?" There's always a discomfort there isn't there? It can be awkward and fumbling and you don't really know where you stand. I realised that quite a lot of life is like that.
I don't think I'm trying to provide any answers. It's just kind of an acceptance that that's what life ultimately is. That's what the last paragraph of this song says. We build what we can on top of these really fucked up foundations that we've cobbled together. Life is such an unlikely thing. It's so mad that life even is a thing. Everything has to go right from penis to vagina to sperm to this egg that has to multiply. And then you have like eyes and shit. Then the world turns up and fucks up this amazing thing you're given. It expects you to think a certain way or behave a certain way that damages your innocence. But you have to build what you can on top of that. That fucked up foundation that you're given.
I liked doing that stuff and turning it into something more than the previous two records. But hopefully, you can listen to the album, enjoy the sounds and have a bit of a boogie. I like it when there's something underneath all that. I still feel fucking naked.
Dreamland is released on 7 August via Polydor