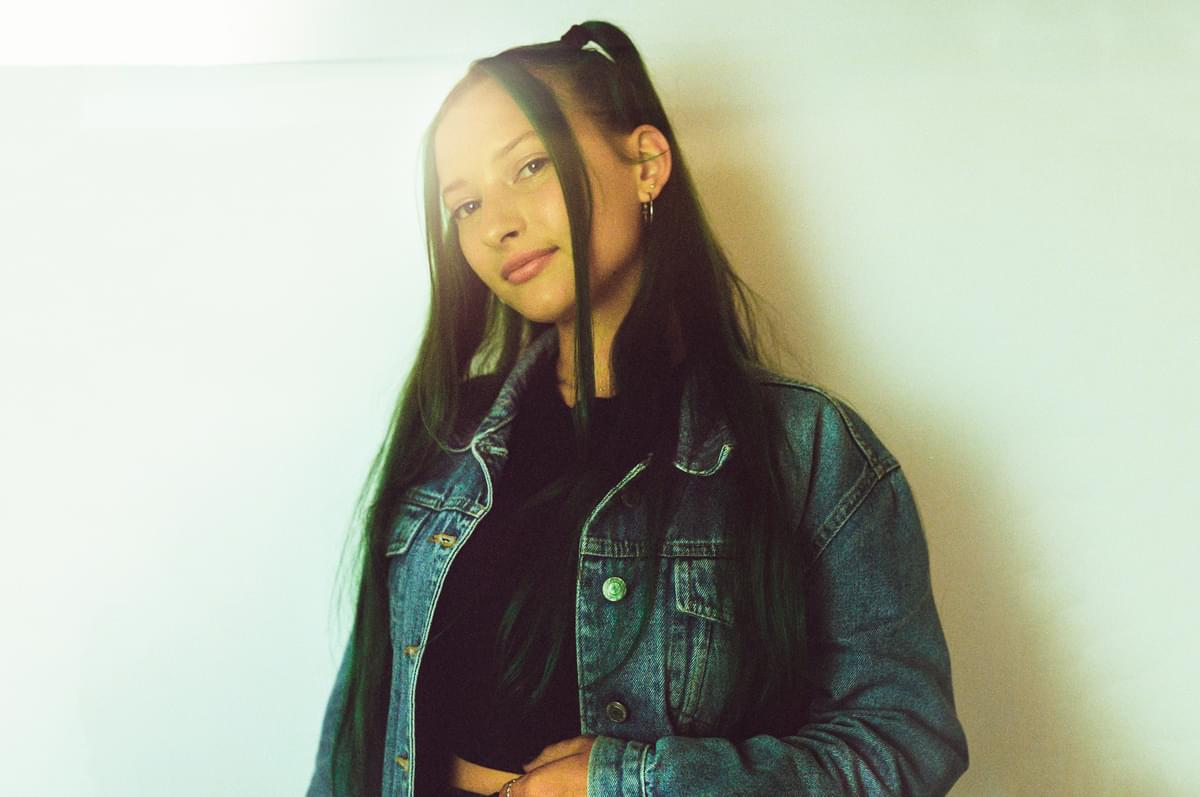 Only Human After All
08 May 2019, 21:00
Au/Ra is making pop music with heart and soul shaped by her heritage and the complexities of identity, she tells Elizabeth Aubrey
Jamie Lou Stenzel greets me enthusiastically in the boardroom of her record label, a lightbulb smile beaming ear-to-ear. At 16-years-old, Au/Ra, as Stenzel is known professionally, is one of the youngest on the label's roster.
We're surrounded by images of global pop superstars who were signed at a similar age and with her debut single, "Concrete Jungle" receiving over 15 million streams globally, you can't help but feel Au/Ra's image will be up alongside the others soon. Stenzel was just 14-years-old and still studying at school when her first single as Au/Ra was released: she wrote her first song two years earlier.
"People in school were just cool about it," Au/Ra explains, detailing how her classmates didn't treat her any differently. "It didn't specifically make me get lots of attention in my personal life or anything like that. School just carried on as normal." Her debut proper, as she terms it, "Panic Room" was released a year later: it was a global success, racking up 40 million streams worldwide via a remix by underground duo Camelphat. A follow up, "Emoji", received similar attention.
"My school friends were all really supportive and excited when things took off but most still didn't know what I did." The reason they didn't know, Au/Ra explains, was because many had never heard her sing. "I wouldn't really sing in front of other people except my parents," she says of her time at school, her beaming smile now half extinguished. The real reason, she reveals, was because of debilitating stage fright and anxiety: Au/Ra wasn't able to sing the songs publicly that she'd been writing and crafting since she was twelve.
"Hell raising, hair raising…so frightening / face whitening," Au/Ra sings on 'Panic Room', the song on which she first addressed her stage fright publicly. "It's making my skin crawl / The silence is so loud / The lights spark and flicker / With monsters much bigger / Than I can control now," she continues, explaining her anxiety and panic attacks and the incapacitating fear they brought. "The support and response to that song was amazing," Au/Ra tells me nervously: it's clear the memory still stings. "That song made me seem more human, I think. I feel like a lot of the time, people like to portray only the good sides of themselves on social media. Of course, I want to do that in some sort of way too, maybe we all do, but at the same time I think it's really important and necessary to be realistic about our struggles too. Nobody really speaks about stage fright or anxiety and I certainly didn't know how to deal with it at all."
"I still have moments where I'm extremely nervous to go on stage even now," Au/Ra adds. "But I just have to snap myself out of it. I think the worst part is behind me."
"Anxiety is still one of the least talked about mental illness...we become trapped in this fear, this panic room, and we don't know how to escape it"
Having since opened for artists at large venues including Brixton Academy, as well as at arenas up and down the country, Au/Ra has faced her fears head on and overcome them. Talking about her fears candidly helped too – first through 'Panic Room' and later through a dialogue with others who had experienced similar feelings.
The issue, Au/Ra says, was that she had no idea how to deal with her anxiety because it was still such a taboo for many. "I feel like anxiety is still one of the least talked about mental illness and yet it's the most common mental illness of all. It stops so many humans from doing certain things in life because they're too scared. We become trapped in this fear, this panic room, and we don't know how to escape it."
How did Au/Ra manage to escape? How did a fourteen-year-old schoolgirl afraid of singing in front of her friends manage to open at such large shows as a support act, then as an artist in her own right, just a few years later? "As soon as I started to open up about it and my fears, I started to realise it was rooted in self-doubt. I'm a very sensitive person actually – I overthink like crazy and it's very annoying," she explains, still looking at the floor. "When I would be the opening act for a bigger artist, I'd always think they're not here to see me, they wouldn't care about who I am. Are they even going to be listening or are they going to talk over me?" The reaction, live, was the opposite – support from her fans helped, so too did learning practical mindfulness strategies which ultimately helped her to overcome the overwhelming effects anxiety can bring.
"When self-doubt comes now, I know how to shut it off more...having a routine really calms me because I know I can stick to that and I know what to expect"
"Learning how to do breathing exercises, yoga and vocal warm ups gave me a focus and helped and I meditate quite a lot now" Au/Ra says. Having a routine and learning relaxation techniques helped to further break the cycle. "When self-doubt comes now, I know how to shut it off more. Having a routine really calms me because I know I can stick to that and I know what to expect." Her smile returns and relief is etched across her face. "Talking about it is still really tough, but each time, it gets a little easier and it always makes me feel better."
For as long as she can remember, Au/Ra wanted to make music. Surrounded by a rich musical upbringing – her mum a songwriter, her dad an illustrious techno producer – she watched both create daily in the studio and knew she wanted to follow her familial path. Her parents, however, tried to discourage her: they wanted her to have no illusions about how difficult a career choice this was going to be. "My dad was like 'I don't think you should go into the music industry because it's very hard and tough. You don't earn any money until you've had proper success.' He told me I'd be broke. He explained that it would be time consuming because I'd have to put everything – and then some more – into it. He said he thought I should maybe become a doctor or a lawyer, a lawyer especially because I was good at arguing.
"Apparently, I was pretty good at arguing because eventually I argued enough that he saw it from my point of view and we started making music together," she explains, laughing at the memory.
Her parents, once they knew this was the profession Au/Ra was determined to pursue, were, after a lot of persuasion, supportive and encouraged her to travel and meet other creatives. "My dad started helping me a bit recordingwise too. We started recording songs and putting up these YouTube videos and suddenly one of them ended up getting over three million views. They've been taken down now, thankfully," she smiles, red with embarrassment by the memory of her early efforts despite their evident popularity. "The YouTube craze was actually really inspiring," Au/Ra says: she was thrilled by the DIY artistic approach it brought and was excited by artists creating and sharing their work independently. "I just started putting out videos because to me, that was the only way I could really make it work. I didn't know how to get my work out there at that time."
It also worked as a way to by-pass her early stage fright. "I saw other people doing it, people taking matters into their own hands by just filming themselves and putting their music up there and reaching a vast audience."
"Music always felt like the most natural thing I wanted to do because I'd always watched my parents work in the studio. I just thought it was the coolest thing. The thought of going into the studio with nothing at the beginning of the day and then coming out hours later with this fully formed creation was such an intriguing thing to me and I wanted to know more, I wanted to try it. I knew that I loved singing above everything else and that was the first thing musically I gravitated towards, rather than instrumentation at first. I started to record little covers in an attempt to find my voice."
Finding her voice and style came via a manifold and varied mix of musical influences thanks to a heritage which spanned Germany, Spain and Antigua. "I was born in Ibiza. My parents met there, fell in love and I happened," Au/Ra beams, detailing her parents roots on the nineties Ibiza-era club scene. "After a while they realised it wasn't the safest environment for a kid to grow up in. It was calmer when my mum grew up there and of course my dad, who is German, had his career there when techno and EDM exploded in the nineties."
When Au/Ra was five, the family moved almost seven thousand miles away to Antigua. The family visited Antigua on holiday, fell in love with the island and moved there just a few weeks later: it was a huge upheaval for the family. "They were spontaneous and pretty crazy," Au/Ra says of their impulsive decision. Her father's EDM and Krautrock music collection (he was a huge Kraftwerk fan) was later a significant influence, so too was pop music when she eventually started to learn English, aged seven. Up until then, Au/Ra was bi-lingual, speaking both Spanish and German.
"When I learned English, I kind of swapped it for Spanish. My brain couldn't cope with three languages," she laughs. Accessing English brought her to pop music and many other new genres for the first time. "I grew up listening to a lot of my dad's electronic music – so Kraftwerk, a lot of techno music that he was producing too. My mum would listen to jazz, Amy Winehouse, Nora Jones and that kind of thing. There wasn't really a lot of pop being listened to but I kind of discovered that myself and dived into that world a lot more once I'd mastered English more."
"Being into anime at school was seen as the nerdiest thing to be into but I didn't care too much about that stereotype..."
Lana Del Rey, Ariana Grande and Katy Perry were amongst her own first pop discoveries; about the same time, Au/Ra started to read and watch films widely. The works of J.R.R. Tolkien and Studio Ghibli fuelled her imagination. "What came out from that was my pop-noir sound," Au/Ra explains, who has previously described her music as "the aural equivalent of an Edgar Allen Poe story." She later tagged it as "dark, alternative pop."
"Nobody I knew was into anime. Being into anime at school was seen as the nerdiest thing to be into but I was most definitely into it and I didn't care too much about that stereotype of it being only for nerds," Au/Ra proudly says, explaining how she also learned to speak elvish in honour of Tolkien. "Anime was just another form of incredible art and I loved it."
Looping her long, sea-green coloured hair over her fingers, Au/Ra details her love of all things fantastical, her hair mirroring many of her green-haired anime heroes. The genre, she tells me, has influenced her writing, look and videos. "Studio Ghibli – how do you begin to describe it? It's endlessly imaginative and this whole other escapist world which inspires my music and my videos." The genre has inspired her own storyboarding for the videos accompanying 'Panic Room', 'Emoji' and 'Assassin' and the "super deep concepts" at the heart of anime gave her confidence to explore more subversive themes in her music.
"Sometimes it helps having characters because you can be a little more detached and I can translate emotions into metaphors"
"'Assassin' is a good example," Au/Ra begins. "It's about me and this other part of myself. A dark side of myself battling the other parts and learning how to balance the two parts. Each song is like a little fragment of a story, each of which has a moral and character. Sometimes that's me, sometimes I'm more apart from it, much like anime." Au/Ra's songs often tell deeply personal, autobiographical stories which can, she says, drain emotionally. "My next upcoming project was definitely the hardest thing for me to write," she reveals. "Very personal, very emotional. Sometimes it helps having characters because you can be a little more detached and I can translate emotions into metaphors. There's lots of times in the new music, new music that will be coming in the future, where I am trying to be less metaphorical though and more straightforward with my emotions which although tough, is [cathartic]."
Au/Ra is a prolific writer. Revealing that she has hundreds of songs already written, she adds she isn't in a hurry to release an album: it's more important for her at this stage to find a "thread" for her ideas and her voice, which is still developing. Whilst it feels like she might be close to the discovery of this 'thread', she's not being drawn on it just yet. "Maybe next year, maybe the year after: I'm not sure. I just want it to be done at the right pacing I guess, and I don't want to rush any of it creatively. I don't think a lot of people realise just how much music I have; it's a ridiculous amount. It's sad that many songs won't see the light of day but it's all just a part of finding my voice. At this point I would say I'm just focussing on releasing singles; all of them have a common theme conceptually and I want it to be eventually one big idea or theme. But I don't feel ready for an album just yet, but I do have plenty of ideas of what that might be eventually," she enthuses.
Aged twelve, Au/Ra was fascinated with the richness of the English Language and immersed herself in a world that combined her new love of English with the fantasy of anime – the novels of J.R. Tolkien. Her stage name comes from a character she created whilst writing a Lord of the Rings fan-fiction book. She still has the work today. "When I was twelve, I basically wrote a Lord of the Rings fan fiction. I think when I was learning English, I was just so fascinated by the language and writing that I wanted to write as often as I could."
"I wrote a lot of short stories. I got into the books first, then all the movies around the books and my imagination was triggered. There's this one character, the father of Legolas, Thranduil, who I was so in awe of. I wanted to explain his story, the back story of this life which is so mysterious and unexplained. I invented Aura, the other main character in the story, and Au/Ra was born from that." Does basing her stage persona on a fictional, fantastical character somehow make it easier to write her emotive, personal lyrics? "In many ways yes, yes it does," Au/Ra says, adding that she won't shy away from difficult themes. Her storytelling then, as now, was dark. The main character in her book – spoiler alert – dies, and as with many of her songs, Au/Ra isn't afraid to tackle melancholic themes. Often, Au/Ra tells me, she will explore the subterranean elements of human nature – be it mental health, inner saboteurs or battles with the self.
Does she have plans to release her Lord of the Rings inspired story one day? "I still have it on my phone!" she grins. "I look back at it sometimes and cringe a little but then I've continued to edit it. I've thought of making the story public so people can read it, but I'm not quite ready yet."
Au/Ra says she struggles with the finished product of her writing, often wanting to continually edit and tweak her work. "'Panic Room' was the exception to that," she smiles. "It was the song I was most happy with that I released. With every other song I've released, there's always something I'm still thinking about altering but at some point, you just have to let go, you have to give it up. 'Panic Room' is the one I'm not judgmental about because I felt that was close to what I imagined it would always be."
Listening to Au/Ra speak about her work at length, it's easy to forget she is a sixteen-year-old teenager who has only just left school. Her vision is sophisticated and thoughtful like her work ethic which belies many of her peers. Does she ever miss just being a teenager? How does she cope being thousands of miles away from her friends and family? Au/Ra returns to the conversation with her father from years ago. "I didn't have false expectations I guess. I knew what it was going to be like after that conversation. I spend a long time away from home which can suck. Homesickness is something that I experience every day, but I've learned hope to cope with it because I've been travelling so much for the last three or four years now."
"I definitely miss my friends and family a lot. My friends are starting to grow up and studying and moving in different ways. I find myself missing my childhood and feeling very nostalgic. I definitely wonder what would have happened if I wasn't doing this – I'd have probably been going off to university as well. But I wouldn't have been happy doing that because this is all I have ever wanted to do. To actually get the opportunity to do this is still insane. Of course, I have moments where I miss my friends and where I just want to hang out. My dad said I'd have to sacrifice a lot to do this – he was very honest, very honest about that and he was right."
"I just never want anyone to think I'm perfect or anything like that: we're all complex and I want people to see me as a real human being"
Her fans have helped, with many reaching out to her not only to support, but to share how much they have empathised with the themes in her work to date. "When I started to talk about these things, people listened and talked and opened up and that was important and helpful to me. The response to 'Panic Room' in particular was special; opening up on that topic took a lot of strength but I think it made me more human confronting those fears." Does she have a set method for creating? "I need quiet!" she smiles. "I always come up with ideas when I'm sitting on a plane, it's the weirdest thing. I think once I'm in airplane mode and all the notifications and outside world is shut off, I have time to think of images which is where my ideas and eventually songs come from."
Au/Ra returns to the idea of concepts and her debut album. "I would hope it's a very conceptual album for sure," she says, giving a little more away but still wanting to guard her ideas which are still being carefully nurtured. "Each single is like a little fragment of a bigger story. Each one has characters and morals that fit together in some way, a bit like anime, a bit like a fantastical story," she beams, lightbulb smile again, the thought of it clearly thrilling her. "The main thing," she concludes, "I just never want anyone to think I'm perfect or anything like that: we're all complex and I want people to see me as a real human being."
Au/Ra tours Europe next month with UK shows in Brighton (3 June), Southampton (5 June) and London (6 June)
Get the Best Fit take on the week in music direct to your inbox every Friday