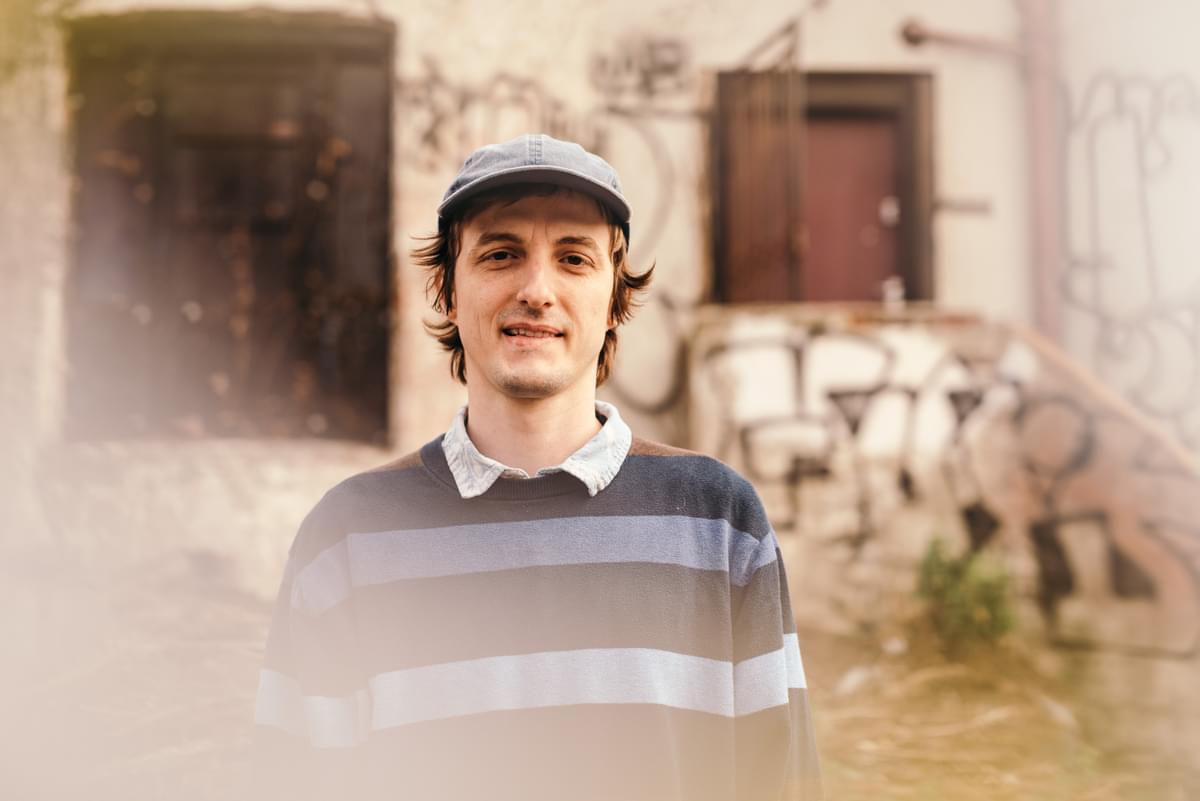 Songwriting, Seattle and the Sixties
22 May 2018, 08:00
Ari Roar talks to Emma Finamore about his lovingly languid debut LP, borne out of a pure love of classic pop and respect for song-writing as much as his own personal physical and psychological struggles.
Ari Roar – the moniker of Texan singer-songwriter, Caleb Campbell – belies its owner. The name "Ari" is derived from the Hebrew meaning "lion", and when paired up with "roar" conjures up a fierce, aggressive image. In reality – and in music – Ari is thoughtful, quiet and reflective.
His debut album, Calm Down, is out this May on Bella Union, and far from being a wild howl of a record, it's a lovingly languid, lo-fi piece of work, drawing on both 60s pop and contemporary DIY. That's not to say his music lacks depth, though – quite the opposite: Ari has battled his way over both physical and psychological hurdles to become the musician he is today.
It's paying off, too. As well as the milestone of releasing his first LP, Ari was featured in Rolling Stone's 30 Best Artists at SXSW this March, the iconic magazine praising his "soft-spoken vignettes" and "clumsy sweetness", as well as his "doo-wop sensibilities" and obvious "knack for a short, sharp hook".
We meet a few months after that performance and at the beginning of a string of European dates. "The festival was chaotic, it always kind of is," sighs Ari, jetlagged. "I didn't know Rolling Stone were going to be there, let alone take an interest, so that was great."
He's understated, soft-spoken and calm, almost guarded; maybe characteristics that stem from his childhood, when Ari experienced panic attacks as well as a period of bed-bound isolation after major surgery to rectify his scoliosis – a medical condition in which a person's spine has a sideways curve, usually in an "S" or "C" shape.
Until that point he'd been a young, aspirational songwriter, using his family's "super-old, out-of-tune" piano (his words) rather than a guitar,
At 18 all this changed with his life-changing operation. "I had to relearn to walk and pretty much everything else," he recalls. "It was a rough recovery."
The recovery changed the course of his musicianship forever, rerouting him from keys to strings. "I was a keyboard player before," he says. "But you have to sit up and play at a keyboard to do that, and after surgery like mine…that's not fun. So I had this guitar – that I still use to write songs on - and I could have it in the bed with me and I just got better at guitar, often times just watching TV and playing around."
"I definitely write about abnormalities - within my own physical life and psychological life."
Ari remembers being basically in bed for five or six months – "I was confined to that sort of life." – and while he clearly doesn't want to give this period too much credit, six months is a long time, especially for a teenager. He acknowledges that it has crept into his music, at least in part.
"I definitely write about abnormalities - within my own physical life and psychological life," he says. "I watched tons of movies. I was very heavily medicated during this time so it's a bit of a blur. I watched a lot of Adult Swim at night, and I have this memory of watching Doubt with Philip Seymour Hoffman the first night I was back from the hospital."
Ari also struggled with panic attacks, although learning what they were later helped him to take control of them. Feelings of anxiety are still a part of him though. "Yeah, I'm having those right now," he says. "But maybe just because I'm tired. Usually the kind of anxiety I have before going onstage is more like 'I can't wait to go on,' like a positive kind of energy. The negative kind of energy happens in other times, other parts of my life."
On his debut album this anxiety can be heard manifesting in tracks like title song and lead single "Calm Down", where he explores the push-pull of anxiety through an agitated rhythm and dreamy vocals.
But just how Ari explains that these are just a small part of him, they don't define him, they for sure do not define his music. "Calm Down" is also about another type of experience, another type of memory.
"I wrote this on a sunny day in a Seattle basement," Ari remembers. "I had been walking through this hilly neighbourhood and the inclines were leaving me winded. I made my way down to the lake and remember the water being freezing even though it was a warm day. I couldn't believe that people were swimming. I was back and forth between writing songs and going to this local post office to have pictures of astronauts printed out."
This multi-faceted meaning also applies to other people. "More recently people have started trying to understand my songs, my lyrics," he says. "And that's ok. I don't really think of the songs as mine, they're definitely their songs. I don't want to be like, 'Hey, you got it wrong – it's about this.' If someone's listening that's good enough for me. And even my own songs change meaning over time to myself, you know?"
Ari's debut comes out of a youth spent loving and following music, as much as the physical and psychological issues he faced. He hung out in Austin during high school, "going to shows, hanging out by the river" and embraced the music scene in his state. "In Dallas the music scene swells and then it contracts," he says, of the areas he's moved back to after time in Miami and Seattle.
"Now that I'm back I don't know all that much what's going on, but when I lived there before I went to shows all the time. Not just in Dallas – there's a place called Denton just north of Dallas where there were a lot of bands, there's a jazz school there and a lot of musicians start up when they're studying there. They're all super young and super talented, and have their whole lives ahead of them!"
His early inspirations included Grandaddy's Under the Western Freeway – some of the computer-sounding bleeps on Calm Down giving away this early love. "I listend to that stuff so much when I was in high school," smiles Ari. "But I hadn't listened to it for so long when I wrote the record it must have just come out subconsciously."
Radiohead's OK Computer also looms large in his mind when looking back at influencs, as does Ari's first ever concert experience – 70s rock RnB outfit The Doobie Brothers – with his parents, perhaps giving him that "knack" for a catchy hook that Rolling Stone noticed at SXSW. But it was a solo performance by Jason Schwartzman in the teen comedy Slackers that inspired him to start writing songs with lyrics, aged just 14. "I remember being mesmerized by it," he says."I went into my room and started trying to write something similar. After that I just never stopped."
There are plenty of contemporary influences on this record too. Ari loves Frankie Cosmos, Fleet Foxes and fellow Texans Midlake, and cites Deerhunter as a "huge influence" on him, as well as Beach House. "I drew a lot of inspiration from them," he says of his Bella Union labelmates. "It fires me up to be a better writer. Beach House influenced me lyrically, musically but also prolifically, if that makes sense? Because they're just so…when you find a band that puts out such an amount of music over and over again it makes you feel like you've got to push yourself."
To live up to it? To work to that standard? "Yeah that's s good way of putting it," he says. "Back when I was in high school and going to shows and listening to random stuff that I had no idea what it was, often times I would find bands that had one good song per album, you know? And now I appreciate when all of it's good."
With a tight run-time of 28 minutes and few of its 15 songs breaching the two-minute mark, Calm Down is not an album that overstates its case – and Ari has consciously created a tight record with tight tunes.
I just try and write conducive songs or weird small ideas. I don't really write long songs – I've never written a five-minute song," he said in another interview recently. "These just tended to come out short and it seemed cuter – I figured people might play them twice if they're shorter! I was finding myself doing that with a lot of 60s songs. It has a weird effect live too, because you finish the song by the time people are getting into it. It does keep the momentum going."
"I'm definitely not a 'slacker'...it's a funny way of describing music, because you have to put yourself out there and do it, not sit back and do nothing."
The writing and recording process is a very personal one for Ari. "I like to work on my acoustic guitar, then make little demos for myself adding instruments, and create a bone structure," he says. "Then I'll actually sit down and record it for real, once I've decided what parts work together. I don't want to take the time to actually record it and then find out it's no good."
"Often times I don't know whether or not a song is going to turn out good until I'm totally done with it. Then I have to step away for a few weeks and I'll come back and revisit it and think 'Oh yeah this is good!' or 'Noooo, this is not good, I'm not going to show anybody this song'. And I'll have worked hours and hours on something, and no one ever sees it."
Does he ever go back and revisit those discarded tracks? "They're not terrible, I don't know they," Ari reflects. "They just didn't have the special something that some other songs might have had. It's hard to describe. You kind of become a listener, I don\t remember every moment of recording a track or a song, or writing a song, or all the little bits and pieces I took out - I'll listen to stuff I haven't released yet that I recorded a year ago and Ill feel like just a listener, not like someone that made that song."
That's why he sees the term "slacker rock" – sometimes applied to his dreamy, shimmery brand of guitar music – so ironic: he works goddam hard."I'm definitely not a 'slacker'," he laughs. "It's weird because writing and recording anything takes tonnes of energy and time, it's very intense. It's a funny way of describing music, because you have to put yourself out there and do it, not sit back and do nothing. It's not easy to do."
His music is also not just one single genre: "Called In" merges the influences of garage-pop and Grandaddy in its plaintive plea to "stay alert", while the brightly summery "Windowsill" and literal shaggy-dog tale "Lost and Found" demonstrate Ari's easy lightness of narrative touch and mood control. The LP is also borne out of his time living in Seattle (Ari has moved from Denton to Dallas, to Miami, to Seattle, then back to Dallas – all very different places).
"I always get a burst of energy when I move somewhere, and that's definitely helpful for writing," he says. "For this record, I wrote it in Seattle, but recorded it in New York, and I was trying a lot of different stuff." The sunny, shimmery vibe of Calm Down might not be one many that many listeners this side of the Atlantic associate with Seattle. "It was summer when I wrote it," Ari says. "Everyone thinks of Seattle as being rainy and stuff, but I wrote that record in the sunshine. In summer Seattle is sunny, with really long days – the sun will rise at 7am and set at 11pm."
The breezy vibe also comes from a love of '60s pop. When Ari reached out to producer Hunter Davidsohn – who also worked on Frankie Cosmos' album Next Thing, and in whose New York studio Business District Recording Calm Down was tracked – the two found common ground in their mix of classic and modern influences, and bonded over a shared affection for The Beatles and The Zombies.
Ari doesn't like to over think or over sentimentalise his music – no matter how much music journalists want to see his past in his songs. More than anything he's into "just really simple and strong sounds," he says. "Short and to-the-point songs. Great for repeat listens." A quiet, understated approach, despite the "lion" in his moniker, but one that will get him noticed nonetheless.
Calm Down is released on 25 May via Bella Union
Get the Best Fit take on the week in music direct to your inbox every Friday