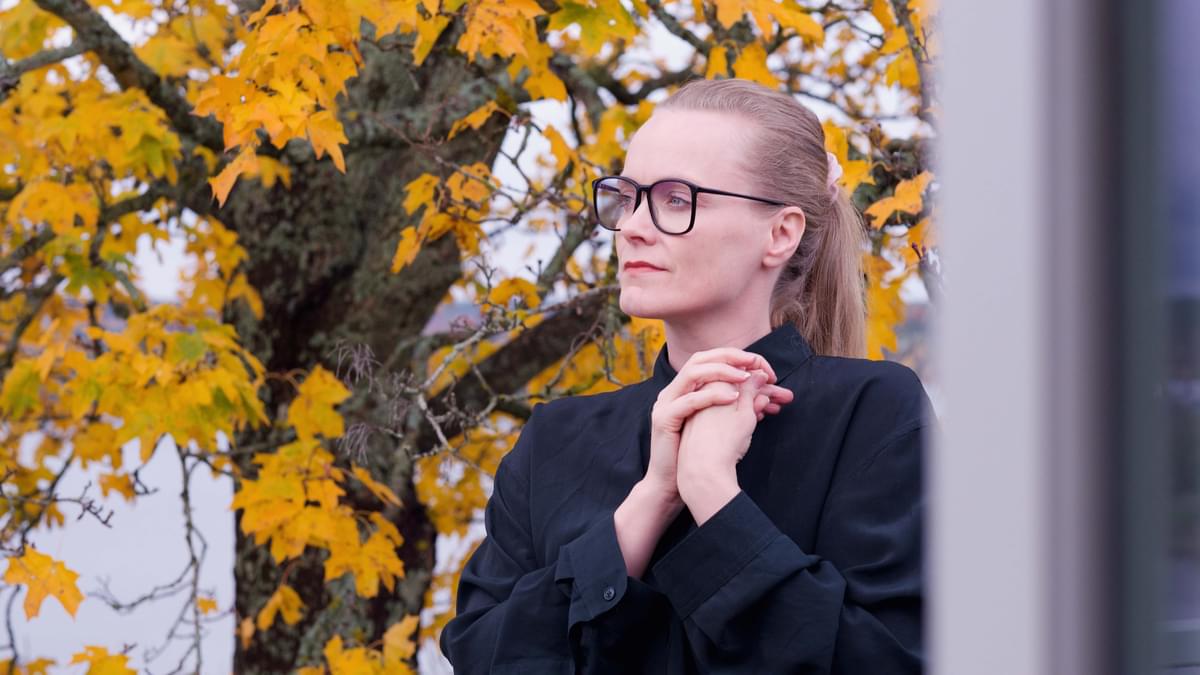 Two for Sorrow
26 November 2020, 12:00
Norwegian musical chameleon Ane Brun tells Alan Pedder how seismic changes in her life and the world around us inspired her to make not one but two new albums.
When Ane Brun left Stockholm in early March, she had no idea that she might never fully return to the city.
What was meant to be a short trip to Oslo to spend her birthday with her partner turned into a more permanent arrangement due to the pandemic. It was there, in the city she had lived in briefly aged 19, that she put the finishing touches to two new albums, After The Great Storm and How Beauty Holds The Hand Of Sorrow.
2020 had started well for Brun. She had more new songs than she needed for the album she planned to release in the autumn; reactions to "Don't Run & Hide", the solacing lead single, had been unanimously positive; and a huge tour was planned for the end of the year that would start in Helsinki and finish at Shepherd's Bush Empire in London. The five-year wait for new original material was over and momentum was gathering quickly. Just a short break in Oslo, she thought, and then over to London for a final bit of mixing.
Then came the lockdown. Norway closed its border with Sweden, abruptly, just two days after her birthday, ruling out the option of riding out the pandemic at home in Stockholm or at her lakeside cottage in Södermanland, southwest of the city. With only a few old friends to call on in Oslo and her partner often busy with work, Brun's days were suddenly empty. Cut off from her musicians and manager in Stockholm, she had a chance to dig into the songs she had recorded and see what they were really made of. Songs that would likely have ended up as bonus tracks or B-sides (remember those?) were worked and reworked until, eventually, one album became two.
It's late October when I take an early morning pendeltåg from Stockholm to visit Brun at her place by the lake. She had flown in from Oslo the previous night after a long day of press interviews for, just a few days away from release date. It's only the second time she has been back in Sweden since travel restrictions were lifted over the summer, and a second wave of COVID-19 has yet to take hold. She meets me at the station with an enthusiastic elbow bump and we head up a steep hill to where her "little castle" looks out over the water. The lake today is a mirror of the overcast sky, stubbornly grey and seemingly still, and sight of the far shore is lost in the haze. At the edges of the lake, trees in huge autumnal crowns of russet brown and yellow rise up and in between wooden buildings painted in classic Swedish summer house colours. In the near distance, the copper spire of the town's 12th-century church adds a touch of grandeur.
Once inside, I light a fire in the tiled stove and look around while Brun lays out the table for breakfast. My dog – who's here by request – scopes out every room, mapping out the floorplan with his nose: first the small blue kitchen, then a turn around the living room and out into the veranda where he's certain he'll be getting some cheese (spoiler: he's right). This is the fourth time I have interviewed Brun so she's relaxed enough to leave me to go poking around while she dashes off a Q&A urgently requested by Uncut. Though she bought the cottage in 2017, mainly as somewhere peaceful to escape to from Stockholm and perhaps use as a place to write, since she met her partner and began to spend more time in Norway, she hasn't had a chance to be there as much as she wanted. But, having lived all her life by the sea – from her hometown of Molde, to Oslo, to Barcelona, to Bergen, to Stockholm – she has quickly come to appreciate the different qualities of lakeside living and the community of artists around it. She loves the thrift stores, the cafés, the old auction house by the water. Later, when we walk around the town, she shines with pride and satisfaction – "You should move here too, it's perfect!"
At the house, between tending to the fire and chasing my dog off the couch, I take some notes on the surroundings. In one corner of the main space stands a sturdy old upright piano topped with piles of books and an ornamental zither painted with roses. In the opposite corner, a MIDI stand and a coil of thick black cables. Two sides of a room, two sides of an artist who just so happens to have made two very different albums. The image is almost too obvious – too embarrassingly neat to actually write down – but bear with me for a minute. It turns out that it was here, in this room, where "Don't Run & Hide" began to take shape and Brun found her steer for the music that would follow. Having sketched the song out on MIDI, she built it up over time with beats and strings, bass and precision-layered vocals. "It was the first song I wrote that I knew would end up on an album," she explains, pouring me another cup of coffee. "I felt really clearly that I wanted it to be a big production, a hybrid of acoustic and electronic sounds. Something that would stand on the shoulders of [her 2015 album] When I'm Free and sort of jump over [her 2017 covers collection] Leave Me Breathless."
The plan worked, to a certain extent, but not every song she went on to write would bend to her will. A duality started to emerge in the music, where songs written to be big decided they'd rather be small, and – in some cases – vice versa. More than any other song, "Don't Run & Hide" highlights this duality since it is the only one to appear on both After The Great Storm and How Beauty Holds The Hand Of Sorrow, adorned and unadorned. Big or small, the song has undeniable power. As Brun explains, part of that power comes from its use of an eternally repeating chord scheme, drawing inspiration from baroque composers like Purcell and Monteverdi, and more modern songs like 'Halo' by Beyoncé – Brun's cover of which has been streamed close to 50 million times on Spotify alone. "What I love about songs like that is that even though the harmonics are constant, the melody moves so much that the music feels a lot more complex. It's very enjoyable to play live because you have the freedom to build them up and feel a dynamic in a way that's different to a song that has a more traditional structure."
She repeats the same trick, subtly, on "Trust", a sunlit love song draped on only two chords and a wanting, silken melody. Released as a second single in April, "Trust" was one of several songs written the previous summer during an exceptionally creative burst of writing. Brun had gathered the essentials for a small home studio, together with notebooks full of scribbled-down lyrical snatches and ideas, and travelled with her partner to his mountain cabin in Oppdal, about a five-hour drive north of Oslo. "When I'm in songwriting mode I like to sort of close the doors and shut out the world. Usually I do that in my studio space in Stockholm, but this situation was different. I had my own little outhouse where I could work really, really intensely during the daytimes, and then spend the evenings with him." It wasn't a case of self-imposed total isolation then, as is so often mythologised in the music world? She laughs and shakes her head: "No, no! I would never do that to myself! My head would just keep spinning and spinning and I wouldn't get to sleep." Then she reconsiders. "Well… maybe a year ago I would have said that. You know I love company, I'm a very social person. But this year I have really been alone so much that I've actually learned to like it."
"As a singer-songwriter, people often assume that you only listen to other singer-songwriters, but that's not really true."
It's interesting to view Brun's new songs through the prism/prison of where we are now in 2020, eight months distanced from what used to pass as normality. Lyrics like "My existence is screaming / It's a physical feeling / Of missing out on dance and light" from "Take Hold Of Me", a mid-album techno jolt inspired by The Knife's Silent Shout, seem perfectly suited to corona times. In less safe hands, words like that might seem melodramatic but Brun, as ever, plays it to her strengths. The song is a masterclass in tension and release, with expert co-production by synth wizard Samuel Starck. "Samuel has put his mark on a lot of the songs on After The Great Storm, especially this one," she explains. "I wrote the song originally with [longtime band members] Martin Hederos and Josefin Runsteen, and the first takes were in a totally different style, almost acoustic. Then I had a vision one day while I was alone at the studio. I sat down at the big mixing desk and muted all of the tracks, first opening up the synth bassline, then the kick and the vocals. It was so clear in my mind that this had to be an electronic song, and that's when Samuel got involved. I wanted the song to grow but I also wanted it to be sort of passive aggressive, to really reflect the feeling that I'm trying to describe in the lyrics – a feeling of suppressed explosion."
For casual observers of Brun's career, a song like "Take Hold Of Me" might seem rather out of character, but in fact she has several dance music credits – often collaborating with American producer Andrew Bayer – and even a top five single with Dr. Kucho! and Gregor Salto, co-writing and singing on "Can't Stop Playing (Makes Me High)" and selling over 200,000 copies in the UK in the process. A deep house rework by The Avener of her early single "To Let Myself Go" was a huge hit, too – I've heard it everywhere in the past five years, from a taxi cab in Istanbul to a coffee shop in Myanmar. Though it's common knowledge that Ane has been influenced by trailblazing women like Ani DiFranco, Joni Mitchell and PJ Harvey, as well as by jazz – inescapable when you grow up in Molde, home of the famous Moldejazz festival – what's perhaps less known is that much of her musical grounding comes from late nineties house, drum and bass, trip hop, crossover jazz and electronica. Artists like DJ Shadow, Massive Attack and Swedish icon Neneh Cherry were among her favourites. "Oh yes, that kind of music was my jam in those days! I feel that After The Great Storm really captures my taste, the music that I've listened to all my life. As a singer-songwriter, people often assume that you only listen to other singer-songwriters, but that's not really true."
Flashes of these nineties influences were captured on When I'm Free, particularly on the sparse funk of "Directions" and the soulful sisterhood anthem "You Lit My Fire", but the ideas – at times – felt a touch too underdeveloped. After The Great Storm corrects that flaw, with each note and every lyric conveying both purpose and meaning. Lead track "Honey" makes the utmost of Brun's trademark warmth and clarity, turning a heartfelt love letter to her younger self into a pristine pop nugget that blazes with compassion and self-assuredness. At its core there's a strong, intentional recall to the evergreen "Unfinished Sympathy", but "Honey" stands apart from its influences by virtue of its tenderness. Brun samples her own voice, found on a cassette she recorded, aged 18, for a penpal. Listening back to the tape, she says she was struck by the energy of "this young and in many ways innocent version of myself" and reconnecting with that excited girl in full verbal flow had made her feel "in some way more whole" – "It was actually an instant feeling that finding this tape, this reconnection had to become a song."
The sampled parts are in Norwegian, of course, so what was the young Ane Brun so excited about? "I had kissed a boy at a festival. It was the summer that I went to my first Roskilde and – for a girl from a small town, before internet – it was just mindblowing. My first camping experience, with 60,000, maybe 70,000 people. We were drunk but it was also a huge natural high. On the tape I talk about all the different shows we went to. We discovered G. Love & Special Sauce that year. I still think that song ['Baby's Got Sauce'] is cool! I also talk about Meshell Ndegeocello, how amazing it was that this shaven-headed black woman came out on stage with her band and her bass and was just so impressive."
Storms are a well-worn metaphor in music for discombobulating times, used by everyone from Bob Dylan to Kate Bush. Any upheaval applies: be it loss, the end of a relationship, or the start of a pandemic. For Brun, the storm is how she views her most recent severe flare of lupus, in 2012, that absolutely knocked her flat. She had been touring extensively behind her album It All Starts With One – a chart-topping hit in Norway and Sweden the previous year – and was preparing to go to America on a second support tour with Peter Gabriel when her immune system went into overdrive and everything folded in on itself. She ended up in the hospital for weeks, terribly ill and losing her hair. Remarkably, unlike her first big flare, which occurred shortly after the release of her debut album Spending Time With Morgan nearly ten years before, this second major setback did not leave Brun in a deep psychological hole.
"It was quite a dramatic fall, but I came out of it in a way that was kind of the opposite of the first time I got sick," Brun explains. "I came out with a flag, with hope, with a strong belief that I had to live my life differently. I remember walking around in Stockholm, the first few times I actually went for a walk on my own, feeling so fulfilled and full of love. I could feel that everyone was connected, I could feel that universal love. It was like an epiphany, very powerful. One of those insights that comes once or twice in a lifetime – it was almost like a lightning bolt went through me. It never leaves a person, that feeling. I try to log into it sometimes still, just to remind myself that I can feel like that."
Many of her songs obliquely address her illness and her changing attitude towards it. Re-examine the lyrics to songs like "The Fight Song" from 2005's A Temporary Dive, "These Days" from It All Starts With One, "Still Waters" from When I'm Free, and you'll find that it's all in there – whether in the cypher of a love song or an ode to resolution and release. Certainly, one of Brun's great skills as a songwriter is to find the universality in any given situation, to let each listener find a common thread and fit themselves into her songs. For instance, though she wrote "Trust" for her partner, it's also a song about daring to believe that you will land softly no matter from how high you might fall. "When that song came out, it was a really scary time. We didn't know what was going to happen with the pandemic, and I felt that the song really connected with that feeling of just having to trust that everything would be okay. It's the same with love. You don't know what's going to happen, you just have to jump and trust that it will be fine."
Being fine is a theme that Brun returns to on her most recent single, "Closer", a song about how, through honouring our damages and retiring our armour, we are more able to connect with the strength and support of others around us. Her quivering voice is once again pitched precisely at the limit of bearable emotion, complemented here with sophisticated, yielding piano. I suggest to her that she's always had a knack for finding the elusive balance between too much and too little – the lagom sweet spot – and she laughs. "You're quite right, that is something I do! I think that's actually a skill I have, to push things right to the limit of cliché and then pull them back a bit." Perhaps the closest she sails to the wind here is on "Crumbs", a song that warns off settling for scraps of affection ("You deserve a full meal!" she told her followers on Instagram). Its call-and-response coda could have been cheesy but is rescued by a calculated lightness of touch – a moment of levity on a two-album set that is often quite dark and ruminative.
"When someone dies things just become really clear. It's like a contrast liquid is poured into your life, showing you what you have: family, friends, where you stand on your own path."
Indeed, grief holds many of the songs here in its long, bony fingers. Brun's father passed away in the spring of 2016 from complications of a stroke, but it was not until last summer that she found she could actually put her mourning into words. Though she put out the covers record Leave Me Breathless and a pair of live albums in the intervening years, she barely wrote at all. Was she scared that she might not get her mojo back? "I knew that it wasn't the right time, and I kept saying to myself not to panic. Every time I tried, it was like writing from my head and not my heart, you know? It worked if I had a commission, a project, but writing for myself… I didn't know what I wanted to say because I didn't know where I was. I was really quite lost." She describes her surprise when, finally back in songwriting mode, she looked back through her notebooks and voice memos from that time and found she had in fact started to piece together some lyrics and ideas. "Those notes were like keys to the raw emotions that I had finally been able to begin to process, keys that I could use to access those feelings when it was finally time to put them into songs."
Brun's father's absence is felt across both albums, most notably in the seven-minute spiritual plea of "Fingerprints", the Dustin O'Halloran co-write "Lose My Way", and the lush devastation of "Last Breath" that ends with a full two minutes of orchestration by composer Johan Lindström of Tonbruket (together with Martin Hederos and other regular collaborators of Brun's, Dan Berglund and Andreas Werliin of Wildbirds & Peacedrums). "I had made a demo of the song with MIDI strings and had this idea that I wanted the song to be an image of eternity, like a way for someone to go on living. I said to Johan, 'I want you to write a piece here that is heaven', and his arrangement… it's just mindblowing. It's such a peaceful song."
Grief and sorrow are also dealt with in a broader perspective – and less peacefully – on "Feeling Like I Wanna Cry", a song about "being scared of losing all the beauty that's around us, and sadness for the things that we, as humans, have already lost or caused to be lost." Brun sighs and looks out the window of the veranda. "You know, when someone dies – in my experience with my dad – things just become really clear. It's like a contrast liquid is poured into your life, showing you what you have: family, friends, where you stand on your own path. This is what I mean by 'how beauty holds the hand of sorrow' – they are interconnected. When you feel grief, you see what is precious. You see the beauty of what's leaving or has gone. You see the beauty of freedom, of human creativity, and the feeling of community. When you don't have these things you miss them. And I have to wonder: Are we really going to ruin this? Are we really going to destroy this place, this planet?"
Brun has been involved in climate justice action for well over a decade. But where she was once quite optimistic about our potential to turn things around, she now feels mostly endless frustration. Listening to 'We Need A Mother' for the first time, I tell her it's quite startling to hear voice that rage and bitterness, albeit mostly through the words. She likes the suggestion of it being an older, wiser sister song to the probing "Better Than This" from When I'm Free. "Exactly!" she says, clapping her hands. "It's like part two of that song, which also has a bit of bitterness in it but not as out in the open. But I am, as I say in 'We Need A Mother', quite disillusioned these days, with humanity. We think we are so great, this intelligent, dominant race of the world – but my god! There are so many thing that we can't do." And so many things we persist in doing, even though we know they are wrong? "Of course, we all do that to some extent or other."
The song is a cry for real leadership, inspired – in part – by everyday hypocrisy and how complicated it has become to make good choices. I ask if she thinks that this cognitive dissonance that we all sustain is getting worse. She nods. "I think it's so, so hard. The problem is that we seek information in different places all of the time, so that I am not even sure what people with opposing views are reading. I know that I should go and read it, but I don't want to get so mad. It's like we're not even in the same room anymore, we're in completely different spaces and that makes me very worried." We try not to linger on the subject of the US election, just a week away at the time, but inevitably Brun has strong feelings about the (now outgoing) President. Could the world have survived if he'd won? "It's really sad but I've actually found myself starting to wonder if I should make a plan B, to hide out at my boyfriend's cabin in the mountains if the world goes to hell. Like, should I start to prep for this?!"
She's joking, of course. Or half-joking maybe. For all her protestations, the optimist inside her struggles bravely on. She's inspired by female global leaders like Jacinda Ardern of New Zealand and others like her who communicate in ways we rarely see men in leadership positions do, with transparency and empathy. She's inspired, too, by younger generations of female musicians, women in their 20s and 30s who are masters of their craft. Skilled instrumentalists like Josefin Runsteen and Anna Lund (Hurrakel!, Anna Högberg Attack), who play drums across both albums, and bassist Felisia Westberg, who provides the pulse of 'Honey'; new touring band members Siv Øyunn Kjenstad and Lovisa Samuelsson; and Swedish Grammi-nominated Sara Parkman, who adds extra vocal heft to the closing bars of 'We Need A Mother'. "These girls! They feel like they can do anything, they can play or sing anything. They own music in their bodies, and it's just so impressive. I think [core members of Team Brun] Linnea Olsson and Jennie Abrahamson are the same – they are incredibly skilled – but we're seeing this new generation of women who are everything that those of my generation maybe weren't at that age: so much energy, so much self-esteem. I love it!"
Brun may not have had the confidence of these young women in her mid-20s but she has nevertheless created her own space among the big hitters, releasing 15 albums on her own label and clocking over 1.5 million Spotify listeners per month. That she has produced her best work yet with the one–two wow of After The Great Storm and How Beauty Holds… is a triumph, and should see her star rise even further. The planned tour has been rescheduled for March through October next year, but what will she do in the meantime? "Hiking! I've reconnected with my inner Norwegian in Oslo after so many years of living in Stockholm. Everyone goes hiking in Oslo, it's a big part of everyday life there. So I've adapted, and I have to say I am so grateful to have found my way back to that. I never used to dare go out on my own before, but now I love it."
She looks thoughtful for a minute. "For me, and I think for many other people, this year has given us the space and time to stop and think about what we truly value. Despite everything. And I hope – I really hope – that perhaps if we're lucky, we are coming to a place where people can see the more important needs of society, where we can finally focus on what's important. I just hope some kind of consciousness awakens."
After The Great Storm is out now. How Beauty Holds The Hand Of Sorrow is released on 27 November via Balloon Ranger Recordings.
Get the Best Fit take on the week in music direct to your inbox every Friday