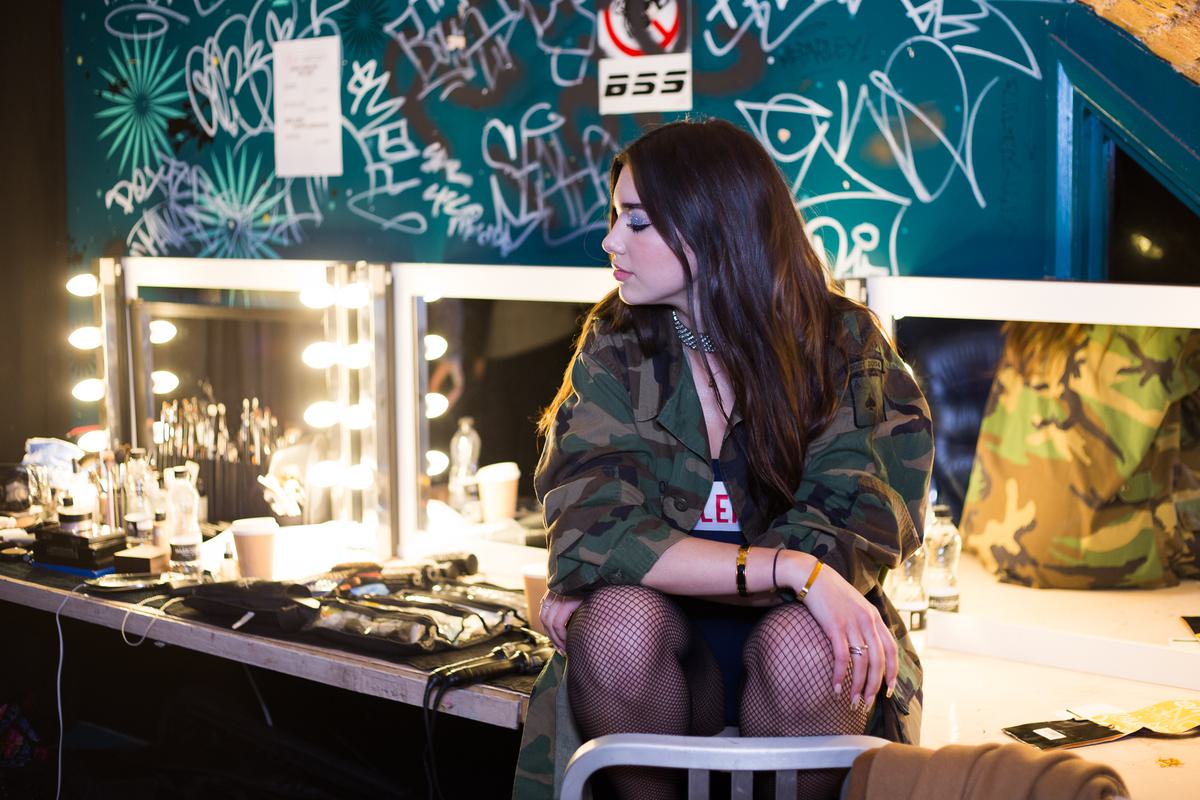 A Tale of Two Cities
08 November 2016, 10:00
Dua Lipa isn't your typical pop star; her childhood was split between Pristina, the capital of Kosovo, and London. She tells Ed Nash about dual identity, fame, and the war that once separated her family.
"It's hard when you belong to two places at once [...] I feel like I represent both places." London and Pristina have undoubtedly helped shape the person Dua Lipa is today.
For one, Lipa is confident and forthright. She doesn't mince her words about her identity, nor topical issues such as Brexit ("I was definitely not one of those people to vote leave").
At the same time she's unfailingly polite, meeting in the midst of busy rehearsals for a UK tour but delighted to do so. She's full of summer spirit and anticipation for her -at the time - upcoming Koko show.
This summer saw Lipa play two landmark concerts in the countries that bear her heritage: England and Kosovo. The first was Glastonbury Festival beneath the glare of a million cameras and alongside thousands of other acts; the other a headline show in Pristina.
"This summer has been the best summer of my life," she says.
"Glastonbury was surreal, very surreal. I enjoyed every single bit of it; it was really special and exciting. I was so upset when the festival season finished because I was like 'what am I gonna do now?'"
Well, there's her sold out show at Koko. Lipa saw some of her favourite artists play there as a teenager such as Bruno Mars, J. Cole and Schoolboy Q.
"It's just one of those places that I associate with having the best times of my life and having a lot of fun. I grew up in north west London and just getting to perform there is crazy, crazy and exciting and I can't wait. It's going to be a very big night."
I was at her big night and Lipa more than delivered. Seeing her onstage singing her brilliantly technicolour music, which mixes hip hop, dance and pop with her powerhouse of a singing voice, was to be reminded of the power a great performer holds over an audience. She looked visibly touched by the love that flowed in her direction.
As much as she loves the venue, however, by the time her debut album is released in February she'll need a bigger venue to hold her songs
The story that brought Lipa to this point began as a child when she attended the Sylvia Young Theatre School in central London, whose alumni include Rita Ora and All Saints. She took classes at the weekends and met a teacher, Ray, who was instrumental in helping her discover that she wanted to make music.
"When I was nine he saw something in me, she says. "He put me in a class with 14 and 15-year-olds and made me sing in front of the class. I'd be like the smallest little girl singing but he helped me build up my confidence."
"There was just too much conflict"
It wasn't to be her first experience of being in classes with older children. When she was 11, Lipa and her family moved to Kosovo. It was the country her parents had grown up in but had fled, along with millions of Kosovans, when the civil war and horror of ethnic cleansing took place under Slobodan Milošević's barbaric regime in the '90s.
Lipa explains that her parents left Kosovo around the time the war in Sarajevo started.
"My grandmother on my mum's side is from Bosnia," she says. "I think because of that my parents moved.
"There was just too much conflict, my parents wanted to finish their studies so they decided to move to London."
She found out more about the war when she was living in Kosovo. "We've been very lucky. It didn't affect my family as much but going to school with people who were very, very badly affected by the war, who lost a lot of family members, or their homes, you really get an insight into the situation. To find out how it affected some of my really good friends now is really sad and really awful and horrible - war's just a really dark thing."
The move back to Kosovo was prompted by her father getting a job there. Lipa wasn't daunted about upping sticks: "I was going to change school anyway because I'd finished primary school. Me and my best friends were all moving to different schools. Then the opportunity arose and I thought 'oh my God, this is going to be so exciting.'"
Lipa spoke Albanian - one of Kosovo's official languages - at home with her parents but couldn't read or write in the language. The transition was made easier because her mothers' friends from Kosovo and their children regularly came to visit the Lipas in London. She told her parents she wanted to go to the same school as them "because I felt that familiarity."
"I got to Kosovo and I really loved it there," she says. "It's way safer than London. There was a sense of community and safeness - everyone knows everyone in Kosovo, especially in Pristina."
Unlike in London, children in Pristina walk to school unaccompanied by adults. Lipa was also put in a class with children two years older than her because schoolchildren in Kosovo start school later than they do in the UK.
"I was the youngest in my year, which was different and exciting. It was fun, we'd go out to the city centre and they'd show me around, I learned a lot from being there," she says. "My parents felt a lot more comfortable letting me go out with my friends, as long as I was back by a certain time.
"In London I wouldn't even have been able to go out without my parents at that age, but when I was in Kosovo I'd be back home by 7pm - my friends would walk me home."
If anything it was Lipa's parents who underwent a culture shock. Whilst they were reunited with friends and family, she thinks the transition for them coming back from London where life was more organised was challenging. "It's just so different for them to click back into what they were used to as children or teenagers, to then what they were used to in their adult years and going back to that."
Lipa's time in Kosovo coincided with the advent of Western artists playing in the country. Her father Dukagjin was involved in putting on shows through his work for a telecoms agency and the first concert she went to see was a Method Man & Redman show. "I was 13 but I was listening to hip hop by then and it was like 'someone's coming from America, you can't not go.' So everyone was at the show. Seeing 50 Cent was my second concert. I was obsessed with 50 Cent, and then Snoop Dog came to Kosovo."
Her father was also the lead singer in a renowned Kosovan rock band called Oda. Lipa grew up to the sound of him playing his own songs.
Even though his band was well known in Kosovo, it didn't mean that he could pursue a career as a full-time musician. "It's completely different, it's not like the music industry here. It's so small you send a CD to the radio station and give CDs to your friends and the song would be played on the radio, a lot of it was word of mouth."
Despite how much Lipa loved her time in Kosovo her ambition to pursue a career in music drew her back to London at the age of 15. "I wanted to do music on a global scale and I wanted to get my music out there. I didn't feel like I could do that in Kosovo."
On her return she combined school with weekends at Sylvia Young and figured out her next steps.
She preferred being one of the part-time rather than full-time students: "It was just the kids who wanted to do it because they loved doing it. Everybody in full-time wanted to get a role on Broadway or to be in a big movie or something, whereas these kids just wanted to do it because it was fun, on Saturdays, something other than school and because they enjoyed it."
Later, after her A-levels, Lipa told her parents she was going to spend a year focusing on music and trying and find a manager. Having already posted covers online and making tentative steps on social media she found her manager, Ben. "And that was it. I started going into the studio five days a week."
The rest is history; Lipa's stats on YouTube and Spotify are formidable. On YouTube "Be The One" has had more than 84 million views and her recent single "Blow Your Mind (Mwah)" has already passed 14 million.
For an artist whose ambition is to get her music heard by as many people as possible, Lipa describes the amount of views her songs have received as the best recognition she could ever ask for.
"When you see stats like that, when you see that many people viewed your song it's like… 'wow, this is so crazy.' I don't really know I feel about it," she says.
Despite the level of global attention, life is still very normal for Lipa. "I don't feel famous, that's for sure. I still hang out with my friends; I can go out and jump on the tube, its super casual.
"I quite enjoy the fact that people know the music and to some extent know the face, but it isn't some sort of crazy hybrid, being chased by paparazzi. I quite like this. "
"The best summer of her life" this year not only saw her perform on the Tonight Show Starring Jimmy Fallon, but also saw her return to Kosovo for the first time in years to play a triumphant show.
The delay in returning was due to her burgeoning musical career because as Lipa started touring in Europe she felt guilty that she was going everywhere apart from Kosovo. "I spoke to my Dad about it and he helped me to organise the whole show," she explains. "I've always wanted to go back there, I wanted to go and do it so badly."
"We had to have an escort for me to get to my own show because there was no way I could have got through the traffic"
Lipa uses the word surreal again to describe the experience of being back in Pristina. It's little surprise really, what with children crowding around her parents' house and 18,000 people coming to watch her biggest headline show to date.
"The whole city was on lockdown, she says. "We had to have an escort for me to get to my own show because there was no way I could have got through the traffic."
Her father acted as her press officer for the day and she laughs out loud as she remembers him giving her the day's schedule. "He said, 'OK, so today you're going to meet the mayor, the president, the prime minister and the British ambassador of Kosovo.'"
As much as the show was a demonstration of her love for Kosovo it also presented Lipa with an opportunity do something special for her father.
She explains: "I wanted to surprise my Dad and I sang Oda's biggest song "Dio Beso në diell" which translates as "Believe In The Sun". I asked him to join me onstage. It was just like a really crazy moment, we still talk about it now. Everyone knew the song when I went to sing it - it's a famous song."
With London and Pristina both being home for Lipa, does she ever feel like she has a split identity?
"Absolutely, I feel very proud to be from both places and I feel like I represent both places.
"In Kosovo, the second that you do something and you're making these moves around the world, you're instantly a key person there. So if someone's like "oh, where's Kosovo?" people say 'it's in-between Italy and Greece, but Rita Ora's from there, Dua Lipa's from there.' They start talking about it and it's a thing that you become proud of. You instantly feel responsible about the image you portray and the way you represent your place."
And does she feels Kosovan or British?
"I feel different in each place, I feel very much British, but then when someone asks me where I'm from its 'London via Kosovo'. It's hard when you belong to two places at once."
"It's sad, especially when I see Kosovo, where they're trying so hard to be young Europeans and try to be accepted by the EU, then seeing this and throwing it away"
Talk of identity ignites the somewhat inescapable topic of Brexit, which Lipa says makes her very unhappy. I tell her it makes me think about what the implications for my life would have been if there was a limit on immigration - my parents immigrated from Ireland to London.
"I wouldn't have been able to be here if that was the case," she says.
"It's sad, especially when I see Kosovo, where they're trying so hard to be young Europeans and try to be accepted by the EU, then seeing this and throwing it away, especially when a massive amount of the young people who are going to have to live through what's happened voted to stay. We're suffering the consequences of an older generation that have decided our fate for us."
We discuss the shock on the morning of 24 June when the Brexit result was confirmed. "It was devastating news," she says, "it was this weird feeling of emptiness.
"I remember when I woke up that day and I checked Twitter and Instagram and people were posting pictures the European Union flag with one of the stars falling off. I was like 'I can't believe this has happened.' I had to check and make sure that someone wasn't playing a trick, it's like people from all over the world will now no longer be able to come to London and chase their dreams."
Lipa is fortunate to have both London and Pristina as her career springboards but it looks like her tale of two cities won't end there. She reveals that she loves the energy and community of New York City and would one day like to live there.
This month, she'll get a broader taste of the American dream when she supports Troye Sivan in the US. "I've only done shows in LA and New York and to have the opportunity to go to places like Cleveland, Atlanta and Detroit will be amazing."
There's also the not insignificant matter of the release of her debut album in February. "I've wanted this to happen, for people to know the music. I don't know how I'll react if I do start getting chased by people wanting to take pictures - I get it sometimes."
When Lipa played a show in New York, she stayed for pictures with fans for four hours. "I liked it, it was nice to see fans and I didn't mind doing it. I was very overwhelmed because I had such an adrenaline rush after the show that when that happened it took me a while to calm down from it all. I just didn't expect it - it's quite a bizarre feeling and something I'm not used to."
Our time comes to a close and Lipa, ever polite, says "it was lovely to meet you." She really isn't your typical pop star and that's much the reason why her music is brilliant, beguiling and relatable. We can only imagine the kind of celebration there will be in Pristina on her album release day: glasses raised for the girl of two cities.
Dua Lipa's debut self-titled album is released via
Warner Music
on 10 February.