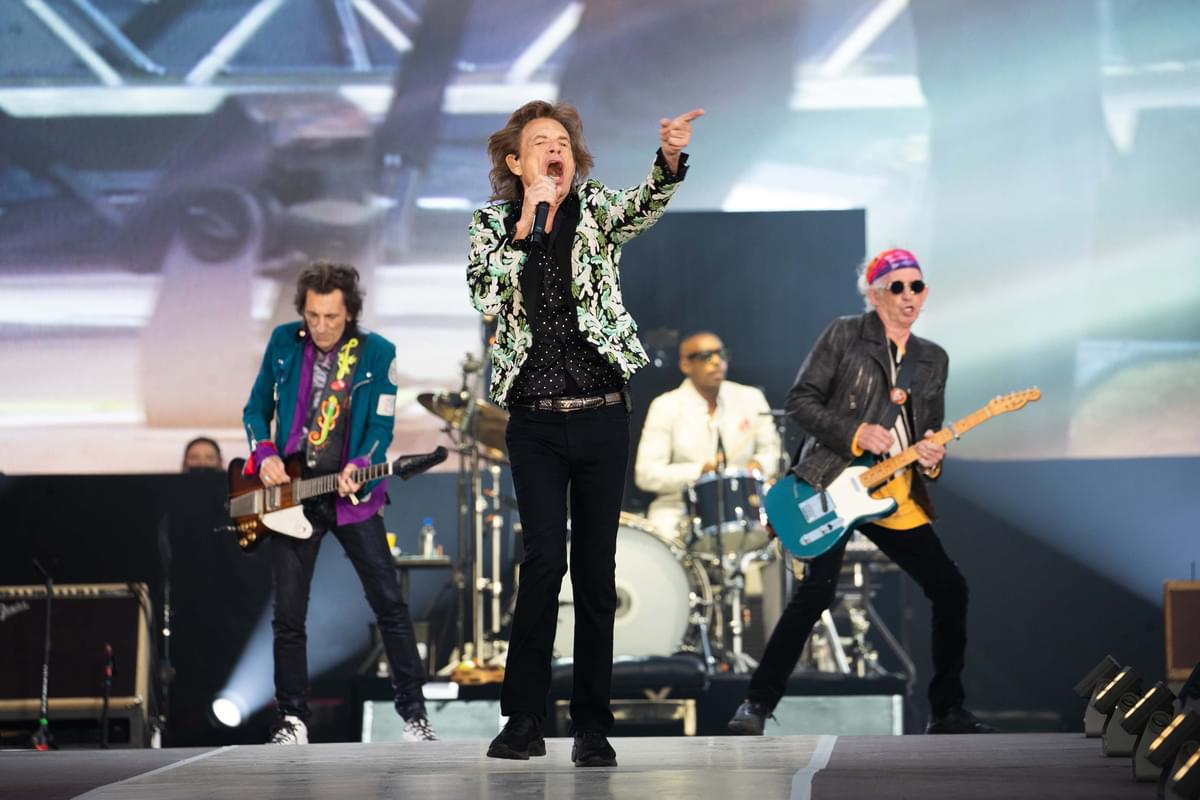 The Rolling Stones shake off the moss at Hyde Park
26 June 2022, 10:00
Celebrating their sixtieth anniversary, tonight is The Rolling Stones' first London hometown outing since the passing of Charlie Watts in 2021 – an apt return given back in 1969 the band performed a free set in Hyde Park to mourn the passing of Brian Jones.
And while the legendary band are certainly a name that has rarely left the zeitgeist in as much time – and in the age of ABBA immortalised in a hologram (and even though all four members are still alive) – the question of a band's shelf life comes into play.
Sixty years into their career and they're a well-oiled machine. With parts added and replaced, it's difficult to ever envision anything going wrong thus leaving an expectation of the people themselves (it doesn't). Messers Mick Jagger, Keith Richards and Ronnie Wood are seemingly still going strong. Wood has the energy of a voracious teenager (and the fertility of one apparently), while Richards has the music in his soul, his body seems not to impart the same message. Their moving and shaking leader still does so, but at times it feels beyond parody, even down to his thick London accent.
These observations lean into the hanging up of hats. When you take the two most powerful musical entities to emerge from the '60s and lay them side by side – as often most do – there come two different tales. Unlike the Beatles who shaped culture but were driven indoors to become a recording act – and then, not an act at all – The Rolling Stones have permeated; lips logo on shirts, lighters, patches, and just about anything a decal can be applied to. But The Beatles survive on in myth, and on the very same night Paul McCartney headlines Glastonbury, The Rolling Stones are headlining their own celebration with merch queues longer than those for the bars
Of course, they're also surviving on mythology. Generations of fans – and feasibly there could be three entire generations of families present at today's Hyde park gig – are entrenched in their legend, and songs that are unarguably timeless classics.
In a year that has Elton John on his farewell tour and KISS hanging up their bedazzled heels, the question remains: does the show really need to go on? There's an argument that musicians - especially ones of The Stones' ilk - are made of different 'stuff'. The kind that means the road and stage are the only places that feel like home because, after all, they could quite easily retreat into retirement and sit dragons upon their gold, and let the world carry on, particularly when one of the sole remaining founding members passed away.
Nevertheless, two packed-out weekends at Hyde Park in the books, and the draw of The Stones remain intact. "Elton John, Paul McCartney, The Rolling Stones…all these young hopers," Jagger quips, after darting around the stage, left to right, pointing and doing all the greatest 'move like Jagger' hits. An on-the-nose observation, this old guard is a necessary sight, proven by the sell-out events trailing their names, but only they know when to draw the line to open the history books to the next lot to avoid the immortalised version of the band becoming sullied into a tragic facsimile.
With support from an emotional Phoebe Bridgers ("Are there any dads in the audience?" she half-mockingly asks, to suspiciously muted cheers) who fresh from her own set at Glastonbury is clearly living her best life even though recent activity in her home country plays heavy into her between song chat. While The War on Drugs befits an afternoon set on the event's Great Oak stage with their synth-soaked driving tunes, the audience here for one reason only. But exposing an audience cemented in this sixty-year old bands world is no bad thing.
Even Dream Wife, playing over on The Rainbow Stage, land well with their own impassioned take on the state of the world ("My body is not political toy!" vocalist Rakel Mjoll screams during "Somebody"). Today is a collision of past, present, and future, but maybe the past needs to hang up its (many) hats.
Get the Best Fit take on the week in music direct to your inbox every Friday