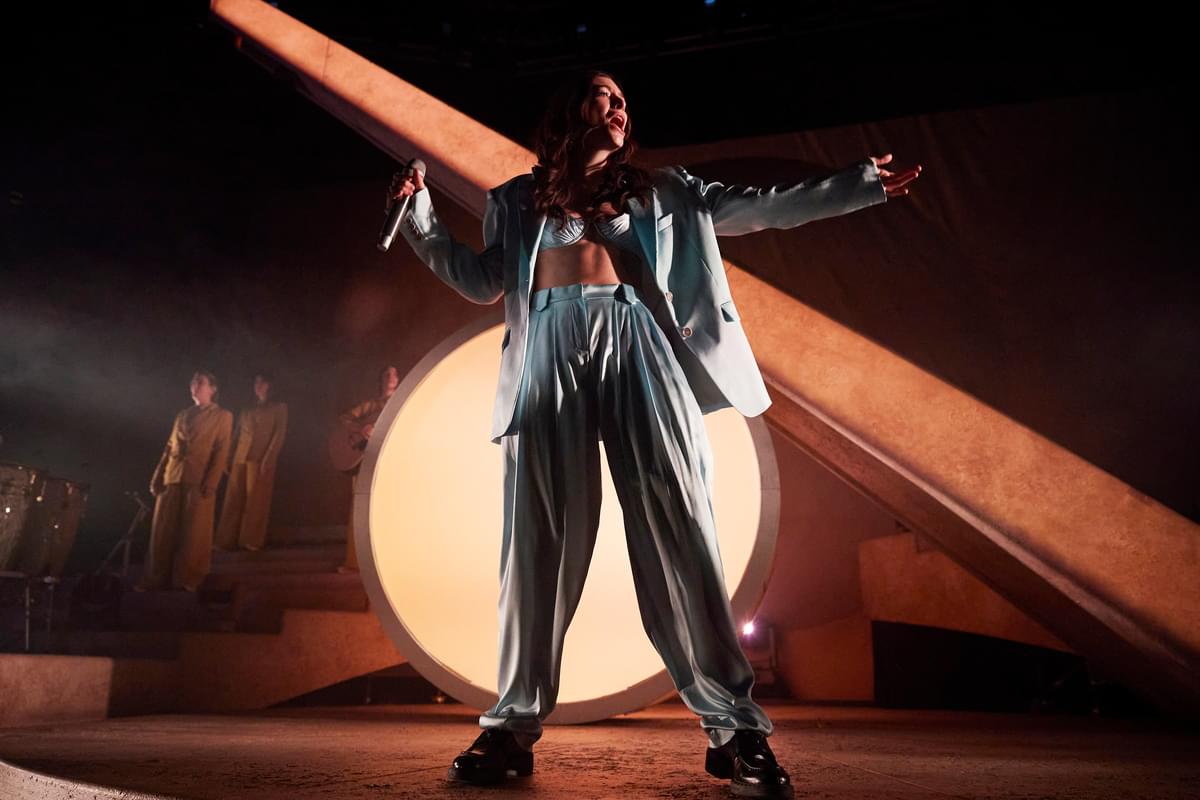 Lorde masters euphoria and existential vertigo in London
02 June 2022, 12:00
For the first of three nights at London's Roundhouse, Lorde's intimate Solar Power Tour is an exercise in catharsis and pure joy.
Delivering a stacked setlist, this is Lorde's first London headline show in the city since Alexandra Palace in 2017. Queues to enter the Camden venue stretch further than the eye can see, around the corner and then around another corner. With Lorde's performances this tour typically stretching to almost two hours; fans discuss which songs they want to hear, hoping deep cuts get a rare airing.
The queuing contingent are divided on whether they want Melodrama standouts "Hard Feelings" or "The Louvre" – this one of the handful of moments which change in the set every night, it's an either or situation and we got "Hard Feelings" – but no hard feelings here. It's a moment in the set where Lorde urges fans "if you have any big emotions that need to be let go of, this is a safe place in which to do so."
Closing in on a year living with Solar Power, a record which divided critics, its sun-kissed glow, psychedelic influences and cult-like mantras now make more sense. Opening with "Leader of a New Regime," seemingly these songs were made for these exact moments, where Lorde is on stage delivering advice to her fans, some of which have been with for almost a decade having stumbled upon her the discovery of her debut EP The Love Club as a free download on her Soundcloud page.
"It's like reading your old diaries every night," Lorde explains between songs, noting that this repetition over the years has helped her to connect the dots between the ideas, patterns and themes in music. "Every album is full of summer," she adds, it's a thread that ties everything together; "the layers come off and the truth comes out."
The show's staging centres around a ladder supported by a lazy susan style contraption which spins, albeit slowly, around the stage, offering Lorde various different perspectives over her congregation. Lorde tells us after having a B12 shot earlier today, her usual half a can of Red Bull hasn't given her sufficient energy to keep going. Pausing to sit on her ladder and eat a banana, joking about this being the first time she's ever eaten on stage.
Lorde loves London. In another moment of conversation she talks about her walks around the city, and especially how there's something special about summertime in London and being in a park at dusk. "This is the greatest city in the world," she declares before calling this run of shows her favourite tour of all time.
Touring is something it seems hasn't always come naturally to Lorde, she describes her stage fright as omnipresent and her focus being getting on with the show at hand and then as soon as it's over being absorbed into that anxious feeling of anticipation for the next one, usually the next day. However, she now likens touring to the immersive feeling of being under a wave.
"Bitch, I thought you had to swim in the ocean every day to feel good," she laughs, saying she's realised they're not that dissimilar as "have this feeling of total immersion [which] leaves no room for insecurities or stress." Despite talking a lot, Lorde claims this as her one piece of advice for the night "try to find that feeling."
Across 23 songs, Lorde perfectly balances to the more reflective and introspective moments from Solar Power and smatterings of her groundbreaking debut Pure Heroine with the heady euphoria of Melodrama uniting the crowd into a sea of writhing bodies jumping relentlessly as "Supercut", "Green Light" and "Perfect Places" roar into life.
With confetti cannons spewing custom yellow discs beautifully illustrated with messages like "save the bees" and "wear sunscreen," these rain down as Lorde whispers "blink three times when you feel it kicking in." There's certainly power in the sun, and power in Lorde as a healer, vanquishing emotional baggage and sadness with pop music.
Setlist
Leader of a New Regime
Homemade Dynamite
Buzzcut Season
Stoned at the Nail Salon
Fallen Fruit
The Path
California
Ribs
Hard Feelings
(Lorde ate the banana here)
Dominoes
Loveless
Liability
Secrets From a Girl (Who's Seen It All)
Mood Ring
Sober
Supercut
Perfect Places
Solar Power
Green Light
Oceanic Feeling
Encore
Helen of Troy
Royals
Team
Get the Best Fit take on the week in music direct to your inbox every Friday