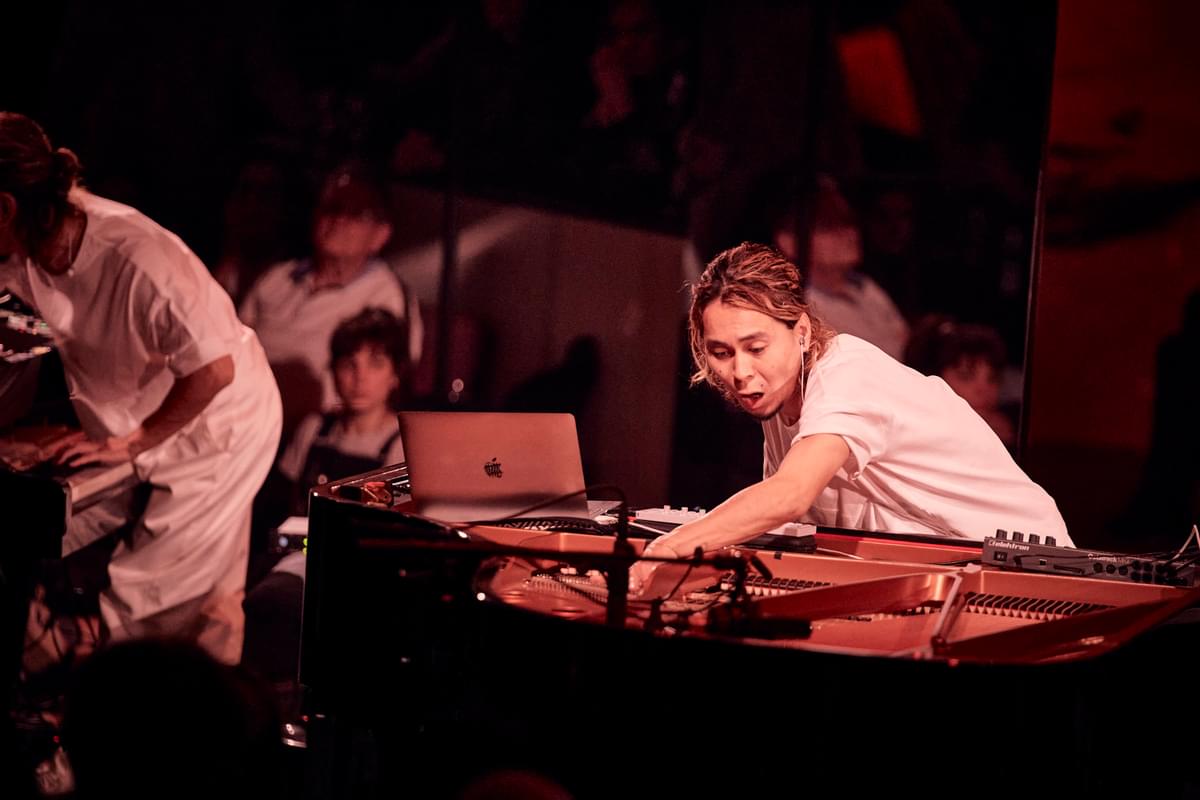 Koki Nakano showcases Oceanic Feeling live in Paris
31 March 2022, 11:45
The work of Japanese composer and pianist Koki Nakano is music of the body: reconciling musical invocation with physical reaction, every flourish is like an electrical impulse firing across a network of nerves; every sharp, staccato note is inflicted like a wound, and every gentle keystroke is the peace that comes from a familiar touch.
The pursuit of fusing sound and feeling, of instinct and intellect, is what has driven Nakano relentlessly throughout his career. Having taken to the study of piano at the age of three, he began to hone is craft first at the Toho Gakuen School of Music in Tokyo, before mastering the subtleties of his artistic vision at the composition department of the Tokyo University of The Arts. His virtuosity in pushing the parameters of piano to its furthest extremities, weaving in electronic inflections to push a classic instrument to the very brink of modernity, has meant that Nakano has been invited to play recitals around the world, from New York, London and – tonight – Paris.
Hosted at the Palais de Tokyo, a lofty, almost palatial contemporary space dedicated to modern art, it's a fitting place for Nakano to showcase his second solo album, Oceanic Feeling. It was a term that resonated deeply with him, having been coined by French writer and musician Romain Rolland in 1927 in a letter written to Sigmund Freud. In this letter, Rolland describes 'oceanic feeling' as "the sensation of eternity, a feeling of being one with the external world as a whole". It's a mirage he feels he is always chasing; a destination that always eludes him. Oceanic Feeling is about coming to terms with his own restrictions: the abstract that can never be articulated, the limitations of the human body when you want to reach further, and the indescribable sound in the gap between the notes on the piano that will never be captured.
Movement, in all its fluidity and tension, is as much a part of Nakano's work as the piano. Before his performance of Oceanic Feeling, we revisited his previous project, Pre-Choreographed (2020). The music is almost inseparable from the visuals that accompany it: delicate decisions were made between choreographer and dancer, sound and place, angles and lighting – each element works in symbiosis with the other, delivering a complete story. "I always have a habit of imagining movement when I compose," he says.
But it was during a performance of "On The Sea" with choreographer Damien Jalet and visual artist Kohei Nawa, that the idea for Oceanic Feeling first struck him. Nakano shares: "With my piano and chair floating on the sea surface, and the dancers performing near me soaking half of their legs in the water, I was struck by a feeling of complete connection with the dancers as well as with the environment. Then, not only was I totally convinced of the indivisibility of Dance and Music, but I was amazed to be aware that this whole experience was uniquely generated by the nature of ocean / water."
"It made me further wonder about how we should deal with or embrace the 'limit' of our bodies, or the boundary that lies between our existence and the world. As I mulled this over, I came upon an image of a baby in the womb. Before my birth, I had been floating in the water (the components of amniotic fluid are nearly the same as the ones of the ocean), hence I also had a time where I still was 'connected' to the other person by an umbilical cord. It was after all these experiences that I came to know the term, 'Oceanic Feeling'." The titular track is a homage to all mothers, and babies yet to be born.
When Nakano takes to his piano to perform the new material from Oceanic Feeling, he did not sit, but stand. More than the keys, he has synths and soundboards to warp the traditional sounds, offering spritely electronic textures that are both familiar and unknown. He mouths words that cannot be heard with intensity, like unheard lyrics – you can't help but wonder what he's saying to himself as he plays. "Glances" is a demanding piece that paces restlessly, at times sounding as if it's falling in reverse, inspired by a poem by Italian contemporary poet, Valerio Magrelli about discovering the metaphysical a sect that lies beyond at the act of 'seeing'. "External Cephalic Version" was inspired by a process of childbirth: otherworldly, intense and joyous.
A blue light would pool into an area in the audience, and a dancer would suddenly begin moving to the music. Calling on the talents of Mourad Bouayad, a Gaga-certified instructor; Marion Motin, who has joined Dua Lipa on tour, as well as Nicolas Huchard who has been both a dancer and choreographer for Madonna and Christine and the Queens for their respective international tours, their performances elevated Nakano's music to breath-taking heights.
With Oceanic Feeling, there is no need for words when sound and movement is a universal language, speaking to thoughts and feelings that lie beyond rationality and logic.
Oceanic Feeling is released on 13 May via No Format
Get the Best Fit take on the week in music direct to your inbox every Friday