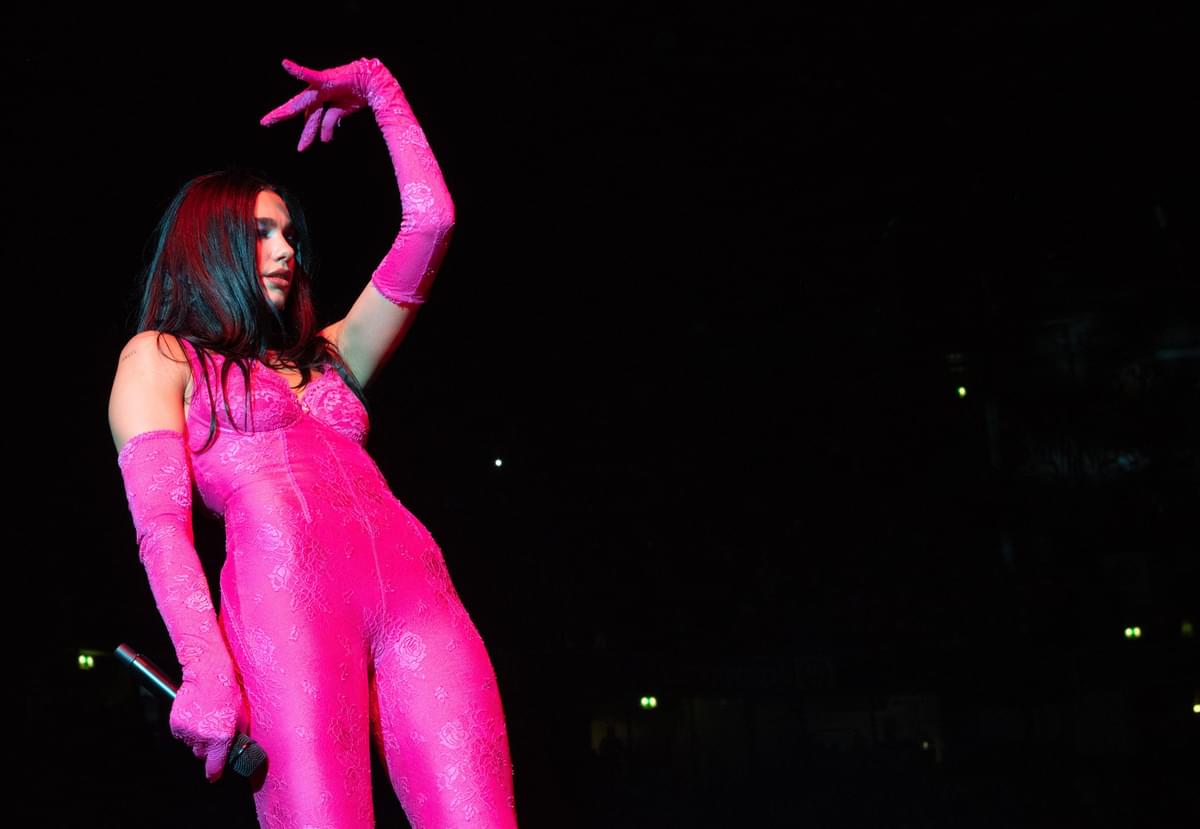 Dua Lipa's Future Nostalgia tour revels in escapism
16 April 2022, 09:00
Could two things be more destined to meet than a sunny Easter bank holiday and the first UK show of Dua Lipa's Future Nostalgia tour?
Amidst the travel chaos and incessant barrage of nefarious notifications on mobiles around the globe, for the crowd of all ages, genders, and intoxication levels – from the young whose lockdown childhood Lipa soundtracked, to the dazzlingly glittered up elders – pouring into Manchester's AO arena an escape from reality is required – and finally Lipa can step up, playing her first show on homeland soil since 2018.
Stringing out the release of her early-2020 second album has been a monumental effort on Lipa's part. With Moonlight and Club versions, lauded livestreams and collaborative singles, she's hell-bent on capitalising on and soaking in, the heat of the spotlight that a pandemic thrashed world threatened to take away.
As Future Nostalgia finally comes to life on UK shores after its successful US stint, any concerns that it would find itself feeling, well, nostalgic after being unleashed into a brick wall of a world are put to rest for one simple reason: this is an artist toting songs that have comforted us. When we were relegated to our houses, Lipa brought the club to us. All present tonight have been sealed up like a can of Coke rolling around a rally car, and now, at the pulsating lightning-strike of "Physical", finally they're unleashed.
Lipa appearing out of thin air – as she does multiple times across the protruding stage – beaming in a pink corset bodysuit signals the start of a show filled with props (inflatable lobster, '50s diner roller skaters, confetti), propulsion, and heaps of posturing and posing.
By now, the secrets of this real-world manifestation of a pandemic-pop casualty-turned-triumph are all out there and as such, the space for anticipation dwindles while the fizzing excitement remains.
Toting a setlist that swoops and soars between her two albums and chart-topping collaborations, linking the veritable club-pop and cooling cuts (including the sadly ever-poignant "Boys Will Be Boys"), it's a show of quarters. These four different chapters are marked by hidden, hurried wardrobe changes and loose themes, and while the set remains the same to the US leg, the outfits are refreshed to ensure maximum Instagrammability.
Immersing the crowd in variations of a neon-laced future, or comic-book panels depicting Lipa vs the "We're Good" lobster (which then inflates at the rear of the stage), while crammed together club classics (even Lipa's own "IDGAF" gets its only outing as a Muzak rendition here) these four segments are bridged in a frenzy of lights, camera and action.
As expected, it's easy to latch onto everything; the effervescent pop hits, the well-curated talent on display (particularly the daredevil roller skaters), even Lipa's ability to run around the stage, and on a platform sliding aloft glacially during "Levitating", without sacrificing any vocal ability. Though there's an overarching sense that the escapism is rarely leading to any form of unity or shared understanding. But that isn't the point.
Tonight is a chance to see an artist emerge from a forced cocoon because a great banger does not a pop star make. For all the haughty syncopation of Future Nostalgia's biggest singles, the truth of the matter is stars are made in this metaphorical arena.
A thrilling live show is required, one that not only meets the excitement but encourages it to new, fevered levels, while feeling like the only thing that matters is tonight – and Dua Lipa certainly emerges victorious, particularly as she disappears back from whence she came, hand aloft as closer "Don't Stop Now" dissipates in a collage of confetti and memories.
But while this is all very impressive, once Whitney Houston's "I Wanna Dance With Somebody" rings out, the crowd who once again pour out of the arena are onto the next club. Dua Lipa is in no doubt a pop star. One of - if not - the brightest in the UK. Tonight proved it - yet, the future is here now, and the crown is waiting. The show must go on.
Setlist
Physical
New Rules
Love Again
Cool
Pretty Please
Break My Heart
Be the One
We're Good
Good in Bed
Fever
Boys Will Be Boys
One Kiss
Electricity
Hallucinate
Cold Heart
Levitating
Future Nostalgia
Play Video
Don't Start Now
Get the Best Fit take on the week in music direct to your inbox every Friday