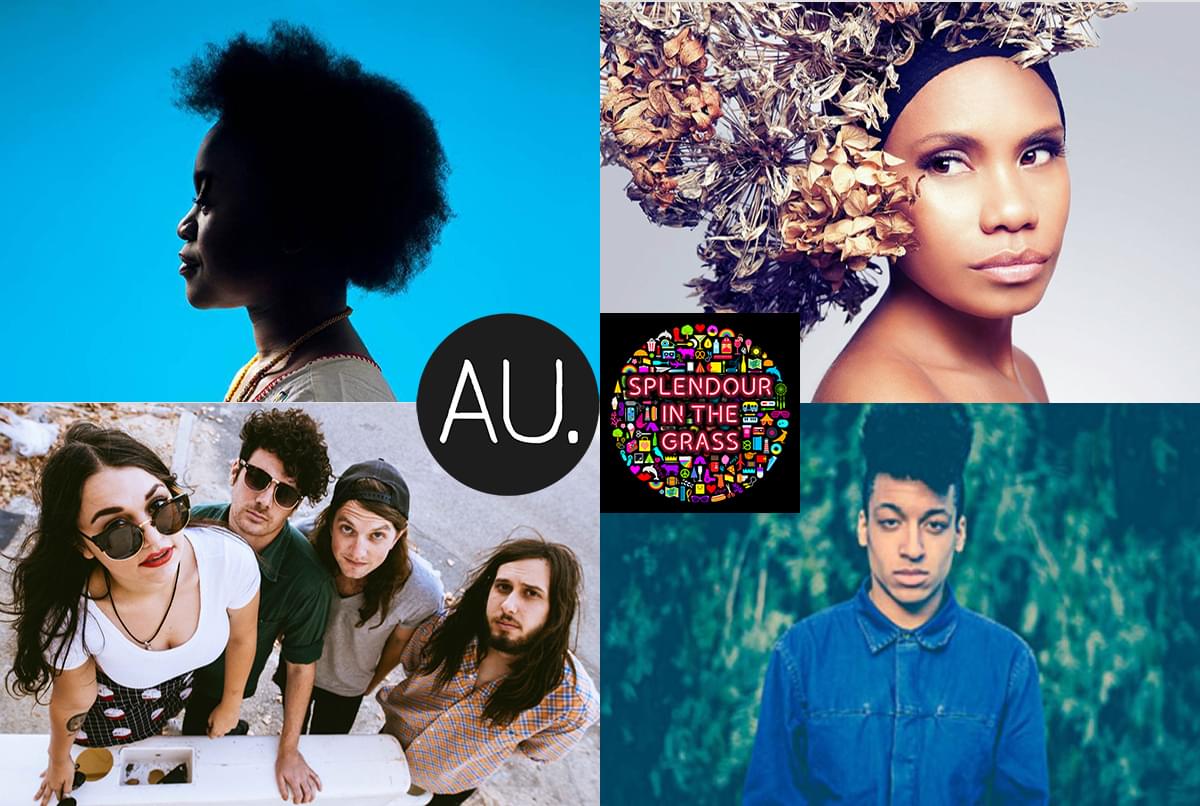 The AU Review's Splendour in the Grass Festival Tips
21 July 2016, 12:05
Featuring headliners like The Strokes, The Cure, The Avalanches and Sigur Ros, Australian festival Splendour in the Grass is one of the Southern Hemisphere's biggest winter music festivals. Annually selling out in minutes, the three day camping event sees tens of thousands of punters from Australia and all over the world make the trip to Byron Bay - a coastal town on border of New South Wales and Queensland - to enjoy some of the world's finest music. Among these artists are dozens of local Australian bands, some of whom have yet to reach our ears over here in the UK. To help us get our heads around the bands playing the festival, we asked Australian publication The AU Review to pick some new Australian bands they're excited about watching. We're hoping that you'll discover your new favourite Aussie band amongst the six ... and the special mention!
Ngaiire
Sydney's emerging future/soul queen Ngaiire has recently been reaping in the acclaim for her dynamic and arresting second album, Blastoma. Australian music fans have been aware of this lady's powerful vocals for some time now, with collaborations and performances with the likes of Paul Mac, Chet Faker and Bluejuice in particular bringing her to stages right round the country.

Fusing ethereal and captivating vocals with minimalist and subtle electronic glitches - all while incorporating deep soul grooves - has demonstrated Ngaiire's talent for musical texture and composition. She knows when to let that voice soar loud, but also has a mad knack for drawing things back and embracing the vulnerable. The world has been further introduced to Ngaiire's music over the last few years, with her 2014 appearance at Glastonbury and through the UK and 2015's CMJ appearance turning heads.
Sampa The Great
Approaching her craft with a quick wit and masterful use of language, Sydney based songwriter, poet and performer Sampa the Great has been quick to make her mark in - even more potently in an Australian music industry that continues to embrace artists branching out and exploring some new sounds and creative techniques.
Her style and lyrical flow is brilliant, while her lyricism prompts the listener to listen harder and become fully enveloped by the soundscapes she establishes.
Sampa's debut release The Great Mixtape is exactly what the title indicates; bold and meaningful, the music evokes the soul and passion of Lauryn Hill and Erykah Badu, while Godriguez's production adds a brilliant dimension to it.
Sitting perfectly alongside the likes of Hiatus Kaiyote, IBEYI and Thundercat, Sampa The Great is an exciting artist to be watching; she's supported Kendrick Lamar, Fat Freddy's Drop and Little Simz, while treading Australian festival stages already with sets at Golden Plains, WOMAD and Sugar Mountain since her breakout last year.
Tired Lion
Having just played Glastonbury and Latitude, Perth based rockers Tired Lion are fast making a name for themselves around the world as one of
the
bands to watch, and their appearance at Splendour in the Grass will prove no different. And all this happening on the back off just one EP,
Figurine
, which came out internationally at the end of June and is well worth a listen. The track "Not My Friends" off the EP has been doing the rounds lately and it gives you a pretty good idea of what to expect from the record. And their TV show inspired video clip is pretty fantastic in its own right:
Fronted by the enigmatic Sophie Hopes, the band are a force to be reckoned with live, capturing the essence of the great rock bands of the 90s, throwing it into a blender and making it their bitch. If there wasn't going to be a resurgence of grunge-related-rock-music in 2016, they've definitely made the case that there should be.
Remi
Another artist who has already made waves on UK shores, appearing at The Great Escape in 2015 and returning to officially launch the UK release of his award winning album before the year was over, is rising Australian hip hop star Remi. The album was awarded the coveted Australian Music Prize (our version of the Mercury) for his breakthrough second LP
Raw X Infinity.
It's not just some of the smartest, smoothest and darewesay sexiest hip-hop happening in Australia right now, aided by the excellent instrumentation and production work from his long time collaborator Sensible J, it's some of the finest happening around the world. And he doesn't just deliver on record, at every show Remi Kolawole is hypnotising on the stage - commanding the stage with his effortless flow, superb lyrics and breathtaking beats.
High Tension
Melbourne punk rockers High Tension released their debut album
Death Beat
back in 2013 and since then they've not only been climbing charts and earning acclaim, but have become one of the country's favourite touring bands. 2015's
Bully
only went further in solidifying the band's status as one of Australia's leading groups in the genre.
Led by ferociously talented frontwoman Karina Utomo, High Tension are an explosive live band to witness and aren't ones to back down easily in the face of a challenge or competition. To watch the group blend together on stage and feed off each other's energy, it's easy to see that High Tension are completely at home on stage.
Banoffee

Okay, we know you know about this one already but we're going to tip her anyway! Martha Brown, aka Banoffee, entered the Australian music scene as a breath of fresh and edgy air. Her debut EP instantly had music lovers hooked; the chanteuse finding her own little niche between an early 00's R&B vibe and some gorgeous alternative pop stylings. Emerging on that same wave of intrigue and success that has carried the likes of Collarbones and Pikelet in the past, Banoffee's music has already taken her around the world. Her Splendour in the Grass appearance this year won't be her first, not to mention well-received sets at CMJ in New York in the past, as well as our own Falls Festival and Sugar Mountain in recent years has set Banoffee up as an exciting musical name.
Special Mention
We also need to give a special mention to the late Szymon, for whom a special tribute performance will be presented under the guise of "In Loving Memory of Szymon". Friends and family who helped complete release the artist's posthumous debut record, Tigersapp, will help bring it to life along with some special guests. So while he is not an artist you'll be able to see yourselves, his stunning debut proves him an artist we lost too soon. Search for it on your favourite streaming site, and watch the trailer above.

For more details on Splendour in the Grass, which takes place from 22 - 24 July 22, head to their official website. For more of the latest Australian music tips, head to The AU Review. This article was written by the AU review's Founding Editor Larry Heath and Editor-in-Chief Sosefina Fuamoli.
Get the Best Fit take on the week in music direct to your inbox every Friday