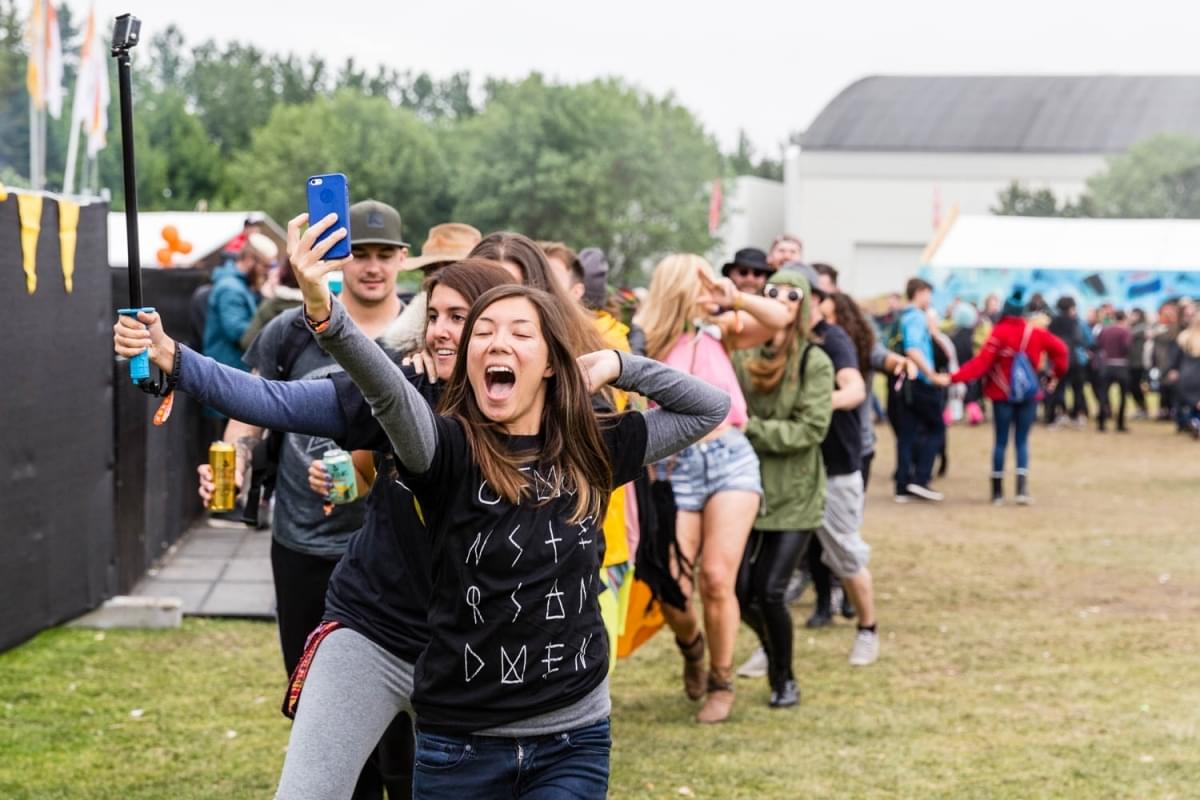 Ten Young Icelandic Acts To Catch At Secret Solstice
15 June 2017, 17:48
While Iceland may not be the best place to go sunbathing, during the summer solstice it is one of the most unique places to celebrate the height of summer.
And what better way to celebrate the midnight sun and unending days than with a load of banging tunes at an outdoors music festival? That's what the people behind the Secret Solstice music festival must've thought to themselves when they started the shindig four years ago.
While this year's outing delivers some great big acts like Foo Fighters and The Prodigy, we're sure visitors would also like to catch some of the great local acts. Here is a list of ten young acts that we would be remiss not to recommend.
Alvia Islandia probably holds the national record for the speed at which she turns heads. Alvia has single-handedly filled a vacuum in her home country's musical vocabulary, becoming the trap queen of Iceland, and doing so in style.
When Aron Can burst onto the scene last year at the tender age of 16, he created the kind of ripples in the Icelandic hip-hop sene that were all but impossible before the advent of YouTube. The pressure is on him to deliver continue living up to the hype he's generated, and we're sure his return to Secret Solstice will be a real testing ground for him.
Bleach Pistol/Sick Roma and JuniorCheese/YNG NICK, or Salka Valsdóttir and Jóhanna Rakel respectively, form the hip-hop duo known as Cyber, which is one of many successful outfits to be born from the sensational feminist outfit Reykjavíkurdætur. Like most Icelandic rappers, their lyrics are in Icelandic, so you'll just have to take our word for them being filled with political commentary.
Calling Emmsjé Gauti young may be a stretch, compared to the other artists on the list, but he is in a very real way the father of the new generation of Icelandic hip-hop. Each and every release since his 2010 debut has been marked by his willingness to grow as an artist, and he is undoubtedly at his peak right now.
GKR is the nom de guerre of Gaukur, a young Icelandic hip-hop artist who battled his way into the nation's heart with the self deprecating yet heartful "Morgunmatur" ("Breakfast"). Humble and honest, GKR is part of the new wave of gentle rappers that's free of pretentiousness and toxic masculinity. His rhymes are pretty sweet, too.
In a country obsessed with hip-hop and indie, Hildur put all her chips on pop and its ability to draw big crowds, and her gamble's paid off. She continually tops charts and has inspired a legion of younger fans. She also vied to represent Iceland in the European Song Contest (which is a bloody big deal here), and although she didn't come away with the victory, it has increased her visibility and she's now ready to make a big splash.
Unapologetically rough, this youthful punk rock band is in its sophomore year but they've already earned a lot of respect for dynamic instrumentals, solemn lyrics, and attitude in spades. Each song is a crescendo of emotions that is all too easy to identify with.
The indulgent Lord Pusswhip has been at the forefront of underground hip-hop in Iceland for the better part of the last two years, and is a keen social commentator. Despite his youth, LP has already performed twice at Secret Solstice, and his shows are never short of slick beats.
This folk-americana artist may be the oldest on the list, but we're sure you'll forgive us when you hear her live. She has a knack for making the mundane spring to life through her great vocal range, and put voice to thoughts with matters of the heart.
The voice of the young and disenfranchised, Skrattar deliver the kind of dark truth you can only find at the bottom of your glass after a heavy night out. If the world had just ended, we're sure Skratter would be playing at the afterparty.
Get the Best Fit take on the week in music direct to your inbox every Friday