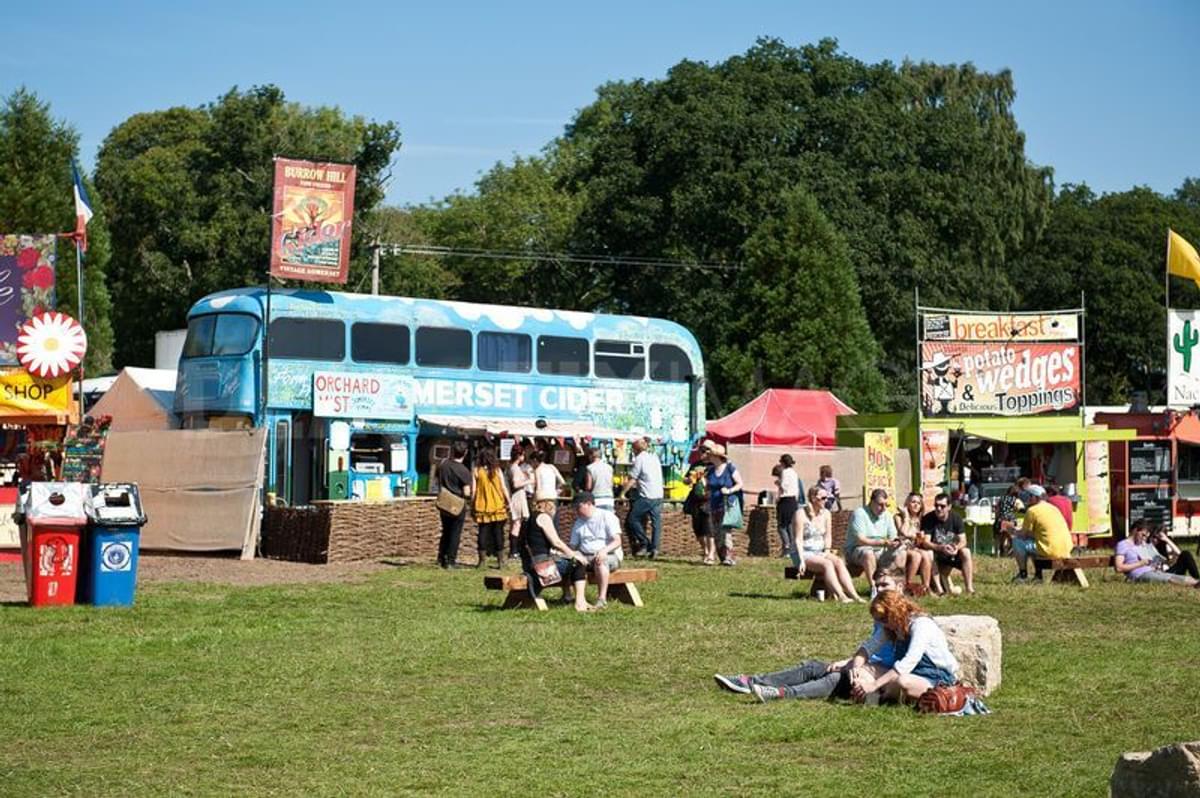 Five essential food destinations at End of the Road 2015
03 September 2015, 18:00
Our favourite UK festival oozes with some of the best food you'll ever eat.
Its a credit to the careful curation of End of the Road that the festival continue to push the culinary envelope every year. Food writer Merlin Jobst chooses five he's most excited about trying this year.

The Farmers Market
Chris from Dorset's Long Crichel Bakery is bringing true foodie community to the festival this year, in the form of an expanded farmers' market. As well as offering his own freshly baked breads, he's gathering some of Dorset's best market traders together for Dorset's premier festival. Expect cheeses, chutneys, meats, and much more – all under one roof in the campsite.
Le Grande Bouffe
If you've never had proper French tartiflette, then take it from us, this is an absolute must. Cecile, the mind behind Le Grande Bouffe, knows a thing or two about proper French food. Through moving from French market to French market in the Haute Savoie with her father, she learned the secrets of perfect tartiflette and saucisse at a very early age. You'll thank us when you're tucking into a hearty serving of potatoes and cheese, prepared with love and experience – there is true Gallic passion in 'the big eat'!
The Bell and Brisket
The Bell and Brisket offer a menu of incredible mains based around hand-brined hot salt-beef bagels and rye bread (served with 'dirty and filthy' seasoned chips, if you have the room). It's their second year at End of the Road, so we can tell you with absolute confidence that their indulgent food is worth sinning for, and that at their home-brewed ginger beer is one to add to your taste cards, too.
The Cheese Truck
The Cheese Truck set out to celebrate all that's great about British cheese, and God, did they succeed. They make and sell a range of delicious dishes using locally sourced and free-range ingredients, from their signature grilled cheese sandwiches to gooey fondue fries (and not forgetting their intriguing Stilton and dark chocolate brownies). Everything comes with a cheesy twist, and it's some of the best comfort food at the festival this year.
Shepherds Ice Cream
Shepherds are a mainstay of England's unlikely literature capital, Hay-on-Wye – and for good reason. Martin and his family have been making sheep's milk ice-cream for many years, and they're beloved throughout the county and beyond. They never stop exploring taste combinations, and their ice cream is, quite simply, the best around.
End of the Road festival begins tonight at Larmer Tree Gardens, Dorset and runs through to Sunday

Get the Best Fit take on the week in music direct to your inbox every Friday