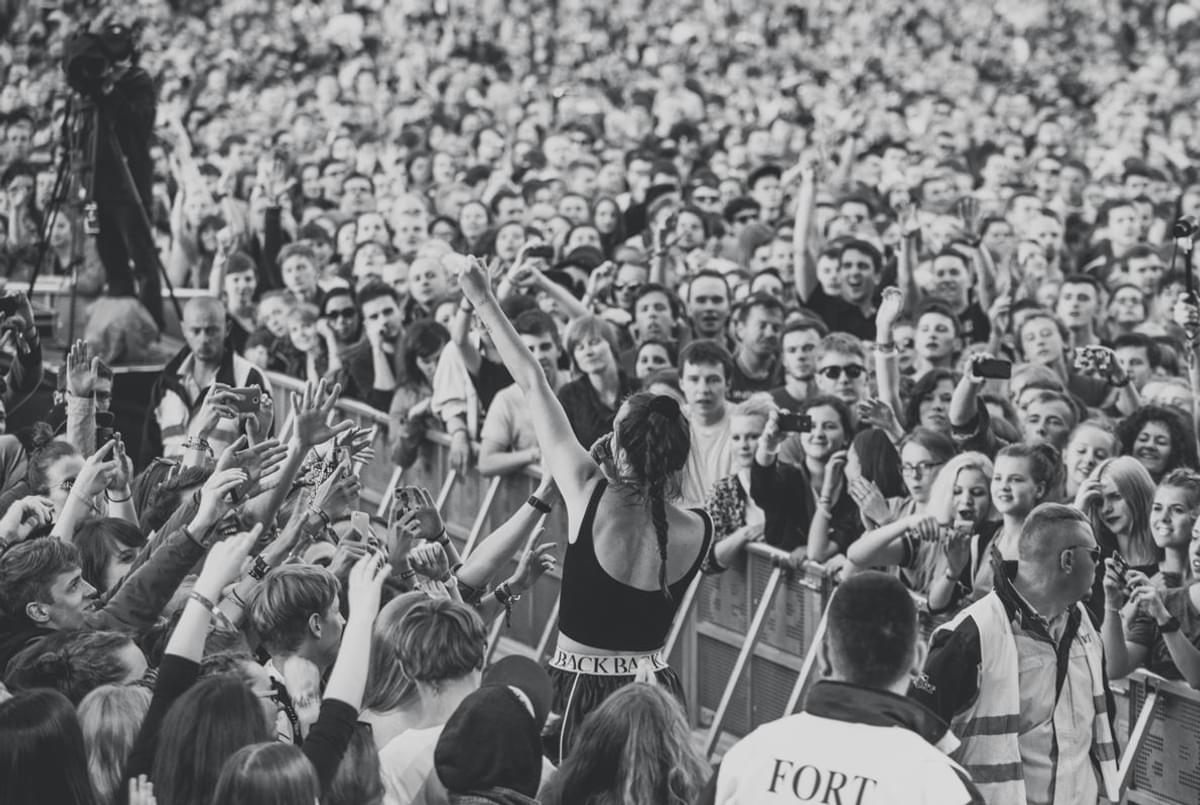 Celebrating eight years of Chess Club Records
27 November 2015, 11:00
Chess Club Records celebrate eight years since their first release today.
The West London based label - helmed by Will Street, Peter McGaughrin and Chris Dashwood - have consistently been at the forefront of developing some of the most exciting and, ultimately succesful, talent to emerge out of the UK since they first started out as club night come singles label back in 2007.
From their first release (with Jay Jay Pistolet (known widely as the frontman of The Vaccines) to the worldwide domination of Mumford & Sons, the debut releases from Wolf Alice to the impending superstardom of Danish pop siren MØ (pictured) - quality, and indeed consistency, is always a given when it comes to the Chess Club seal of approval.
2016 shows no signs of the label slowing down. Next year will see Chess Club release the debut single from hotly-tipped young newcomer Isaac Gracie as well the eagerly anticipated albums from both MØ and Sundara Karma. And as if that wasn't enough, to top it all off expect new music from one of the UK's brightest new stars in waiting, Billie Marten.
Here, co-founder Will Street curates a special mix of some of the label's finest moments whilst offering his thoughts and notions on a selection of the acts present in the twenty-song playlist.
Aditionally, we're also giving away a
Chess Club Records goodie-bag
featuring a bunch of the label's releases bundled with a t-shirt and other delightful swag. To be in with a chance of winning, simply send a tweet to @bestfitmusic telling us your favourite Chess Club Records release, including the hashtag #chessclubis8.
MØ - 'Kamikaze'
We have had the absolute pleasure of working with MØ since the very beginning when we first released 'Pilgrim' back in 2013. After tireless touring around the world in support of 'Lean On', her international smash hit collab with Major Lazer, the Danish force of nature that is MØ returns with her come back single 'Kamikaze' and looks ready to take over the world!
Billie Marten - 'Heavy Weather'
The youngest artist we have ever worked with on the label but probably the most naturally gifted we've ever worked with by a long way. Billie really is an extraordinary talent and all the attributes that make her so special are shown in this stunning track. It's a real 'stop in your tracks' moment when you first hear it. Upon its release it was the track that had the music media hailing Billie as one of the countries brightest new stars.
Jungle - 'Platoon'
This was the first and only time we have agreed to work with an artist without having actually ever met them. Their manager came into CC HQ and played me 'Platoon' which immediately caught my imagination. The groove was infectious and I remember having it stuck in my head for days. We were told the person or people (we had no idea how many there were) behind the music wanted to remain anonymous. It was all very mysterious. When we finally got around to meeting the band (having already signed the deal) it turned out I had known them for years but had no idea they were making music! Don't trust anyone...
Wolf Alice - 'Blush'
It's been incredible watching the unstoppable rise of Wolf Alice this year. We were lucky enough to work with them over 3 releases in 2013 (Fluffy/Bros/Blush EP). So proud of what the guys are achieving. They was robbed of that Mercury too!
Sundara Karma - 'Flame'
One of the newest signings to the label. We first came across these guys back in 2013 when they were just 17 years old. We had them as opening act of the Swim Deep & Wolf Alice (who were both at the time on Chess Club) tour. It was quite the baptism of fire for the young lads but thankfully they survived and are now following the example set by their tour buddies by delivering top quality guitar anthems.
Pumarosa - 'Priestess'
One of the most captivating pieces of music to surface in 2015. Pumarosa are already creating a cult status for themselves already and we are honoured to have been able to help bring 'Priestess' to the world. Plenty more to come from these guys next year!
Swim Deep - 'She Changes The Weather'
Probably my favourite SD song. It's such a poignant piece of music that evokes optimism and sadness in equal measure. A true young loves anthem. I remember this was the last song to be written for the first album. The boys actually wrote it in the studio in Belgium on the last day of recording. I remember sitting in the studio whilst Austin played that piano refrain on loop over and over again then started layering it all up. Gorgeous
Chet Faker 'No Diggity'
Probably the greatest cover the label has ever released. I think Chet would also take the award for sexiest ever vocal on a chess club release. Swoon.
The Middle East - 'Blood'
Probably one of the biggest hidden gems in our back catalogue. The Middle East were a complicated outfit from Australia who sadly self combusted very quickly without really ever getting the attention they deserved. We hadn't heard this song played for many years until we tuned into Zane Lowe's last ever Radio 1 show and heard him sign off from the British airwaves with it. Clearly a piece of music that made a mark with those lucky enough to have been exposed to it.
Mumford & Sons - 'White Blank Page'
It's pretty crazy to see a band you worked with at the very beginning go on to become not only the biggest band in the country but the biggest band in the world!!! It was crazy seeing the guys headline Glastonbury and play some of the songs that we had first released on those acoustic EPs back in 2008. It was even more crazy when they were joined on stage by Justin of the Vaccines (formerly Jay Jay Pistolet) and we had TWO Chess Club alumni on stage at once!
Chess Club's Pumarosa are set to perform in London at the
Five Day Forecast
, Best Fit's festival of new music for 2016 at The Lexington on 12 January. Tickets are
on sale now
.
Get the Best Fit take on the week in music direct to your inbox every Friday