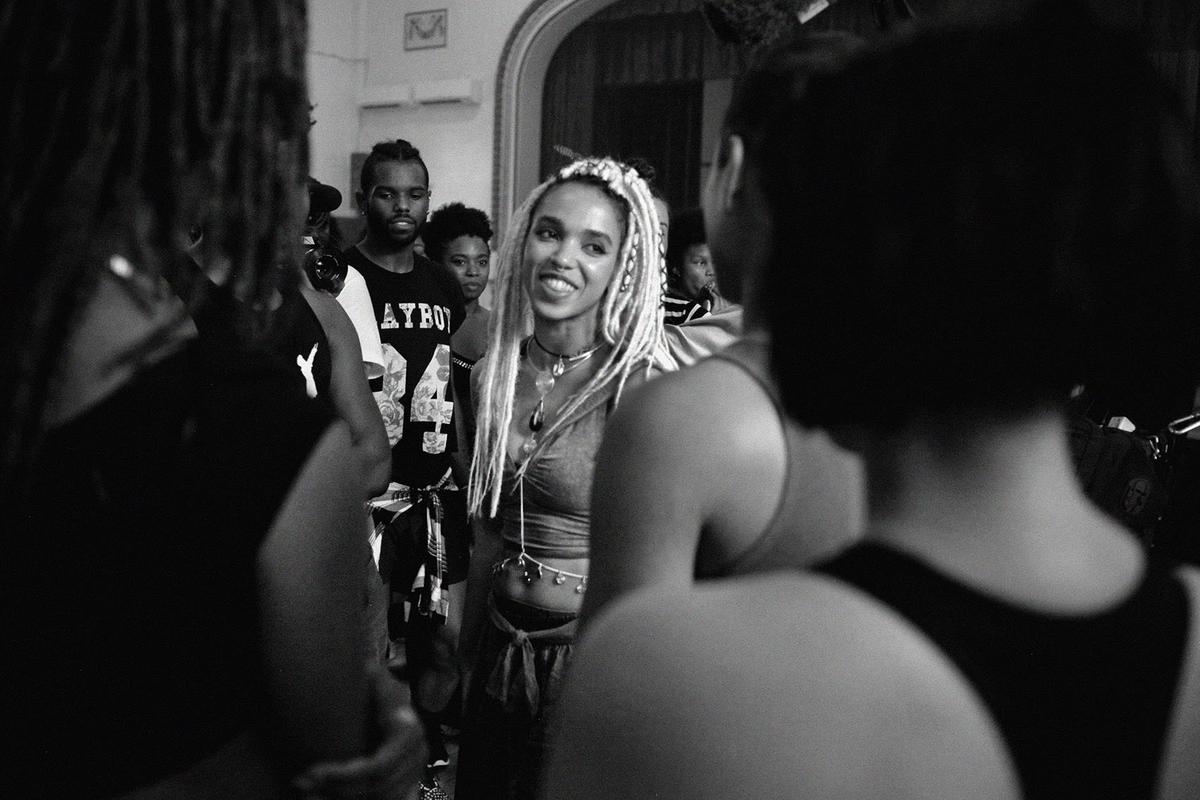 Best Fit: Ones To Watch 2014: FKA Twigs
05 December 2013, 10:30
When Twigs Prince-d, the world was already watching. Reborn as FKA Twigs (the 'twigs' part arising from the macabre way her bones crack), Tahliah Barnett metamorphosed from a rural Gloucestershire native, doing back-up dancing for Jessie J, into a fully-fledged celestial PBR&B-being who enjoys hair gel artistry. Her Young Turks (The xx, SBTRKT) debut, EP2, received oodles of applause for its intoxicating intimacy and crystalline electronics, and though only a few tracks long, introduced many into the feral world of FKA Twigs.
On EP2 there are two efforts that have stood out further than the rest. "Water Me" is a creaking, glasslike paean of pain. From the stammering trip-hop beats and dislocated bass to the heart-shattering lines which allude to prostitution: "He won't make love to me now/ not now I've set a fee/ he said it's too much in pounds/ I guess I'm stuck with me," it's a tearjerker of the sombre-est calibre. Conversely, the ultra-sultry bedsheet anthem "Papi Pacify" stirs a glut of more red-lit emotions. The slovenly beat slinks over dozing synth echoes, and even when the torrid chorus erupts, the half-time shuffle remains metronomic. Though both vastly different cuts, there are three notable similarities: Barnett's unparalleled vocal skill, the malice within the synths, and how essential percussion is. Though FKA Twigs peddles a brand of the voguest genre, R&B, it's considerably sleeker than much, and it inhabits a lair in the vicinity of everlasting rainfall – dark, submerged and shivering. Like Swansea.
To cap off quite the impeccable year for an artist on the rise, Barnett has also been long listed for the BBC Sound Of 2014 alongside stylistic denizens Kelela, Banks and Sampha (though there are familiar links between the artists, they are all distinctly different); all this points towards next year having a very particular sound indeed. In that post-dance/R&B dominated arena, Barnett will bring a lacerated, maimed, insomniac maelstrom to the party. She'll be the one who brought hemlock wine and is sat in the corner staring at old photo albums, alternating between stroking the frozen faces and scribbling over them with a sharpie.
Barnett's not just about the music though. The visual accompaniments for her noises are enthralling, at times disturbing, and ravage the hallmarks of pop misogyny (for a lengthier discussion on that latter point, head here). For example, the aggressive hyper sexuality of "Papi Pacify" is uncomfortably voyeuristic, and the exaggerated photo shoppery of "Water Me" is deeply unsettling. Both are hypnagogic snippets of cinematic wonder (kudos to directors and editors), but also super-duper anxious and thought-provoking. "Ache", "Weak Spot", "How's That" and "Breathe", whilst not as overtly sexual, are still ocular delights, utilising majestic CGI and her signature GIF-repeat/reverse effect.
FKA Twigs' career has been snowballing over the past months, gathering pace like a rollercoaster running amok, and there are a grand total of zero signs that it's stopping anytime soon. With her last release appearing mid-September, and her recent touring commitments with James Blake running their course, we're hoping with all fingers and toes firmly crossed that a full LP announcement is just around the corner, ready to open 2014 with a seductively traumatic bang.