To pay tribute to the late, great Elliott Smith, we take a look back at 10 selected highlights from the life of the troubled icon.
1. Performing 'Miss Misery' in front of half of Hollywood at the Oscars
Never one comfortable in large groups of people, Smith was unexpectedly thrown onto the largest stage of his career when he was asked to play the 1998 Academy Awards. Performing 'Miss Misery', taken from the soundtrack of fellow Portland resident Gus Van Sant's film Good Will Hunting, the singer cut a bewildering figure to many unaware of his talents prior; uncomfortably dressed in an ill-fitting all-white suit but delivering a strikingly composed, if not typically emotive, rendition of the song that sadly didn't win Smith a golden statue to place upon his mantelpiece.
2. Writing a song that should have reached Number 1 instead of Gotye
It's a sad reality that whenever somebody spots you on a tube listening to this classic cut from the Elliott Smith back-catalogue that they'll instantly assume you're listening to a soppy acoustic cover of the similarly-named hit from Gotye by some Radio One live lounge fodder. Any justice in this cruel world would result in this getting to the top of the charts posthumously.
3. His classification of his own music
"'Depressing' isn't a word I would use to describe my music. But there is some sadness in it — there has to be, so that the happiness in it will matter."
Just a glance at the Last.Fm tags of Elliott's name will reveal such synonyms akin to a teenager's thesaurus. But the above quote from Smith himself shows how his music truly outstretches any "sadcore" pigeonholing.
4. Satirising lazy music journalism while interviewing Dinosaur Jr.'s Lou Barlow
Being given some stock questions to ask one of his musical heroes, Elliott's utter deadpan in this video interview must bring great shame and guilt to any music journo who has ever posed the question "So who would you say are your main influences?"
5. Perfectly encapsulating those rare moments of pure ecstasy
"Sunshine been keeping me up for days There is no night time, it's only a passing phase And I feel pretty, pretty enough for you I felt so ugly before I didn't know what to do."

- 'Pretty (Ugly Before)'
Whether it be about love, narcotics or anything else that can suddenly omit all the bad things about the world from your periphery, Smith had a rare skill in concisely capturing these occasions of overwhelming highs – as seen in the lyrics to 'Pretty (Ugly Before)' above.
6. "Selling out" and not giving a damn
"I think that the easier someone's life gets in a financial way, you have more people that expect you to answer to them. Whether you do or not is kind of your choice. But, definitely if you have nothing, you have nothing to lose, and you're very free in that way. If you got lucky enough to not have to worry about that, like my last job was spreading gravel and transplanting trees and things, so I don't have to do that for the moment; but that means that there's a different boss to account to that's a more abstract one."
Smith's penning of a record deal with a major label, specifically Dreamworks, was always going to rile some in indie communities, but Elliott responded in the most elegant of ways – with a great record in the form of Figure 8 and by simultaneously giving his ethical critics both the middle finger and an unconcerned shrug.
7. Performing 'Say Yes' at his last ever live show
Just a month prior to Elliott's untimely demise, this live clip recorded at Redfest on 19 September 2003 marks the last live appearance from Smith, as he runs through a stone sober and hauntingly foreshadowing performance of 'Say Yes'.
8. Making music that will keep indie movie directors occupied for decades to come
While most people's cinematic introduction to Elliott Smith comes from Good Will Hunting, it's perhaps Wes Anderson's brilliant The Royal Tenenbaums that appropriates Smith's music best of all, with this scene featuring the track 'Needle In The Hay' standing eeriely similar to the singer's own death.
9. Inspiring virtually every singer-songwriter since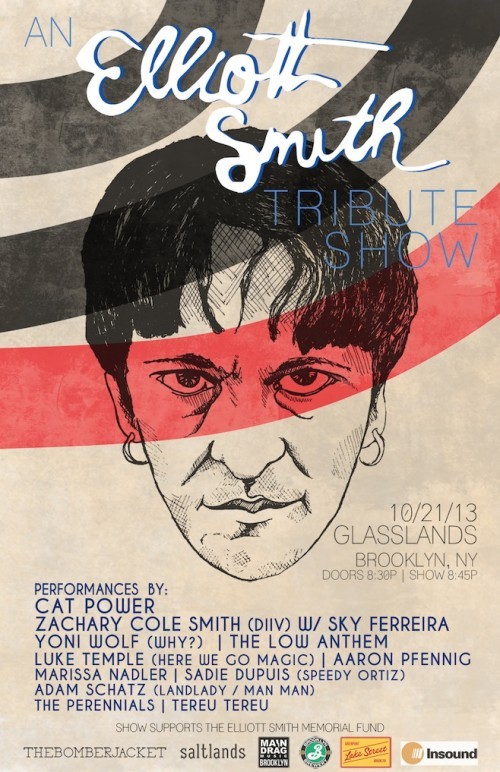 Take a look at any of the worldwide memorial concerts that have sprung up to mark a decade since Smith's death and you can truly see the diversity of artists that Elliott has influenced. From Why? to Cat Power, DIIV to Badly Drawn Boy, any tribute compilation is bound to have musicians clamouring to be a part of.
10. The 'Figure 8′ mural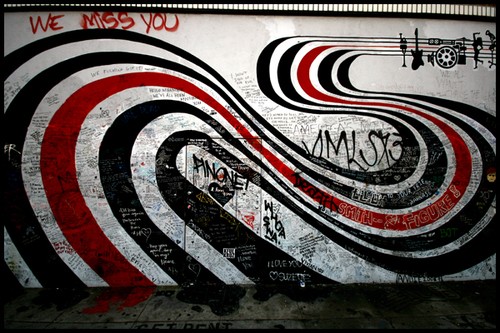 After the news broke of Elliott's suicide, this mural – located on Sunset Boulevard in Los Angeles and originally depicted on the cover of the singer's last ever record Figure 8 - became a site of pilgrimage for all die-hard Smith fans, littered with personal messages, memories, lyrics and odes alike. Repeatedly the target of vandals, the way the late musician's fans rally together to keep the site going to this day shows just how much of an impact Smith has had in their lives.
RIP Elliott Smith (6 August 1969 – 21 October 2003).