With the 33rd annual BRIT Awards set to take place this evening (20 February), we bring you the best moments from years past that show – whatever your thoughts of some of the acts nominated – the ceremony is one always worth tuning in for.
Featuring Suede, Jarvis Cocker, Prince and more…
- – - – - – - – - – - -
10. Sam Fox and Mick Fleetwood's terrible presenting (1989)
Never working with children, animals or Sam Fox and Mick Fleetwood as the popular idiom goes. Probably. Well, it would be quite deserved if this managed to find it's way into the dictionary, given how atrocious their presenting at the last ever live-broadcast BRIT Awards. And let us tell you, it was no coincidence they decided to record and edit the whole thing first the next year.
- – - – - – - – - – - -
9. Chumbawamba throwing water over John Prescott (1998)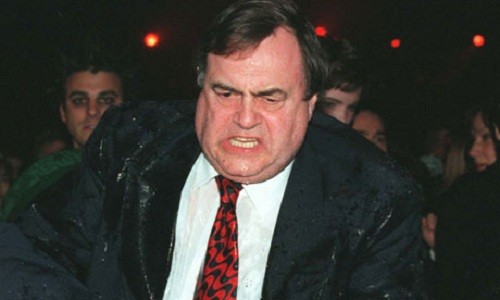 You may think that Chumbawamba are only known for that one song, but you'd be mistaken. They are also known as one of the many people John Prescott has had a fight with, after they poured an ice bucket of water over the politician at the '98 BRITs. "If John Prescott has the nerve to turn up at events like the Brit Awards in a vain attempt to make Labour seem cool and trendy, then he deserves all we can throw at him," the band later said – seemingly inventing their own system of legal justice.
- – - – - – - – - – - -
8. Freddie Mercury's last public appearance (1990)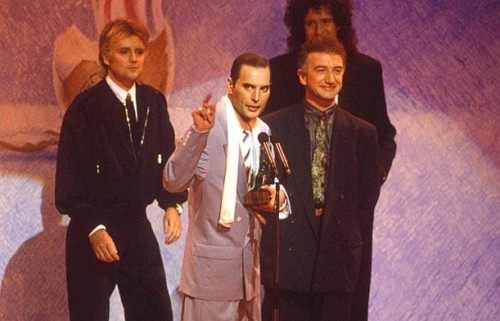 In a last public appearance before his death, Queen frontman Freddie Mercury accepted the 'Outstanding Contribution to British Music' award at the 1990 BRITs. Bearing a quiet, gaunt figure, Mercury let Brian May do all the talking, simply waving to the worried public, then unaware of his failing health. The award stands as an apt marking of the singer's legacy.
- – - – - – - – - – - -
7. Random DJ thinking he won 'Best Film Soundtrack' (2000)
Sure, you could blame your mates when they pull a stunt like this on you, but we really think Brandon Block only has himself to blame for this one. Tricked by his friends into thinking he had won 'Best Film Soundtrack', the DJ proceeded to get on the stage, get into a fight with Ronnie Wood and get water thrown on him in the process. It's still not known where Block had ever actually recorded a film score, let alone be nominated for this actual award…
- – - – - – - – - – - -
6. James Corden cutting off Adele (2012)
Only diamond-selling, CD-in-every-home, song-on-every-TV-show singer Adele could get away with flipping her middle finger at the camera on air after being cut off by James Corden and not cause a big moral panic. She's still probably sold like a million albums since and we got to see Blur instead of her rambling on. Everyone wins.
- – - – - – - – - – - -
Read more on the next page…