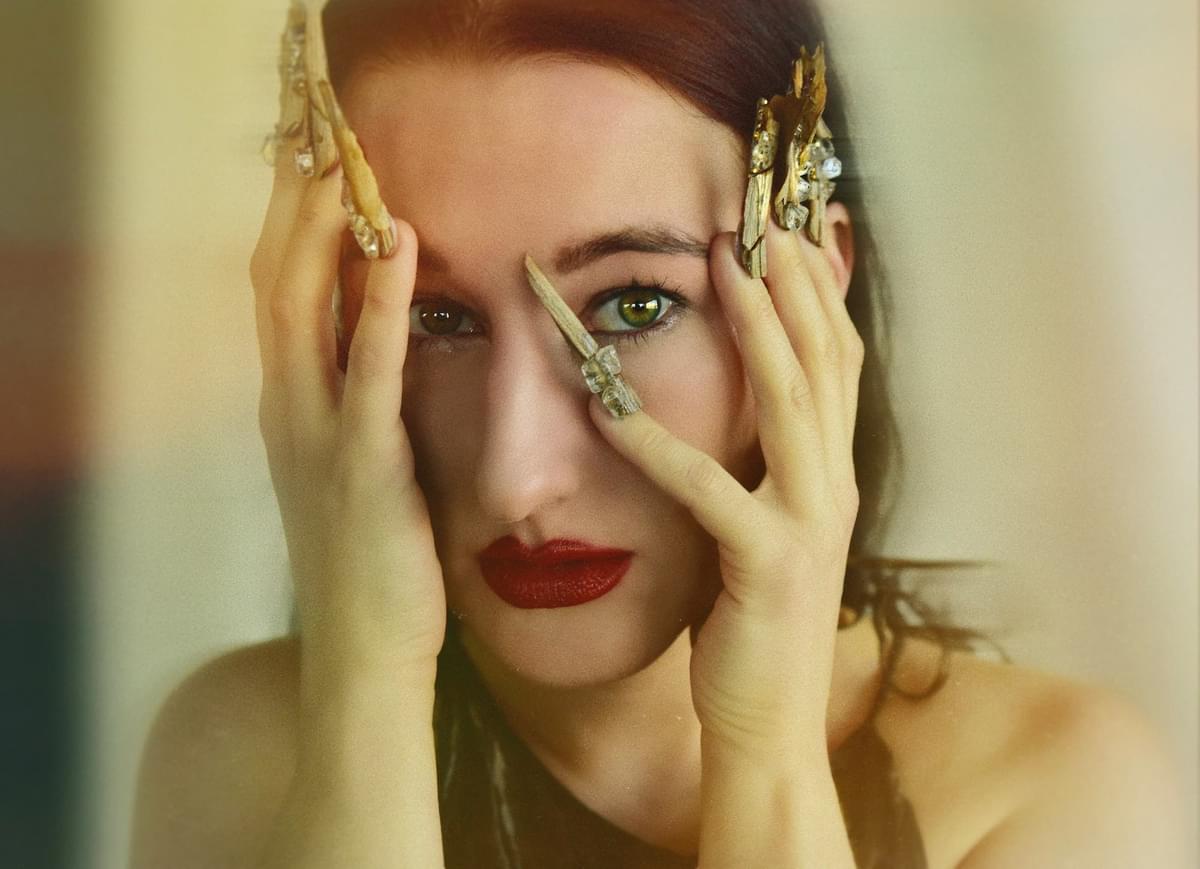 Zola Jesus on spirituality and overcoming the lone genius archetype
20 June 2022, 09:00
Against a striking backdrop of towering ancient rock formations in Turkey, Zola Jesus filmed the video for recent single "Lost". Blanketed in snow, this landscape of Fairy Chimneys embodied a mystical surrealism almost incongruous with its natural occurrence; closer to art than geology.
They are the perfect match for the tectonic swell of "Lost", the opening track from forthcoming sixth studio album Arkhon, which crystallises Zola Jesus' disorientating, primal energy. At its core, a breathy looping sample evokes Venetian Snares' Nymphomatriarch or Tanya Tagaq, as ominous synths give way to formidable percussion. The single, and indeed Arkhon as a whole, delivers an unnerving timelessness that feels as mythical as the volcanic turrets of Cappadocia.
Zola Jesus is the moniker of Wisconsin-based songwriter Nika Danilova, who has, like many artists, embraced a new way of working over recent years. The changes underpinning Arkhon were not, however, borne out of pandemic-induced necessity. Even before COVID prescribed the atomisation of humankind into household-sized fragments, Danilova had already lost patience with the limitations of loneliness.
"Some things are much bigger than I could come up with on my own," she explains of Arkhon's creative process. "We're so limited as individuals [that] collaboration is important and necessary in the collective growth of culture – and mankind, period!"
When working alone, Danilova had found herself trapped by the mythology of the "lone genius", an archetype amplified by the misogyny embedded into the machinations of the music industry. "As a female solo artist, I've always had this push/pull relationship with collaboration," she says. "It's something that I was initially very hesitant to do to protect my agency – or even the illusion of agency! People would often assume that Zola Jesus was a band and that there were guys producing the music. I reacted against that and became very intent on maintaining control of every aspect of the project."
With software her only studio companion, Danilova felt isolation creeping in. "I started to feel very lonely in my creative process, especially as my music became so much more intimate," she admits, explaining that "the songs on Arkhon are so personal that it became hard to step outside of them and see them from a different perspective. It became obvious that I had reached an impasse."
The conclusion? She had to let someone in. This was quite a U-turn from an artist whose five previous LPs were made in almost total solitude. Fortunately the risk paid off, thanks in no small part to producer Randall Dunn, with whom Danilova has a "really good spiritual bond."
"I felt like he understood and respected me," she adds. "I could trust him. I wanted [co-production] to be a very open process. I didn't want all the decisions to come from me; I wanted other people to come in and interpret the work that I was giving them. [Collaboration] was an incredibly eye-opening and invigorating experience."
Inviting Dunn into the studio granted Danilova a new catharsis that feels audible throughout the full length of Arkhon. Where previous Zola Jesus records wander into haunting territory, Arkhon is a very deliberate sonic exorcism. The groundwork for this sense of liberation was laid in the studio, but Danilova experienced a tangible domino effect that spilled over into other areas of her life. "I was going through so much personally and emotionally that it was hard for me to contextualise. To experience somebody else stepping in and interpreting the difficult things I was trying to express widened everything in a way that was so healing. Randall was so encouraging and supportive. I was broken and he came in and built me up better than I was before. I feel so much more free now; being able to let go and ask for help when I need it."
Dunn was not the only collaborator to make a mark on Zola Jesus' sound throughout the genesis of Arkhon. Danilova acknowledges that her previous defiant self-sufficiency – whilst understandable – did place limits on the scope of what she had been able to create up until this point. Whilst technology could bridge the gaps in her musical skillset, being rigidly in tune and in time risked erring into a territory she alludes to feeling uncannily inhuman. As such, Arkhon's creation necessitated the enlistment of additional musical talent in the form of drummer Matt Chamberlain, who's played for everybody from Tori Amos and Fiona Apple to Leonard Cohen.
"Usually I'm programming the beats myself, so everything's very rigid," Danilova explains. "Having someone come in with the human groove made everything move in such a different way. A lot of these songs to me feel like body songs – songs that are more for the body than the heart or mind. I love that. I love being able to play with rhythm in a whole new way."
This context allows the listener to pin down the impact of what are often subtle changes to Zola Jesus' sound on the new record. Chamberlain's unplugged percussion feels fuller than its synthesised predecessor; possessed of an earthy, organic resonance that roots Arkhon in stoic timelessness. "Randall and I both wanted to make an album that didn't sound like it was made in a particular time period," Danilova agrees, when this is pointed out. "These days we're all using the same tools and the same gear. It feels so flattened and 2D, and you end up getting music that sounds like everything else."
The idea of a Zola Jesus record sounding particularly comparable to anything else in existence is almost laughable, but Danilova is sincere about the pains taken to avoid any obvious similarities – not just to industry peers, but to her own prior output. "This record was made outside of a computer," she says, firmly. "They're all hardware analogue synths – really strange, obscure modular synths that are very rare and weird and wonky! – and organic instruments like cello, strings, and piano. The textures are really different, and I was exploring realms of sound that I haven't before, thanks to my collaborators."
Aside from melody, the core of a Zola Jesus record has always been Danilova's arresting vocal performance; a unique element that remains central to Arkhon's sound. There's an Orthodox severity to its stark, gothic beauty that Danilova embraces and foregrounds throughout the record's length. "My voice is free," she states succinctly. "I was able to let go of so much tension in the way that I sing, and there's a level of liberation in the way the music was made and how it feels. [Arkhon] was the end product of this whole horrible time that I went through, and it's nice to know that I could create something that feels so healing and beautiful from it."
"I use music as a means of healing for myself – not just when I record but in what I do all day."
The track on which Danilova's vocals shine brightest is doubtlessly "Desire", a sparse, echoing ballad constructed from little more than piano and voice. Whilst we have heard moments of acoustic vulnerability from Zola Jesus before, "Desire" is brave in its commitment to sheer simplicity. "This is the song as I wrote it and as I performed it for myself when I needed it the most," Danilova says of the track. "I use music as a means of healing for myself – not just when I record but in what I do all day. I wrote this to work through feelings of chaos and confusion."
Admitting that it was hard to leave the track quite so pristine, she continues "I'm a bit of a maximalist, 'cause I'm always afraid something will be boring or repetitive. I could have added a bunch of stuff, but I didn't think it needed it. It's more powerful when you let the dynamics of the performance create the narrative… ['Desire'] is a very repetitive song, but I love minimalism and repetition in music. The repetition makes it meditative and healing. When something is repeated, it's never the same thing twice. The piano chord progression is a repeating line, so everything that happens around it can change. There's often more power in the subtle nuances of change than in great big leaps."
The healing power of music is something Danilova connects to her own spirituality; a many-splendored and intuitive thing situated deep in the guts of Arkhon. It is a surprise to hear that spirituality hasn't always been a core component of Zola Jesus; a project whose output has always felt hymnal and effortlessly transcendent. "I didn't feel like I could be spiritual in a very rational world," Danilova confesses of her earlier work. "Society asks us to disavow any rare spiritual truth in honour of capital. I thought that it was wrong to believe in things that can't be proven, but now my spiritual practice drives everything that I do. It provides me the deepest meaning and the deepest rewards. The material, rational realm is so profoundly unfulfilling to me at this point that I'm just not interested in pursuing a life that is disconnected from spirituality.
She continues: "Most deeply I feel like an animist. I believe that everything is connected, everything is one, that all organisms – everything – have life and spirit. There is a divine aspect to being alive that we're forced not to recognise in a world that doesn't want to acknowledge the interconnectedness of all things. I'm always seeking an experience of being alive that feels connected to something bigger than myself, bigger than humans. When you get to a fundamental level, there is something that all [spiritual and religious] practices share that is deeply core. That is the thing that I believe in. Something that is true, something that is universal, and that can't really be explained. I find humans to be very insignificant in the grand scheme of things."
Whilst that insignificance is not something the majority reckon with on a daily basis, Arkhon manages to embody and illustrate it with unnerving ease. There's a profoundly visceral component to experiencing the album's dramatic soundscapes, not unlike the feeling of staring up at Cappadocia's stark and staggering chimneys. The more one explores its catacombs, the clearer it becomes that Arkhon is a record built to outlast you and I.
On what drives her, Danilova concludes, "making music isn't about whether or not I get on the charts or get famous. It's about impacting people's lives in a way where I feel connected to total strangers. It's such a healing act. That's a magical aspect of being a musician that I'll never let go of."
Arkhon is released on 24 June via Sacred Bones Records
Get the Best Fit take on the week in music direct to your inbox every Friday