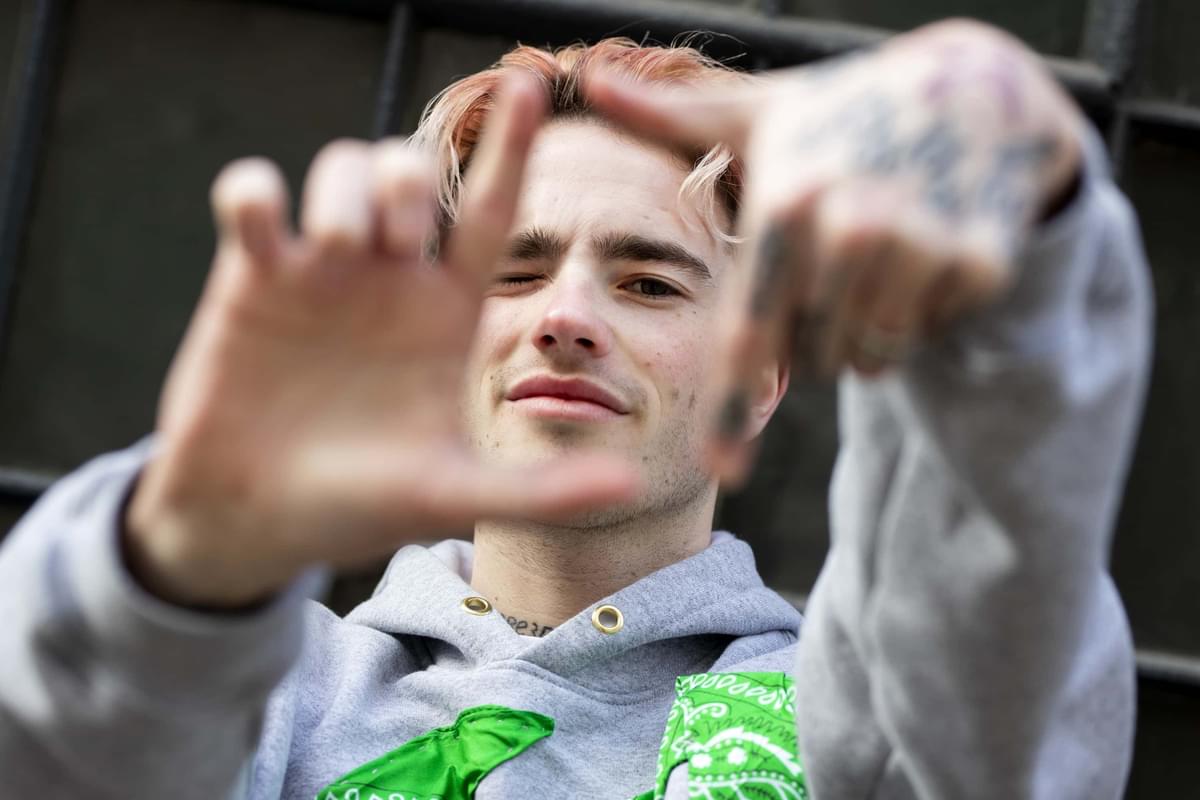 On the Rise

Yxngxr1
23 March 2020, 13:51
A true product of the internet generation, Yxngxr1 is a new type of indie artist, powered by underground trap and rap – as well as social media, memes and online communities – but making music about timeless themes: love, heartbreak, and what it means to be young.
He uploaded his half-rapped, half-sung cut "Tyler, the Creator" to Soundcloud in January last year, its low-fi, deep bedroom beats and trappy, fluttering percussion paired with glowing guitars and stripped back, heartfelt lyrics. It immediately resonated with listeners, going onto rack up almost two and a half million plays there, as well as three million views on YouTube and seven million streams on Spotify.
Since then he's made two EPs of his idiosyncratic, stripped down sound, found himself on playlists and had thousands of fans make TikTok videos of his track "Rather Do". This all might seem surprising for a bedroom-producing newcomer – Yxngxr1 started out writing and recording using a seriously makeshift set-up, his smashed up iPhone, laptop and lyric notebook balanced together on the bottom bunk in the room he shares with his brother– but he's DIY to the core, and that applies as much to creating a community as it does to music.
Growing up outside of Cardiff - the kind of place "where everyone knows everyone", he says - Yxngxr1 came of age listening to underground trap like Lil Pump, Smokepurrrp, XXXTentacion and Ski Mask The Slump God, starting to make his own music (while working full-time at Foot Locker) pieced together using beats from YouTube and creating effects from scratch, without even knowing the tricks of the trade let alone having the tools of it, like GarageBand. He talks about messing around in his room, setting the vibe to try and get creative – "I've got fairy lights because I can't afford mood lighting," he laughs – dancing and playing about with melodies.
Whatever the process, he clearly has a knack for marrying up seemingly different worlds, taking elements of trap and underground hip-hop, melding lyrical nods to rap heroes – take the affectionate "I love you like Travis with his Stormi", on 'Toy Story' – but also echoing classic UK sounds like The Stone Roses in his vocals, and folding in nostalgic, almost naïve, indie guitar stylings.
YouTube uses the hashtags #trap and #hiphop to describe Yxngxr1 tracks, but he frames his sound more as "alternative indie", albeit influenced by the likes of Post Malone: "He sings in a key that doesn't stretch your vocals, sort of in-between, which is something I do, and the repetition, the echo thing - I was really inspired by how he used to do it. But do it my own way."
While 2019 EP Childhood Dreams' centred around a relationship, this year's "I Don't Suit Hats" centres more on himself, it's a sonic step-on too, bringing a fuller, richer sound without losing any of the laid-bare appeal fans love. "With that one [Childhood Dreams] I had my sort of 'theme'," Yxngxr1 says, of working on a second project. "But with this one I just wanted to write about being content and happy, so there was less shape to it. It was actually the most fun writing songs I've ever had, ever. Even better than 'Tyler'."
And there are fans all over the world ready and waiting for new material, because despite his DIY process and low-fi sound, Yxngxr1 has used contemporary tools to build a close-knit community around him, an approach that's been as vital to his rise as the music.
Early on, Yxngxr1 set about getting his tracks featured on memes (by working with meme page owners), at one point across thirteen pages – with seven or eight million followers between them, he says – meaning a huge audience across the world was hearing (and falling in love with) his music while scrolling their favourite memes.
Meanwhile – as well as connecting with thousands of fans via Insta Stories – he turned to Reddit to create an online space for fans to congregate and share, a sort of Gen Z version of the clunky band chatrooms those of us coming of age in the early 2000s had to grapple with. "I just said, 'If you want the lowdown or whatever, or just talk, do it here'," he says. There's a Russian version of Facebook too, he tells me, with a whole group dedicated to him too: "It's so surreal, it's wild to think that someone from another country is trying to write in your language. So sometimes I try and reply in Russian too."
With one foot still in the bedroom producer world, he's still yet to perform properly as Yxngxr1 live, but is thinking deeply about what that would look like: "I want people to leave thinking 'That was a show! I want to come back again'," he smiles. "Imagine if you have a slice of cake and think, 'Wow. Where can I get more of this cake from?!' That's the effect I want to have on someone. But I don't know what I'll be like performing. Until this point it's basically been just me."
Now signed to US hip hop label Empire , it's definitely not just him anymore, and Yxngxr1 shows no sign of slowing when it comes to songwriting, saying he wants to put out five EPs this year. That's down to an affinity he feels with that online community he's built up, and a responsibility to keep giving them new music. "Those guys brought me here and they're used to me uploading music every week," he explains. "I can't just say 'Cheers for the money, that's all you're getting now.' You can't neglect them."
He's not lost that instinct for building something from the inside out either talking about being inspired by artists like Travis Scott building hype around the release of Astroworld, how the fans can be as much a part of that hype as the artist. When asked who he gets hyped for himself, Yxngxr1 says he desperately wants to see Dominic Fike (after a failed attempt at getting to one of his shows in Amsterdam), and actually has an idea for a multi-genre album featuring the likes of Fike, 21 Savage, Ed Sheeran, Post Malone..the sky's the limit for this young man from the Cardiff suburbs.
It's not a dream – very much a reality, in fact – but as he looks forward to 2020, Yxngxr1 still can't quite believe what he's built in just one year: "I still feel like I'm going to wake up and have my Footlocker uniform on, and my badge. And it's like, 'Back to work!'"
Get the Best Fit take on the week in music direct to your inbox every Friday