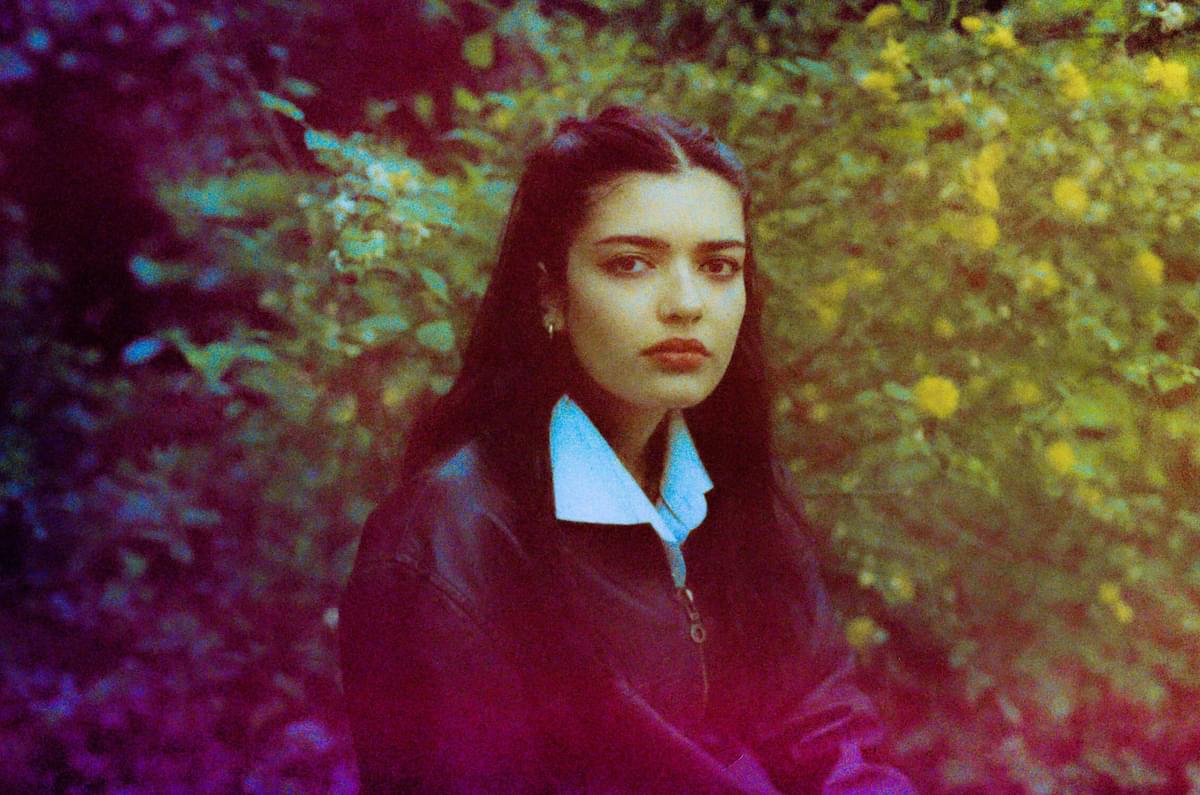 On The Rise: Yunè Pinku
01 June 2022, 13:00
South London's Yunè Pinku is reshaping the sound of the rave in her own introverted way.
"I've done one rehearsal so far… I didn't realise I wrote songs that were difficult to sing," Yunè Pinku – Asha –laughs at the camera. It's midday in early April when we call, and she sits across the screen from her sister's room, taking a brief detour to show me the collection of bags and scarves behind her. After finding her current sound during a string of lockdowns, she's now leading up to her debut show as Yunè Pinku at the end of April.
A few weeks later, I'm following a moonlit backroad in South London. Bermondsey Social Club is tucked away; a hole in the wall, and unexpected warmth. Basking in hues of purple, blue and white, lights dance and hazy drapes of fabric hang behind Asha–a mystical backdrop and invitation into her technicolour sound. There's an assortment of characters at the show; her sister beams with pride for the entire night, a mixture of industry people, and then an array of friends and fans, clad in eyeliner, dancing, drinking. When I ask who her sound is for, she tells me it's "electronic for introverted ravers; for people that like going to parties but are too afraid to actually do anything".
Throughout the show, the 19-year-old Irish/Malaysian artist performs songs from her debut EP Bluff. Blending garage-inspired beats with pop, industrial and ambient stylings, the four-track project reshapes the sound of the past, injecting her own twist into the tracks. "DC Rot" opens the EP, paying homage to skate culture, capturing an eclectic range of emotions and drawing on the deadpan vocals of German duo, Easter. "I think that's my favourite one off the EP," says Asha. "Everything on that EP was written about two years ago except for "DC Rot" which was more recent. That's why there's a different vibe with it because I think that's more similar to what is going to come out in the future. "Bluff" and "Laylo" are more me two years ago". There's a grit to the project, which echoes the stories which influenced it; "Bluff is about the sort of paranoia you have sometimes when you go out clubbing but also the fun you have."
Despite the strong recognition of underground UK dance music within her sound, it wasn't until the first lockdown that Asha discovered her affinity for electronic. Before that, she grew up on an assortment of classics: "A lot of early 2000s pop. Some Madonna, some Nelly Furtado. still really do rinse out Bob Marley," she laughs. "It was a mix of Irish folk music, trance music and Black Eyed Peas. Good vibes. But yeah, a weird mix."
For Asha, her Irish heritage has always been an important aspect of life. Whilst she grew up in London, she'd frequently return to Cork with her family, enjoying the contrast and spending a quarter of each year there. "I've kind of been predominantly raised by my Mum so I've been more in tune with my Irish side than my Malaysian," Asha explains fondly, lighting up as she talks about her. "She's done loads of things. She was an early champion of Irish culture and charity in London for the last 10 years and was the chairman of the St Patrick's Festival in Trafalgar Square, so very Irish," she laughs.
"It is weird being mixed race, particularly when you don't really know one side because it's like half of your identity that you're not familiar with as well," Asha reflects. "I went into this shop the other day with my friend who is also Indian and we were looking at all of these bindis and stuff, and I was like, oh they look so cool. And she was like, you should get some! And I was like, no, I just feel like I can't… Even though I technically could, it's weird stuff like that".
Both sides of Asha's family are religious: her Irish side is Catholic, and her Malaysian is Hindu. She meditates on her own positionality: "I'm quite a spiritual person but I think that spirituality is a thing that comes personally to you, and religion is sort of a placeholder for that. I think being raised between religions has sort of made me see the commonalities as well as the points that I don't necessarily agree with within religion."
Growing up, she had a range of jobs–from bartending to interning for Prada and working in a crystal shop. "You'd get the weirdest stories from there," she enthuses on the latter. "We'd have mums coming in and being like, I've just found out the guy that I was seeing everyone else at the school, and then they'd be looking for a crystal that might help their situation. And then we got proper geezers in, who'd be like [grunts] I can't tell anyone at work about this, can I? It was really interesting because you'd get all of these people that you'd never think would be into that kind of stuff."
As someone who'd always been drawn to creative writing–even applying and getting into journalism courses at Yale and Cambridge on a whim–being surrounded by stories and differing perspectives is important to Asha. When we talk about her inspiration for Bluff, she tells me how she tends to draw from others' experiences. "I just write down a bunch of random things or thoughts or phrases I hear on my notes app and whenever I'm trying to write lyrics I'll look to that page and come up with something. When mates of mine would be telling me these insane stories of like, 'and he was married and he had kids and–' and you're like woah. So I guess I kind of draw on their stories more because you know they got the drama," she laughs.
She dabbled a little in piano growing up, but began to experiment with music fully as a teenager, downloading production software from a blank website her cousin had sent her. Tampering with her computer, she delved into the production world, at first making Clairo-influenced bedroom pop and then "Bladee-weird Drain Gang stuff". A few years later, she began to click more with electronic music. "I'd only really listened to music in the pretext of like a club or something, and then I realised you can do it outside of a club and on your own grounds and stuff. I like to draw and write electronic," she tells me, noting inspiration in boundary-pushing artists Eartheater and Sassy 009.
Emerging from lockdown with over 150 songs created in her bedroom, mostly shared solely to her boyfriend at the time, managers she had connected with via SoundCloud and a friend of a friend, her family were surprised initially. "No one knew I made music. I was like I might get a record deal soon, and my mum was like what? My mum's the number one listener now. I think the biggest comment I get from my family is, I don't get it but I'm so proud of you. Electronic music is not everyone's bag."
Prior to any releases, Joy Orbison invited Asha to contribute a guest mix during his radio 1 residency last year, and a few months later she collaborated over email with Logic1000. Now, with her debut EP well-received and a buzz around the young artist, she's conscious of the additional pressures. "I psych myself out sometimes and will be like I don't know if this is a commercially good song. I guess it's the battle between the commercial mind and the creative one."
"I wouldn't consider myself someone who has ever craved the spotlight. I think I'd be more so like a stagehand person by nature, but it's interesting because I've had a few conversations recently where it's been like do you see yourself and your artist project as separate things? And I don't think I do really; I think they're strains of the same person eventually, but that in itself is quite interesting," she tells me, considering the direction that Yunè Pinku has been in and will go in. "Through being in these situations where I am more of a focus than I ever thought I'd be, you see new parts of yourself and learn that you actually are okay with this."
Is there a main sentiment she wants listeners to feel? "Sad," she quips with a laugh. "I'm just kidding. I guess a lot of it comes back to, man, these are some difficult things but it's all going to be fine anyway– or it doesn't matter anyway."
Get the Best Fit take on the week in music direct to your inbox every Friday