"When I got better from the mumps / Yes, my swollen nut and neck shrunk / But, though subtle, I can smell distinctly / Some sick and swollen stink, still to this day stays with me."
And so begins 'Jonathan's Hope' in Yoni Wolf's signature sardonic tone, perfectly kicking off WHY??'s new record, the aptly-named Mumps,etc, an all-encompassing ode, lament and requiem to everything from life, love, sex, death and those little things that crop up in between.
Over the course of the past eight or so years since the group's initial formation as frontman Yoni's solo project and moniker, they have slowly but now very surely become a bonafide band in their own right, backed by his brother Josiah, sister-in-law Liz and long-term collaborator Doug McDiarmid. Together they've blended the rap-leaning foundations of the singer's previous outlet cloudDEAD with song structures and arrangements associated with more traditional band-like units, and in these years Yoni has rolled through his twenties and into his early-thirties on the comfortable verge of the mainstream, with a string of albums cementing the band a humble but loyal, bordering on fanatical, following.
The latest record, Why?'s first since 2009, finds Wolf at his most pensive, with Mumps, etc being born from a patch of sickness that hit the singer between said releases. One of which, if you couldn't extract from the record's title already, was indeed the mumps. Littered everywhere within the album's whole are songs of death, ageing and illness, from the aforementioned opener to 'Kevin's Cancer' and 'Strawberries', the latter a touching mourning for Yoni's own grandmother.
The record isn't the first of the group's back-catalogue to address ailing health, in just the name alone of 2008's Alopecia comes the lamenting of what the frontman himself calls the receding of the "locks that women used to faun over". It is, however, the first LP where these thoughts and fears clearly come to the forefront of the singer's mind.
"We recorded Alopecia and (2009 LP) Eskimo Snow all in one batch, and that was pretty much finished by March 2007," Yoni begins as we get the day's first glare of sunlight coming in through the window, albeit halfway through the afternoon already. "Then later that year I started these songs and then there was this intense period of working during the winter of 2010/2011." During this period, however, just as the band were in the middle of a touring stint, Yoni broke his hand during a concert, which forced the group to cancel the rest of their remaining dates. "Yeah, so after that I just moved back home, back to my parents house in Ohio."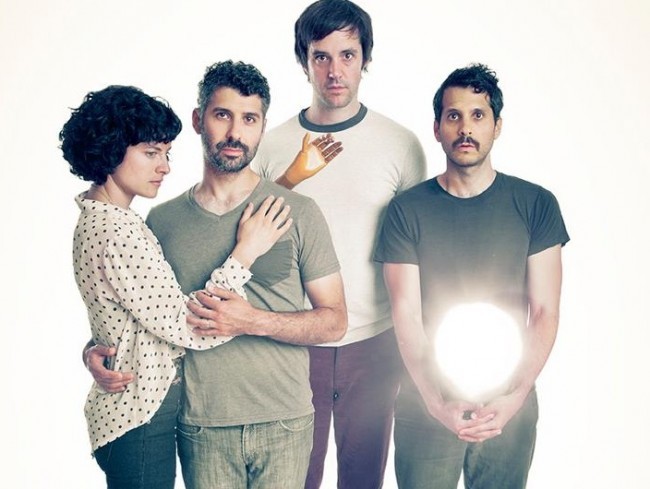 The a setting of such a retreat must become twofold for musicians; at once a great contrast to the hectic nature of life on the road but also emotionally and artistically investing as a return to the location of one's formative years. It seems, at least from the outside, a good place to transfer thought to pen and then to paper, but the reality of the situation for the Cincinnati-born, now Berkeley-based rapper was far from the ideal. "A lot of that time was spent laying up sick, or with a broken hand. For that part of it, I was pretty miserable," he recalls at a pace much slower than his liquid-like flow on record. "But for the rest of it, when everything passed. I was quite energetic and raring to go. I guess I was just eager to keep busy, working on demos from my parent's own dining room."
The resulting record, recorded in part at a lab down in Texas before being finished up and mastered back in Cincinnati, is a somewhat return to Wolf's hip-hop roots after a more orchestral previous LP and a solo piano tour that followed it. Not that Yoni would say that it's anything but natural progression though. "You know, people keep telling me that it's 'a return to Elephant Eyelash', but I'd say there's way more hip-hop tracks on Alopecia," he says with a tinge in his voice that suggests he's just been asked the same question by someone merely minutes before me.
"This record was just kind of the way I was writing things at the time, you know? And the way things ended up when we were really going at it in the studio. But there's still the band instrumental side to things there too, I mean have you heard the choir on 'Shag Carpet'?" He asks this last question with the kind of refreshing enthusiasm akin more to somebody giving their friends a demo tape for the first time than a musician working on their fifth full-length proper (if you include first solo release under the name, Oaklandazulasylum).
Coinciding with the theme of ill-health, the record also tackles the psychological burden that comes with being, again as Yoni puts it, "a minor indie celebrity". 'Waterlines' sees him contemplating giving it all up and settling down for a normal life, while 'Sod In The Seed', the lead cut from the album and its precursory EP of the same name, stands as an exercise in Yoni's exorcism of his own irking middle-class guilt-ridden demons, with a particular lyrical highlight coming in the delivery of lines: "But who am I to judge a man's heart by his yacht wear / And it scares me to death, yes, that I'm starting to not care."
Forever tagged as "confessional", there are moments on the new release that sees the singer picking apart his past in a way different that all that has come before. There is less of a veil of metaphors and analogies this time round, less holding back and definitely no ducking away from spouting whatever is on the mind at any given time. Mumps, etc is perhaps Wolf's most honestly written output to date, a record that approaches the troubles of everything from what to do after you've burnt out your indie-rap career to recalling confessions to high school counsellors, there's even room for Yoni to mention his aversion to wearing condoms or suncream, surely one pick-up line that must always end in the night with involuntary celibacy. Comfortable income – yes. Entirely at ease with himself and the world – not quite yet.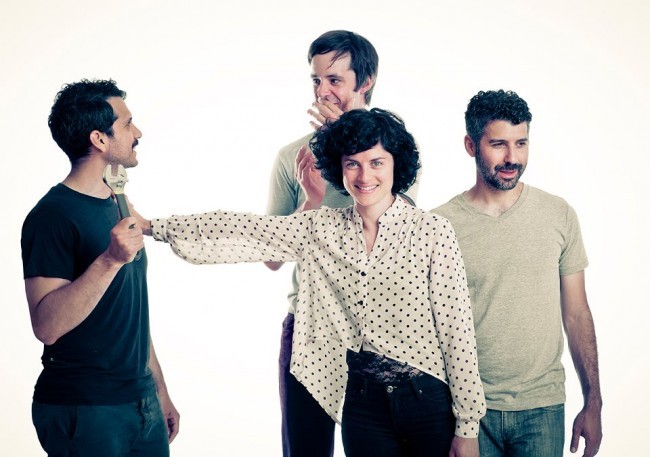 From all these lyrical confessions, you could paint a rather vivid, if not fantastical, picture of the man behind the verses; either that of the lewd sex-addled lothario of such tracks as the previously-mentioned 'Shag Carpet' (where Yoni describes scenes of "mass nasty sex in dorms"), or someone, as another song puts it, "destined to end up a slumlord depressed". But in person, the Cincinnati-born lyricist couldn't be farther from these single-dimension perceptions.
Clad in an open-collared thrift store shirt more suited to a Californian boardwalk than a soggy East London side street, Yoni hardly exudes the impression of the kind of neurotic protagonist you might find in a Woody Allen film. Instead the singer has a collected air about him, putting you immediately at ease with his midwestern drawl, while idly wandering languidly around the hotel lobby with a mandarin in hand (or perhaps a clementine, depending on how good your knowledge of orange fruits is). This juxtaposition between what is fact and fiction is referenced in another lyric from the LP, this time in the track 'Bitter Thoughts': "Keep your producer guessing / When you're in the booth confessing / And say it was mostly fiction / If they ever come to get you." Only when we get down to frustrations with recording and other frustrating issues does he seem like the conflicted being that appears on record. "It was a real slog, you know. And we worked really hard on this record to get it right, but it wasn't very fun in the moment."
Such is the confessional nature of his lyrics, you'd be forgiven for thinking that it'd be nerve-racking to deliver such material live, with hundreds of prying eyes gazing solely upon you, hanging on every word that spits from your mouth; but if this doesn't seem the case. "Anyone who has ever played an instrument knows that when you play the same material night after night, you just get into this routine, or auto-pilot, where it just becomes second nature, I guess."
"I'm actually more nervous for the session we're going to be doing tomorrow," Yoni says in between sips of water. "It's going to be completely acapella, and it's going to be the first time I've done these songs live." He pauses and fiddles with the lid of the bottle. "'Sod In The Seed' is such a mouthful, and there's only going to be a small audience. So if I'm just standing there and screw something up, then it's going to be awkward."
With the album finally hitting the shelves and a handful of European shows upcoming, including the group's biggest UK gig to date at London's Electric Ballroom, Yoni Wolf and Why? seem to find themselves at a critical crossroad; with four records behind them and the pace picked up considerably with this fifth offering It seems Yoni isn't getting complacent just yet. No, there seems to be plenty for inspiration to be drawn in this new chapter, as the group around him finally tightens and settles on a final form. As one couplet off the new record has it: "It took me 30 years to learn my patterns / Just for shit to turn weird in my return to Saturn". Selfishly, and with records consistently as good as this, I think we all hope he never truly figures it all out.
Mumps, etc is out now on Anticon and City Slang, and the band will play the following live dates.
October
8 – The Old Market, Hove
9 – Electric Ballroom, London
10 – Central Methodist Hall, Manchester
11 – The Fleece, Bristol
12 – SWG3, Glasgow
13 Oct – The Bullingdon Arms, Oxford