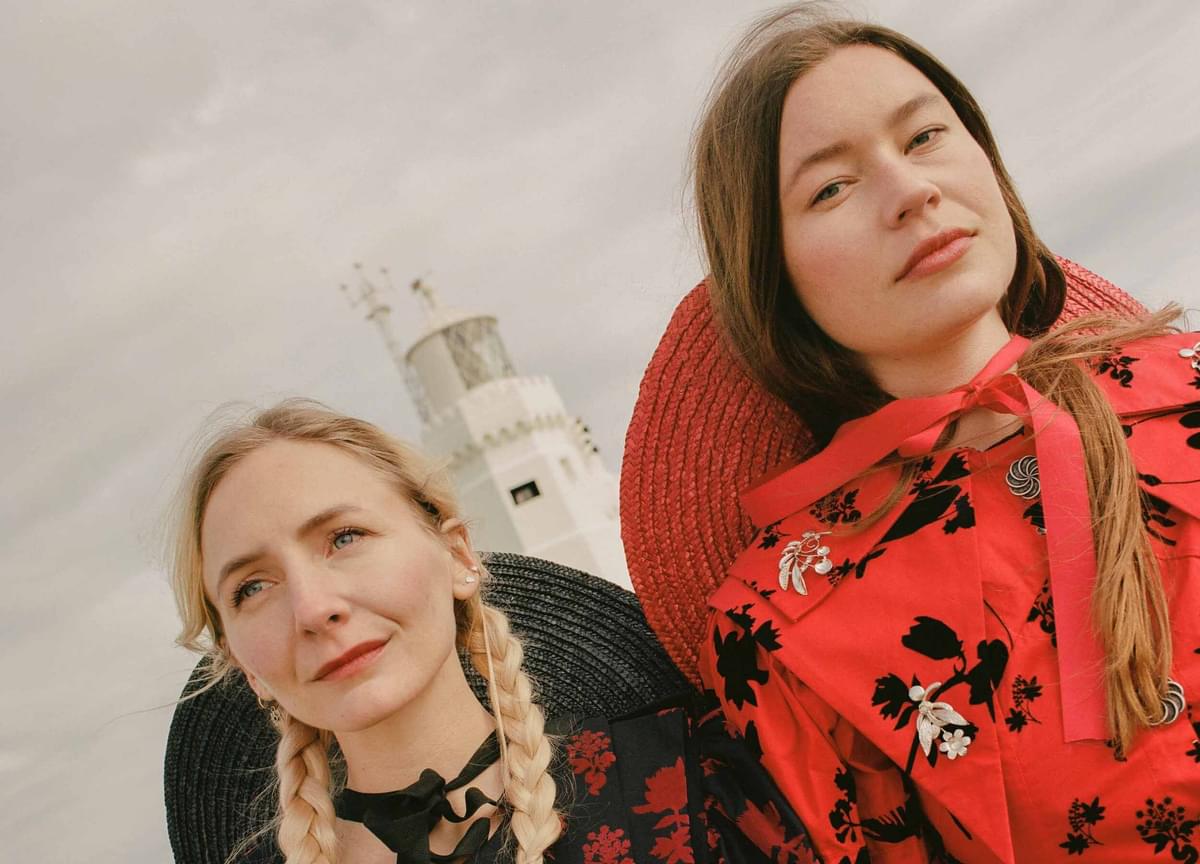 On the Rise

Wet Leg
29 November 2021, 18:00
From "Chaise Longue" to world domination, the stratospheric ascent of Wet Leg is rooted in humble friendship.
If you type "Wet Leg" into Google, the search engine reveals it as a term used to refer to a "self-pitying person", but after amassing millions of streams on Spotify with a handful of singles that were written as "a bit of a joke", the nominal Isle of Wight duo don't fit this wallowing description at all.
With their instantly gratifying guitar tunes and upbeat-yet-sarcastic lyrics, Rhian Teasdale and Hester Chambers have garnered a loyal following as Wet Leg since they began making music together under the moniker in 2019. The numbers are even more impressive when you consider that Teasdale was asked to leave her music GCSE course whilst she was still at school.
"After about a month they told me that I wasn't good enough and I got kicked off the course. Everyone was playing Grade A cello and they were like, 'Do you just want an extra session in the library?' so I said yeah." Teasdale is speaking to me solo; her bandmate Chambers – who she endearingly greets on the phone as "my sweet angel" – is elsewhere and unable to make the chat.
The pair were playing in Nottingham the night before, but Teasdale is now speaking to me via Zoom in a house in Hackney. "I feel like I'm not explaining myself very well, I'm very rambly today," she laughs, upbeat and not rambling at all. "We did have quite a late night. I have a new boyfriend and he lives in Nottingham, so we filled up the guest list for our Rock City gig with his family and friends, so that was quite scary."
I relay the online definition of Wet Leg and she laughs. "I did actually Google it when we decided on the band name, but I didn't find that definition: that's amazing. The band name just came from the emoji keyboard on our phones," she continues. "We would close our eyes and stab at the keys and see what came out. If you open it up, there are a multitude of band names just waiting to happen." To better demonstrate her point, she takes out her phone and starts typing into it. "I've got 'Alpaca Moon' and 'Rainbow Broccoli.' Okay, they are quite bad. Wet Leg is much better. But yeah, we started the band as a bit of a joke, so I think it's just a good reminder to not take yourself too seriously."
It's this refreshingly laid-back attitude to making music - and a signing to Domino during lockdown - that's helped to catapult Wet Leg into the ears of hundreds of thousands of fans. Teasdale smiles when I mention the speed at which people have discovered their music. "It is so bizarre, it's just absolutely wild; we just can't really get our heads around it.
"After our first single 'Chaise Longue' did so well, we were super nervous to release 'Wet Dream' because the internet gave things a lot of hype: it felt like a lot of pressure. But we're just trying to stay present in the moment and take it all day-by-day. If we think about all the things that we've got going on, like the tour next April, and going to America in December, it's just so intangible. It is amazing, but it just feels like a dream. It's very weird."
So where did the dream really start for Wet Leg? Teasdale elaborates on the band's musical origins: both she and Chambers have been writing since they were approximately 17 years old. "A few years ago, we were going around festivals together with a different project, which was more folky - I was playing piano and she was playing guitar. We just spent the summer playing at a few little festivals and seeing music together.
"We'd seen Big Thief and Idles, and we saw that they were having so much fun when they were playing live, we realised we wanted to do that too. We wanted to start a band like Wet Leg, be more punky and fun, so that [we] could play guitar quite loud." The pair were also inspired by the sounds of Aussie punks The Chats, who Teasdale cites as "a good example" of something that inspired the duo to write songs that "don't take themselves too seriously."
"Before COVID, I had actually stopped doing music altogether," Teasdale reveals. "Hester was also really busy making jewellery for the family business and I was in London working crazy, crazy hours doing wardrobe assistant stuff. So, Wet Leg was just a kind of 'as and when' thing. But when the pandemic happened, I came back to the Isle of Wight for it and I stayed in a house on my own and just wrote loads, and that's when we made the video for 'Chaise Longue'."
Brand new singles "Too Late Now" ("It is about sleepwalking into adulthood") and "Oh No" continue to demonstrate the duo's flair for care-free songwriting; with chant-worthy lyrics like "I don't need no dating app / to tell me if I look like crap / to tell me if I'm thin or fat / to tell me I should shave my rat," their witty, coarse extrapolations on ordinary moments continue to provide endless amusement.
Take their aforementioned debut "Chaise Longue" for example; the single was actually written on a chaise longue. "I'd come back to the Isle of Wight for Christmas and I ended up staying with Hester," Teasdale explains. "She has a chaise longue in her flat and she made that into a bed for me. We were watching a lot of Mean Girls at the time. We would just stay up late watching films and loads of shit on TV, and it all came together in this weird song."
The pair have managed to create equally distinctive visuals which complement their eccentric lyrics and melodies. I ask where her ideas for the visuals come from, as they look deceptively simple. "You're right, they are quite simple. Particularly 'Chaise Longue' where there's just three set-ups that it chops between: it's just vibe - there's no narrative. It's just this little world with us two as these cottage-core characters.
"It was all kind of accidental," Teasdale recalls. "I ordered loads of clothes from the internet, and we tried on some different looks and outfits. We went for the big hats, flaming sunglasses and pretty dresses just because we thought it was a funny look. We had loads of other setups planned for that video, but after the first evening of taking a camera out and playing around, when we got back and I downloaded the free trial of Final Cut Pro and I dragged it into the computer and put the song to it, it seemed like it was kind of already done."
After the success of "Chaise Longue" the duo received support from their label for a new video, so were able to take things up a notch with the visuals for "Wet Dream," which include a food fight and some hand-made lobster claws. "It was weird going from making music videos with just Hester, to having to explain your ideas to proper people when this is their job." Teasdale explains. "That was a funny transition, but it was really nice to have people on board that knew what they were doing. The ideas we have for videos always seem to come from the outfits we're wearing. I think it stems from the characters that we create and the world that we build around that."
And even though the context of "Wet Dream" is based on Teasdale's experience of an ex sending her unnecessary texts after a break-up, the mischievous anthem and playful video seems like perfect closure on the situation - and Teasdale agrees. "There's a few more songs in our set that are quite ex-focused. It's funny, because at the time I was a bit cross, but now I'm just very over it. It's funny to be singing songs about them, really."
So, what's next for Wet Leg? "We're releasing an album in spring," Teasdale reveals, referring to thier self-titled debut, set for an April release - which is largely produced by Speedy Wunderground's Dan Carey; however, the band's tour schedule will be keeping them very busy up until then. Tipped as one of the hottest new acts for 2022, the band's feet will barely have time to touch the ground over the coming months - and Wet Leg's world seems like an increasingly fun place to inhabit.
Wet Leg is released on 8 April 2022 via Domino
Get the Best Fit take on the week in music direct to your inbox every Friday