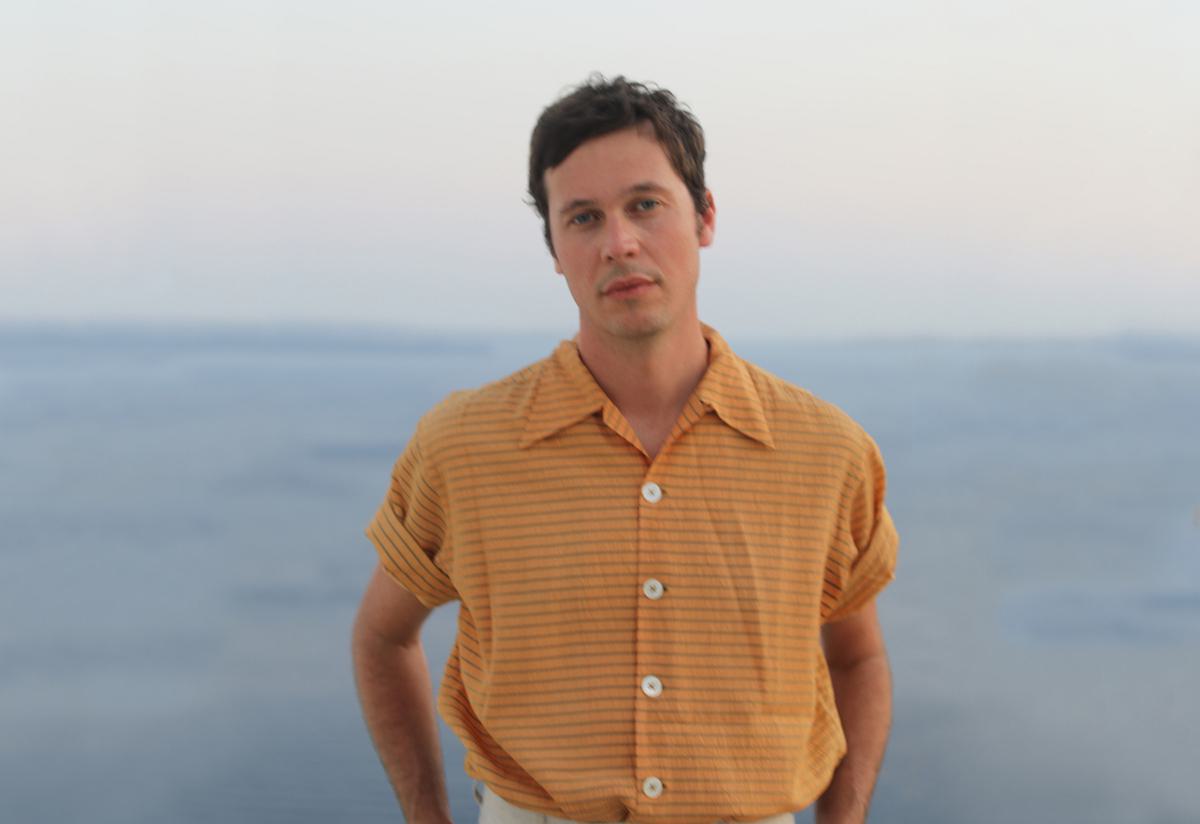 Escapism in High Fidelity
29 September 2020, 18:00
Ernest Greene wanted to build a visual universe for Washed Out's fourth record. The songwriter tells John Bell how he embraced European culture to get there.
On his first EP, a young Ernest Greene effectively signaled the subsequent sound and aesthetic of Washed Out before the listener even had the chance to press play.
With his newlywed surfacing from clear water in the foreground, looking pensively at a distant, nondescript holiday town and glazed over in a pinky-purple hue, the cover of Life of Leisure told a story. It reflected the same vision of romance and escapism seen through a lo-fi lens that could be heard in the vinyl hidden within its sleeve, and in many ways, the 'chillwave' subgenre that followed in its gentle wake.
Eleven years later, on the cover of his fourth full-length Purple Noon, it's Greene who takes the focal point. Bringing to life the romance behind the title, the vast swathes of violet have returned, but this time they're brightened by a cooler palette and golden hour radiance, accentuated by clear-cut lines and a vast panorama.
"I settled on the Purple Noon title quite early," Greene tells me. The name is taken from Rene Clement's 1960 film Plein Soleil starring Alain Delon, a sultry thriller loosely based on Patricia Highsmith's novel The Talented Mr. Ripley, finding inspiration in the cosmopolitan highlife and European charm of both the original text and the more famous 1999 adaptation featuring Jude Law and Matt Damon.
"I like to have a palette of colours that will be used across the cycle, and so it had to be purple. Early in my career around the Life of Leisure stuff, I was really infatuated with the beach and tropical imagery, and I think what has set this project apart from that was that being from the US, the look of the Mediterranean coast is unlike anything that I've seen before."
"I like to have a palette of colours that will be used across the cycle, and so it had to be purple."
"To me it has this refined European sensibility and that made a lot of sense to me with the music I was writing, because whilst that EP was lo-fi and me figuring out what the hell I'm doing, in a lot of ways I feel that I've mastered my way of doing things and have refined my palette."
The scope for visual creativity within music is something that Greene has always experimented with to some extent, most notably in 2017 with his so-called 'audiovisual' album Mister Mellow, whose mishmash of video art styles from a number of filmmakers matched the sample-lead musical style of the record. "It's become more and more of an important part of my process to map out some visual universe," says Greene.
But in contrast to the patchwork, "handmade quality" - as he puts it - of Mister Mellow, Purple Noon is decadent, flowing and glossy with glimpses of intimacy at each turn. Complimenting the style and sexiness of the Ripley films, the clean and classical style of fashion photographs from the likes of Herb Ritts hanging up in his studio in Atlanta, GA, began to help Greene develop a visual moodboard as he worked on the new material, one that culminated into a two-week trip exploring the Greek islands with his wife.
"I felt like an author or something, going on a research trip. We were shooting loads of photos and videos, but it was also just soaking in what it felt like. So when I got back home, in a lot of ways I felt like I was doing a film score to some of these memories and visualising what the music was stimulating. Luckily, those visual ideas started to come around the time that the music started to take shape."
If Greene's ambition for Purple Noon was to encapsulate the feel of his Mediterranean escape, then he succeeds with almost torturous clarity. Collating all of the tropes of a European seaside getaway - breezy, Balearic beats and warm, twinkling synths reflecting the ripple of sundown, tinges of tropical house and reggaeton spilling in from strips late night bars; echoey guitar strums discovered in empty, white-washed piazzas. But far from simply bottling and selling sounds of escapism like a tourist souvenir in an airport gift shop, in its production and sonic touch Purple Noon stirs the exact kinds of unspoken feelings and romance that we attach to such dreamlike times.
"I felt like an author or something, going on a research trip. We were shooting loads of photos and videos, but it was also just soaking in what it felt like."
Case in point is "Face Up", which exhales a misty melancholy, yet maintains a serene and familiar kind of comfort. As the first track Greene wrote for the album, it helped steer the way for the rest of the writing process.
"I sat down at the piano and just started writing the song that way and figured out the production later. That's the first time I've really done that and I was really happy with the vibe of it. I kind of knew that that might be a solid template for what the rest of the record could be. It's actually the first time that I've had a picture of the record in my head so close to the beginning. Most of the time I'm only halfway through the record, or even deeper, before I know what I'm doing as far as the vibe that I'm going for" he explains, "Overall, the record happened pretty easy and without a lot of the stress that has come along previously."
Whilst the visual universe of Purple Noon developed inside Greene's head, he knew that traditional songwriting would be the key to giving it depth and significance. Though each song on the record is elevated by that characteristically ethereal 'Washed Out' production style, they can also easily be stripped back to the bare bones. "Game of Chance" is perhaps the best example of this, which sees Greene alone at the guitar, albeit highlighted with harmonies and distant mood-building percussion.
"I've been doing the production side of things long enough now that I can figure that out fairly easy after the fact," he asserts, "but if you don't have a strong song from the beginning it doesn't mean as much." Greene tells me he found inspiration from "'80s synth ballads; really lush sounding songs, The Cars' "Drive" was one, and even slightly cheesy stuff like the Berlin song from Top Gun, both slightly melodramatic feeling in their instrumentation.What would a modern version of some of that stuff sound like?
"That was the balance, as I was using a lot of synths and wanted to have some connection to an '80s sound, but also be mixed in a way that's really modern, full and muscular. In my mind this is the brightest record I've done mix-wise. So much of my early inspirations were rare vinyl and vintage stuff from the '70s, and I wanted my records to have that feel to them, almost like a filter aesthetic, blurring it slightly and taking some of the dynamics out."
The brightness of Purple Noon's production does of course though, feed directly back into the visual cues of continental glamour that enchanted Greene in the first place. As seen from his dapper get-up in recent press shots to on the cover itself, featuring mid-century inspired fashion - think penny loafers, high-waisted linen trouser and shirts in powdery, pastel colours - has helped Greene embody this aesthetic himself.
But it has also helped him to hone in some of these wider ideas into something more personal. "It's not like I've not cared about what I've worn, but it's wasn't until this record that it's actually been an important piece of the puzzle, which helps with world-building and visualisation. I keep going back to the film score. I'm picturing a Mediterranean sunset or something, but actually picturing a couple and what they're actually wearing gives me a clearer idea of the sound and vibe I can create."
Though by no means a concept record - "That really defines it in a way that should have a beginning, a middle and an end in the narrative" - Greene prefers the idea of a song cycle, where each song centres around a theme, but expresses it in a different way and without a temporal line weaving throughout. In the spotlight of melodrama afforded by Greene's Mr. Ripley-esque vision of European high life, Purple Noon tells tales of lovers meeting ("Too Late"), lovers reuniting ("Game of Chance") and lovers departing ("Time To Walk Away").
"Picturing a couple and what they're actually wearing gives me a clearer idea of the sound and vibe I can create."
Though Greene had arranged to travel to Italy to film his "Most ambitious" video for "Too Late" earlier this year, the pandemic meant that he had to quickly improvise, and instead called on his fans to send him their own clips and memories of sunsets and sunrise. The result, he admits, turned out to be far more authentic than the suave and showy visuals he had originally planned for.
"People shot it themselves and it had real meaning there. The guys who edited did a really good job of bringing together random video clips and shaping it into something that felt like it had meaning and an emotional level that was very much aligned with the song. Me dancing around in some Italian villa or something might have looked cool, but it's not gonna sink in in the same way as seeing yourself in the video. I wasn't even sure we should release the album at that point, but that was very much a sign to keep going and put it out."
Having departed Stones Throw Records and signed to Sub Pop, with whom he released his debut LP Within and Without in 2011, Greene felt at home making the decision to go ahead with the release of Purple Noon, and even worked with many of the same colleagues who had been at the label nine years ago.
"I think everyone understood that Mister Mellow was in a lot of ways written particularly for Stones Throw. It was kind of my love letter to that label, because so much of the early days of Washed Out was very much inspired by Madlib and J Dilla and those kinds of records. This felt a lot more in line with what Sub Pop have been doing for the past ten years, and it felt like a proper Sub Pop release."
This Washed Out record was meant for Summer 2020. At a time where, in spite of airline deals and price cuts, many of us are still homebound by quarantine rules, affected incomes and fear of uncertainty, Purple Noon provides a heady dash of romance and escapism in full resolution. When I describe it as "Almost torturous" in this context, he assures me it's not an uncommon reaction.
"A lot of people feel like that. I feel like that. Outside of the little bit of touring that I do - which is part-time really - my everyday life is quite simple. I have two kids and I work from home. But that one trip to Greece and even the process of making the record and fantasising over the whole thing really is escapism. I hope people can do that themselves with the record."
Purple Noon is out now via Sub Pop