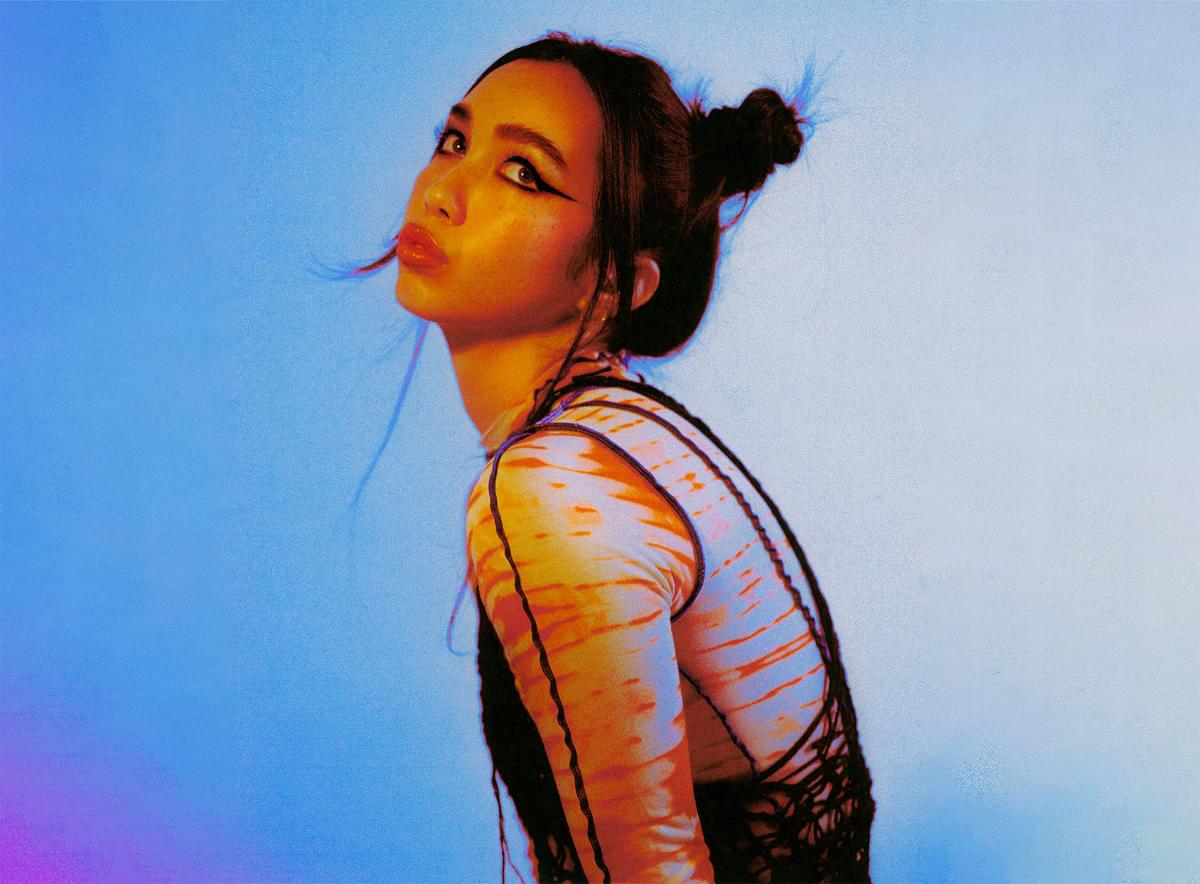 On the Rise

Wallice
01 June 2022, 15:00
Sweat is dripping from the ceiling of North London venue The Lexington as Wallice plays her very first headline show in the UK capital.
Fresh from a raucous set on the pier in Brighton for The Great Escape festival, it's here at her own shows that fans know every single lyric and they're singing along to deep cuts such as Spotify exclusive "Nothing Scares Me" and tracks like "Funeral" which has been lifted from her days-old EP 90s American Superstar.
It's the day after her birthday when we meet over Zoom – just one of a couple of changes facing the singer/songwriter right now. "My mom's moving to Georgia, which is on the other side on the country, in a week. I keep crying," she tells me. Having never been so far apart before, Wallice explains their special bond, and why this has been difficult for her: "I feel like we grew up as friends".
Growing up in a single parent household from the age of two, Wallice mentions that she would see her father every other weekend. Based in Topanga, which at that time was a "white hippie community," her school was very arts-based and every student had a compulsory year of learning the recorder. "It was a very early introduction to music. I then chose to move onto trumpet, and then I changed to cello… I was dragging that to school twice a week and it was really the same size as me and I had to have a rolling backpack, because I didn't have any more space on my back," she laughs.
In middle school she remembers having her heart set on joining the theatre programme, but her mom helped steer her back towards the cello and eventually persuaded her to take the leap and switch to a performing arts school. "She said in the future I'd thank [her] for that and I definitely do. It was a public school which I really liked because I feel like the private schools are just filled with famous people's kids, especially in LA."
Writing her first songs towards the end of middle school, when she moved onto high school she began to learn classical guitar, continued with string orchestra and started singing in the school's jazz choir. "I had this keyboard which my dad bought me, and I started to make little songs about the 13 year old boy that didn't like me back," she remembers. While she's not exactly sure what her early crush is up to now, Wallice admits she's "very curious," but he's never had Facebook or Instagram so there's not much to go on.
As she continued to write she drew inspiration from Lana Del Rey and describes those early recordings "as sad as a 13 year old could feel." Initially drawn to Del Rey's music due to her love of video games and hearing the song on the radio via her cousin's computer, she says "I [hadn't felt] that way about a song before, it was the first song I'd found by myself that I really liked and I felt really connected to the cello in there… A lot of the music I had growing up was on the iPod Video that I got for Christmas, that my mom's boyfriend filled up with his music library, so I really liked like Black Eyed Peas, Weezer, and Blink 182."
In high school Wallice was part of two bands, despite "not being that great at guitar", although her recent seven-week tour across the US has helped her feel more confident. One of the bands started off the back of an after school club. Hidden Plants shared one song in the summer of 2014 on SoundCloud, and "Something I Said" is a song that Wallice is still proud of. The other band, Cabin Fever, was made up of her friend Trenton, and Callaghan Kevany – her boyfriend of seven years, who is also the guitarist in Wallice's touring band. They predominantly played Soundgarden covers, but never wrote any of their own songs.
Wallice met her closest collaborator David Marinelli while they were in middle school around the age of 11, although they didn't start working together until they were 17. All that time and those shared experiences have helped to strengthen their creative partnership. "I've had sessions with other people, and when you don't know them really well you have to spend an hour getting to know them, and even then you can't be like 'no I hate that', but with Marinelli it's no hard feelings and we just move onto the next thing. Without even saying it, from the beginning, we always seem to have a similar vision for the song."
When it came time for college, Wallice faced a conundrum; "I wanted to study music, even though I got really good grades, so I applied to all these schools, but I didn't realise if you're going for music, they look at portfolios more. My time was split between books, and people who just focused on music. Worse grades got in and I was so disheartened. I didn't get into many of the places I wanted to."
Settling for The New School in New York as means to get out and explore the world, or at least the East Coast, she began majoring in vocal jazz performance, but realised around halfway through her first year that she wasn't going to go back. Opting for a year off, while still in New York, this was the time Wallice finally started to feel more at home and began making friends and started working on what would be her very first releases.
Having been working with Marinelli for a couple of years already, Wallice's first EP was a mix of jazz and R&B-influenced pop with more of those Lana Del Rey undertones; which can be heard on tracks such as "Nyc" and "Beach House". This first project was scrubbed from the internet after "Punching Bag" started gaining traction as Wallice felt it no longer represented who she was as an artist.
Decamping to a house in the Utah countryside which was owned by her grandparents, it's here that she made the Off The Rails EP featuring breakout singles "23" and "Hey Michael", and where she later returned to finish up 90s American Superstar. While that house holds special memories for Wallice, it's never really been lived in: "My grandparents always had a dream to move there with their inheritance from my great grandma," Wallice tells me. "It was always next summer or 'we can't go in the winter, there's too much snow,' so it's usually empty."
Her grandmother passed away last year but Wallice remembers that, "she was always so excited. My mom would always show them what we'd made, and my grandpa is very supportive too." He had other ideas for Wallice's college career, suggesting she study music in Utah. Not keen on going to Mormon college, she adds with a knowing look: "my grandparents raised their nine children to be Mormon. And none of them are Mormon anymore, they all left the church."
Wallice's second EP, and her first full release with Dirty Hit, 90s American Superstar is a performance of a different kind. Conceptually based around a larger than life character, Wallice has had fun acting in her music videos and stepping into that role when performing the tracks live.
Learning a lot about the music industry whilst in talks with other labels; when it came to choosing Dirty Hit, Wallice remembers it was a relatively easy decision. "I had this one meeting where whenever I'd ask a question, one of the A&Rs here, Max, just said the exact thing I wanted to hear." Joining the likes of The 1975, Wolf Alice and Beabadoobee on the Dirty Hit roster, Wallice notes fellow label mate Rina Sawayama as an inspiring figure: "She's also a Japanese artist and her visuals are insane. She's very inspirational to what I do."
Discussing her connection to her Japanese heritage, Wallice says "​​even though my mom is very white, she did live in Japan for a couple of years, and my dad's [also] from Japan. I was raised with a very strong Japanese culture [while also] being very American." That influence comes through in some of Wallice's own visuals. Both of her EP's include Japanese lettering spelling on their titles. "The version of [90s American Superstar] didn't have it, and then I was like 'what am I doing?' I really like having it because it's a really nice feeling and such a big part of who I am."
Both her own, and her mom's favourite track so far is "Funeral". "We finished writing the lyrics on the first trip and it didn't have any horn players on it, it sounded great. Then [we added] in trombone, trumpet, saxophone, flute, and I played cello on it too," she says, "it brings me back to my jazz/classical roots, but mixes into this rock song."
Discussing the future and the potential evolution of her sound, Wallice says, "I think each EP or eventually album is going to be about a different chapter of my life." There's a third EP on the way, which Wallice slates for "closer to the end of this year," and then she'll subsequently start working on the album.
"It's kind of weird that it's planned out like that," she admits "it's not like 'what are we going to make now', now there are contracts involved." Currently stationed in London for a couple of weeks following an incredible headline show, Wallice is hard at work on making more alternative anthems to soundtrack your everyday despair. While she may have just played a handful of festival slots so far, there's no doubt Wallice could be a future headliner.
90s American Superstar is out now via Dirty Hit
Get the Best Fit take on the week in music direct to your inbox every Friday