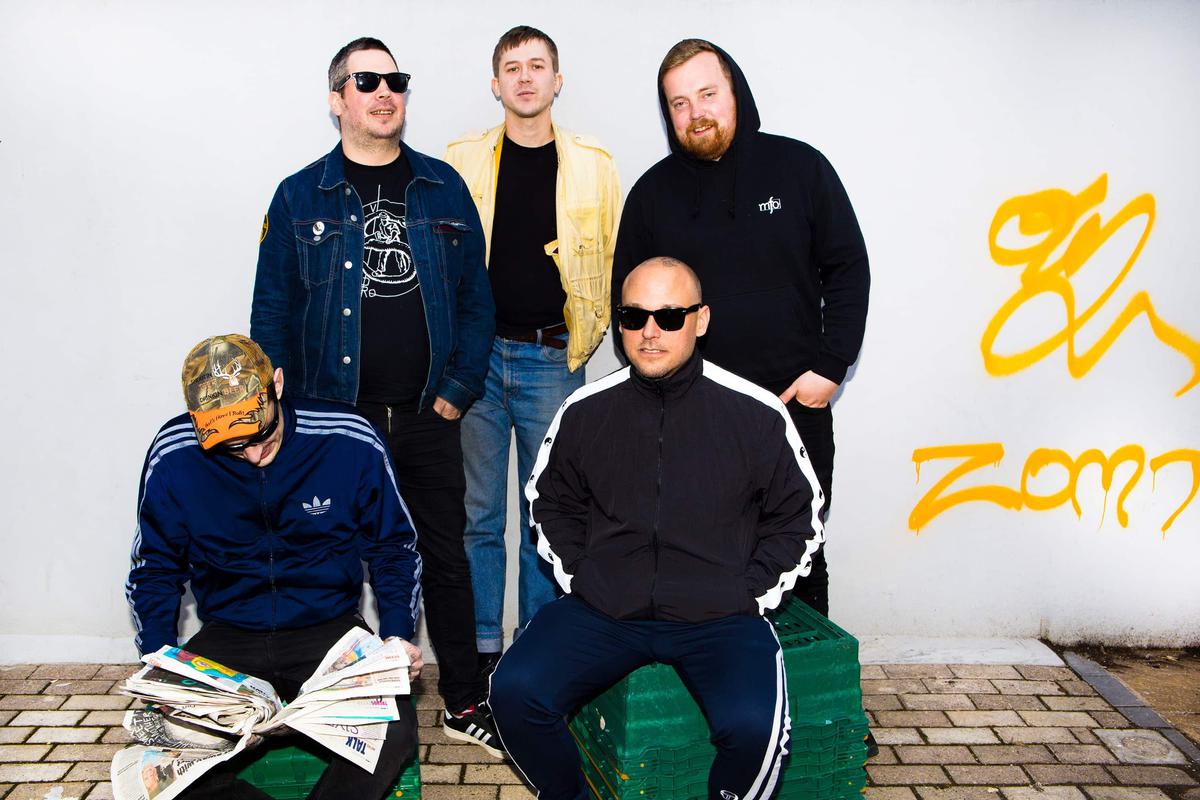 Viagra Boys, sobriety, sleaze and shrimptech
06 January 2021, 09:45
This time last year, it felt like Viagra Boys had come out on top from a successful year of seemingly non-stop touring.
Their debut album Street Worms won the Independent Music Companies Association Independent Album of the Year Award, and gave them huge opportunities to perform on the mainstages of festivals such as End Of The Road, and Primavera.
Today, frontman Sebastian Murphy speaks to us from the headquarters of the band's label YEAR0001 in Stockholm, Sweden. He is lying back on a break room sofa whilst talking to us, feeling calm and reflective of the year gone by.
On brand with the hedonistic content that we've come to expect from Viagra Boys, much of the song writing on Welfare Jazz came from a period where Murphy was still abusing substances and having to wean himself off them. On top of the party lifestyle catching up with him, he admits that he didn't realise he was being an "asshole until it was too late". On the album, this period is best summarised on "Into The Sun": "I rolled the dice baby/ lost everything that I had / I played around too much /ended up doing you bad".
"Three months ago I would still wake up and cough so much that I would puke. I just needed to quit that lifestyle," Murphy states. "Recently, I quit smoking, I now go to the gym, and have been generally taking everything a lot easier. It's all shit that I've never really done before."
He admits that when it comes to songwriting, most of the lyrics themselves are made up in the studio as he goes along rather than keeping them on the backburner. "There are ideas I'll have on tour, but I'll just jot them down in the notes app. I still write the bare minimum, because I procrastinate a lot, but now it's a lot less frustrating, which is really good because my mental state is so much better than being hungover and feeling like shit every single day."
Murphy says that aside from meeting up for band rehearsals he hasn't had much of a social life outside of work. "I just don't really feel like meeting up with friends," he sighs. "There are a lot of people in Sweden still partying but it's not for me anymore. With everyone getting sick, shows not happening and personal stuff, [it] has really put things into perspective for me." As well as mellowing out and focusing on his health, Murphy has kept himself busy with his work as a tattoo artist at Stockholm Classic. Despite his unhinged demeanor when performing, the prospect of getting a tattoo on stage is out of the question. "No, it's not something I've ever felt like doing," he laughs. "Mostly because, well.. it sucks getting tattooed! I did my first piece on my shoulder when I was 15 and I'm covered all over, but the pain never gets any easier."
When discussing how Viagra Boys first started, it's fitting that Murphy has no recollection of their debut show. In the beginning, bassist Henrik 'Benke' Höckert and drummer Tor Sjödén had only ever seen Murphy perform a Mariah Carey song at a karaoke night, but it was entertaining enough to convince him to be a frontman. With only two practices down, in the band's five days of existence, Höckert optimistically booked a gig for them at Rockbar in Örebro. All they had to do was turn up and hope for the best.
"It was intense. I could barely remember any of the lyrics even though I wrote them. I don't remember much from it—I had taken a lot of speed and was pretty drunk. The last thing I could picture was standing on stage, and then nothing... But I heard it went well, so that's alright! I couldn't even tell you what the last show we played this year was —I have a memory like a goldfish." Murphy says.
With Viagra Boys opting to distance themselves from straightforward post-punk songs on Welfare Jazz; a lesser known influence on their early work was Swedish noise rock provocateurs Brainbombs. Their generous use of saxophone sections bleed into Viagra Boys' work, even to this day. On tracks like "Girls & Boys" and "Cold Play" its usage can be playful as well as ugly and intentionally off-putting at times, but always makes for an interesting accompaniment to the listening experience.
"We listened to them whilst recording [the] EPs before Street Worms," says Murphy. "Especially songs like 'Ass Fucking Murder' and all that stuff. We started off as a four-piece and then wanted to write saxophone parts, mostly because we were also really into Fun House by The Stooges. Not long after, we had Oscar join the band—he's an amazing musician. Since having him around we've made all this free range space for sax, which has been great."
Unlike the DIY approach to recording with Street Worms, Viagra Boys knew they wanted things to be bigger and more bombastic this time around. In the summer of 2019 they flew out to New York to work with Run The Jewels collaborator Matt Sweeney at Electric Lady Studios. With the majority of Welfare Jazz essentially finished, it gave the band extra time to tease new material into their live repertoire, as well as releasing the Common Sense EP in March 2020.
Within their discography there's a distinct sense of storytelling and compelling narratives—many of which continue on Welfare Jazz. On "Best In Show II" for example, Murphy completes the story arc of his dog character as having full autonomy over his destiny rather than following a master: ("He is unique / he is an individual / he is alone!")
"Toad" sees Californian-born Murphy impersonate the country twang of his childhood heroes, insisting that he "Don't need no woman" in various ways until he is reduced to an amphibian. Despite the absurd imagery conveyed across this album, they are all linked back to reality in one way or another. "I would say 90% of it is based on actual things that have happened in my life. Even a song like 'Down In The Basement' is a metaphor—probably for shady things I shouldn't have been at the time doing, but definitely not whatever THAT guy is doing!"
With the promotion for their last EP Common Sense, Viagra Boys created a storyline regarding Shrimptech Industries. If you've been following Viagra Boys since Street Worms, the tiny crustaceans have become a running motif for a while, whether it's the track "Shrimp Shack" or their live album Shrimp Sessions. So, where does it come from?
"The concept came from hanging out with a few friends of mine in Gothenburg," he elaborates. "At the time, it was a reference to speed because it kind of tastes like shrimp. From that, Shrimptech became this idea of a world I could flee to when I was abusing a lot. I tend to get stuck on singular ideas like shrimps, dogs, chickens; even those weird rubber balls."
Despite the almost Freudian set up of the interview, with Murphy lying down on a sofa expressing his thoughts to us, he declined to elaborate on why his mind works that way. "Sorry man, you'll have to talk to my therapist or something. That'll cost extra." he chuckles.
Blurring the lines between this fake shrimp world and reality, Murphy says that during 2020 Viagra Boys officially made Shrimptech Enterprises a real company in Sweden. He explains: "It's wild. The company technically owns Viagra Boys now. We've slowly been planning to make a new channel called Shrimptech Ecstasy Labs as a means of releasing electronic music. A lot of our members make weird experimental stuff outside of Boys so it makes sense to have it all in one place. Stay tuned for that!"
With their next musical venture (Shrimptech Ecstasy Labs) already under way, what is their next business venture? Making Chicken Water into a reality— something they've teased for a while by demand from their fans on social media.
"I've wanted it to be a real thing for such a long time," he grins. "It's going to be 30% beer, 70% water and only 2.1% ABV... I think it could be really cool, like an LA cleanse (a trendy health drink for flushing out intoxicants in the body) or a kombucha."
As bizarre as the idea sounds, you can tell that everything Murphy sets his mind to is done with a genuine sense of conviction.
Welfare Jazz is out 8th January via Year001