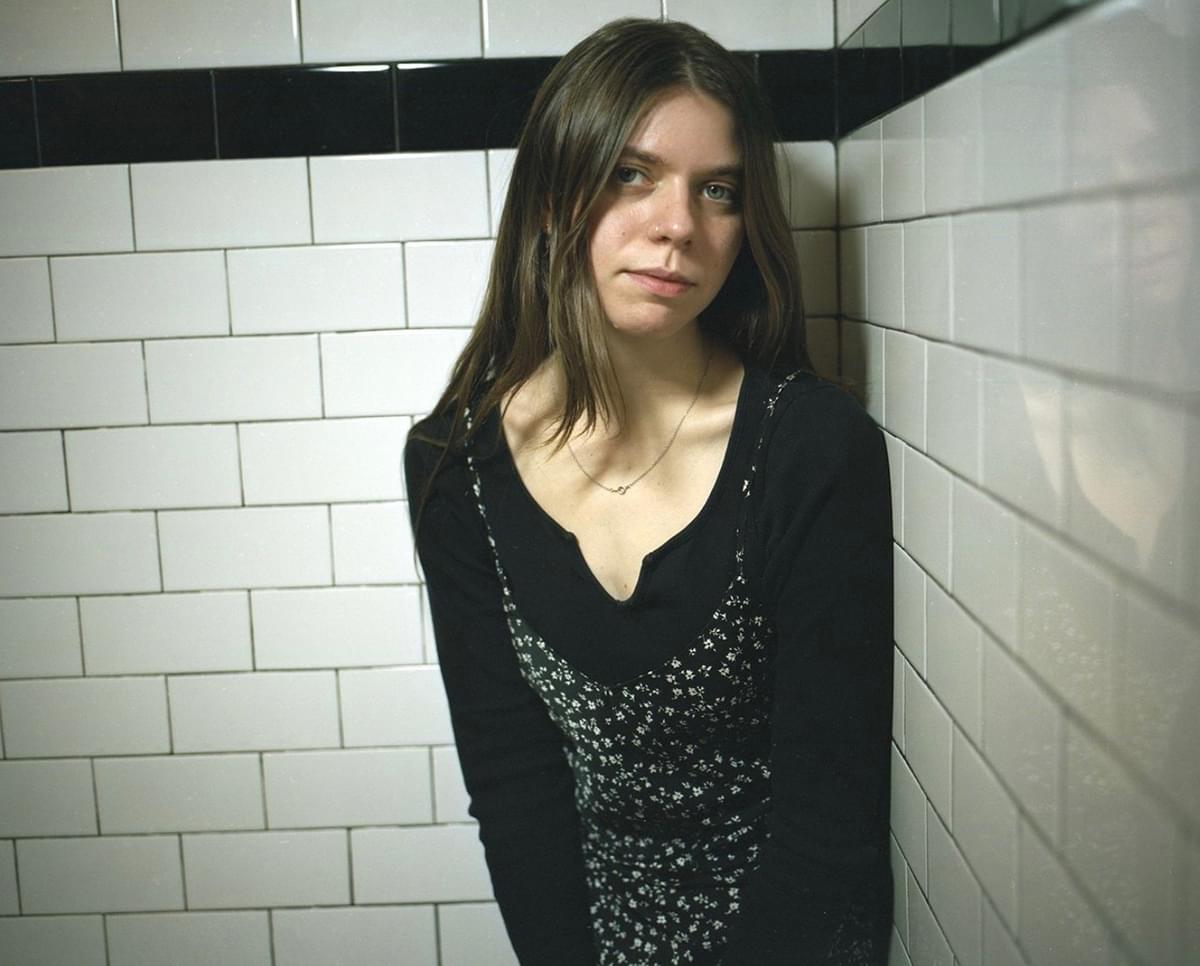 Sarah Beth Tomberlin and the weight of words
20 April 2022, 12:15
From breaking away from her religious upbringing as a pastor's daughter in Florida, Kentucky and Illinois, to relocating to Brooklyn to play her own music and guest on Phoebe Bridgers' Punisher, Sarah Beth Tomberlin's unconventional journey into music has paved the way for her exquisitely confessional song writing.
In the space of a few short years, she's released her debut album, At Weddings (2018) and an EP Projections (2020) via Saddle Creek, both of which showcase a musician blossoming into a mature, empathetic artist. On her second album, i don't know who needs to hear this…, released at the end of this month, Tomberlin seeks connection with herself and her environment - whether that's the concrete forest of buildings on the streets of Brooklyn, or the sacred studio space where she worked with other musicians to bring the record to life.
But what initially inspired the 27-year-old to start creating her music as a young girl? "Music was always a big deal to me growing up, but I always felt like I needed to know more before I started to make my own songs," she explains. "I really wanted to play guitar from a young age, but I took piano lessons for a little bit and didn't practice very much. My parents would be like, 'why do you think we would spend more money on guitar lessons for you when you didn't really stick to the piano?'
I grew up in a rural environment where there was no music scene, so it just seemed really inaccessible. I did buy my own guitar when I was 16 or 17. At first, I was trying to read chords through a book, but I was really frustrated by that, so I started playing by ear, which is still predominantly how I work. I don't know what really inspired me other than music itself. I loved music, and so I wanted to write songs of my own. I was always really into creative writing. I was always writing poems or short stories, which kind of moved over to songs."
This progression from creative writing has manifested into Tomberlin's lyrics. Whether she's overwhelmed by social media on "tap" ("tap the heart until I hate myself / hit the square and rearrange myself"), reflecting on existing in emotional purgatory when you're in an undefined relationship on "happy accident" ("walk five miles from my door / just to give you some more / do you just talk to me / when you're lonely and bored?") or moving towards self-autonomy after a relationship with a recovering alcoholic on "sunstruck" ("nothing will come / from an ever flowing cup / when you're too fucked / to fill it back up"), her deceptively simple and succinct words are disarming alongside her tender and clear vocals.
"A lot of musicians I know will say they don't really pay attention to lyrics," Tomberlin admits, after shyly accepting a compliment about the affecting nature of her own. "Sometimes I've been surprised by the people who have said that, because I feel like they're really good lyricists, but they're actually more concerned about the melody. I feel very much like I'm a lyrics person. I'm listening to what the person is saying. Obviously, music is a big part of ushering in the attention for a song - and I don't want to make a huge generalisation here - but maybe the average music listener doesn't sink their teeth in that hard?"
Do singing those words live sometimes feel overwhelming? As a listener, songs like 'happy accident' and 'tap' hit a nerve – how does she balance these conflicting emotions when she's performing to an audience. "I played my first shows in 2018, and I was touring constantly until Covid-19, so there was no real practice round," she laughs. "I realised as I was singing these songs in front of people, I had to enter a zone where I felt like I was the only one there, like I was singing the song in my bedroom, or a sacred, private space. I was really big on closing my eyes a lot, but then I found that sometimes made me think about the lyrics too much. I think as I just got more comfortable touring, it became a bit easier to step out of it.
Sometimes I'll feel fairly connected to an audience and then I'll have a moment of like, being like, 'wow, this is such a sacred thing', and I'll kind of go into my zone unknowingly, and then I'll feel pretty rattled by my own lyrics. It's a very magical spiritual thing for me, I don't have a formula for any of it. So sometimes it's difficult, and sometimes it isn't. Then if I don't feel moved by it, I feel kind of concerned. It's not like I need to be sobbing every set, but I do want to feel like I'm understanding what I'm putting out. I'm always trying to connect with it. I don't think that I need to go into self-punishment zone when I'm performing, but I do want to be present for that moment that I'm ushering people in to. I do want it to feel present. You find a rhythm, so if you know that one song is maybe going to get you more, you prepare and take a deep breath."
Moving through Tomberlin's second record requires multiple deep breaths, but she provides space for calming exhales too. Without sounding too prescriptive, the opening lyric to the eponymous track cements the tone for her charming and candid collection of songs - "I don't know who needs to hear this / sometimes it's good to sing your feelings / and every time I open my mouth / hope something halfway helpful falls out." The notion of perfect, fully-formed songs arriving the moment she begins playing her guitar isn't quite true, but singing uninhibited is part of Tomberlin's process, which she explains through the evolution of some of the album's singles.
"With "happy accident", originally it was a totally different song. It was about something else entirely," Tomberlin admits. "I started playing that chord progression, but it was finger-picked, and I was really forcing the lyrics. When that happens, I generally abandon the song. So I left it for a while. I record my demos on my iPhone as voice memos, and when I listened back I thought 'wait, I should try to strum this,' because it sounds like this chord progression has a kind of rock vibe. So, I was strumming and then the song fell out. That happens to me a good bit. If I try to force something, nothing ever happens. If I'm really open and available to the instrument, making space, then a song will generally come.
"With the lyrics, I just started writing about shit that I was experiencing, which was confusion in a relationship that wasn't specifically, like, 'this is what the relationship is,' and that was the issue. I was very, very annoyed, so I was trying to work through that. But also, in writing this song, I realised a pattern in my life of letting other people take up way more space than I would allow myself to. I think it does hit for so many people because there comes a point in your young adult life where you start to realise that you're measuring time by relationships, regardless of whether or not they're romantic.
"These things were really bugging me, but somehow the lyrics were coming so concisely, helping me work out what I was actually feeling. So that one was pretty therapeutic to write. It did help that it was this majestic admission of frustration. It was a little bit like angry, and that felt good. I'm glad that it is hitting people, especially non-men, we don't get a lot of space to be pissed. You want to be the chilled, mature person. But then you're like, wait - no. Your compassion is totally demolished, because you're seeing all of the sides that the other person doesn't see, hoping they'll see it one day - but they probably won't."
These realisations are all part of the universal human experience of growing up, especially for young women, but Tomberlin delivers them so eloquently and sincerely that they feel fresh each time she strikes the opening chord of "happy accident". Rather than allowing her anger to overwhelm the song, she channels it into her powerful vocals and raw lyricism, something which also extends to the single "tap", on which she tackles more contradictory feelings, this time towards social media.
"The last lines of the song ("I'm not a tree / I'm in a forest of buildings / I'm not a singer / I'm just someone who's guilty") came first when I was walking around in New York, really missing being in the country," Tomberlin confesses. "I got home from that walk and I came up with the guitar line that carries the whole song. It was just another one where I kind of - and I do this a lot - start singing nonsense, then what I'm actually trying to say comes out. It was deep in the pandemic when I was writing it, so I was considering all of the things that connect me to myself or disconnect me from myself.
The song starts out with the lyric "tap the heart until I hate myself" which is a very direct reference to Instagram and Twitter, all these things were you just tap and scroll and that's your life. I really don't want to know the number of hours I've spent in my life doing that. It's very dark. I mean, I kind of do want to know? Because then I'll be terrified and will want to throw my phone out a window. But I was just sifting through what does help us connect to ourselves, and what lies to us and tries to tell us that it's connecting us, when really, it's disconnecting us. That's the basis of that song."
Whilst "tap" is a relatable musing on the fragmented nature of connection, i don't know who needs to hear this…, is a genuine, earnest effort to overcome feelings of isolation from oneself and from others. It's something that didn't come easily though, which is what makes the songwriter feel so proud with the finished collection of songs. "Truly - this is no exaggeration - I moved into my apartment here in Brooklyn two weeks prior to recording, and was like, 'what have I done?'" she tells me. :It was still right in the middle of the pandemic, and I wept every day up until we recorded," Tomberlin confesses. "I was just deeply having an existential crisis about it. But I think it was just second LP stress. I think every musician that I know has had a similar experience or feeling about it. I was truly distraught over it.
"I think the record is exactly how it needed to sound. I think that's what I'm proud of. This was my first time making a record with other musicians involved, some of which I met whilst we were recording. This was my first time recording in a proper studio. It felt like a very big expectation and obviously it costs more money. I was deeply, deeply, deeply intimidated by that process - even though I knew it was time for that, and I knew that I wanted the record to be fuller and that I needed to hire other people to help fulfil that vision.
I don't know if this is my deep religious guilt and shame around the pleasure that comes with feeling good about yourself, but I truly love the record. I'm truly so proud of it. I don't think I've really felt that way about my other work. Not that I don't think that it's good, but I haven't connected as deeply with my own music as I have with this specific record. Which is a weird thing to say, because the songs are really heavy, but I do feel comforted by it. It's pretty shocking to me that I'm able to feel that feeling, but I think it's because it didn't just involve me. I have sweet memories of all these other musicians that were involved and that I've become friends with."
Watching the video for "tap", which is made up of footage Tomberlin shot whilst in the studio working alongside her friends, shows just how precious this time must have been. Working with co-producer Phil Weinberg (who worked on Adrianne Lenker and Buck Meek's solo records) also afforded Tomberlin more time and care when carving out what each individual song needed to sound like, as she notes with opening track "easy".
"I told Phil that I didn't want "easy" to be a guitar song," she explains. "It needed to be a bit darker, something darker than an acoustic guitar can bring. So that day we started using this Juno synth and basic percussion, because I wanted it to be kind of eerie, like this tunnel where you don't quite know where it's going. We did a few takes live, and we got it on the fourth take, and we were all like, 'What the fuck just happened?' There were so many of these magic moments."
i don't know who needs to hear this… is released on 29 April via Saddlecreek
Get the Best Fit take on the week in music direct to your inbox every Friday