The countryside outside the train window is enveloped with thick mist, twisted snow-clad branches clutching from the edges, and Esben and the Witch's debut album seems ever so appropriate. The band have agreed to talk to TLOBF days after their Brothers Grimm concoction of dark myths, jagged riffs and glitchy beats earned them a nomination for the BBC's Sound of 2011 award, a major springboard for last year's winner Ellie Goulding and Little Boots before her. Strange company for a three-piece named after a brutal Danish fairy tale.
Their response? "Surprise, mainly", says vocalist Rachael Davies. "Abject shock", adds guitarist Daniel Copeman. "We just woke up on the morning of it…" "Yeah, I got woken up on the morning with text messages saying 'nice one', and I didn't know what they were talking about. It was a couple of hours before I worked it out. A nice way to start the day though."
They're sharing the list with Warpaint, who they played with back in May, but otherwise confess to being unfamiliar with most of the nominees. "We don't really feel any particular affinity with most of them – it feels like odd company for us to be in", admits Daniel. "It doesn't sit terribly comfortably with us really, the idea of being a 'tipped band' by the BBC. It certainly wasn't something that we thought would come to pass when we were putting the album together."
Despite their incredulity, the nomination seems a fitting end to a very busy year for the band, their name an ever-present rumble throughout both the press and the live circuit. In August they become the first UK signing for Matador in six years, gaining Sonic Youth, Interpol and Glasser as stablemates. "It was an occurrence that happened very gently really. They came to some shows without us really being aware of it at first and we soon got to know them. It went from there really."
Where it went was to the frankly terrifying video for 'Marching Song', their debut release on the label, which saw the band members becoming progressively more destroyed as each new edit spawns further bruises and open wounds. "It was an idea I had quite a while ago", says Rachael, "and something we spoke about and developed between the three of us. Confrontation, strength, resilience: all emotions we wanted to convey simply and effectively, and we're really happy with the way it turned out."
Certainly it got Esben and the Witch some attention. But then, it's not as though the band were lacking it before: the Guardian were fêting them back in 2009, as was this site, not to mention Pitchfork, Drowned In Sound and the NME being consistently generous in their coverage. "It's quite a surprise to us to be honest and a welcome one at that. It's amazing that we've had some loyal support from both bands we respect and journalists and publications we read frequently."
As for the considerable buzz around the band at the moment – well… "It's something we're trying not to pay too much attention to really – we're just continuing to approach things in the way we've always done."
As their debut 33 EP demonstrated and Violet Cries clarifies further, Esben's songs aren't conventional things. Emerging from shadows and swelling into nightmares, they're equal parts atmosphere and exorcism, rarely following any standard pattern or form. Unsurprisingly all three members list Godspeed You! Black Emperor as an influence, alongside HEALTH, the Aphex Twin and Bjork.
"It's not really a conscious decision to steer away from that verse-chorus-verse structure", says guitarist/keyboardist Thomas Fisher, "but the shifting dynamics is quite deliberate because we've just been really interested in the effect that that can have. We're all big fans of post-rock, and we try to take some ideas from bands like Godspeed."
"A song can begin with anything", says Rachael. "A guitar riff, a sentence, a lyrical theme, a drum machine beat…"
"There's certain songs on the album where the thing that began the song is no longer in it", adds Daniel. "The song's disappeared somewhere else off the back of it."
In the Autumn Esben and the Witch disappeared to the US, playing close to thirty shows in six weeks as support to Foals. It was, Daniel says, "the first time we felt like a real band". For a group that only formed two years ago the calibre of their support slots has been decidedly enviable though, including The XX, Efterklang, The Big Pink, Deerhunter and Wild Beasts – essentially a who's who of Pitchfork darlings. Again, the band are keen to cite their own surprise at their good fortune, although some critics have seized upon the rising prominence of artists such as Bat For Lashes and Florence and the Machine as evidence of an increased audience receptiveness to female-fronted bands playing darker music. It's not an argument given much credence by Rachael.
"Whilst I can see that there may be a slight upsurge of female-led bands and female artists in the mainstream limelight currently, I certainly wouldn't define ourselves in such a way. Whilst I may stand in the middle of the stage and provide the vocals, the band is very much a collaborative affair and I'd feel slightly uncomfortable to be seen to be separate from that."
There's also the matter of their hailing from Brighton, focus for a relentless industry search for new music and the venue for the annual Great Escape festival, which last year saw two performances from the band. However, any attempt to link them to a 'Brighton scene' – whatever that might be – are quickly dismissed. "I don't really feel that our music is indicative of Brighton's scene, and the songs haven't been directly influenced by Brighton as such", says Rachael. "But it's almost impossible not to be informed by your surroundings. We all very much enjoy living here- the pace of life, the sea, the Downs etc – and it's amazing that the city is full of people doing creative projects."
Theirs is a positivity slightly at odds with their sound. Violet Cries is a crucible of macabre ideas – opener 'Argyria' references chemical poisoning, whilst 'Eumenides' cites the Greek god of vengeance – and caustic build-ups, Davies' vocals looming wraith-like from the gloom. Live, Esben's sound is a dalliance of shadows and frenzied, cathartic release; 'Lear On The Heath' raging against the elements. It's quite a remove from the measured, thoughtful and understated interviewees of today.
"We're very keen on creating a sense of theatre", says Daniel. "We like to keep things dark on the stage", adds Thomas. "When you're watching a gig your favourite ones are those where you forget that you're in Digital, or that you're at Koko or something like that. If you can perform the hard task of separating people from their regular gig surroundings then you've gone halfway to immersing them in the music in the way that you want to."
Come this months album release and the subsequent tour, a lot more people are set to be immersed in Esben and the Witch's world. For now, though, they have a photoshoot ("We just can't understand why it takes four hours…") to get to, and Godspeed are in town tonight. Sadly, then, it's back to the mundane, and the baffling, Kafka-esque trials of Southern Trains. But at least the soundtrack's interesting.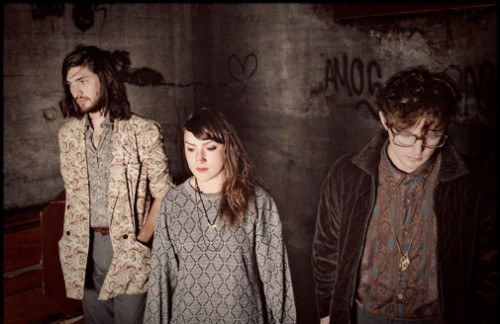 Esben and the Witch release Violet Cries via Matador on January 31.