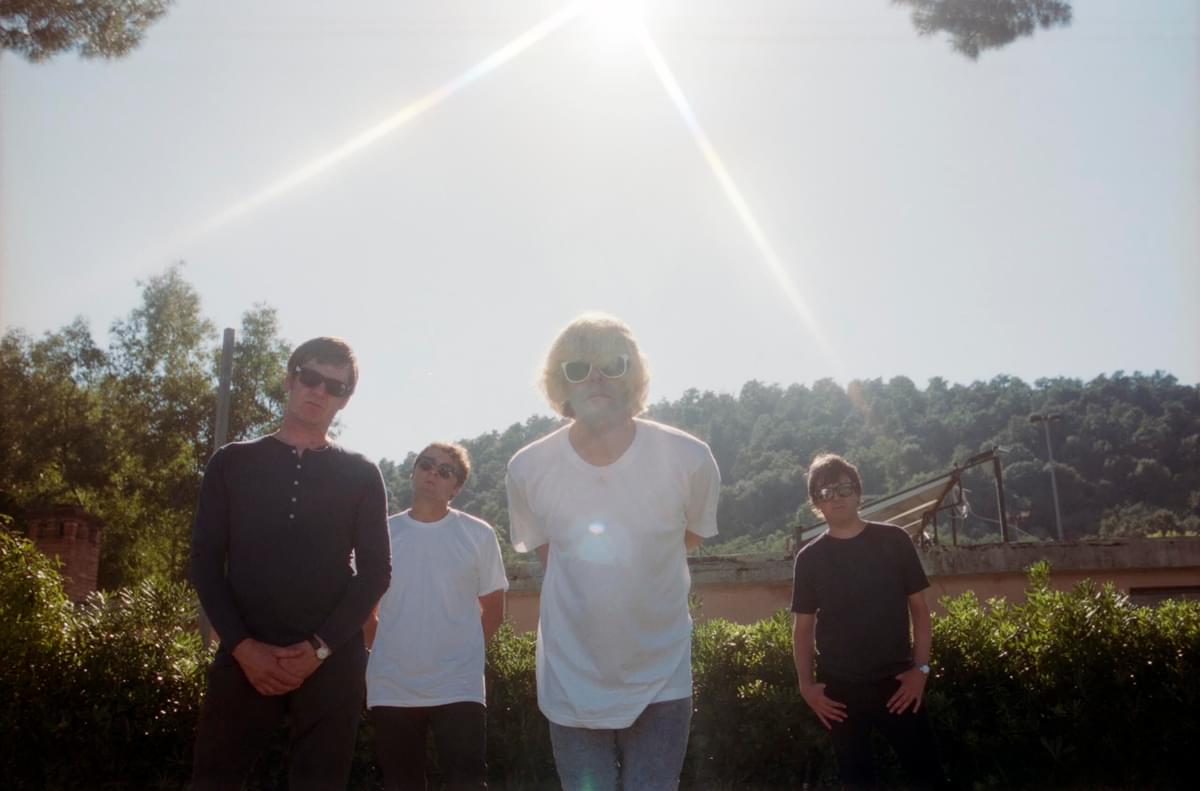 Tim Burgess on the return of the Charlatans: "We threw the kitchen sink in on this one"
19 January 2015, 14:00
Half a decade has passed since The Charlatans released Who We Touch, their previous studio full-length. Normally when bands take a bit of downtime, they retreat to collect thoughts, spend time out of the limelight or just take a hard-earned holiday – but as Tim Burgess points out when we speak to him, The Charlatans have had little R&R over the past five years.
"Everyone individually went through personal pain," he says. "A couple of us got divorced, a couple of us have had kids... there was the whole Jon thing... and, more personally, I wrote a book, I've got Tim Peaks, and a solo album. Among everything, five years of life happened, which was fantastic, crazy and traumatic..." However, despite the tumult and mayhem of simply attempting to slog through the God-given days, they've managed to find time to sit down and assemble a new record called Modern Nature. No rest for the wicked, eh?
"We threw the kitchen sink in on this one, basically," he begins when trying to remember the record's conception. "We managed to get together at the start of 2014 and have a sit down and just kind of go 'phew, that was a big five years!'. We were like 'let's just nail down every idea we've got and put it into a record'."
One major driving force behind that initial sit-down was drummer Jon Brookes, one of The Charlatans' founding fathers, who sadly passed away in 2013 after battling a brain tumour. Understandably not wishing to dwell on those darker times, Burgess rattles through the details of that period, all the while speaking in vaguenesses. "[He] wanted to create the record while he was still alive," Burgess says, remembering, "but... he couldn't really. I mean he came to the studio and contributed, but he wasn't..." Burgess drifts, searching for the words. "He wasn't in good health. He was an inspiration throughout the whole thing, and we all wanted to make the record, but it was just so difficult."
Despite Brookes' passing, he and his legacy still feature on the record in many ways – physically included. "There's one song that's part of the package – not the main album but the deluxe version – of him actually drumming, and with words by him called "Walk With Me". He wrote the lyrics from his hospital bed. It was the first time he'd ever written lyrics before. It's on the record; we managed to finish it off for him."
There are more positive memories that Burgess takes from the entire situation, however, that began the band's rebirth. It's not exactly elation of course, but there was a catharsis, and a relief that a close friend was no longer in pain. "After the Royal Albert Hall celebration of his life, after all that had disappeared – I mean I'm not saying we got over it at all, there's still an element of... I still don't fully believe he's really gone – and after that show everyone kind of felt... quite good again. Pretty much all of the five years [since Who We Touch] Jon had been suffering, so after there was no more suffering we could just sort of... let go. We could sit down as a collective, the remaining members, and start again."
"It's definitely an 'anything goes' type of record," Burgess says, getting more excited, recalling the creative process. "We wrote five or six songs before there was any drum on there. When I very first joined the band in 1989, there were three instrumentals – all beat-driven – so for me, for the first time since 1989, we were writing songs without beats in mind, without thinking of drums. Which was I guess a bit different for us, really... I'm not saying it's completely revolutionary for the rest of the world [laughs], but we just just didn't think about them at all."
Modern Nature sees a range of pals and the musical elite lend their skills to the fray: Peter Salisbury (The Verve), Stephen Morris (New Order), Gabriel Gurnsey (Factory Floor), Kate Bush's backing singers Melanie Marshall and Sandra Marvin, strings from Sean O'Hagan and brass courtesy of Jim Paterson (Dexys Midnight Runners). "There was one I thought Stephen [Morris] sounded right for, and I remember trying to get on the phone to him and leaving him a message, waiting for him to call back so I could tell him about it all... on the record, there's this real sense of...maybe, collaboration? Just kind of like we could do anything. There was a freedom. With that freedom came a lot of optimism as well."
Both freedom and optimism are tangible aural threads to be tugged at in Modern Nature. Vocals and guitar riffs are drenched in reverb, allowed to roam and breath as if free-range melodies instead of battery-hooks cooped up in bite-sized jingles. Eveything sprawls, and while there's still an intimacy – and at times, darkness – you can hear a very real sense of freedom. It feels unrestrained by limitations.
Burgess puts this rich texture and sense of space down to the time spent and methods utilised in the writing process. "The beautiful thing about the record is there was no rush at all," he points out. "We've been saying we started in January [2014], but we officially started and got together at the end of 2013, but even then there were songs that came around a year before that, or they were beginning to come together at least. When we first started we were all in the same room and we sparked off each other, but as times got on, throughout the years and so on, we tried different ways of writing: to keep us encouraged, to keep things interesting, to try and stretch things, to move in a different direction or whatever. But on this occasion we all started from scratch, together, all in the same room at the same time. There are so many bits to it that just came with time, and feeling settled in each other's company and knowing what each person brings to the band."
On a locomotive train of thought zipping towards the horizon, Burgess continues doggedly, musing on the band's original intentions. "I wanted it to be something that felt like our first album, but I don't know if that was just me. I didn't want anything to sound like we'd done on previous records, but then I didn't want it to not sound like us, you know? It's very particular in that I didn't want it to sound like a context we'd already used. For that reason I think it's the best album we've done since our first one." It turns out a few people agree, with Q Magazine reckoning it's up near the upper echelons of their catalogue. "If people don't like it I think there's probably something wrong with them..." he laughs, clearly jesting. "It's really difficult, but I do like it as much as our first one. If people are saying it's the best thing since Wonderland or the best thing since Tellin' Stories or whatever, I think if people are saying that in advance, it's just gonna blow the whole thing up."
Obviously, being put through the wringer – a second time, it should be noted – this record has a special place in the remaining Charlatans' hearts. "It means everything. A lot of things happened during those five years between albums: my son was born during the making of this album, a best friend and bandmate died during the making of this album... Lou Reed died...I left Los Angeles, I wrote a book, Tony had a kid, Mark got divorced...it kind of feels like everything in life, really. Five years of life."
Translating that to wax hasn't necessarily been an easy process, taking eight months instead of Burgess' desired three, but with the help of supernatural beings, or not, they were able to wrap it up. "The album was originally called Nature, we had some tracks titled "Nature" at that point... there was this moment while I was recording with Grumbling Furs when a book, called Modern Nature, fell on my head from the shelves above while we were recording [laughs]; I call it my 'Isaac Newton moment', but people seem to think it's more ghostly and that – apparently the house is haunted – and that I was getting a sign from the other side, but I just thought that Modern Nature gave it that whole flavour. I just felt that it had to be the title."
Inspiration seems to strike Burgess – quite literally, sometimes – in the most unusual of ways. The album's lead single "Talking In Tones", is a gorgeous construction inspired by Donna Summer and Barclay's Bank. "I was just walking through the streets of London," he says, "and I actually ended up walking past Flashback Records, from Old Street, and walking up Upper Street, past Barclay's Bank, I got the flash of "Talking In Tones", and I liked it."
He explains that the titles tend to come to him when doing mundane activities like walking and wandering around (or getting hit on the head by books), not thinking about too much, before telling the original aims of the track: "I wanted it to have the same feeling you get when you hear Donna Summer's "Love To Love You Baby"..." he trails off a tad, before realisation sets in, "I'm not sure whether you can get from it now..." he laughs, "but that's kind of what my idea was: Donna Summer, "Love To Love You Baby", 'talking in tones' and a song about telepathy where you've actually been with a partner for a long time, and it gets to the point where they know what you're thinking or you think that they should know what you're thinking, but they don't and you need to be a bit more clear to people... that was the idea of it. Whether that comes across in the final version I'm not sure...it's an evil, dark, behind-a-corner thing that you can dance to, and that's probably the sort of something that Giorgio Moroder would be thinking, or even Donna Summer herself!"
The Charlatans have got a lot planned for 2015, that's for sure. Are they cramming in five years of being busy into this one? Maybe. Currently, they're trying out new material for the upcoming UK tour - "I'm quite looking forward to learning "Let The Good Times Be Never Ending", which is a song on the album that took the longest time to come up with" – and setting their sights on festivals: "We want to play festivals, yeah, but the thing is for the past two years I've been at festivals – every festival! – with the Tim Peaks, the whole coffee thing, so I mean I'll be going to festivals anyway... but with this album, I'd like to play it everywhere really. I'm looking forward to the tour in March. We've got some cool people with us, we've got visuals, we're gonna extend the sets through two hours. We were trying to figure out how to do that, but I think if we do some new stuff and then a few bangers I think we'll be alright!"
Aside from his hectic schedule with The Charlatans, Burgess has a few of his own plans whacked up his bulging sleeves. "I'm putting out a single with Peter Gordon from Love Of Life Orchestra. I did one last year, it was a collaboration between Kurt Wagner, myself, and Peter, and this year I'm doing another; a nine-minute single for April... O Genesis, the label, is putting out a band called Drohne and a band called Hot Mystery... that's everything up 'til April really, I'm not too sure past then to be honest," he ponders, before remembering that's not quite true. "Oh, I'm supposed to be writing a book that I have to deliver by May, and it's a book called Tim-Book-Two, after my...warmly received debut book [laughs], I look forward to trying to complete that!"
He laughs again, and you can sense the wash of realisation as he remembers his already-bustling 2015 itinerary. But it's not one of regret, or dread – it's relief. "I like being busy really," he says, "Each to their own, I guess."
Modern Nature is released January 26.
Get the Best Fit take on the week in music direct to your inbox every Friday