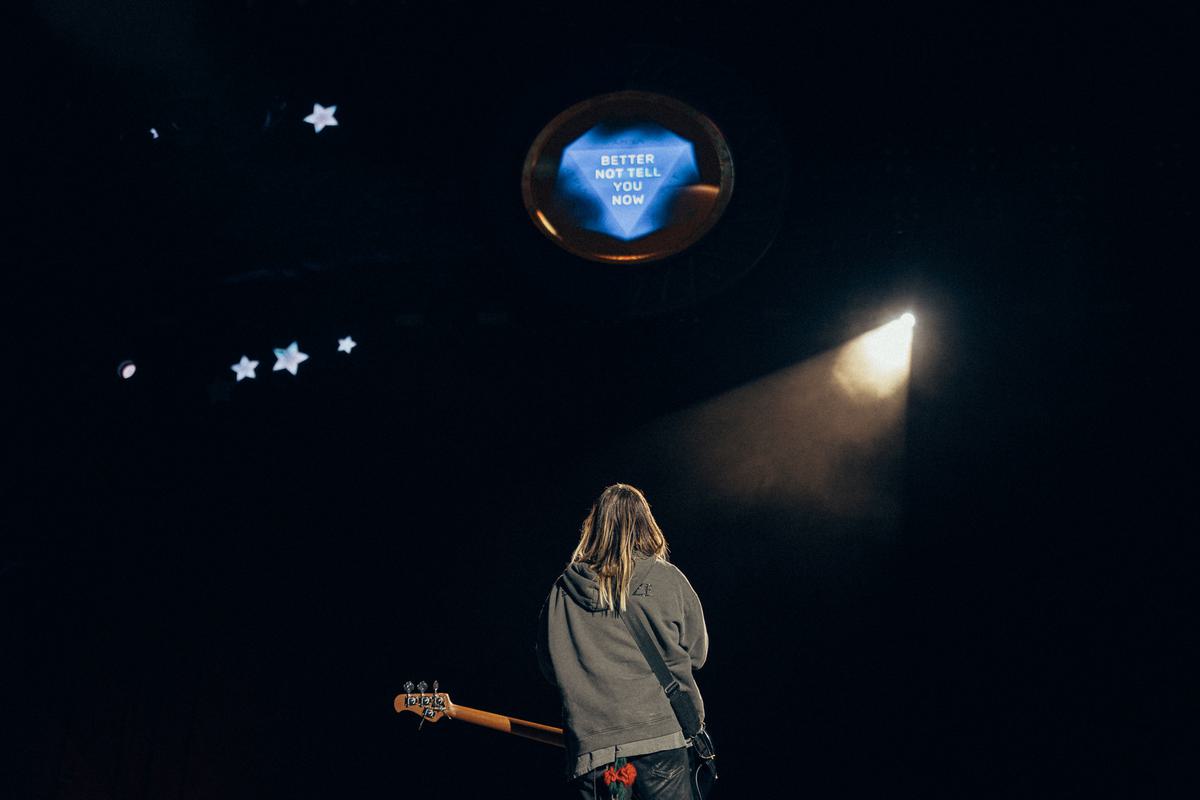 The secrets behind the design of Fall Out Boy's new world tour
01 November 2023, 15:59
Bronski - the BAFTA nominated creative director and co-founder of TAWBOX - tells Jasleen Dhindsa what to expect on Fall Out Boy's So Much (For) Stardust world tour.
Bronski and his TAWBOX co-founder Amber Rimell and have been responsible for creating some of the most memorable live performances in British music in recent years: from Stormzy's 2019 Glastonbury headline set to Dave's 2020 BRIT performance.
His enduring love story with music began in his teens, as a self-proclaimed "punk rock kid who would basically go to every show" that he could find, from Brixton's Astoria to The Barfly in Camden, "I was that teenager that couldn't stop thinking about music when I should have been thinking about school," he says with a smirk over the phone.
Going to live shows as a teenager quickly transformed into a career for Bronski as a musician, producer and engineer in his twenties, eventually finding his way back into the live space as an audio engineer in his thirties. His TAWBOX co-conspirer Amber Rimell also got her footing in the industry in the live space too, with a career as a professional dancer and choreographer.

Despite their different backgrounds, what unified them both was "a love of music and a love of shows," he tells me. "Neither of us have a background in stage design. Our roles as creative directors are broader than just stage design. All that emotion and passion that you feel as a kid experiencing everything for the first time, that's part of everything leading up to whatever moment you have right now. I fucking love Michael Jackson, Metallica, Green Day, Rammstein [and] Korn. Big music inspired me. There's part of their shows that you always remember, but then as you [actually] start to work on the shows, it's your passion, but there's an element of observation that comes in, and it all starts to fall into place a little bit…."
Witnessing live music is a thrill like no other, a feeling if you could bottle you could sell for millions. However, seeing the same show every single night like clockwork meant monotony trickled through to Bronski's mind, and sparking a fire to reimagine the performances he was seeing over and over.

Soon enough it was Rita Ora who gave Bronski and Rimell their first taste of what would become TAWBOX, when she asked them to put something together for her first tour. "It was a very small camp at the very beginning, but [Rita] would really just trust opinion," Bronski tells me of the collaboration, "always being a professional, I never really went out there giving the opinion, but when I was asked, I would give it. I think it was Rick Rubin that said there's an element of confidence in your own opinion. That really plays true to how a career can unfold as well. We didn't really start a company. We didn't really ask to do it, we didn't sell ourselves as doing something that we couldn't do. It was something that just naturally came because of experience, passion and opinion."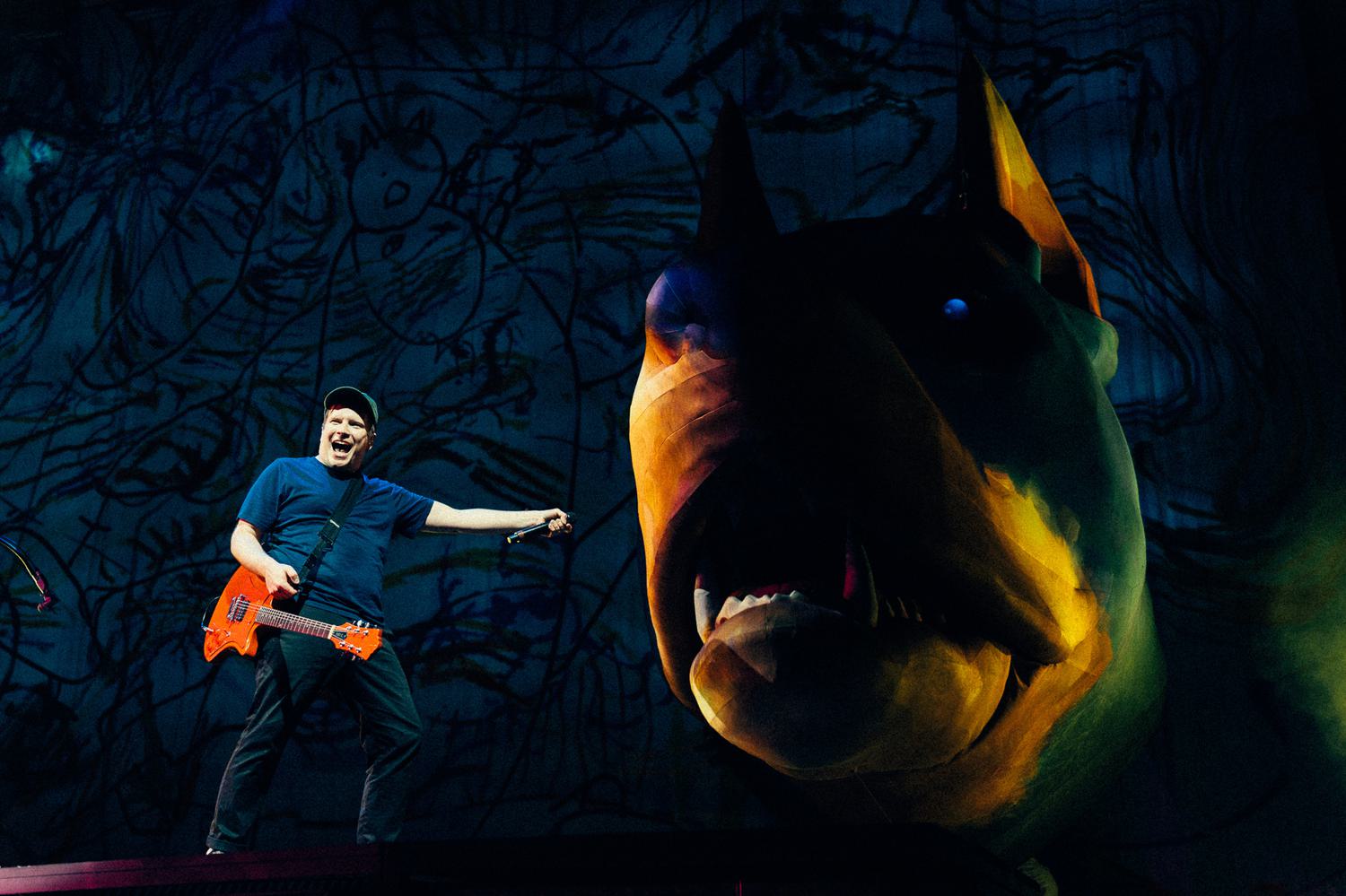 Since then, TAWBOX's impressive curriculum vitae now features long term relationships alongside one time projects, spanning the likes of Stormzy, Dave, AJ Tracy, Weezer, Olivia Rodrigo and boygenius. One of their present credits is Fall Out Boy's So Much (For) Stardust world tour, which has been in motion throughout 2023 since the album of the same name's release in March, with shows coming to the UK this October and November.

"One thing that's really important to both me and Amber is we have to be in love with the music," Bronksi says of working with the Chicago rock monoliths."That music needs to be in our blood because ultimately it all comes down to the music. A big part of what we do is we start to live in it, and if we don't already know the artist or the project, we research. So listening and research is basically almost everything to us for quite a long time. What happens is all that initial emotion, opinion, and research that you've gained, that becomes everything. You draw your own picture of what it is that you're kind of going for. It's really important to us that there's always meaning behind what we're doing. That's our ethos really."

For the So Much (For) Stardust world tour, TAWBOX worked incredibly close with Fall Out Boy's leading mastermind, bassist and lyricist Pete Wentz, "Pete is a creative guru himself," Bronski says emphatically, "he really loves the process, he's really involved, more so than a lot of artists to be honest with you. It's brilliant."

So Much (For) Stardust as an album is convulsing with dramatism, with the cyclicality of life a driving narrative of Wentz's lyricism. Bronski tells me that "there was a desire to be really quite theatrical with the show". In light of the theatricality, TAWBOX built the band their own theater proscenium that could work in amphitheaters and stadiums in the USA, as well as arenas in Europe and the UK. It's an aesthetic that proved a stark contrast to the band's recent post-hiatus tours, which have until now been heavily reliant on large video screens.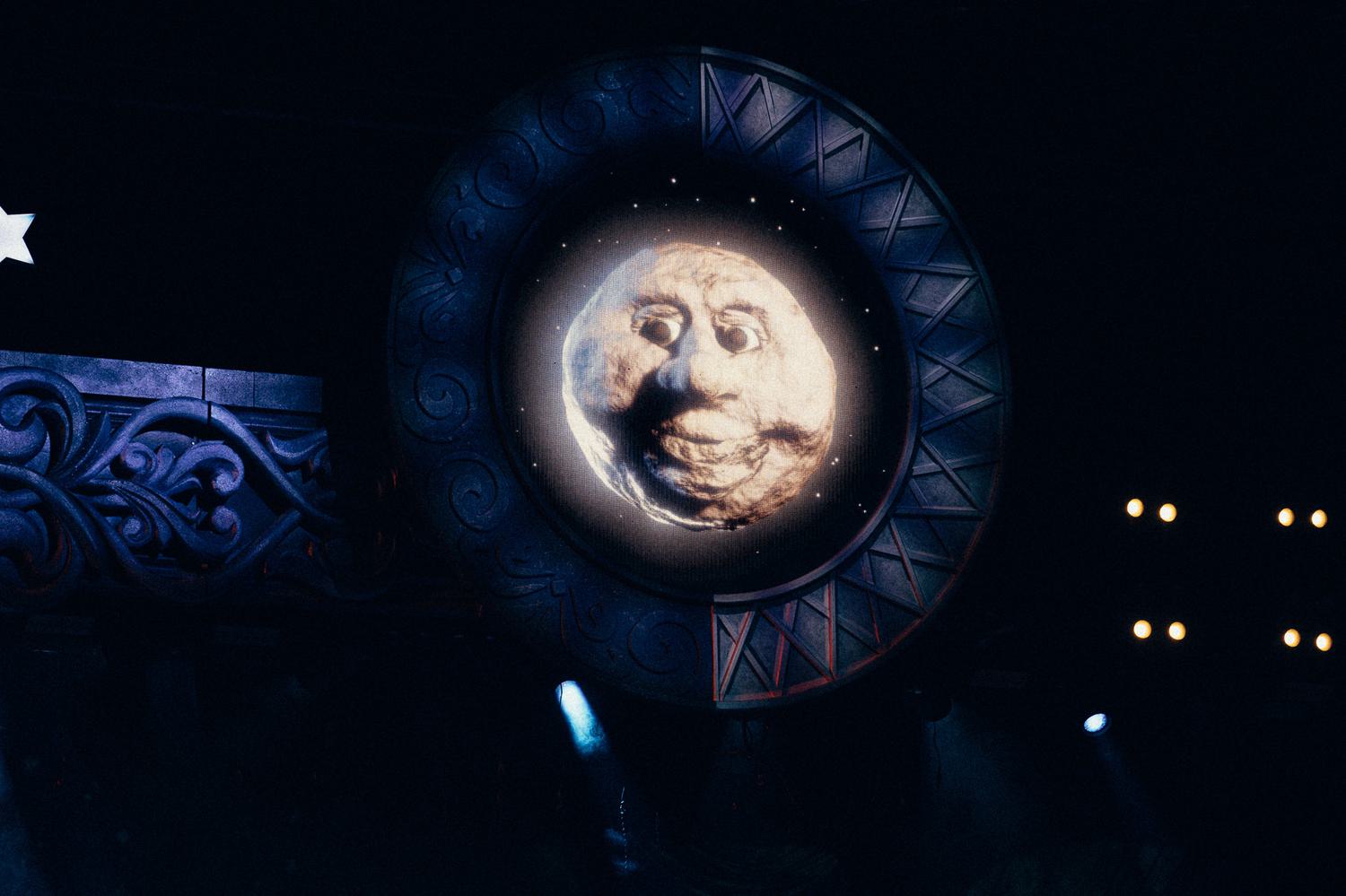 Wentz also wanted a day and night theme, which aptly echoes the album's material, "one side is night and it's whimsical and larger than life," Brosnki says, "then our way of doing day is to be old school with rock lighting. The one thing with tungsten lighting is it's like the same colour temperature as the sun. Those big tungsten bulbs that burn your retinas was the key thing of being the day…."

Piecing together the two parts of the stage led TAWBOX to create one of the most fun parts of the tour, and one that will surely go down in Fall Out Boy lore for decades to come. A circle screen (the only one in the show) sits atop the stage, and joins day and night together by switching from moon to sun. But in exploring many other ideas of what they could do with a circle, the magic 8 ball concept was conceived, and facilitates every die hard fans dream: a chance to hear Fall Out Boy play a song selected from the depths of their archives (recent magic 8 ball songs have included tracks the band wrote over fifteen years ago but have never played live). The idea has now been so pertinent to Fall Out Boy that Bronski tells me he's seen fans getting tattoos of it, alongside more non-committal appreciation of 8 ball emojis in their social media handles.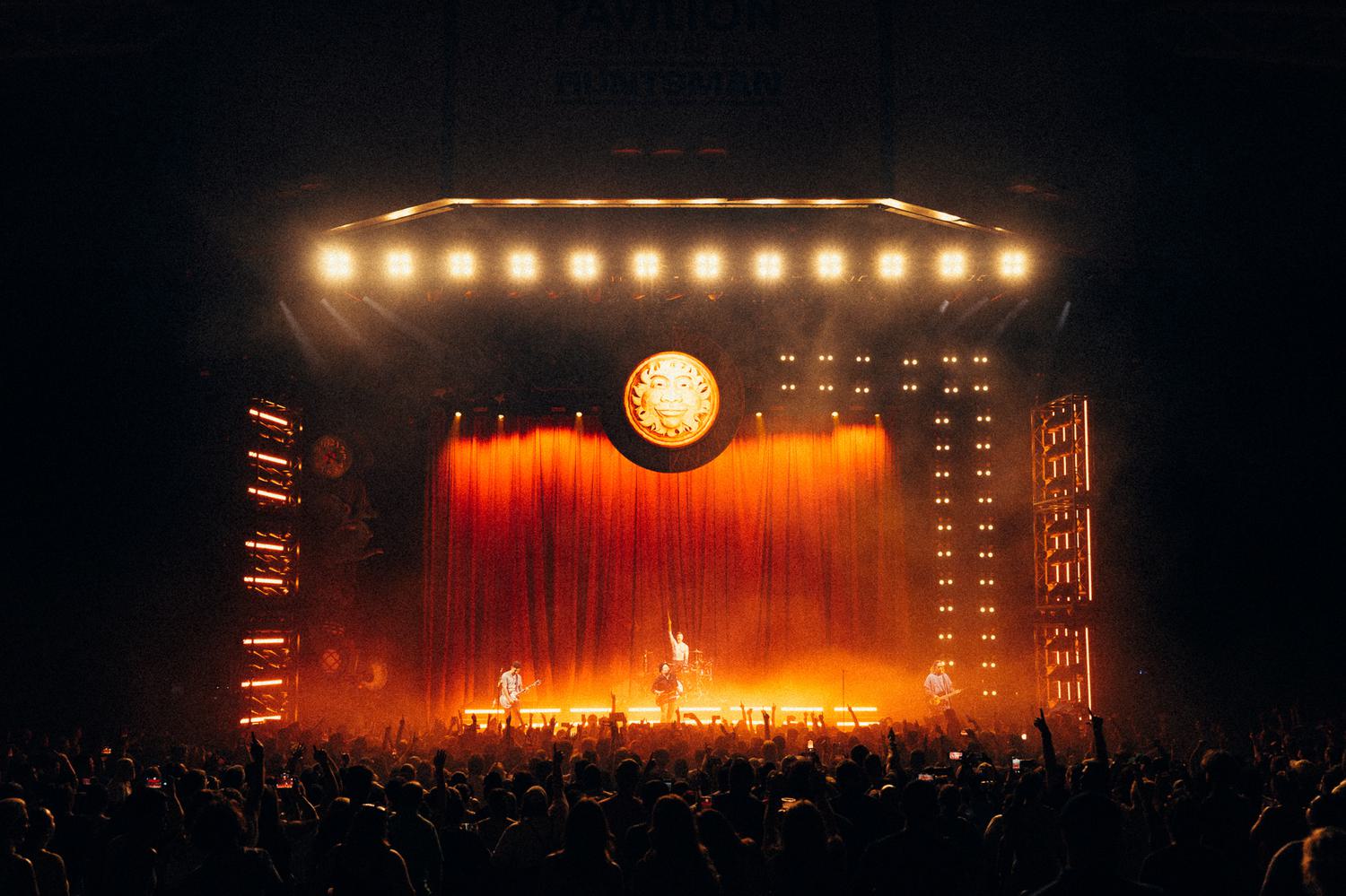 Magic 8 balls aside, TAWBOX's adoration and affinity for the creative arts, paired with Fall Out Boy's legendary unconventionality has birthed a stage performance that will surely put a smile on the faces of even the most casual spectator: there's a moment in the show where the Doberman from …Stardust's album cover is brought to life in the form of a giant inflatable dog head (dubbed 'Bubbles') that the band's vocalist and guitarist Patrick Stump speaks to, between the most amount of pyrotechnics the band has ever had on tour. And it's all neatly tied together with a classic red theater curtain, "we really play into it in the show because there are set changes going on, there's a lot of amazing crew behind the scenes operating and making various things work very quickly. Sometimes there's three minutes to go from an aquarium to Bubbles. Which is super short, but it makes it feel really different, and the show feels like it goes really fast. It's really, really enjoyable."