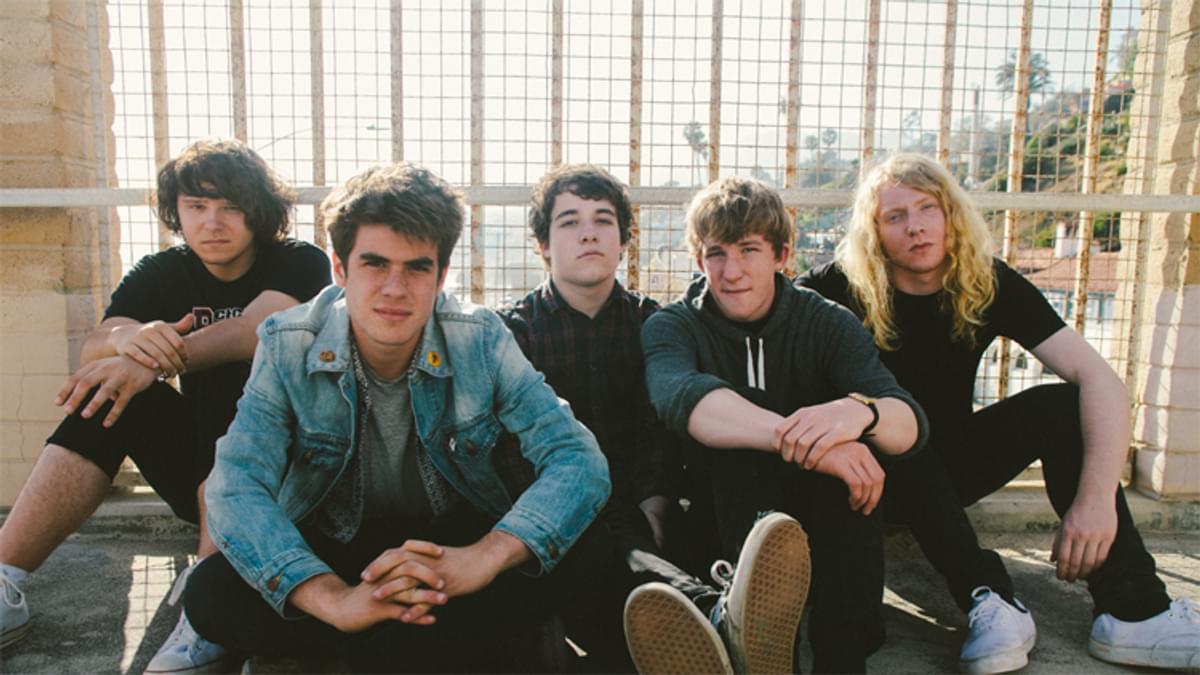 The Orwells: "Disgraceland shows we are modern people making modern music."
10 June 2014, 10:30
Having ripped up David Letterman's show with plenty of dance moves and broken strings, The Orwells have made a name for themselves as one of the most explosive DIY bands to come from humble garage beginnings.
Having ripped up David Letterman's show with plenty of dance moves and broken strings, The Orwells have made a name for themselves as one of the most explosive DIY bands to come from humble garage beginnings. Graduating high school early to dedicate themselves fully to music, the five youngsters have made a strong start by supporting the likes of Palma Violets and Arctic Monkeys on US tours.
With second official (fourth unofficial) album Disgraceland out now via Canvasback / Atlantic, we sat down with guitarist Dominic Corse and drummer Henry Binner to talk about the record, their DIY ethic, not being able to drink legally and why they weren't allowed to talk to Arctic Monkeys.
I heard you started out as a school band, in 9th grade?
Dominic: Yes, we were in 9th Grade. It's been about four years.
Do you think being old friends means you are closer as a band?
D: Absolutely. I totally think so. We weren't as close as people when we first started.
Henry: I think we tolerate each other much more. We have a weird relationship.
D: It's definitely got stronger. Like this kid, I wasn't actually good friends with him to begin with. Over the course of the band though, I think we are the best of friends now. I only had one class with him.
H: We did music together in 8th grade.
Henry your brother is in the band too, how do you find that?
H: It sucks!
D: It's horrible for everyone really.
H: All of us collectively hate him, so whatever.
Do you think your sound has evolved much from when you were younger?
H: The album that is just coming out, it's the fourth we have made together. It's the second officially but our first album had really psychedelic nuggets.
D: We've got less psychedelic to be honest, but I think we will be more psychedelic in the future. You know, cause we're all trying mushrooms and stuff!
H: Ha no, we haven't done mushrooms…
Was there a good music scene where you are from that encouraged you to form a band so young?
D: Our music scene was pretty good.
H: Chicago is good. It's not like LA or Portland or New York.
D: We're from Elmhurst in Illinois, which is twenty minutes west of Chicago. On a good day, my friend has sped to Chicago in eight to ten minutes tops. We're quite close to some cool places if you speed. We don't like, live in the city, so don't know much about the scene there. We can't say much about it because we only know garage bands. There are more than just rock and roll bands; there is a rap scene, there is a chill scene. There's some rock and there's pop and stuff.
H: When we were juniors in high school, we all listened to this band called Twin Peaks and they introduced us to DIY shows.
D: Twin Peaks is how we got into our niche of Chicago. Before that we were just in the Elmhurst scene. There was almost nothing.
H: We used to play shows in our singers garage and stuff.
D: It would be all local bands and your brother's band would open for us.
What other bands influence you all?
D: As a band, I don't think we sound like anyone or that we are directly influenced by any single people. Even in my own solo stuff, I can't say I am influenced by a single band. We try not to rip off anything. We try not to be labelled as anything.
H: In school, we were really big fans of The Strokes.
D: Essentially we came together because of The Strokes and other common bands we liked but eventually we became our own thing. Mario likes rap, Grant listens to bullshit, Matt listens to Elvis and old stuff Henry listens to new indie bands and I listen to anything from jazz to Radiohead. We're all very eclectic in our music taste. We share a core influence like The Strokes and The White Stripes, minus Henry because he doesn't Meg White because 'she's not a good drummer'.
H: What?! I like The White Stripes!
Your second album Disgraceland has just been released. How have you found the process of putting it together?
H: We started writing that album straight after the first one. When we recorded "Remember When", we just distributed it through high school. We were like juniors in high school still.
D: It's been in the works for two years - since like 2012. It's been whittled down and we're super proud of it.
H: We've cut like thirty to forty songs from this album. We've written so much. It's been like three difference producers and four different studios, so it's been a super long process.
This time you recorded in a studio rather than a basement, did it feel odd moving on from that DIY ethic?
D: You have so much more time when it is DIY. You are not pressed for money or anything, Our first was just ourselves and technically free. Now we're throwing down some money, we're pressed for time recording. The next one we'll try and find an in-between. Like between the producer and the studio and producing it ourselves in our studio. We'll find a groove and a good mix between garage and psychedelic and fucking pop punk!
Where does the name Disgraceland come from? Is it a nod to either Elvis or Paul Simon?
D: It could be anything you want. It's a good way to say we know what's up in the past; we know good music. Paul Simon's Graceland is an amazing record and Graceland was Elvis' home, of course. We love and respect those artists, but Disgraceland also shows we are modern people making modern music. We're influenced by the old past of Graceland itself and Disgraceland is about teenagers fucking about the town. We're still loving and respecting good music that has come out before our time but also saying a 'fuck you' to the music that is coming out around us that sucks ass.
What are two singles "Who Needs You?" and "Dirty Sheets" about?
D: Who needs you we wrote when Obama announced he would be pulling the troops out of Iraq. We wanted to write a political anti-war song. It was born that day from a demo that Matt wrote. He wrote pretty much all the music for that song. We gave the idea to Mario and he went away and wrote the lyrics and there was the single right there. On "Dirty Sheets" it was more spontaneous. I wrote the chords and Matt wrote the rest of the music. Mario wrote the lyrics about a crazy night in LA. We played this house party and there were forty to one hundred people that were fucked up.
H: Mario and me went to this other band's house and were wasted.
D: The bassist from this band we know was doing 70 in a 25, blowing coke in the front seat. Mario and Henry were terrified in the backseat!
H: He was speeding up to red lights and we were terrified.
D: Mario had lost his shoe earlier in the night and he met this chick that was like - "I'll get you new shoes!" - and they hooked up. The whole song is about that night. Some rock and roll bullshit.
You supported Arctic Monkeys on their American dates earlier in the year, how was that experience?
H: It was cool playing shows.
D: I feel like every British person that asks us how supporting Arctic Monkeys was wants us to be like "It was amazing!' It was fun and the audience was supportive of us most of the time. We didn't really hang out with them. The whole thing was a little too big for us. The rooms were too big for us and the Monkeys were very proud, stoic people. We didn't talk to them much. We weren't supposed to talk to them much. It was awkward because one or two times we had to through their dressing room to get to our dressing room.
You also supported Palma Violets, was that quite different?
H: I love those guys.
D: They are great. They were mad because they are huge in England but in America the shows would be okay and sell out but it would be old people and people just drinking. They couldn't fuck around like they could in England!
What have you got planned for the rest of the year?

D: We have some festivals. It's mainly festivals. Everywhere. We're doing Reading and Leeds here. Japan in August and then to Australia.
H: At the end of two months touring, I'll be going fucking insane. Stage-ja vu! Though there might be a few nights off to party.
You guys can't drink legally in America though right?
H: Some places don't pay attention!
Disgraceland is out now via Canvasback / Atlantic Records.
Get the Best Fit take on the week in music direct to your inbox every Friday