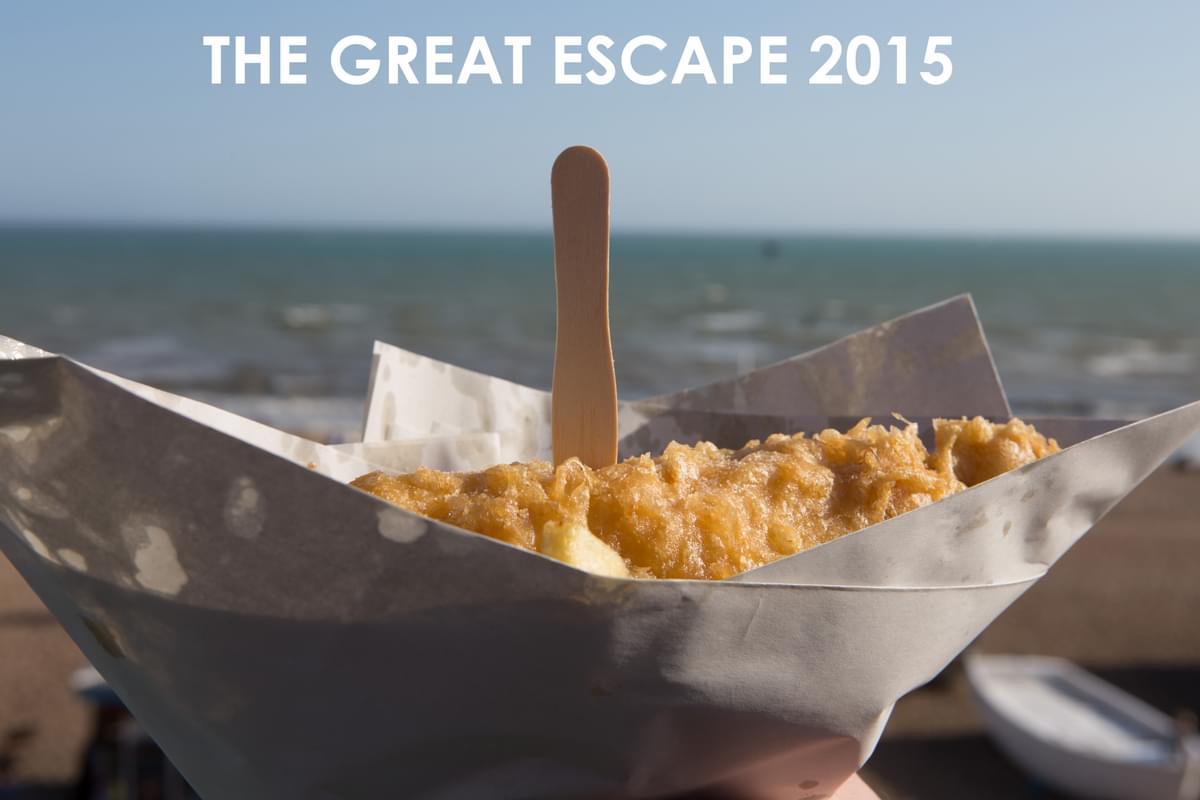 The Great Escape Catch Up 2015
31 May 2015, 10:02
Things start early at The Great Escape, and although the majority of the crowd is hyped and ready to see music at any given moment, 3pm on a sodden wet Thursday doesn't seem conducive to creating a great atmosphere. So the show from Kiwi folk musician Aldous Harding at the gorgeous dilapidated ballroom had to be good to keep the audience interested. It definitely lived up to its promise.
Playing songs from her Vashti Bunyan indebted debut album, Harding's mixes traditional folk songs with dirge-y notes and ends her incredible performance with an A cappella cover of Edith Piaf she was told she was too young to be singing. It was spellbinding … yet speaking to Harding backstage immediately afterwards, she wasn't in complete agreement: "I was just so tired," she quipped in her clipped New Zealand accent. "I don't think I played my best. So I worry because I feel like I bore myself and then I panic and think that other people are bored…I worry that I don't have enough energy, and that I've played the songs so much that I'm going through the motions and I've lost the attachment and intensity I had for them."
It's interesting and refreshing to hear an artist admit there's a downside to playing festivals, playing early, and playing on their own but Harding remains ultimately confident: "I feel like I'm out of my depth but I know that I'm not," she explains, "I can do it! I've got this perfection complex where if people aren't weeping or hanging off my every word I feel like I haven't done my job." Brighton does offer some happiness though, via the fairground: "You know what would make me feel better? I need to buy a massive teddy bear….I have….what can I get for forty quid…you know what I'm looking for, a big fuck-off teddy bear!"

AURORA. Photograph by Abi Dainton @ The Great Escape 2015
Young Norwegian AURORA was another artist dealing with early starts, a series of shows and interviews but approached it a teenage-like enthusiasm. Despite being up since the crack of dawn, AURORA never stopped working for the whole time she was in Brighton: "I've had two shows already," she reveals. "The first one was really cosy in this weird house which had dolls hanging from the roof….I really enjoyed that, I prefer it quite small. But then I asked the guy from my record label about the next venue and if it was small….he said yeah but it wasn't, it was huge! It was a room of four hundred people and this [Coalition] is huge as well! It was fun, and it was scary!"
Unlike Aldous Harding, AURORA benefits from some company at the festival in the form of her band who help her flesh out her dramatic and dark electronic folk-pop, already made huge by Aksnes' grandstanding voice: "They are the best people in the world; the bass player and drummer produced my album," she says, proudly, "so I kind of feel it's 'we' or 'us' doing this together…Aurora the band…yeah I feel that!" And while AURORA does all the interviews, the band get to explore Brighton. But the Bergen-born singer is happy with the deal: "I don't get to experience the sightseeing but I get to experience lots of beautiful people, in the interviews I do or in the audience when I make eye contact. I don't get the place, but I get the people."
New York newcomer Vérité is another artist getting to know the people this weekend. "I don't play piano on stage any more so I have more of a direct line to the audience. Yesterday was our second show without, so it's a really recent thing. I want to prove I'm a musician but crowd interaction is so important." A pop purveyor of the finest kind, Kelsey Byrne is excited about her set tonight. "Our live show is something that will always evolve. The most important thing is to be realistic, to be authentic. How I am as a human is how I am as an artist, there really is no difference. I just dress better when I'm on stage and I know people are watching" she jokes. It's taken a few years to figure out but with two EPs under her belt, Byrne is confident she now knows "exactly what I want to say, how I want it to sound and how I want it to translate to other people." She isn't lying either, her Coalition show later that evening has everyone wrapped around her sleek pop finger.



Oscar. Photograph taken by Wumni Onibudo @ The Lexington, London
This time yesterday we were watching a similarly charismatic young artist charm the crowd. Twenty-three year old Londoner Oscar isn't convinced it was a great show, but he's happy – he's come a long way from the wooden spoon drumsticks and t-shirt covered toms of his youthful musical experiments. "I started writing the Oscar stuff when I was like 19/20. I wasn't really present for a lot of my teenage hood so that was when everything – all the sadness, the romance, this backlog of emotion - took shape. I started out with primitive recordings which had a lot of atmosphere and soul to them, but the lo fidelity was to the songs detriment - the song would be like underneath all, but I took my time, learned how to produce more. Everything clicked when I got this folder of drum loops - I'm obsessed with drums and like hip hop beats. I love dance music too, and that's all rhythmic."
Daniel Avery collaborator Ghost Culture is a man who knows a lot about the world of rhythmic dance music. Having released his debut solo album via Phantasy (Erol Alkan's label) back in January, James Greenwood exists in a warm, sparse electronic space of his own making. Catching up with him ahead of his late night Komedia outing he recalls early club forays of his own. "When I was 17/18 I lived in Essex but I used to come to London a lot, I ended up following Erol around accidentally! Those club sounds are of course there but there is so much more in the mix. I didn't want it to just be one thing. I did always want it to do it live though but never knew how it was going to work because it was all made on one synth. But I've got a system now that I really love, it's really fun and I don't sound like I'm comprising anything." When asking what we can expect from this evening he explains. "It's usually me and four lamps with bulbs that are in sync with the music. I've always wanted it to be a show and a spectacle. I made it so that there is nothing directly in front of me, it's a performance, I sing on every track." His hypnotic, krautrock indebted beats keep us in a trance until the early hours, until it's time to get ready for another day in Brighton town.

Girl Band. Photograph by India Whiley-Morton @ The Great Escape 2014
One act that's no stranger to Brighton and The Great Escape is the Dublin noise-rock foursome Girl Band, who played two storming shows on Saturday which, for anyone who caught them, were the highlights of the weekend. The day before their shows, singer Dara Kiely and guitarist Alan Duggan tell me about their early experience of the seaside town: "Yeah, Brighton is really special to us," says Kiely. "The first ever gig we sold out was at the Prince Albert, just down the road. We played it four times last year and we always look forward to seeing it – and a lot of people we know have come over too …and I'm sure we'll get stuck in the wind again at 7 in the morning wondering where it all went wrong!"
With songs that veer between the eight minute epics and thirty seconds bursts, picking a setlist to play in thirty minutes is something that's proved to be a bit of a head-scratcher for Girl Band, as Duggan explains: "The problem with ourselves is that we could play three songs and that might take 21 minutes…so they're very easy shows in that regard - we should just shut up and then we could play four songs!"
Things start early, and always finish late at The Great Escape – and the Friday night late headliners Django Django rolled into town early ahead of their show at the Corn Exchange. The plan was to hopefully see some music before they had to play themselves: "I know Boxed In are playing," says bassist Jim Dixon. "They supported us on a few shows so it'd be nice to catch up with them…" Turning to their own show of rhythmic and wonky pop, drummer and producer Dave Maclean says it might be difficult for the band to get back into festival mode following their own headline tour in support of new album Born Under Saturn: "It's weird because it's only a forty five minute slot so we have to try and squeeze everything in and get back into that festival mindset…." Trying to work out when to give the crowd "Default"? "Yeah we'll save that for the end!" laughs Maclean, "and then play 'the hit' twice! It's trying to condense it; even on our own tour shows you can tell not many people know the album yet or haven't taken it in yet."
Despite the crowd almost certainly waiting for "Default", when I ask if they find it annoying these two Djangos don't mind one bit: "Och, naaah. We joke about it being a hit – it wasn't exactly a hit," laughs Maclean. "It's not like we're one of those bands who get a big hit, get annoyed and stop playing it, it's actually 'Waveforms' which gets the biggest response." In the end, Django Django say that finding the perfect festival set is purely down to trial and error: "It's a bit like doing a DJ set," says Maclean. "You pick ten songs and you just play them in the right order. We've planned tonight, whether it'll work or not is another matter." They need not have worried: in many ways the band played the perfect euphoric festival set. They did not, however, end with "Default". The contrarians.
Get the Best Fit take on the week in music direct to your inbox every Friday