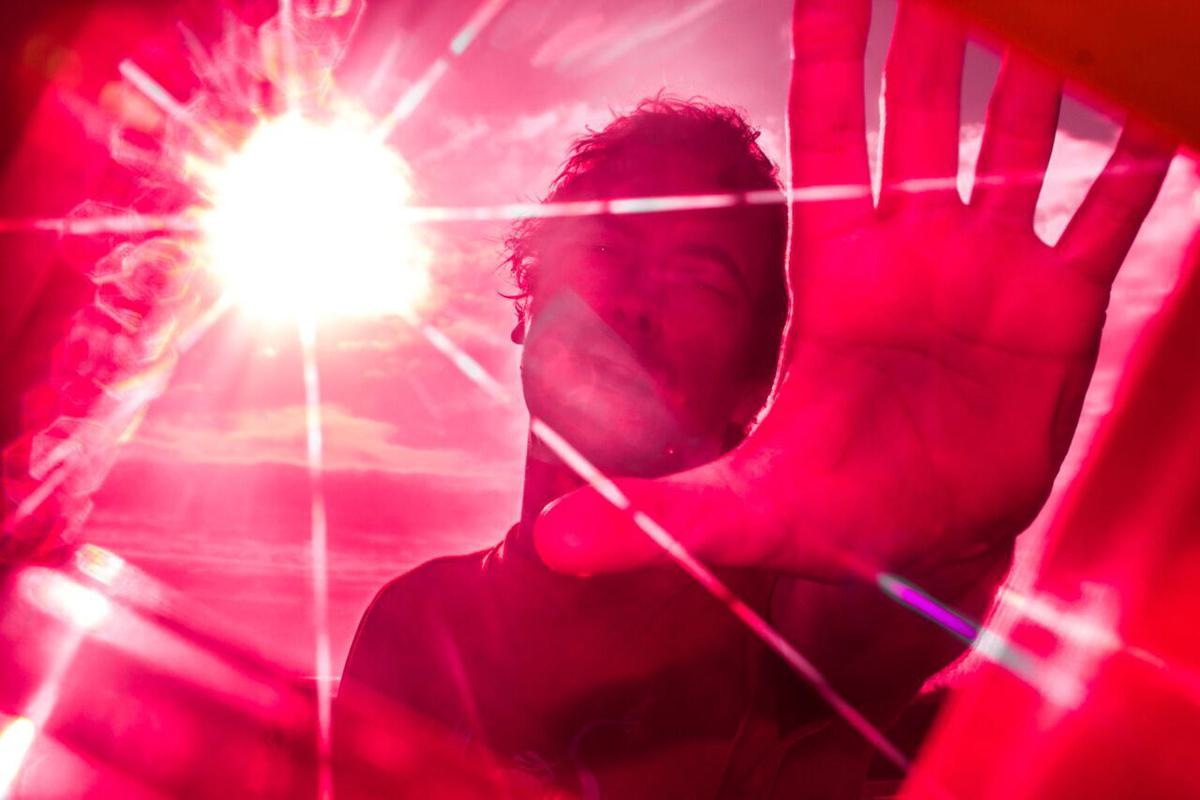 The Go! Team: "This band has always been kind of like cutting my head open"
19 June 2015, 14:30
"There was a big question mark, to be honest."
Four years ago, The Go! Team released their superb third record, Rolling Blackouts. It was their most diverse and fully-realised effort to date; their chaotic signature sound, a clash of girl-group harmonies, car chase themes and eclectic samples, remained in rude health on tracks like 'T.O.R.N.A.D.O.' and 'Back Like 8-Track', whilst the infuriatingly catchy 'Secretary Song' and 'Buy Nothing Day' - the latter boasted a heavyweight vocal feature in the form of Best Coast's Bethany Cosentino - cemented the Brighton outfit's credentials as one of Britain's most gloriously off-kilter pop bands.
All the more bizarre, then, that Rolling Blackouts seemed to fly under the radar - even that of those who'd enjoyed their past work. You could possibly point to the protracted layoff between the record and its predecessor, Proof of Youth, or the fact that their unique mish-mash of styles didn't seem quite as pioneering as it had when they made their bow with Thunder, Lightning, Strike in 2005, but either way, plenty of people seemed to miss The Go! Team's return. Soon, rumours of an impending split began to swirl - fuelled, apparently, by comments made in interviews by bandleader Ian Parton - and by the time they came to the final show of the Rolling Blackouts campaign, in Salford in August 2012, the writing seemed on the wall.
They were the last band to take the stage out on the piazza at MediaCityUK, as part of a 6Music live show for Mark Radcliffe and Stuart Maconie that, when it was scheduled for a late summer's bank holiday, surely hadn't been envisioned as a rain-sodden damp squib. Most of the crowd had yielded to the miserable conditions by the time the group's brightly-dressed frontwoman, Ninja, led them out for what looked certain to be the final time, and it looked like being more of a depressing fizzling-out than a triumphant swansong.
"We had a band meeting after that gig, and kind of decided it was the end of the line," says Parton, over the phone. "It was getting really hard to keep it together; people were having kids, there were side projects going on, and honestly, we'd kind of done everything that we wanted to. I knew I was going to keep on making music somehow, and it was kind of liberating to know that I could basically do what I wanted."
The result is The Scene Between, a fourth Go! Team record that, for a long time, looked destined never to happen. It's an album that's seen Parton go back to basics; he made Thunder, Lightning, Strike completely on his own, at home, and only assembled a live band when Franz Ferdinand offered him a support slot. The Scene Between is the first Go! Team album since to be made pretty much entirely in the same way; with the exception of the vocals, this is exclusively Parton's own work.
"I started the band myself, and did the first album alone, so I felt like I had the right to keep calling it The Go! Team," he laughs. "Even on the last two records, I'd still written them, musically speaking, from start to finish, but The Scene Between is the first time I've gone right back to how things started. It still doesn't feel like a big departure; I've always been the one who's been arsed to listen to thousands of records, pluck some samples, and write songs around them. The Go! Team's always been a bit like cutting my head open, in a way; people always assume that the band must have been the product of a ja, or something, because the individual members were so different, but really it's always been about rolling all of my favourite things into one."
The Scene Between is at once a progressive Go! Team record - its sunny simplicity is quite the departure from the dense, complex textures of Rolling Blackouts - and a self-referential one; Parton's retained his long-established identity, but strikes away from the output of the 'full band', too. "I kind think this is a lot different, but people keep telling me otherwise! Everybody's saying that this is very much The Go! Team, so maybe I'm too close to it to form a balanced judgement. I guess I'm just always interested in melodies, and the classic idea of the pop song, like The Monkees or something. I think The Scene Between picks up where songs like 'Ready to Go Steady' and 'Buy Nothing Day' left off on the last album, because there's expansion and variation within an identifiable Go! Team blueprint. It's always been expansive, and there's always been variation - from the windswept instrumental tracks like 'Everyone's a VIP to Someone' to the Charlie Brown kind of stuff, or the blaring brass band type of material. There's always been a lot of different ways we could have gone, and it just so happens that this is the way I've chosen to go now."
There's probably a compelling argument for The Scene Between being the most straightforward pop record that The Go! Team have yet made, even if that wasn't how Parton had envisioned it in the beginning. "The original plan was to write a whole bunch of songs that I thought were melodically interesting - kind of curvy, kind of dense. From there, I was going to try to build the songs out of chords I'd taken from loads of different places; I'd get the G from a sixties psych record, or the B from an old funk track, or something. I was really into the idea of building it up. To some extent, I've always worked that way, but I wanted to pursue that properly this time, and it actually turned out a lot more subtle than I thought it would. It's like a balance between everything I've always loved, musically; I've always been torn between delicious, irresistible melodies on the one hand, and then the lo-fi urges I have as well."
Parton's gathered enough plaudits to be able to guarantee that, had he wanted to, he probably could have counted on some high-profile peers making themselves available for vocal duty on the new record. Instead, though, he deliberately sought unknown singers, putting out open calls through, for example, the Drowned in Sound message boards ("that particular attempt was fruitless.") Still, he'd written the parts with certain types of voice in mind. "I knew some songs had to be quite full-on and bratty, and others needed to be smoother, or have a little bit of an accent on them. I was open to how it would ultimately turn out, but I had a vague idea of what I was gunning for. Take a song like 'Did You Know?'; because that's a slower one, I knew that a straightforward vocal might be too sickly, or too cute, and that I'd need to take the edge off it. I needed to kind of Moe Tucker-ify it."
The actual process of scouting out the final vocalists - all of whom are virtually unknown to The Go! Team's audience - was a careful and ultimately pain-staking one. "It just involved a lot of scouring the world," explains Parton. "I listened to a hell of a lot of different bands, mainly obscure ones. I figured that the last two records were getting overshadowed, at points, by namedroppy features - you know, "hey! Bethany from Best Coast is on this one!" or "Oh, check out this track with Chuck D on it." That would then almost become the story of the album, and I wanted the songs to stand alone this time. I was looking for something bordering on amateurishness. I hate over-singing; I think I've always valued personality over technique."
Parton confirms that he was never tempted to call in the old guard on The Scene Between - "they've all got jobs, and kids, and sometimes it's just easier to do everything yourself, as long as you're a passable player" - but has drafted in longtime guitarist Sam Dook as well as the irrepressible Ninja for their forthcoming live shows. "It's half old, half new; me, Sam and Ninja from the original lineup, and then three new girls. Four ladies and two gents. It means we can do the business with the new stuff; we've got the harmonies and the more melodic side of things nailed down."
Ninja's energetic live turns are synonymous with The Go! Team name, but there's little evidence that her much-mooted solo career has yet to get off the ground. It does, at least, mean that she can commit time to the band; whilst Parton is mindful of the members' attentions being divided, he's still hoping to tour The Scene Between extensively. "I don't know what the future's going to hold in terms of the records," he says, after a pause. "Ninja might come back in on them - it's hard to tell. A live show without her would be a complete different ball game, so I'm glad we've got her; I know she loves doing it. We want to get to Japan and America, and do as much as we realistically can - as far as I'm concerned, this lineup is The Go! Team, now.
The Scene Between is available now via Memphis Industries. The Go! Team are currently touring the UK - head here for more info.