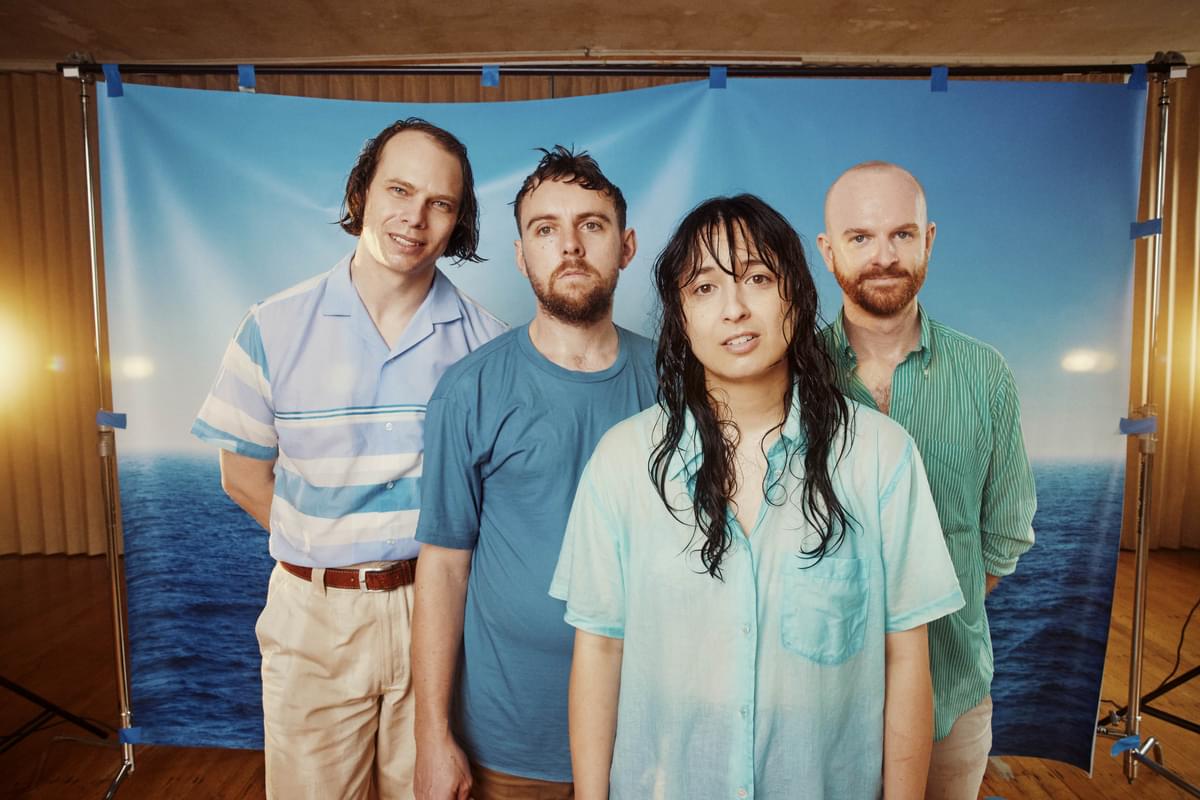 The Beths' Liz Stokes is Embracing Fear and Striding On Regardless
21 September 2022, 09:00
Original Photography by Frances Carter
With songwriter Liz Stokes' tendency for overthinking, and a penchant for anxiety-fuelled love songs, New Zealand-quartet The Beths' are taking the plunge on third album Expert In A Dying Field.
Few artists would go to such adrenaline-inducing measures as diving forty metres off a bridge in the name of album promo, but then, The Beths aren't your average band.

Hailing from the island country of Aotearoa, more commonly known to the rest of the world as New Zealand, the practice of flinging oneself from high places with a length of elastic cable for safety sort of comes with the territory. "Only in New Zealand can you ask 'have you ever been bungee jumping?' and like forty percent of people will say 'yeah', you know..." bandleader Elizabeth 'Liz' Stokes jokes as we meet over Zoom.
The foursome, completed by guitarist Jonathan Pearce, bassist Ben Sinclair, and drummer Tristan Deck, took the plunge into the harbour waters of their native Auckland as part of the music video for "Knees Deep", a zesty little number that remains one of the standouts of their freshly released third record, Expert In A Dying Field. Equal parts nerve-wracking and hilarious, the track captures the band's essence superbly, and was inspired by Stokes' trepidation towards dipping her toes in the water, in the literal and broader senses.
"When we were in Europe, we stayed at this place in rural Spain [where] there was this beautiful river," she tells me, her soft Kiwi accent crackling over Zoom. "It was gorgeous but really cold. I was like, 'I wanna go swimming!' [and] everyone else went straight in, but I just stood there. I hate that about myself. It's also how I approach life; it takes me a long time to pluck up the courage to make a phone call or send an email, you know? I feel like I'm constantly battling this deep internal cowardice... I really wanna do something but those last few steps take me a long time."

Spinning anxiety into up-tempo pop-rock is a hallmark of Stokes' writing. She sang of "wide-eyed nights late lying awake" on the band's glistening 2018 debut Future Me Hates Me, while 2020's Jump Rope Gazers begins with 'Not Getting Excited', a jittery belter that assumes everything is doomed to go horribly wrong. "I feel like I overthink a lot," Stokes explains, "like I'm constantly writing songs that are two or three steps overthought. Maybe there's a situation but the song is about how I reacted to that situation – how I feel about how I'm feeling. I can spiral a bit."
On Expert In A Dying Field, Stokes finds herself cautiously self-examining like her life depends on it, but the fun far outweighs the fear. As the record took form, a running theme of relationships – "platonic, romantic, familial" – emerged. The result is a dynamic collection of love songs that still bristle with anxiety, yes, but are more self-assured than before. Far from self-pitying, they come across as joyful releases that revel in that heart-in-your-throat sensation of looking down from a high place.
Finding Stokes at her most poetic, the title track searches for meaning at the end of a relationship over cool scuzz: what do I do now I know this person inside out, but we've parted ways? It's a succinct but evocative metaphor that sets the bar high for the album to follow.

"Picking album titles for us is very much like the album is done and we need to give it a title. This one was easy. It was obvious," she confesses. While the overall theme may not have been fully intentional ("it's like painting with your eyes closed, and when you look at what you've made, you're like 'huh'"), Stokes aimed to explore new angles within her writing, conscious not to recreate the same work she's made before.
Now three albums in, she's found there's an art to avoiding repetition. "It's hard not to write the same song. I'm looking for something slightly different now. There are a million songs about love, but every one of those songs is slightly different, and I think it's [about] finding that new phrase or element. I have to be more creative with finding lenses to put something through," she says, resolutely.
As such, Expert In A Dying Field takes a lot of its sonics from vintage melodies, refreshing timeless formulas via a fresh coat of paint for blissful, hook-laden results; the dreamy "Your Side" finds the band at their most loved-up, while the more down-the-line "When You Know You Know" chugs along towards a heavenly singalong chorus. "I love the form of a classic pop song, from the 1930s or the 60s, standards that are like B-A-B-A. There's something so functional about it," she explains with a smile. "It's like a framework that you can build your song in. It's been done a million times but that doesn't mean you can't use exactly the same materials and say something in a new way."
"There's room for listening to sad songs by yourself in the bath... But being able to shout something really depressing in a room full of people is also fun."
(L.S)
She cites "Old Images" by fellow New Zealander Anthony Tonnon as one of her favourite unconventional love songs. "It's about seeing a photograph of someone you love when they were younger, when you weren't in their life yet. I've thought that before, you know, I wish I could meet that person. It would be so great."
It's curious that despite being so motivated by overthinking experiences and self-conscious feelings, Stokes' songs never emerge slow or sad. "Maybe it's that I just can't pull it off. Those are some of my favourite styles of songs. Like Motown songs where you're dancing away your misery," she says, affirming that "there's definitely room for both. There's room for listening to sad songs by yourself in the bath... But being able to shout something really depressing in a room full of people is also fun."
True to her word, Expert In A Dying Field leans more heavily into the noise than the band's past material. A reaction to being stuck at home in Auckland over the past two years, Stokes and co chose to ratchet up the tempo across the board, with the aim of making the album "not too delicate or complex. We wanted it to have a clarity that would be really fun when we played it live."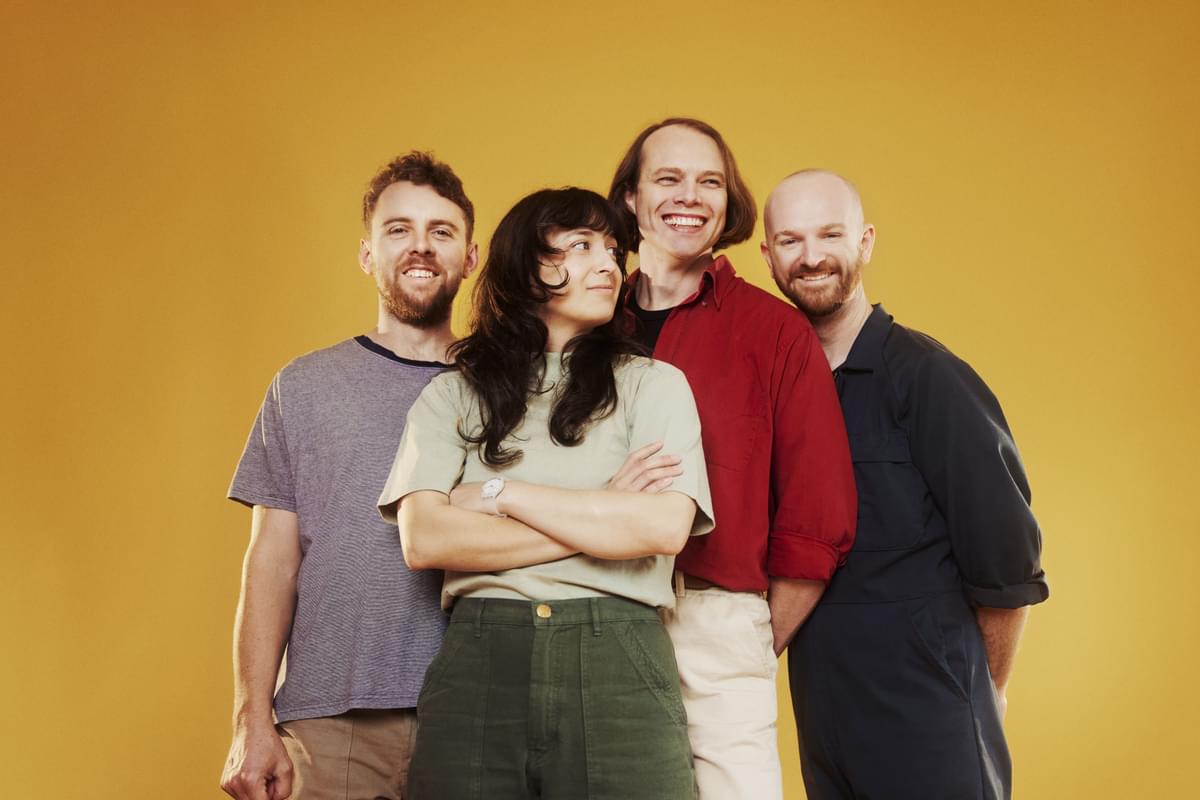 This ethos comes to fruition on "Silence Is Golden", the album's lightning-fast first single which she describes as channelling "a burst of pent-up energy post not being able to play live." After writing it "really fast," Stokes was originally reserved, wondering if it was "too weird" to make the cut, until the rest of the band convinced her to finish it.
As she confides in me, the band are midway through a US tour, where all the new material has been warmly welcomed and then some. "We played a big show in Cleveland," she recalls with a grin. "That was really sweaty; the air conditioning was broken. I feel like something happens when everybody in the room is extremely uncomfortable. I feel like it brings us closer together." She laughs at that: "A shared trauma!"

Get the Best Fit take on the week in music direct to your inbox every Friday