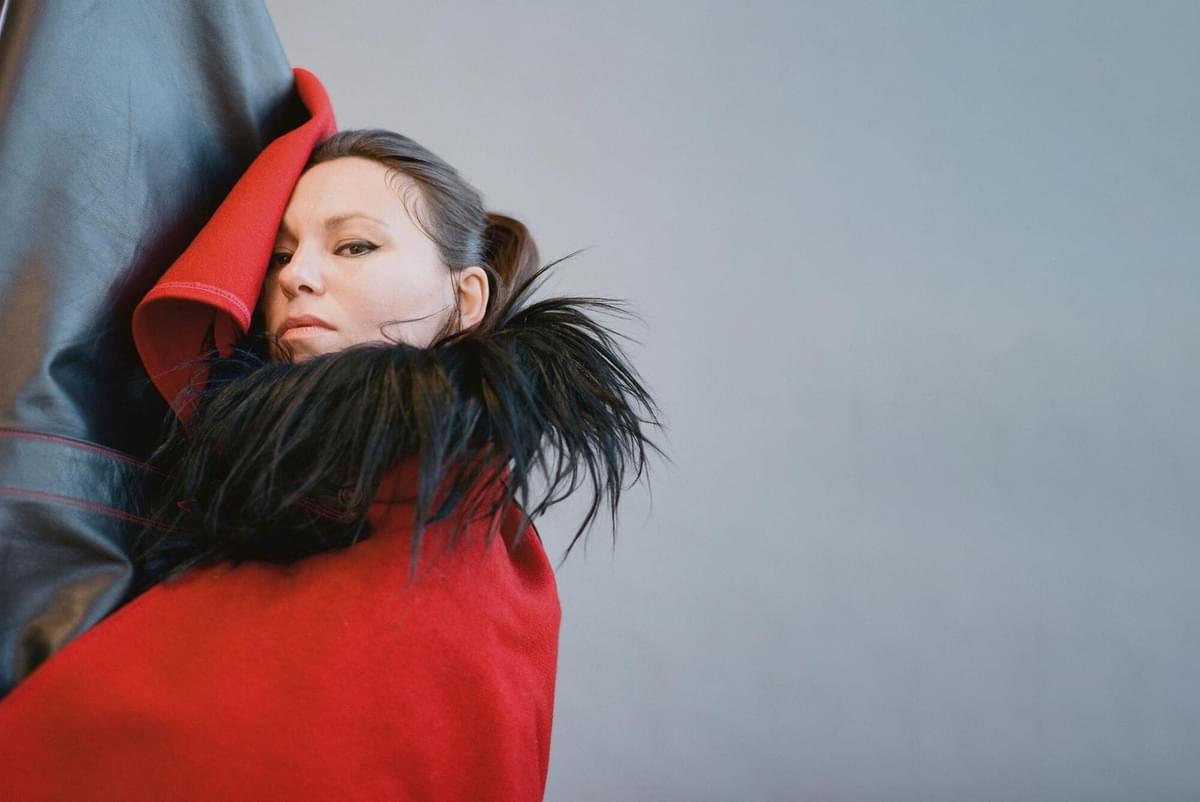 Tanya Tagaq has justice on the tip of her sharp tongue
26 January 2022, 08:45
"I think some people may be harbouring this great illusion that I am organised or have plans," says Tanya Tagaq, letting out a huge, long – really long – laugh. It's early morning in Canada and she's doing interviews from bed
Taking a break from watching the snow falling lightly outside her window, the small flakes swirling in the breeze "like little amoeba in the ocean", she's dialled in to talk about her new album Tongues. A collaboration with fellow multihyphenate Saul Williams and psychedelic hip hop pioneer Gonjasufi, it's a frank and confrontational set that pushes her already charged and political work in thrilling new directions. Where her music until now has been largely without lyrics, Tongues elevates the spoken word – or, to be more accurate, the felt word. This is music expressed through the vernacular of rage and disruption. Not a call to arms but a summons.
Born to an English/Polish father and an Inuk mother in the small community of Mittimatalik (Pond Inlet) in the Canadian High Arctic, Tagaq spent the first years of her life surrounded by people speaking her native language, Inuktitut. That changed in the early '80s when her family moved west to Ikaluktutiak (Cambridge Bay), an even more remote town on the other side of Nunavut province. As Tagaq explains, this was a community more greatly affected by the Canadian residential schools system, an abhorrent, generations-long practice designed to forcibly assimilate indigenous children into white society. To speak Inuktitut in the town was "really frowned upon," she says. "My mother even stopped speaking to me in anything but English when we moved there."
Still at a young age, Tagaq began to lose her native tongue until it disappeared almost completely. In one journal entry from her 2018 'mythobiography' Split Tooth, she describes the sadness of having her language slip away from her, leaving an absence that hardened into anger. "Residential schools have beaten the Inuktitut out of this town in the name of progress, in the name of decency," she writes. "Everyone wanted to move forward… with God, with money, with white skin and without the shaman's way."
The title track of Tongues is Tagaq's stark response. "It's about more than just the individual language loss," she tells me. "There's also the deeper understanding that we lost our languages because they were literally beaten out of us, on purpose." Residential school survivors have described how indigenous children were made to believe that they didn't have souls, that their language was the devil's tongue and that they should be ashamed of it. "I wanted to change the narrative from 'I lost my language' to 'Fuck you for taking it'. It wasn't me. I didn't misplace it. A thief came and took it."
The long-running scandal of the residential schools system flared up again last summer when unmarked graves containing the bodies of over 1000 indigenous children – some as young as three – were discovered at different locations in Saskatchewan and British Columbia. The finds were shocking to everyone. Everyone, that is, except the indigenous communities who have long suspected the fate of their missing. "We know how to count our children!" says Tagaq, clearly and rightfully frustrated. "What's awful is that I've been talking about this since I was at university. People just don't want to listen. They stick their heads in the sand like ostriches and just go along with this nice, polite status quo that people associate with Canada. I think it's ridiculous."
Like much of the injustice faced by indigenous people, not just in Canada but the world over, the residential schools system had its roots in colonial delusions of white superiority. And it's not just a thing of the past. Atrocities against indigenous people continue to happen and won't stop happening until society at large wakes up. On the excoriating "Colonizer", Tagaq is more than happy to shake the ground beneath us and lets her fury fly. It's a song of few words, instead using repetition and industrial licks to hammer home her blunt but effective message. "I'm tired of colonisers thinking they are just the 'norm' of Canadian society, that they just appeared here as if by magic," she says. "Everyone is responsible for the system that is in place right now. Those who benefit from the genocide of indigenous people are still guilty."
On "Teeth Agape", she takes gloriously visceral aim at Canada's foster care system, which continues to separate indigenous youth from their families, their communities and culture. "Touch my children / and my teeth welcome your windpipe," she hisses, a she-wolf moaning with bloodlust over a heavy beat and staccato synths. "The so-called care system is just a modern version of the residential schools programme," says Tagaq, who has two daughters of her own. "I really wanted this song to express in a strong way that it is no longer acceptable to take our children. They are pulling thousands of their bodies from the ground. It's urgent that we protect them."
"I don't think it's anybody's place to assign what is important or how people should think or act, if they themselves are not going through the same thing."
Born with a strong sense of justice, as a child Tagaq would often get into scrapes speaking out against what she felt was wrong. "In my culture, it's very important for kids to practice hunting," she says. "I'd often see kids throwing rocks at small birds and I wasn't afraid to yell at them to not kill animals unless to eat them, even if it meant taking a beating. I was always standing up for something." Later, in the '90s, she was a vocal supporter of gay rights in indigenous communities and continues to speak out for LGBTQ+ causes. "I don't think it's anybody's place to assign what is important or how people should think or act, if they themselves are not going through the same thing," she says. "If I see people hurting others, I feel like it's my business to say something. Especially when the sides are so obviously imbalanced. That's always bothered me."
It's one thing to fight for a progressive cause like gay rights but Tagaq often finds herself at the sharp end of the stick, very publicly butting heads with PETA and other animal rights activists who she says are trying to destroy a way of life that they don't understand. In her view, the constant brickbatting of indigenous hunting practices is not only wilfully ignorant of the communities' dependence on and kinship with the land, it's also dehumanising, framing indigenous people as primitive and cruel. As she makes clear on "In Me", the album's splenetic first track, for the Inuk, the act of killing and eating an animal for survival is not one of barbary but of communion. There's an intimacy to it, an understanding that meat is never just food, it's a transfer of experience and empathy too. And so passes the baton of life.
"In Me" is one of five songs on Tongues that first appeared as poems in Split Tooth. Adapted and presented among entries from Tagaq's own journals, with a loose narrative woven in about a girl who gets pregnant by the Northern Lights, the poems were never intended to be lyrics. It was only when she was asked to record for an audiobook version that she thought, "Well, this would be a lot fucking better if there was some crazy music behind it."
And she was right. Whereas 2016's Retribution played up Tagaq's rock credentials and featured a guest rapper, Tongues is built on a cacophony of industrial electronics that combine in raw and unpredictable ways with the throat-singing she is known for. A former rave kid while at university, Tagaq says she has a deep interest in music of many genres but has not previously had the chance to explore them in her own work. "The improvisational language I've developed over the years with my amazing core group is so potent, so good, that it has sort of kept me in that space," she explains. "It was Saul Williams who saw that I wanted to do something with my book and he kind of forced me onto that path alone."
Being isolated from her bandmates Jesse Zubot (who also produced both Retribution and Tagaq's 2014 Polaris Prize-winning Animism) and Jean Martin was a scary prospect. "They are my brothers, I love them so much," she says. "But it was so exhilarating to execute ideas that belonged just to me and to see where that went."
Without the need to maintain the improvisational element that had defined her previous work, Tagaq was able to spread her wings a bit more. She went into the studio with "a dog-eared copy of the book" and recorded the vocals with no rehearsal. That was in August 2019 – before the pandemic, before the horror of the child graves – and the release was originally planned for the following May. After Covid hit, she says, "Time just moved so slowly, in a super gorgeous way. We were able to use the time to deepen a lot of what we were originally going to release, so it was a bit of a blessing."
The list of mixes for Tongues continued to expand well into 2021. "Gonjasufi is like a terrifying genius," says Tagaq. "One day he'd send me one version of a track and the next day he'd send a mix that went in a totally different, completely unexpected direction." There's one version of "Do Not Fear Love" "with a very pretty guitar melody" that almost made the record but was switched by Tagaq at the last minute for the almost incantational version on Tongues. As for the two versions of "Colonizer" that appear on the record? "I just couldn't decide between them!"
"I am so giant on stage and I'm so big with my words, so people kind of assume I'm a very confident person - but I'm like everyone else when I feel like I am taking a risk."
Some elements of vocal improvisation do remain. "Birth" and "Nuclear" are the album's shortest and only wordless pieces, included here to show Tagaq's full range. The tracks work especially effectively as bookends to the courageous "I Forgive Me", a song about processing the fear and shame that comes from childhood sexual abuse. "I only work from the waist up / Psychological epidural, numb / I was entered too young," goes one chilling lyric, but Tagaq's motivation here is not to shock but to heal, herself and anyone else who needs to hear it's not their fault.
From "Ancestors" (her 2004 collaboration with Björk) onwards, Tagaq has never knowingly made music that's content to just be heard. Her calling demands more attention; commands it, even. But the artist underneath is not always so dauntless. "I am so giant on stage and I'm so big with my words, so people kind of assume I'm a very confident person," she says. "But I'm like everyone else when I feel like I am taking a risk. I have the same deep insecurities."
It's true that as her standing grows each new Tagaq album comes with bigger stakes. People sometimes look to her to be a spokesperson for the concerns of all Inuk people – or, worse, all indigenous Canadians – but it's a not a role that she's willing to play. "Our indigenous cultures are starkly different from each other," she says. "We have common denominators, like we all went to residential schools, but even within my own culture people are progressing at their own pace." For example, while Tagaq has less than zero love for the Catholic church because of their involvement in the residential schools system ("As far as I'm concerned, those child fuckers can burn in the fake heaven they made"), some indigenous people remain diehard Christians. "People believe what they believe," she says, "I speak only for me."
With the Inuktitut language starting to flourish again where it had faded, Tagaq is joining calls for the Canadian government to fund the infrastructure for the Inuk to study and reclaim their mother tongue. She's fed up with the meaningless platitudes being spouted by officials in the name of reconciliation, with no real, concrete action behind them.
If she ever gets tired of music, Tagaq dreams of developing an educational curriculum to help indigenous people deal with their trauma and its side effects. Like supporters of Critical Race Theory in the US, she hopes that one day there will be a nationwide reckoning with Canada's colonial wrongdoings within the education system. Until then, she'll just live as she best loves to sing – mostly on instinct, making it up as she goes.
Tongues is out now on Six Shooter Records
Get the Best Fit take on the week in music direct to your inbox every Friday