Talk Show are making dance music for the disaffected
21 October 2022, 08:00
In ripping up a record and starting again, Talk Show pushed their sonic boundaries – and had a lot of fun along the way.
"Techno My Bloody Valentine, that's a sick description. Fuck me, that needs to go on the press release," laughs Talk Show frontman Harrison Swann, reflecting on the journey that's taken them from a collection of rudimentary indie tunes to the disonant and abrasive rhythm-driven no-wave of their latest release, their Touch the Ground EP.
Formed while studying at Goldsmiths, the group brought together their diverse influences, collaborating with Hot Chip's Joe Goddard and Al Doyle to create a record that's rooted in the world of dance and techno, thrashed out live with grit and guitars.
Originally from Manchester, Swann grew up on a diet of alternative indie from his mum and soul via his dad, a blend of Pixies and Bill Withers. Meeting bassist George Sullivan at a house party, they bonded over their distaste of whatever was playing over the stereo. From Portsmouth, Sullivan's formative years were spent listening to post-punk and indie. Swann teases Sullivan over his signed poster of the short-lived buzz band Brother. "I was fairly confident it'd be worth something," he laughs. "I still believe it will, one day."

Taking a shared love of The Cure and The Stranglers, they decided to make music together. Swann was at Goldsmiths studying Popular Music, while Sullivan and his flatmate, now-bassist Tom Holmes, were taking Music Computing. From Southend-on-Sea, Holmes brought a passion for the likes of Talk Talk and The The to the fold. "I didn't go to Goldsmiths for the degree. I went to try and be a musician in London," explains Swann. "That was the aim, to move to London to be in amongst it, and I just used the degree to help me do that."
Swann met Chloe MacGregor outside the uni library while talking with some friends about his search for a drummer. Luckily for Talk Show, she was eavesdropping on his chat. From Devon, she defines her music taste as "eclectic", listening to everything from bassline and jungle to My Chemical Romance and You Me At Six. "I haven't really refined it since, either," she laughs.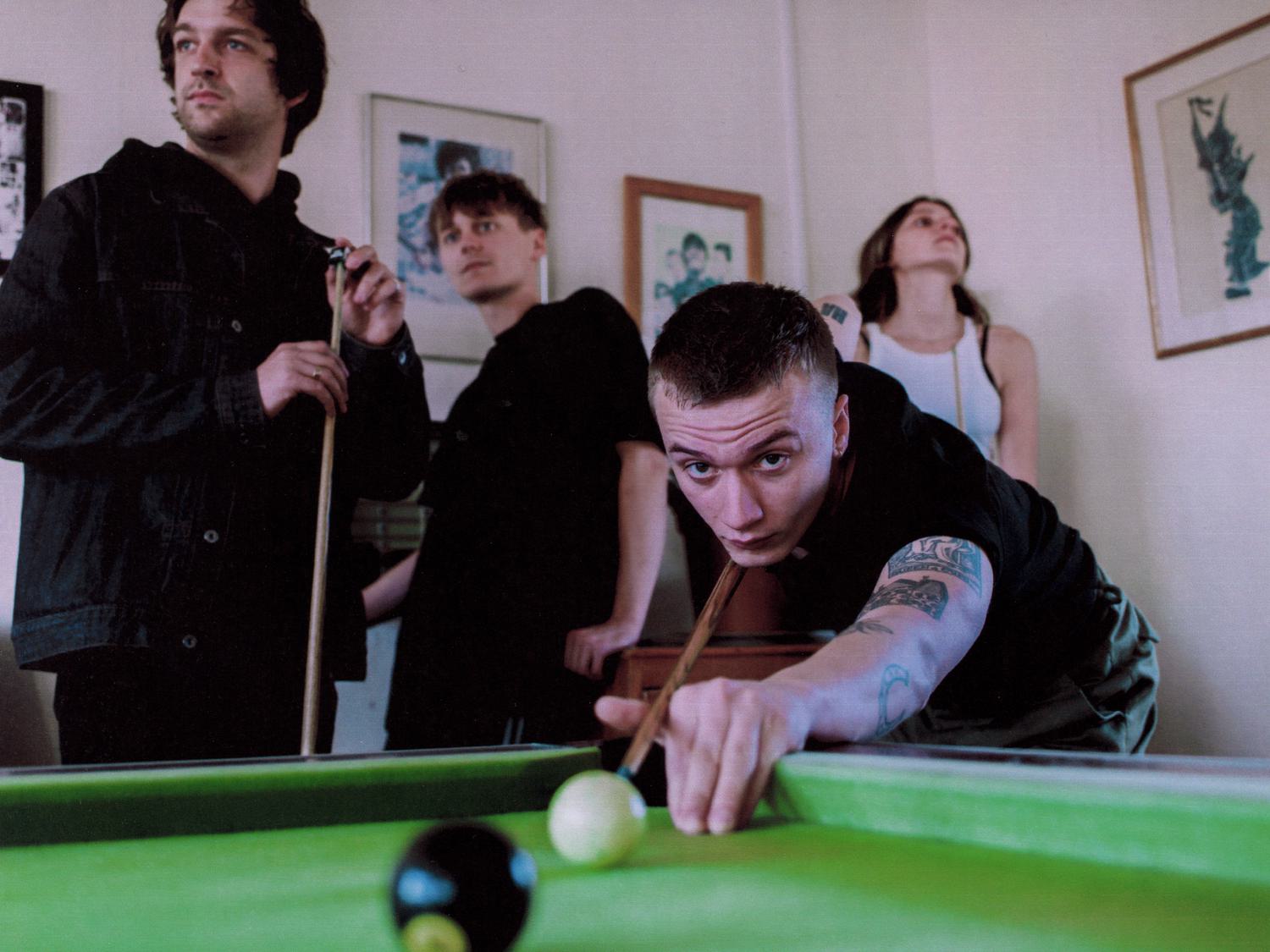 Together, the group began to put on shows at Peckham's Rye Wax in 2017, picking up local attention and eventually releasing their debut single "Fast and Loud" via Yala! Records in 2019. Full of angular riffs and stop-start high-energy it helped propel them into a busy schedule of shows and touring, culminating in their These People EP which dropped in March 2020. Unfortunately, the world had other plans. "We've always had that live-focus on it, but just before lockdown it was very live-focused for sure," says Swann. "When covid hit it was like, shit. We need to change a bit."

The group spent the first year of lockdown writing and tracking new demos, until a chance session with DJ/producer Eli Brown pushed them to change tack. "We spent the second year putting them all in the bin and doing it again," laughs Sulllivan. "That sounds like a joke but actually it was great because we got to a certain point and had a load of material, like, we can do this now but actually, is this the stuff we want to write?"
From their work with Brown came the track "Trouble", and a live session version that the band recorded with Goddard and Doyle, their first time working with the producers. The way of recording and writing they discovered through that process acted as a jumping off point for their new music. "When we came out the studio we were just like, we're sacking everything off that we've just written. It was not far off an album's worth of material," says Swann. "The old stuff, we were kind of fine playing it, it just didn't feel exciting. We're like, fuck that. Let's go and make something that gets us really excited again and just not think about it. Just go and do it."

Booking out rooms at The Premises Studios in Hackney, the only practice space they could find that was still open at the time, they began to develop a reputation. Their rehearsals were so loud the studio marked them out for bigger rooms as far away from other clients as possible. Every day they'd lock themselves in for ten to twelve hours, escaping the stark and empty reality of locked-down London. "I must have spent so much money on meal deals," says Swann.
"And Quorn cocktail sausages, we had a lot of those," Sullivan continues.
"You know that Mo Farah does the adverts for Quorn? He's not vegetarian," Swann replies. "How mad is that? Just take the money and run." He bursts into laughter as the rest of the band apologises.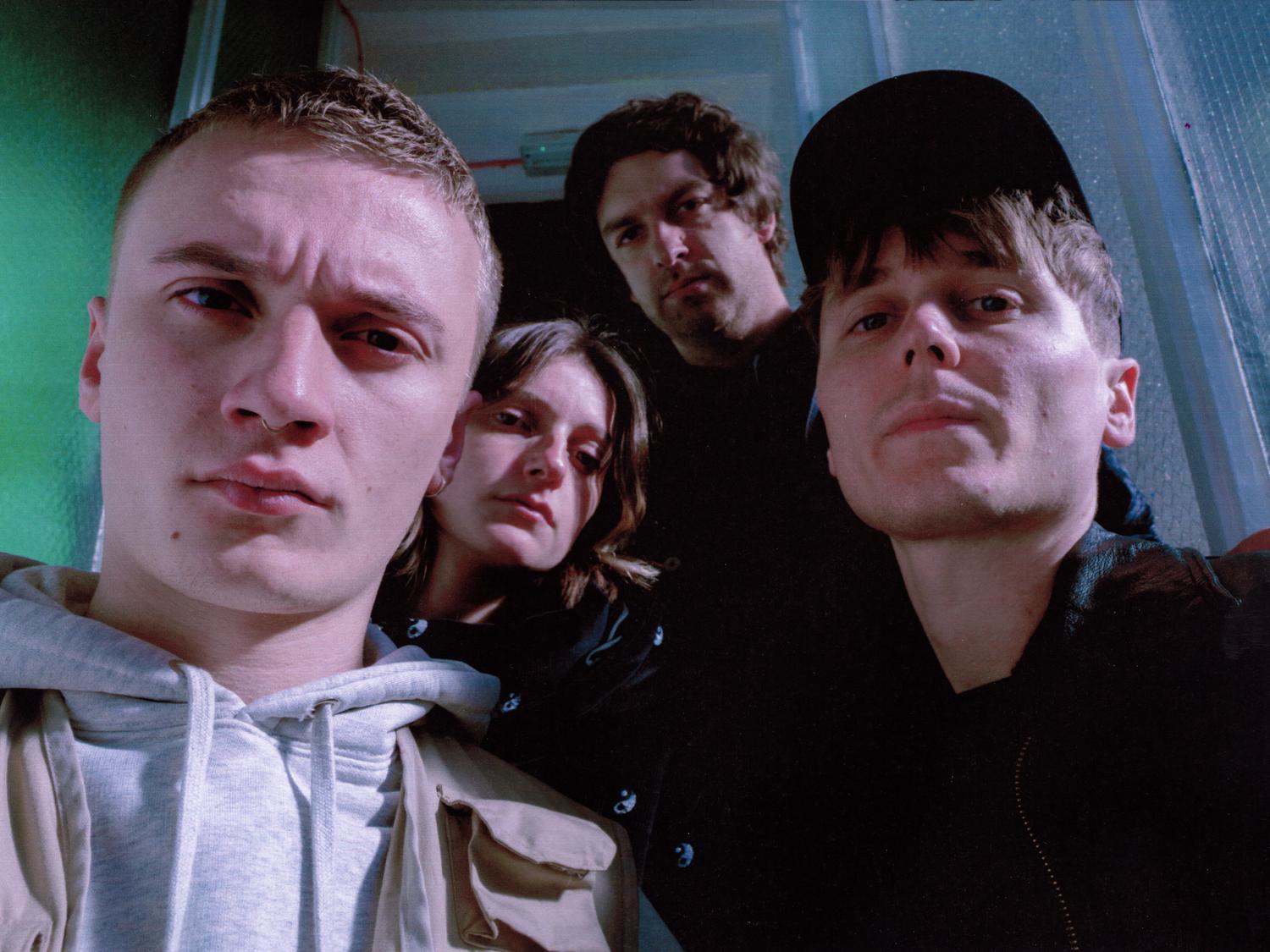 On Touch the Ground, Talk Show led their writing with the rhythm section, picking out grooves and patterns that caught their imagination in a process they refer to as "repeat sampling." It pushes the drums into the centre of their songs, acting as the driving hook. On "Leather" the patter of sticks is a propelling catalyst to Swann's dark and brooding delivery. Collaging his lyrics from quotes and taglines pulled out of context, there's a cadence to his sung-spoken vocals that complements the song's pulse and pulls everything else in tighter.
MacGregor's succinct playing alternates between punishing and deftly articulate, while Holmes' grinding bass pours around the often relentless pace. It's foreboding and stark, the songs even more direct in their minimalism. On "Underworld" repetition is used as reinforcement, keeping up the momentum and abject unease. On "Cold House", the band's homage to The Rapture's "House Of Jealous Lovers", the guitars and synths loop in a little warmth and melody, the LCD-like drums holding the backbone against a dissonant and eerily disorienting arrangement.
It's dance music for the disaffected, think Factory Floor colliding with Faithless. "You don't often get that opportunity to be allowed to come up with whatever you want without the restraints of it should sound like this or should sound like that," smiles MacGregor.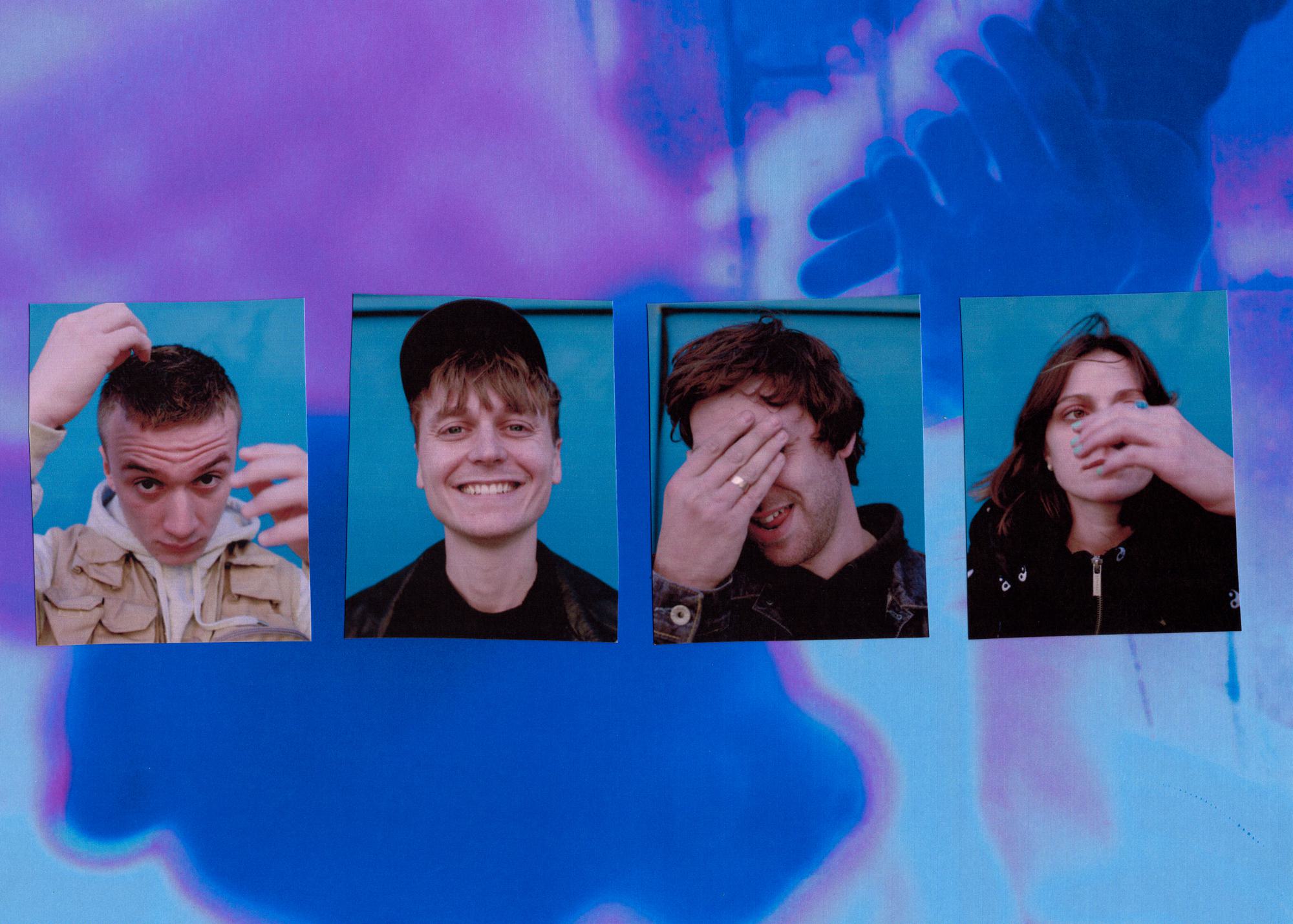 Having focused on their recordings across lockdown and armed with a collection of furious new tracks, finally getting back to playing shows has been a welcome return. Testing out the new material last year, they not only felt assured, but hungry for more.
"I remember playing them like, fuck yeah. This works and we made the right decision," says Swann. "It's moving forward so much better and in my eyes, so much more interesting and so much more fun. I have never enjoyed writing and playing new material so much. In all the months and years that have gone by with this band, this is definitely the most fun that I'm having, doing it with this new focused direction."