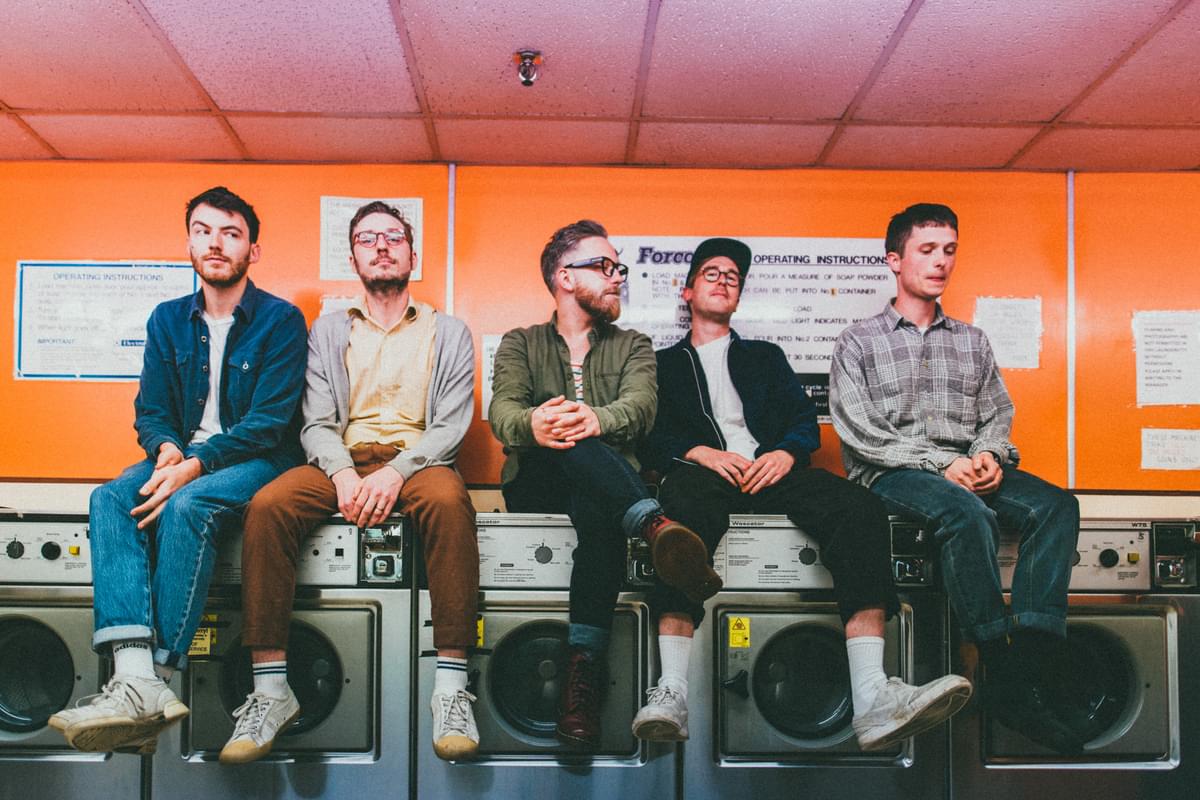 On the Rise: Swimming Tapes
14 May 2019, 10:00
Five friends from Northern Ireland who bonded over a love of American indie music, Swimming Tapes don't fit in with the UK guitar scene but they really couldn't care less
Authenticity is a term often overused to the point where it starts to lose all meaning, yet Swimming Tapes are striving for originality. The London-by-way-of-Bangor five-piece know their sound and goals and will stop at nothing to achieve it - even if it means using some questionable vintage technology.
"The whole thing just stopped working and started making loads of noise. I turned to Paddy, our engineer who came to me and said 'We can't use this'." This is one of many stories that vocalist Robbie Reid tells me about the difficulties of using vintage amps whilst recording. Favouring the simplicity of old is never really quite that simple, yet this approach lends itself perfectly to the band's sound and general ethos.
It's rare to come across a band who's sound conjures up warmth and happy memories, but this is where Swimming Tapes come in. Made up of five friends from Northern Ireland, they've carved somewhat of a niche for themselves in a time that seems to suggest that UK guitar music is lead by heavier, punk-influenced groups who's lyrics comment on the current socio-political climate - trying at the best of times. Offering a bit of respite from this intensity, Swimming Tapes have taken a cooler approach with a sound reminiscent of California sunshine.
Their name seems to conjure up nostalgic imagery, seemingly perfect for the wistful jangle guitar music that they play. I meet Louis Price and Robbie Reid on a rather soggy evening in the fitting setting of Barbican Kitchen. Complete with pastel furnishings and midcentury throwbacks, it's a location that aligns perfectly with the band's retro simplicity. Given the breezy nature of their sound, it could come as a surprise to some listeners to know that the majority of the band are now based in East London. Whilst the area is culturally rich, it seems a world away from the sound that the band conveys in their music. "I moved over about six years ago in 2013," Price recalls. "We'd lived in Bangor and Belfast, and Robbie had lived in a bunch of places and loads of us moved over at the same time and just wanted to see what it was like."
"Five years ago, East London seemed like the place to be," Reid adds. "It was a bit cool but now things have sort of calmed down. Before when you'd walk down Kingsland Road, it would be complete mayhem, almost apocalyptic, but now, it's actually quite quiet in the evening in comparison." Part of this recent quietness is due to the closures of nightlife and music venues in the area such as The Alibi, Visions and Birthdays, both remarking on the impact of creative spaces shutting down has had on them as a band. "I think it's always sad when any venue closes but especially those that have been a hub of some kind," Reid tells me. "One of our first big shows was supporting Day Wave at Birthdays, so it's sad to see places like that close," Price adds. "You still have places like The Shacklewell which is a bit scuzzy and attractive to young bands but just generally London has been getting so expensive and it's forcing people further away."
Swimming Tapes certainly offer a bit of respite from the doom and gloom through their sound, transporting fan to sunnier climes through their positive guitar music. Their latest music video for album opener "Passing Ships" featured vintage documentary footage of the Third Avenue El Train in New York and was directed by Marc Corrigan. "We just had sort of a rough idea and concept and we came across Marc's work and sent it over to him. He sent us back a treatment that looked really good," Price explains. "We really liked the vibe of it and we just thought that it suited the song and all the lyrics and everything about massive shifts."
The footage is quintessentially American and the timing seems perfect, if unanticipated. 2019 has already proven itself to be the year of the "yee-haw". The year that everyone became that bit more obsessed with American culture, particularly iconic symbolism. From Solange to Lil Nas X, the redefining of certain aspects of American culture continues to be experimented with by musicians from all walks of life. I questioned the band on their views on why Americana is suddenly so appealing to music fans. "I'm not sure it is even still that appealing to fans in the UK," Price believes. "I don't really find many bands doing what we're doing in the UK in terms of where we get our influence from which is a lot of American bands. We sort of bonded over stuff like The Beach Boys and Crosby, Stills and Nash, and more modern stuff, like Real Estate, so we just ended up making music like that."
Another influence of theirs that comes up during the discussion is The Byrds, quite possibly one of the most quintessentially Californian bands of the 1960s. A track that stands out as drawing on this sound is latest release "Keep Her Closer". "Sonically it came quite easily," Reid explains. "I thought up the basic structure one afternoon and we brought it together as a band pretty quickly. We wrote it near the start of the album writing process and then forgot about it for ages. When we went into the rehearsal room to do pre-production for the album and started to play through all the songs, it was like hearing it again for the first time. We all got pretty buzzed. It always stood out as a single to us, just because it was quite upbeat and poppy." The sonic elements of the track were not the only elements that aligned with the simplicity and romanticism of Californian pop, with Reid revealing the personal inspiration behind the track. "'Keep Her Closer' is a song I wrote after finding out a very young love got married. Her house had an amazing garden and I remembered all the times we went out at dusk and ran through it to the fields behind her house, escaping our parents. I just wrote it as an ode to her and in the hope that she's happy and enjoying life."
The topic moves onto the current state of the music scene in the UK, particularly the influx of guitar bands in London, who Swimming Tapes very much deem themselves to be a part of, even if only on the periphery. "A lot of UK guitar music can be quite angular, and maybe a little bit aggressive, a bit more punk influenced, and that's not the kind of music that we make naturally and we've always orientated towards the softer side of things," Price admits. "I think it's important to have subcategories of guitar music and I don't think it should just be one thing. It tends to be that one idea is super, super fashionable, so all of these bands that sound quite different are lumped into one scene. But, there's room for everyone to play all kinds of guitar loveliness!". Despite their alignment with breezy American sounds, there is a period in British music that Swimming Tapes also feel that their music reflects. "There was a time in the UK where it was more about jangly guitars, so we've definitely aligned ourselves more with that sound," Reid adds. "Really early on, I remember we got compared to Belle And Sebastian and maybe it wasn't something we'd really thought about, but then we were also compared to Teenage Fanclub, which we probably have kind of thought about."
One thing that the band certainly have in common with others is their format, consisting of three guitarists, a bassist and a drummer. "I often think about how weird it is that everyone's still playing guitars. Bands still have that same format and people are even playing the same guitars and amps from about 60 years ago," Reid ponders. If anything, Price argues that there should be more guitar bands. "There's something about picking up a guitar and playing an analog instrument like that, that you can put a bit of your soul into it or something," he says. "Imperfections are what makes the music industry interesting and we're losing that human element through all of these computer programmes that perfect things. What I love is just someone playing the guitar, and you can feel the passion coming from them."
These little imperfections are what make Swimming Tapes the band they are today. With the majority of the equipment used to record Morningside being vintage, they were able to capture the sound and creative process of their musical heroes. Although by putting modern technology aside in favour of older equipment, they did encounter a few technical snags. "I remember I really wanted to use this amp called the WEM Dominator," Reid recalls. "It sounded really cool but when it came to actually recording the songs, it just started making a load of noise. There were definitely unexplainable sounds that occur throughout the recording."
"They would develop from something that was working fine two minutes ago, and then suddenly decides not to work anymore," Price adds, with a laugh. "I can remember we had this old vintage tape delay that we put lots of Jason's guitar points through and we had some issues where that would just do some weird things." Despite the technical glitches, as with the sunny nature of the music, Price can't help but see the positive out of the situation. "It's also a part of the fun of it," he says. "I quite like that when you try to figure it all out and try something else. Plus, it allows for good stories!"
Another good story which the band is keen to talk about is them working with Grammy Award-winning engineer Tom Schick who mixed their album at Wilco's Chicago studio The Loft, which both Price and Reid refer to as a "dream come true".
"We weren't actually there, unfortunately," Price reveals. "We were in London so we had to stay up quite late at night to go over everything with Tom, but it was a really cool experience."
"Tom is amazing," Reid adds. "And he did such a good job. Obviously, to have anything connected to Wilco is pretty cool. The Loft is amazing as well. It has so many interesting things. You can go on their website and look through all the instruments they have. They must have millions of dollars worth of collectible guitars." For Swimming Tapes, working with Schick was really down to them expressing their desires from the outset and putting those plans in motion. "We just had a list of a few people that we like and our managers got in touch with them," Reid tells me. "There were definitely a couple of people where they couldn't do it, or they were too expensive. Or in some cases, it just didn't work out, but even though we've never met Tom, we had this strange bond with him and talking on the phone and sending that email after the last song was done, he was like, "I'm gonna miss you".
Price continues to wax lyrical about Schick, speaking on their initial group chat when first getting in contact with him. "The way it was made up was me, Robbie and Tom and we would have a group conversation to chat about the album before we even agreed to work with each other," Price says. "After that Robbie and I would instantly send each other a message going on about how lovely he is and how he was very easy to work with."
Whilst the band didn't get to head out to America this time, a trip out there is definitely on the cards. "We want to play some shows over there because there are people in the US who listen to us," Reid says. "I don't know how many but we get messages online from people saying stuff like "When are you coming to Detroit?", so we want to try and do that for sure."
"We've got a publishing deal with Sub Pop as well," Price adds. "They're keen to get us over there so any opportunity to go to Seattle and hang out over there is super high up on the agenda".
Whilst travelling more is a goal for the band, their international reach is something that they're still not used to, given the rise of social media meaning that they now have fans in places they've never even been to. "The other day someone tagged us in a video on Instagram, and it was them playing a cover of "Tides" on guitar, and they were in Mongolia," Reid recalls. "It's really quite touching and really crazy for us. It's really nice that people care about us." Navigating social media as a band isn't without its pitfalls however, with Price admitting that he does find it vaguely unsettling at times. "We find it a little bit hard because it's almost prerequisite for an upcoming band and it's probably not very good for a lot of people to look at social media all the time. It's not great for your mental health and I don't want to seem like I'm encouraging that in any way by posting up on our fan page, but it's a necessary evil." Despite the negative aspects of social media, Price is largely thankful for it. "It's a great way for touching base with your fans. We get to chat with our fans, and they can send us messages. But it's definitely Andrew, our drummer who is probably the best at it. He used to run a blog so he sort of understands that world a lot more than the rest of us."
"I like the idea of [social media]," Reid adds. "I just use the search feature [on Instagram] to look up bands or even menus from restaurants. It's a direct line to your favourite artist. Twenty-five years ago, if you wanted to tell the whole world that you loved a song, how would you even do it? Where would you send it to? The record label would just throw it in the bin."
With the release of their debut album imminent, the band is nervous, yet excited, particularly when it comes to their live show with Reid keen to add some fresh material to their set. "Some of these songs we've never played live, so it will be fun," he says. "Initially, I really wanted to play most of them but the guys talked me out of it. To be fair, it can be annoying when you go to a show and don't know any of the songs the band is playing. It's great for the fans to be able to sing along."
So, what does the remainder of 2019 hold for Swimming Tapes? "We're going to write some more songs but we don't know how many yet," Price admits. "It's weird for us though because we finished recording [Morningside] in February last year, so the songs feel a bit old to me now, so it will be exciting to get writing some new stuff again."
Morningside is released via Hand In Hive on 24 May
Get the Best Fit take on the week in music direct to your inbox every Friday