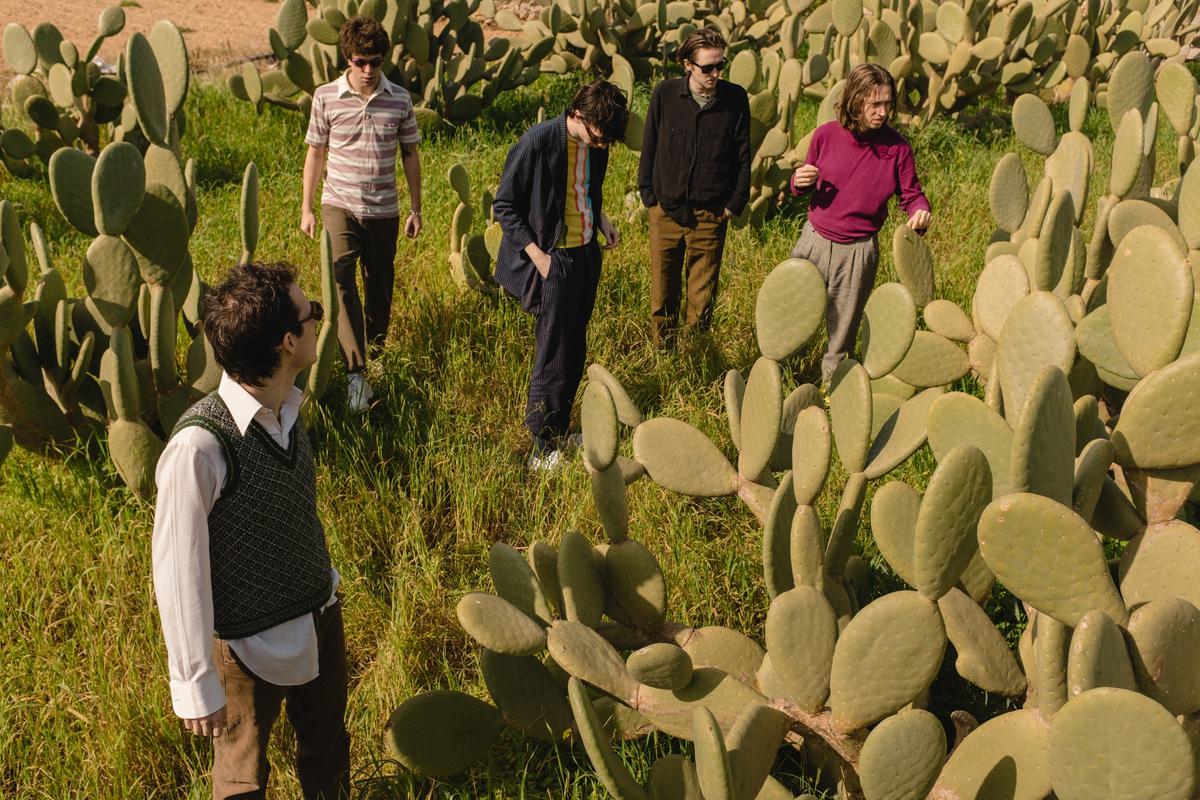 Rivers deep, mountains high
24 September 2019, 23:58
With a new line up in tow for their sophomore release, Birmingham based Swim Deep open to Maria Bocci on the art of reinvention.
After years of turbulence and reinvention, synth-pop outfit Swim Deep is gearing up to release their third album, Emerald Classics. This will be their first body of work since their 2015 sophomore album, Mothers. But years of reflection have allowed the group to produce their most mature sound yet.
Frontman Austin Williams and bassist Cavan McCarthy are packing boxes of Bleach hair dye in a warehouse in London when they take my call. Their friends work there, and they are helping with a large order. Forklifts and machinery beep in the background of the call. The members of Swim Deep are all hard workers with side-hustle jobs. McCarthy has worked a variety of odd jobs, from reception to bars. Balmont and Wood work in the same record store. Fiquet works in a music shop, and Williams gardens.
After Emerald Classics next month, Swim Deep are embarking on a tour of the UK and then Asia, with the potential for a US tour early next year.
"I think we've been through a lot together," says McCarthy. "We've traveled everywhere together, we've argued with each other. We're definitely changed as people. And going through a band breakup, getting it back together…"
Emerald Classics is the debut of a new Swim Deep lineup, with new additions Robbie Wood on guitar and Thomas Fiquet on drums (formerly the bassist for the band Childhood). Wood was a friend of McCarthy, as the two did modeling work together. Fiquet was picked up when Childhood disbanded.
Williams says that album number three represents a departure from their first two albums. "I don't think anyone ever knows what to expect because we don't know what to expect ourselves. It's always been a reaction to the last album. This album is just a reaction from the whole time that we've been in a band and just our lives at the moment. I think it's more like the first album though, it's definitely not as experimental as the second. It's just straight to the point and it's just talking about real-life again," says Williams.
"To Feel Good," the first single off the new album, is a narrative of a day in the life at a challenging time in Williams' life, where he felt stuck in a rut of unemployment and uncertainty. However, the track is ultimately uplifting, with a message that if you keep chasing what you want and what makes you feel good, you'll eventually get it. A choir builds up a grand and haunting intro, and returns in each chorus to remind the listener that "everybody's free to feel good." The music video for "To Feel Good," shows William's taking a series of punches, with the juxtaposition of a soothing gospel choir. It reminds us that end goals never come easily, and there will most certainly be some tough opponents standing between you and your dream.
"I'd realized I'd never really written a straight-up narrative song where I'm just talking very bluntly about the occurrences of something. It was just a day, I must've been about 18 or 19 living at my mum's and I remember every day I used to wake up in the morning, watch Gilmore Girls and fall in love with that suburban American lifestyle. Like really fall in love with it, I'm talking I was obsessed with it.
"I don't think anyone ever knows what to expect because we don't know what to expect ourselves." - Austin Williams
And then walked to the job center and then try and find a job that I didn't want, because I knew I wanted to be a star," laughs Williams. "And then I'd come home and sometimes make my mum dinner or wait until she got home and she could make me dinner. I was just being a bit of a loser and I always had thoughts, I just didn't know how to act on them, or I was being too lazy. ["To Feel Good"] is a story about that and one day I went to the job center and the guy, I told him I was into music and he was really nice and stuff and then at the end I was actually walking away and he did say 'Don't forget me when you're famous!' That was legit the last time I actually stepped foot in the office as well."
Their latest single "Sail Away, Say Goodbye," is McCarthy's favorite song from Emerald Classics. "I had to fight [Williams] and our manager and the rest of the band for it to be the second single because it wasn't going to be a single," says McCarthy. "That's one of the best songs [Williams] ever wrote I think. It's one that really took me back and impressed me, not like he could impress me anymore. But that was one that really kind of blew me away. It was quite unexpected." The track's visual counterpart features the band lost at sea in a small boat. As their situation gets increasingly dire and the boat begins to sink, it seems all hope is lost, but there still might be a light shining through the depths to guide them back to shore.
The single was originally set to be the second track on the album, "0121 Desire," a danceable, synthesized, and upbeat side of Swim Deep that you can't help but sing and tap your foot to. The third and final single off the album will be "World I Share," an artful crossover between an 80's power ballad and a 2000's alternative sound, REO Speedwagon meets Phoenix.
Williams' favorite tracks on the album are the ballad-like, "Bruised" and "Top Of The Pops." "Bruised" is Williams' response to a breakup and the feelings that came with it. He felt bruised, but also learned to cope with that feeling and heal to become a better and stronger person.
"'Top Of The Pops' is about wanting to do well for my mum and my dad I guess as well. It's kind of the idea of you living for your parents. My mum never got to really do anything. She kind of just went from being in school to being married and then had us," explains Williams. She always dreamed of showbiz life and stuff, so the lyric, 'I want to be on top of the pops for you' is kind of about her and trying to take her to places that she's never seen because she's been burdened with me and my brother. And just the sacrifice she gave us. Now I'm kind of getting to do everything she wanted to do. Well, I'm trying to do everything she wanted to do."
"Happy As Larrie" remained more or less the same throughout the workshopping process. It was written by Williams following the birth of a friend's daughter named Larrie. A delicate, dreamy, and intergalactic synthesized intro morphs into a fast-paced anthem of reassurance.
The album was named for a pub that was integral to the lives of a younger Swim Deep. Williams shared the band's demos with a close friend, who complimented the tracks, 'it sounds like an Emerald classic.' "He was talking about how it sounds like a song that would be played on the jukebox at the Emerald," explains Williams.
"It's always been Swim Deep no matter who's come and gone". - Austin Williams
Despite the lineup changes, Williams assures us that this next record is still undoubtedly Swim Deep. "It was always my baby," he says. "I wasn't going to get rid of the name… there wasn't really any need to change. It's always been Swim Deep no matter who's come and gone kind of thing."
Swim Deep was born out of a desire to be different, but to create a sound that the band themselves desired more of. "Everyone else was into the Libertines and they're all like indie and guitars and stuff. We kind of didn't feel completely comfortable in that kind of scene. I kind of think it was taking the piss out of everyone. We loved guitar music before that but we were kind of over it. It felt like a bit of a hangover," recalls Williams.
He and his mates instead gravitated toward American chill wave bands like Small Black, Beach Fossils, and MGMT. "People were using Casio keyboards instead of guitars and they were wearing baggy clothes," says Williams, and this inspired their look.
Williams moved to Birmingham and met McCarthy, along with former guitarist Tom Higgins and former drummer Zach Robinson. Soon after, they met James Balmont, a keyboardist who would add a sophistication and organization to the group. "The guys surrounded me, we used to just sit in my bedroom on this keyboard trying to make songs. I guess my main influence was to make a "Kids" by MGMT. I loved how brash and how pop that was. It was so brave. I really thought that the bravest thing you could do in an indie band is try and make pop music. I highly respect that. I just wanted to do that and then it kind of worked. We started doing it and people just started liking it and I think they just liked that we were different," explains Williams.
A pivotal moment in the band's career came when they were 17 years old. "We were picking up weed from our dealer in his kitchen and he was listening to Radio 1 and [King City] literally came on the radio and we fucking lost our minds… it was crazy. That's the God's honest truth. I'll ring the dealer. I think I still know this guy. You can ask him!" laughs Williams. "We were all so excited we ran back around to [Robinson's] house where we were rehearsing at the time. Told his whole family. His dad went out and got us some beers. And then we just went back to the shed and wrote more music, cause we were so inspired by it. I feel like that was the moment I thought this kind of was working. There have been lots of things, like going to America, touring the UK and having people sing your songs all feel like big breaks, little big breaks, that kind of thing."
Swim Deep's musical career has been a whirlwind, for some members more so than others. McCarthy didn't even play an instrument before joining Swim Deep. "I didn't start playing music until I was like 17. I think the first thing I ever played, believe it or not, was that King City bassline that [Williams] taught me," says McCarthy. "Things happened so overnight with the band that it was kind of like being thrown in the deep end, no pun intended there."
Of course, McCarthy had always been obsessed with music, from grime to brit-pop to the Beatles. In fact, he has recently returned from Liverpool's International Beatleweek (with a T-shirt and some posters of course). Although a natural listener, performing did not come easily to him in the beginning. He recalls his first performance at a small festival in Birmingham at the Rainbow - a venue that the members of Swim Deep frequented on the weekends. "It was horrible. I was just right in the corner in the pitch-black next to the amp, didn't move, didn't look up once. It was the most nervous that I've ever been, which is crazy because I'm the complete opposite now with performing. But at the time, it took me a while to grow into it. I get a bit nervous but I don't get close to it," says McCarthy. "And I remember there was a girl I was seeing at the time that I really fancied there, that made it even worse."
"We loved guitar music before that but we were kind of over it. It felt like a bit of a hangover". - Austin Williams
Small gigs like this quickly turned into international tours. However, they had some difficulties around the release of their second album. "The second album we never had a release [in America] because we had problems with our label. They were holding it back a lot. They kind of didn't want us to go with another label in case it was a hit but they didn't want to release it themselves so they were stuck in a really awful kind of no man's land with releasing in America… we couldn't go out there without funding it ourselves. It costs like 20 grand to get there," explains Williams. So Swim Deep did a fan-funded US tour. "We did stuff like cut hair on tour, did haircuts for fans and played at people's houses." Their original drummer, Robinson, used to work in a hair salon, so when the band asked themselves "what can we do?" cutting hair came to mind and was added to the list.
That trip was rewarding but grueling, and Higgins and Robinson soon began to drift. Williams views both of their decisions as noble, as they made a difficult decision that would ultimately be best for them and the future of Swim Deep. "[Their departures] were both really kind of messy in their own way, but very respectful departures, to be honest," says Williams. "It was a massive turning point because then it was just me, [Balmont], and [McCarthy] and our manager sat around a table deciding what the future was for it. There's no way it was going to end on my watch I don't think. It's not even about me in a way. If I was just doing it for myself, then I don't think I'd ever be at it 100%. When you're doing it for other people, that's when it becomes a great thing I think."
"It was difficult as friends, splitting up like that was a difficult thing to take," recalls McCarthy. "I think all of us, as the original lineup, It was a difficult two, three years for us. We tried to write an album after we'd just come straight off a really long tour, spent three months in this awful studio and it just didn't work, you know? I don't think anyone wrote one piece of music, no one spoke. It was actually quite difficult, quite scarring. The lineup change gave it a new lease of life… it was the kick up the ass that we needed."
It was crunch time for the remainder of Swim Deep. It was all or nothing. With the help of producer Dave McCracken, the band was able to get back on their feet and keep writing songs. Years of songs were workshopped and recorded in only two weeks. "It's one of those things that you wouldn't change I think because I don't think we'd have this record. I do think it's a special record personally, but I think we wouldn't have it without all that stuff that's happened. It's kind of been in honor of everything that's happened to us as a band," says Williams.
"There's a lot of cliche stuff that I wanna do like play Madison Square Garden and I just want to tour as much as possible, kind of would love to go to Asia a lot. I'd love to have a hit in America, I'd love to have a hit in England as well. An international hit as well, that would be nice. I literally just want to write good music for the rest of my life. I think I'd be very happy doing that," says Williams.
"The lineup change gives it a new lease of life… it was the kick up the ass that we needed." - Cavan McCarthy
"I just want to become a good live band and I think we're on the cusp of it," explains McCarthy. "I think we need to go out, play some shows, and find our feet again. I just want to be on tour as much as possible really. I want to have new music out next year that isn't from the album."
When Swim Deep was trying to think of a name, the band tried many on before they finally settled. "We went through so many band names, it was ridiculous," says Williams. "At one point we had a poster for a gig up on one pub in Birmingham and another poster up for the week after and one of the posters said an old name, I forgot what it was it was so stupid, and then the new poster was like the week after and it was like 'AKA.' We were changing it on a weekly basis." Swim Deep has certainly seen its fair share of growing pains, but the group has held on for years, getting stronger with each obstacle they conquer. They're chasing after something completely different, seeking to discover their own sound instead of mimicking what is already out there. After all, more people have been to the moon than the bottom of the ocean.
Emerald Classics is out on 4 October via Cooking Vinyl.