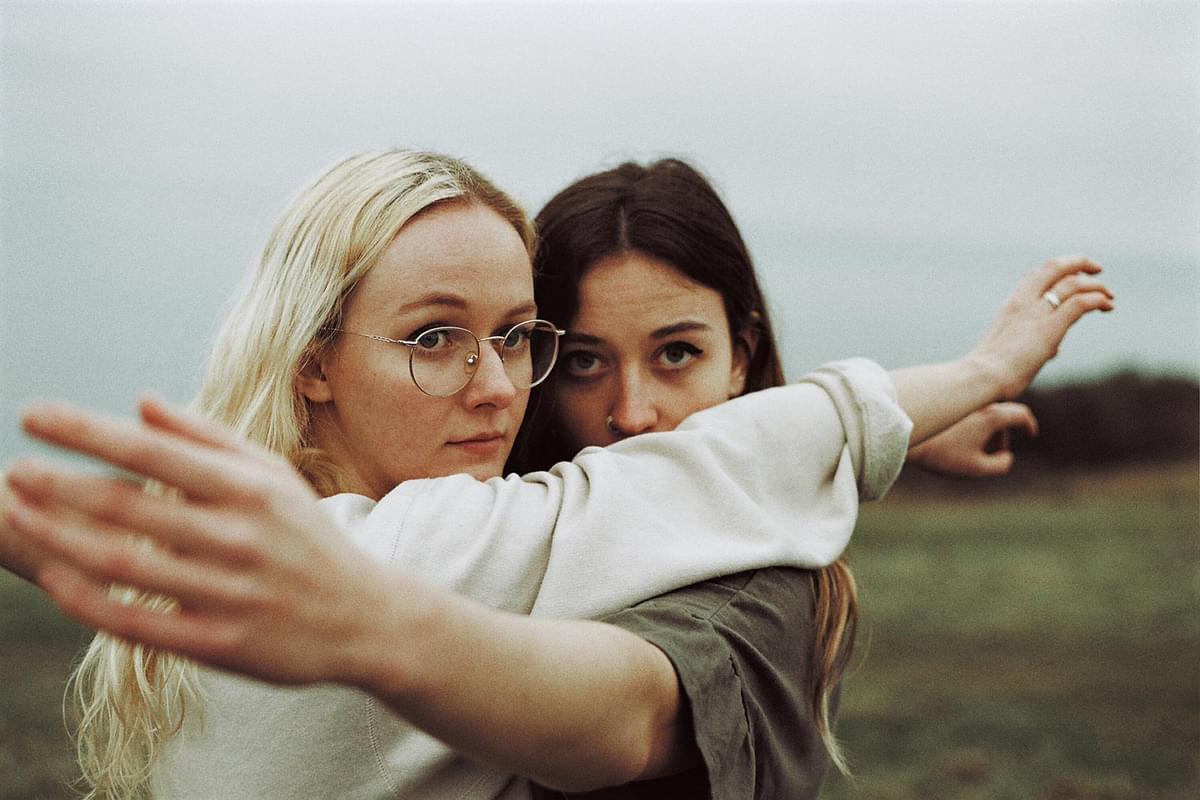 Sunflower Thieves are proudly advocating for Leeds' community-driven music scenes
24 January 2023, 09:40
Friendship-first indie-folk duo Sunflower Thieves found their path through independence and creative freedom.
Friendship-first indie-folk duo Sunflower Thieves found their path through independence and creative freedom.
"We met in primary school, but we can't remember it", Amy Illingworth laughs, reflecting on her almost life-long friendship with musical partner Lily Sturt-Bolshaw. It's slightly ironic that the origin story for their brand of sentimental, friendship-focussed folk is long lost to their childhood memories, but they're making sure to document the years since within the musical output of Sunflower Thieves.

Raised in Belper, a creative enclave of Derbyshire where folk music is woven into the fabric of everyday life, both Illingworth and Sturt-Bolshaw were immersed in music since birth. Their parents all played instruments, with Sturt-Bolshaw's dad a career musician. But, like most teenagers, she recalls an initial determination to not follow suit. "He was really cool and a hero of mine growing up, ut I just really didn't want to follow my either of my parents career paths," she explains. Eventually though, they both forged their own path to music, with Sturt-Bolshaw learning trumpet, Illingworth flute and both piano.

Despite now carving their own niche of autobiographical songwriting, vulnerability on stage didn't come naturally. In perfect unison, they describe their initial foray into live performance as teenagers as "absolutely terrifying". This, now partially repressed, live debut took place in the upstairs folk room of a pub that sat at the halfway point of their parents' homes. They religiously attended the monthly open mic nights, greeting an audience formed of their parents, pub regulars and a handful of family friends — a group Illingworth now fondly refers to as their "extended family".
Following months of solo performances, they noticed their tastes, which at the time were limited to the NOW! CD track listings ("we didn't have Spotify back then," Illingworth laughs), overlapped, and so they decided to combine their efforts.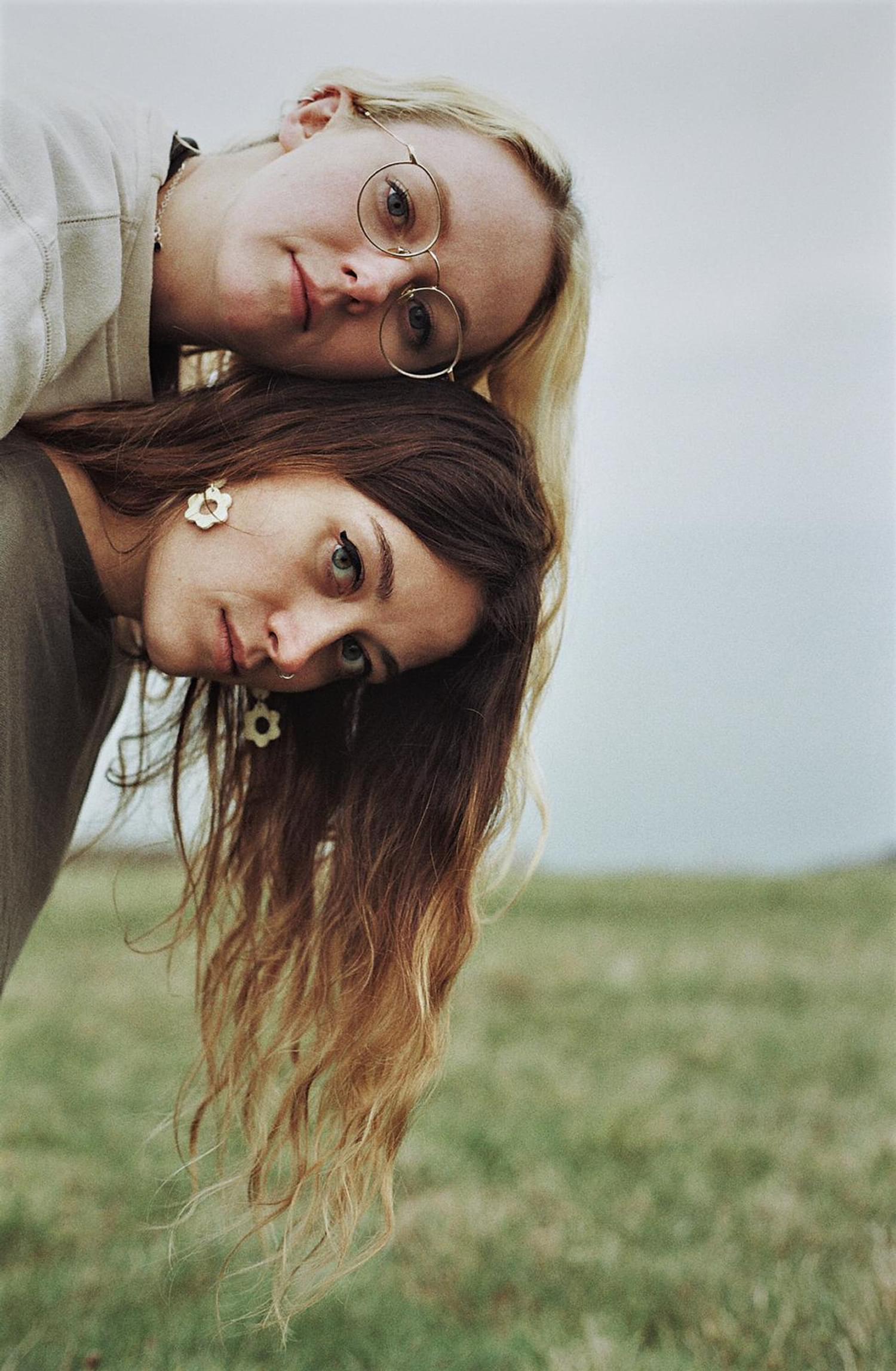 "It was really scary," Illingworth recalls, holding her head in her hands. "I don't remember why we started, I don't think either of us had a burning desire to be on stage. It was just a very safe environment." Sturt-Bolshaw nods: "I think it was our parents being like 'you should show everyone!'. And Leah who ran it was so nurturing and really encouraging, and always wanted us to play."
Much of their history as Sunflower Thieves seems to follow the same vein of gentle nudges towards the spotlight from those in their vicinity. It's as if their fate as musicians was carefully devised through the encouragement of the creative communities they've repeatedly found homes in.

It's why, though they're not native to Leeds, since moving to the city for University the duo are deeply embedded in its famously collaborative music scene. Now deemed a cultural powerhouse, Leeds is increasingly building a reputation for its self-sufficient and community-led creative sector. "There seems to be a lot of very present organisations and little labels," Illingworth explains. One being Come Play With Me — a local non-profit music development organisation who've been avid supporters of Sunflower Thieves since their earliest days.
Geographically, Leeds allows for a diverse musical landscape, with a lack of physical space resulting in an eclectic mix of genres with no option but to overlap. "We're definitely becoming less folky and more pop-y, electronic-y, rock-y as a result," Sturt-Bolshaw says. But, as Illingworth points out, it's also allowed them to revel in their uniqueness: "When we first came, there didn't seem to be anyone doing what we were doing, so we didn't feel like we fit in," she says. "We used that to try and stay true to us and stand out, rather than thinking 'well it's mainly jazz here so let's try be more jazz'. That just didn't happen because there's so much going on."
It wasn't until an industry figure from London (who Sturt-Bolshaw jokingly refers to as "the guy we don't talk about") began to show interest that the pair began viewing music more seriously. They ultimately declined an offer that asked them to sacrifice some creative freedom, but the outside validation proved invaluable, and they decided to go it alone. "We had no clue what we were doing, but it was kind of instinct," Illingworth explains.
They then created a four-track CD, burned a hundred copies and sold them to everyone they knew. "We swiftly took them down when we realised we could probably do better," Illingworth laughs. "But it was a really valuable experience and it meant that by the time we came to release our first song, we had already had a practice go."
So, when 2020 rolled around, it marked an unlikely turning point. During lockdown they started a Patreon, posting weekly demos that documented their first experimentations with outside collaboration. From that period, their debut EP Someone To Be There For was born. It's an ode to those months, preserving the sense of detachment they felt during the seemingly endless isolation while sweetening the emotional punch with their signature mellifluous harmonies. And it's been a breakthrough, earning them their first Radio 1 play on Sian Eleri's show, as well as a UK support slot for singer-songwriter Lewis Watson.
Still, their multi-decade friendship is perhaps their greatest muse — though they recognise it's not a topic frequently explored in popular music. Illingworth puts it down to its' comfortable mundanity. "A lot of the time, friendship is not as dramatic as breakups or death. It's quite constant. It has ups and downs and intricacies, but I guess it's not as obvious to write about," she says.

It's why their next EP, which they're currently in the process of piecing together, strives to further explore the topic — this time with more emphasis on dissecting their own bond. "It's been good to reflect," Sturt-Bolshaw says, laughing. "Like, we do like that about each other but then you do really annoy me sometimes." And, now in their mid-20s, they're content with that — proud of the creative partnership they've built after meeting all those years ago as children. Illingworth meets Stuart-Bolshaw with a grin, concluding: "That friendship is much truer and much more precious than the more glossy version anyway."

I Know A Place - Come Play With Me's annual music conference championing and learning from women and people of marginalised genders in the music industry - runs on Friday, 27 January at Howard Assembly Room in Leeds.
Get the Best Fit take on the week in music direct to your inbox every Friday