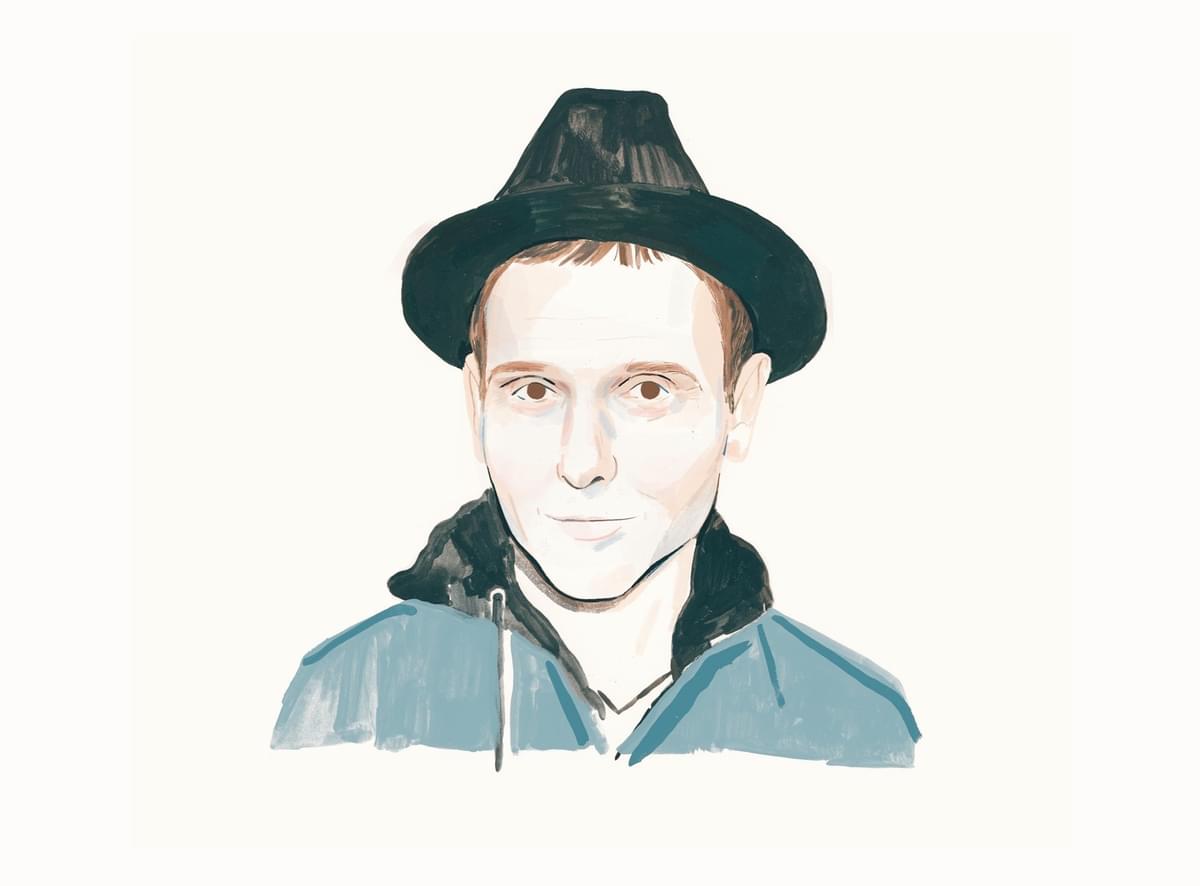 Stuart Murdoch's hive mind
19 May 2020, 19:00
As collective global anxiety gathered pace, Belle and Sebastian's Stuart Murdoch had an idea; he asked his fans to join the band.
"I come up with lots of tunes but the band aren't around just now, and I rely on them to turn them into pop. How about we make a tune together using remote technology?"
He urged fans to email him about how they were feeling: "about the current situation, about your emotions, about your daydreams, about your fantasy places, about the people you're with, about people you miss. Give me your frustrations, regrets, fears. Make it personal!" These submissions would form the backbone of the two-part collaborative project, Protecting the Hive.
The first installment of the project is an audio-visual piece narrated alternately by Murdoch and friend of the band Alessandra Lupo, accompanied by aerial views of a golden, deserted Glasgow by Kenny MacLeod.
In its second iteration, Belle and Sebastian set the words to music, inviting fans to download the stems and create their own recordings. Fan submissions have been pleasingly disparate and low-fi; Susan Myers offers operatic flourishes, Shane Surgey adds a wurlitzer, Kar Stanton throws in some harmonies. Murdoch tweets fans directly to thank them for their contributions. He's part pop star, part enthusiastic camp counsellor for sensitive misfits.
Alongside Protecting the Hive, Murdoch hosts a weekly facebook live guided meditation session. I try to meditate along, but really I just watch them for the humanist fireside chat that bookends every session. "I think a lot about death a lot," he tells us, "I would hope not in a morbid sense… I think about death as probably the most important thing we'll ever do".
Murdoch has been living chronic fatigue syndrome for most of his life: "That was like dying, I mean I nearly died, but it was like dying and everything changed. But when I look back on it now... I didn't miss what I couldn't do... maybe there's a parallel with this situation now, with embracing what we can do rather than looking back." It's a comfort to see someone speak so candidly.
At a time when everyone is searching for a distraction from our isolation, Murdoch quietly reminds us that perhaps this is an opportunity to look inward: "It's quite nice to sort of fall back on your mind, and realise there's a lot of peace in there."
BEST FIT: During isolation a lot of artists have looked inward and made something really personal to them. Why did you think it was important to create something more expansive and incorporate the experience of your fans?
STUART MURDOCH: I think it was just a natural inclination. I've got two things going on that armed me for this sort of situation I think. One, is that I've had this chronic illness off and on for thirty years, so there's been a lot of isolation involved, a lot of looking inward and preparing your mind.
And then I've been getting into meditation for the past six years especially. This is the kind of stuff we talk about all the time in the class and I could feel the communal anxiety rising a little bit. I'm going to try and put my finger in the hole in the dam and I'll try and do my bit. If I'm not prepared for this sort of thing now then when, and instead of falling back on alcohol and old 70s LPs I thought it would be a nice idea to involve people. That's with the meditation and with the singing project.
Community seems really integral to Belle and Sebastian; was there a moment when you realised the fans are really creative and respond so well to these kinds of projects?
We've always had that sort of thing going on and to be honest with you it's been a resource. I don't mean to take them for granted. And then we get the second generation of guys and they seem to be the same type of people.
We were a little bit elusive for the first few years and then we got a bit more confidence and did more concerts and realised that people who were coming to the concerts were just like us.
"I've always been a bit of a Sunday school teacher - that's just my thing."
Then it got fun: when you're in a group, you're in a good place to involve people if you like. I've always been a bit of a Sunday school teacher, that's just my thing, I've always taught kids groups for the years before I was in a band and even was in a band I used to take the kids for youth fellowship so it's just a broader sort of Sunday-school-teacher vibe
What was it like getting the submissions?
They came thick and fast and everybody got it. This was three or four weeks ago just after the lock down where I think, maybe some of the anxiety has been mitigated since then, but at that point nobody really knew what was happening. It must have been slightly apocalyptic for some and so we just caught them in that moment and we had a real sort of mixed response, but very poetic.
Did you start to see themes emerging, things that linked the thoughts of all these different people together?
There was actually a nice spectrum, going from the folks on one side with young children or something who were really like: what if I get this, what if I die, what's going to happen to my wife and kids.
And then to the other side, where you know where somebody has maybe had anxiety and depression for years and has found there's absolutely nothing changed in my day and in fact not having to go out or go to school or university really works for me.
Has the process changed how you think about collaboration?
With band life, you kind of go through this cycle of album, tour, little pause for thought, album, tour, little pause for thought. Every time we have that pause for thought I write "collaboration" on the top of the page in capital letters, whether that's with artists or keeping your radar open for other people's opinions. It can often be more interesting than just a regurgitation of how you feel, which is maybe what you did on the last album, so it's a really positive thing.
Is isolation a necessary part of the creative process?
There's always a point where the distractions have to end and that's when the art appears. When these sort of pure ideas spring up. Since this started I've never been busier in my day. My wife and I are trying to get a structure and she's asking me to take the kids here and can you do this, blah blah blah and I'm actually just really busy. She keeps saying to me this is the perfect time for you... this is the perfect time for you to get into the book that you've been trying to do, and it is in a sense, but even in isolation it's so difficult to give yourself the headspace to write every day.
But you definitely have to go into that space. I wouldn't have been a so called "artist'" if I hadn't got ill, that turned me into that person.
So you're thinking about writing another book?
Well I started one last year when we had a little break and suddenly the band got really busy again. I mean, I'd been flirting with that kind of thing for ages but I sort of picked a time and thought you know it would be really nice to just go back twenty or thirty years to just when I first got ill and write about that sort of wilderness. Write it almost like an autobiographical novel up to that point.
I tried to do your meditation, but I found it so hard! How do you manage to keep going with it?
You know that's really interesting - and thank you for the feedback because sometimes I forget that meditation is hard, especially if you're coming to it quite new. A lot of people find it very difficult and I should probably remind people of that so they're not put off.
I'm a pretty crap meditator and I've been at it for six years. I can almost name on my ten fingers the amount of times when I've got into the situation that you're looking for when your mind is supple. When you're in that lovely situation when you're alert but calm at the same time it doesn't happen very often but that's the goal.
So it's more about the practice and trying?
Absolutely! It's like becoming a better golfer or florist or whatever you want, it goes by inches. It might be a while and then you'll notice you're a tiny bit better, but the terrific thing that I'm trying to put across to people if you can see this working a tiny bit, if within this five or ten minutes you find that your mind has been a tiny bit more peaceful and you experience something, then scientifically speaking you can extrapolate ahead and see a time when it could affect you a lot. It's not a magic trick! It's quite a scientific process that works.
What else is giving you comfort right now?
I'm lucky we've got our kids and we're doing okay just now. You just give them an extra hard squeeze and you know we're getting by okay.
I guess being creative though, I'm really excited to go back. The weird thing about creating stuff is that even though I'm writing about a period that happened a long time ago which was a difficult period. There's a comfort in writing about it, there's a comfort in going back and reflecting. I think once you get to the stage where you can write about something it's almost like you've overcome those difficulties.
"I go to bed excited thinking that I'll get up and make something."
Have you always processed your experiences that way?
I think it helps. I always say that writing music is a big consolation. Maybe people that don't write songs or don't write so much think "wow, that must be difficult!" or that seems like a big effort… but really it's because you love doing it.
It's really such a bonus to be able to go to those places. I get excited about it every day. I go to bed excited thinking that I'll get up and make something: that's just my thing.
Is it hard to carve out space? Having children seems like such an unruly part of life - it must be so difficult balancing the two?
That's where I have a great bonus over the band who have young kids as well. I've always managed to have a deal with my wife to keep working and keep writing. If I stop working the band kind of stops.
So we had a nanny, we had an au pair when our second kid came along, that was part of the deal. At this point we weren't going to have an au pair but our friend was stuck in London and she just came to live with us because she couldn't get back to Italy so you know we've got help and I just go up to the attic and carve out my time there.
So you're going to push on with writing the book?
There's a guy who collaborates with the band sometimes called Graham Samuels - he's an animator, he's done backdrops for us and things. We always said we would work on a graphic novel together, so he's starting to illustrate it.
Do you think we'll change as a result of this experience?
I hope some things do change, but we're such creatures of the moment. In one regard because I've always been able to stand back from the world a little bit because of the ME and everything that I'm doing.
In a sense I think there's been an overreaction with the whole business. Don't get me wrong I understand that people are going through hard times and people are suffering, but people have always died. People are dying all the time, people are dying in may I say much worse circumstances. People are still starving to death and dying in wars and we've had this experience and it's come close to home and we swung in one direction. There's been a big reaction.
Honestly, I think it will be quite easy for us to swing the other way. I can just see it. I know that the powers that be would love us to just get back into the groove and not change. And it would be business as usual and business with a capital B, serving them and serving their systems.
We've spent three years pissing time away on Brexit when we should have been worrying about climate change. I would love it if we just sort of dovetailed into climate change and used the efforts that we are doing now, but you see climate change is a different beast. It actually involves doing stuff for other people, thinking about other people, thinking about the world instead of just thinking about yourself.
When you think about the world, people tend to be much less generous.
Get the Best Fit take on the week in music direct to your inbox every Friday