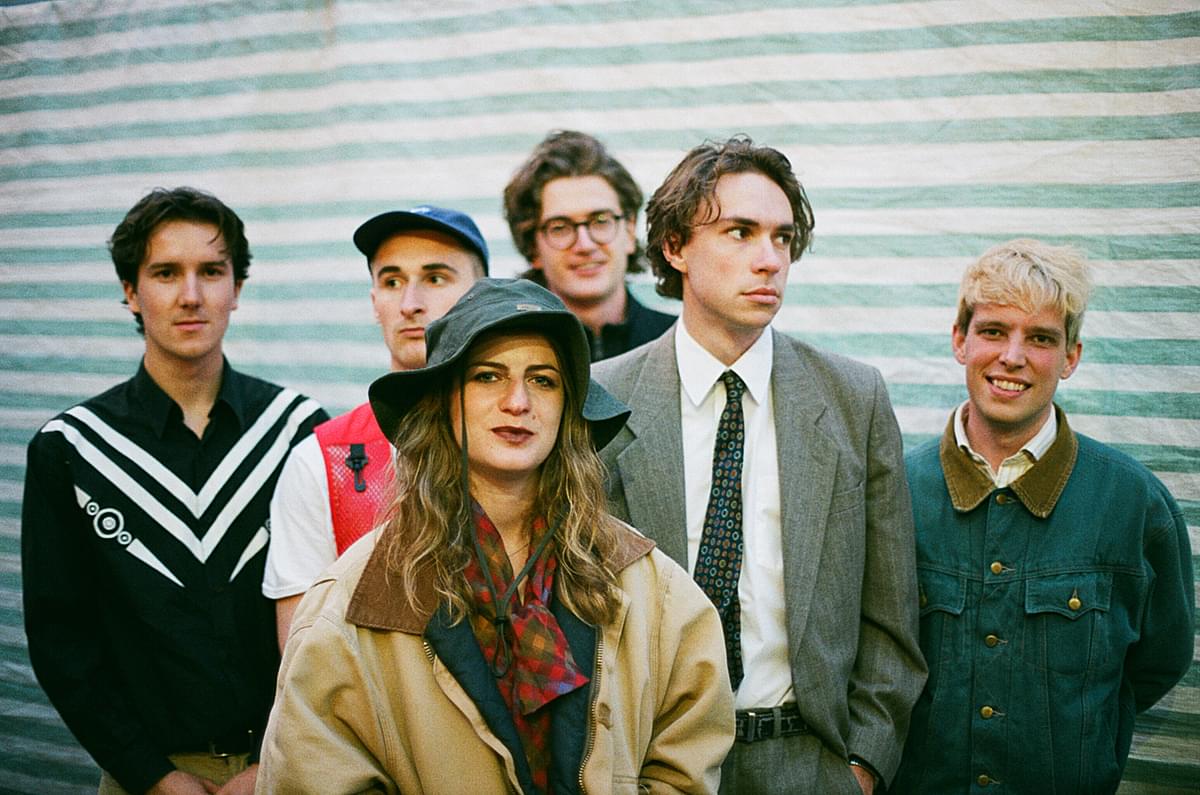 On the Rise

Sports Team
26 April 2019, 08:00
Boasting songs about English summers and hosepipe bans and music videos with all the glitz and glamour of a GCSE remake of Chitty Chitty Bang Bang, London band Sports Team make no apologies for who they are – or for the fact that they're about to take over the world
"I'm reading a book at the moment about quite famous pranks," Sports Team frontman Alex Rice grins. If you're familiar with this band at all it will come as little surprise that this is where they're currently finding their inspiration. Fresh from the release of their Keep Walking! EP, whirlwind performances at SXSW, and a sensational headline tour across the UK, the West London-based six-piece are thriving. With costumes, crazed dancing, anthemic songs, and balloon drops aplenty, every moment with Sports Team feels like a non-stop celebration.
"We have this reputation of being the live party band that kids go to and cut loose at, sit in pubs the whole day before," Rice describes, "which is nice." It's a reputation that Sports Team have worked hard to earn, and it's also an energy that's come naturally to the group (completed by guitarist and songwriter Robb Knaggs, drummer Al Greenwood, guitarist Henry Young, bassist Oli Dewdney, and multi-instrumentalist Ben Mac) right from the very start.
"We never had a very high level of musicianship," Rice recalls. "We could never quite play our own songs properly. We'd forget the words," he details. "It was always a bit shambolic. I think that was part of the appeal." Playing to their strengths, even in their early days, Sports Team's live shows have always been something to behold. "It was like a gathering of friends," the frontman describes of their first gigs. "We'd do it at the Sports and Social, charge people £1 to get in, and Ben would open it rapping," he laughs. "We've always had to make [the live show] into a bit more to not get called out. You had to tell jokes, you had to dance, you had to make it a night."
A lot has changed since those early shows - the band's line-up for one, and the city they live in for another. Sure, their concerts remain as chaotic as they ever have been, but armed with an ever-growing repertoire of modern day anthems Sports Team have finessed the art of conducting the chaos they're so well-known for with enthralling ingenuity. "The way we play now, there's a sense of anticipation to it when you come on," Rice enthuses. "You're not playing to a crowd that doesn't know you any more."
Their stages are bigger, their songs are bolder, and their antics are more brazen than ever (if the famous pranks they've been reading about are any indication there's only bigger, bolder, and even more brazen to come). "I don't want to say we're not a serious band, but it comes from a place of trying to be uplifting and joyful more than anything else," Rice describes. "That's one of the things that guitar music's lost a bit at the moment, this sense that it should be something that makes you feel better about yourself when you come out of it, and it makes you look at the world in a different way that's a new and positive light."
Their optimism, enthusiasm, and boundless freewheeling energy are all a part of what make Sports Team such an exciting band to encounter. "We're doing something I don't think anyone else is doing, or at least doing well, in the UK at the moment," the frontman enthuses, "and that's romanticising very mundane elements of life and speaking to this huge part of the population who've grown up in the suburbs just being a bit bored a lot of the time." The antithesis of the boredom the band was born out of, Sports Team are as vibrant and as vital as they come.
Their aim is simple: Sports Team want to have a good time – on as grand a scale as possible.
"I think we've always been really ambitious," Rice conveys, "and we're not where we want to get yet either. We're nowhere near it," he asserts. "We always reference Robbie Williams doing Knebworth…" Citing a concert that became known as the "biggest music event in British history," drawing a crowd of 375,000 over three nights (not to mention a further 3.5 million viewers at home), featuring an entrance from a hovering harness and more confetti cannons than you'd care to try counting...this is the sense of occasion that Rice and his crew aspire to.
"We just want to play massive shows to loads and loads of people," Rice states. "That's where I think you get the epitome of what it is about. That's where you get the most direct experience. Everything else really feeds into that," he explains. "If we're doing radio, or if we're doing merchandise, or if we're engaging with fans in any way, it's all directed towards 'come and see us live.'"
"When you're in a band, that's when it feels real, as well, I think" he continues. "You have a really visceral reaction." Their show count might be on a rapidly increasing rise, but with their audiences getting bigger with every tour announcement, the thrill of performing is a gift that keeps on giving. "You can't not have that little jump in your heart as you walk on stage and people are cheering you on," he enthuses. "It's so innate. I think that's what we really love."
It's a spectacular world the band present on stage, and indeed on record. It's a world of "romanticised, mundane Englishness, but done with the ambition of it trying to have a popular appeal," and it's a world that's becoming ever more vitalised by the energy and experiences the group share with their audiences when they perform. "More and more now that we're working towards an album, we're writing songs for live," Rice describes. "The thing we're trying to do is try and make a bit more of a narrative around how we actually record it."
Relocating to the Welsh valleys to record the Keep Walking! EP had a strong influence not only on the music the band were making, but on the way they've approached making music ever since. "I think a lot of the EP is these sentiments of it being summery, being together, being bunked in the same room, and how we lived and ate at that time," Rice describes. "That's exactly what we're looking to do with the album. We want to make a narrative around the actual recording process as much as the music that's on it."
"So, we're looking at Greece," Rice cotinues. "We want to get a Greek Island for a month or something, have people dropping in and out the whole time." Aspiring to shows on the scale of Knebworth, and having admittedly already looked into the logistics of booking Wembley in a few year's time, the band are no strangers to lofty ambitions – and with such strong character, confidence, and drive, it feels like any and all of it might just be possible.
"You just want to do something a bit more exciting in the world," Rice enthuses. "It's very easy when you're doing interviews every day to just spout PR lines at people. "You have your easy narrative that you can just trot that out constantly," he expresses. "I think we genuinely just want to do very odd things." With festival season inching ever closer, announcements for their biggest shows yet on the horizon, and a hopeful plot to run a bus tour to a rural town hall and "create chaos in a little village somewhere," not to mention a debut album the band say will be "probably early next year," there's everything to play for – and every opportunity to do just that.
"If you come to a Sports Team gig, you're going to love it," Rice says. "You're going to feel better about yourself. It's going to be uplifting - like all great music should be." With bold ambitions and an ever brighter resolve, what we've seen so far is only the tip of the iceberg. "I think we've always had an enormous sense of ambition," the frontman states. "We're nowhere near where we want to get yet."
Sports Team play at this year's The Great Escape, which runs from 9-11 May 2019
Get the Best Fit take on the week in music direct to your inbox every Friday