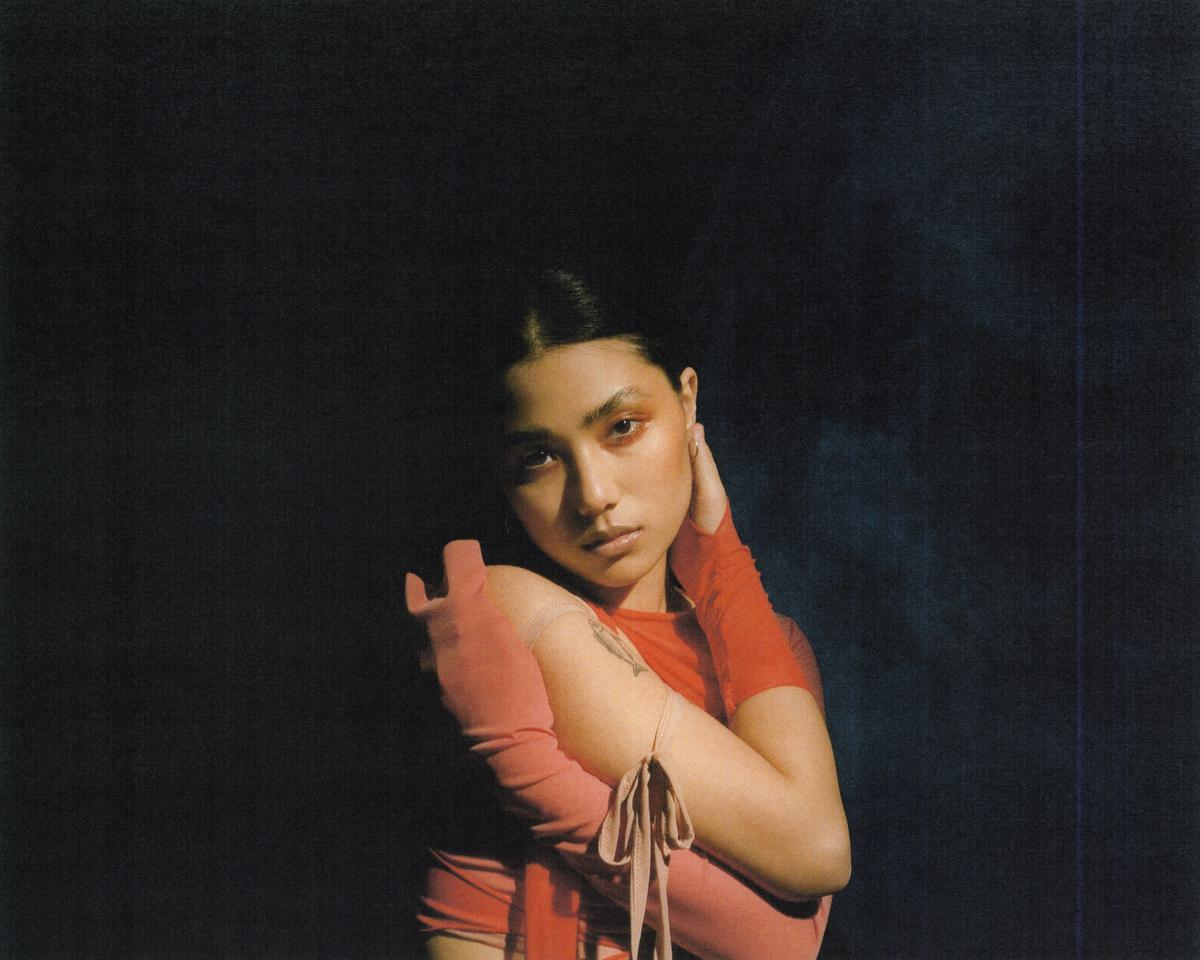 Spill Tab and the battle against imposter syndrome
15 November 2023, 09:00
Lead image by Angela Ricciardi
In the four years between the debut Spill Tab single and now, Claire Chicha finally feels like she has her feet firmly planted in the ground.
"So much has happened since then," the 26-year-old Chicha explains, referencing her 2019 single "Decompose." "There have been a lot of ups and downs. When I started, it [music] wasn't my main thing. I was working other jobs, so when I did transition to music full-time time it was a weird transition. Not having another job to rely on meant that I put a lot of pressure on myself to make music. The last four years have been me trying to get comfortable with myself and this career and what I want it to look like."

Chicha was born in Bangkok and, at eight months old, her family moved to the San Fernando Valley in Los Angeles. Her father, who is from Algeria, worked as a music composer and a jazz musician, and her South Korean mother played classical piano and harp. As a kid, she was involved in her high school's choir and listened to everything from Paramore to Bon Iver. This melting pot of both cultures and music genres would lead to her colourful and unique sonic palette, dabbling in everything from bedroom pop to alt-leaning productions.
A year after her debut, Spill Tab released Oatmilk, her first EP. It was the first collection of songs that truly encompassed a chapter of her life and, in a way, broke the dam for everything that would come. She'd end up on multiple 'rising star' and 'breakthrough artist' lists, in addition to playing for esteemed French brands like Hermés and YSL. 2021's EP Bonnie would see her work with collaborators like Gus Dapperton and JAWNY and receive critical acclaim for her clear desire to constantly push herself.

With all of that behind her, one would assume she'd feel on top of the world. But for a girl who quite literally grew up with music all around her, it made sense for Chicha to fall victim to the allure of music — sometimes to her own detriment. "I deal with a lot of impostor syndrome," she states. "I saw a TikTok of a graduation speech and the person said we think of impostor syndrome as an individual fixing that problem, but it's bigger than that. I think a lot of impostor syndrome comes from being in careers where white men are dominating and you feel impostor syndrome in those spaces because that place wasn't meant for you to exist in, you know?"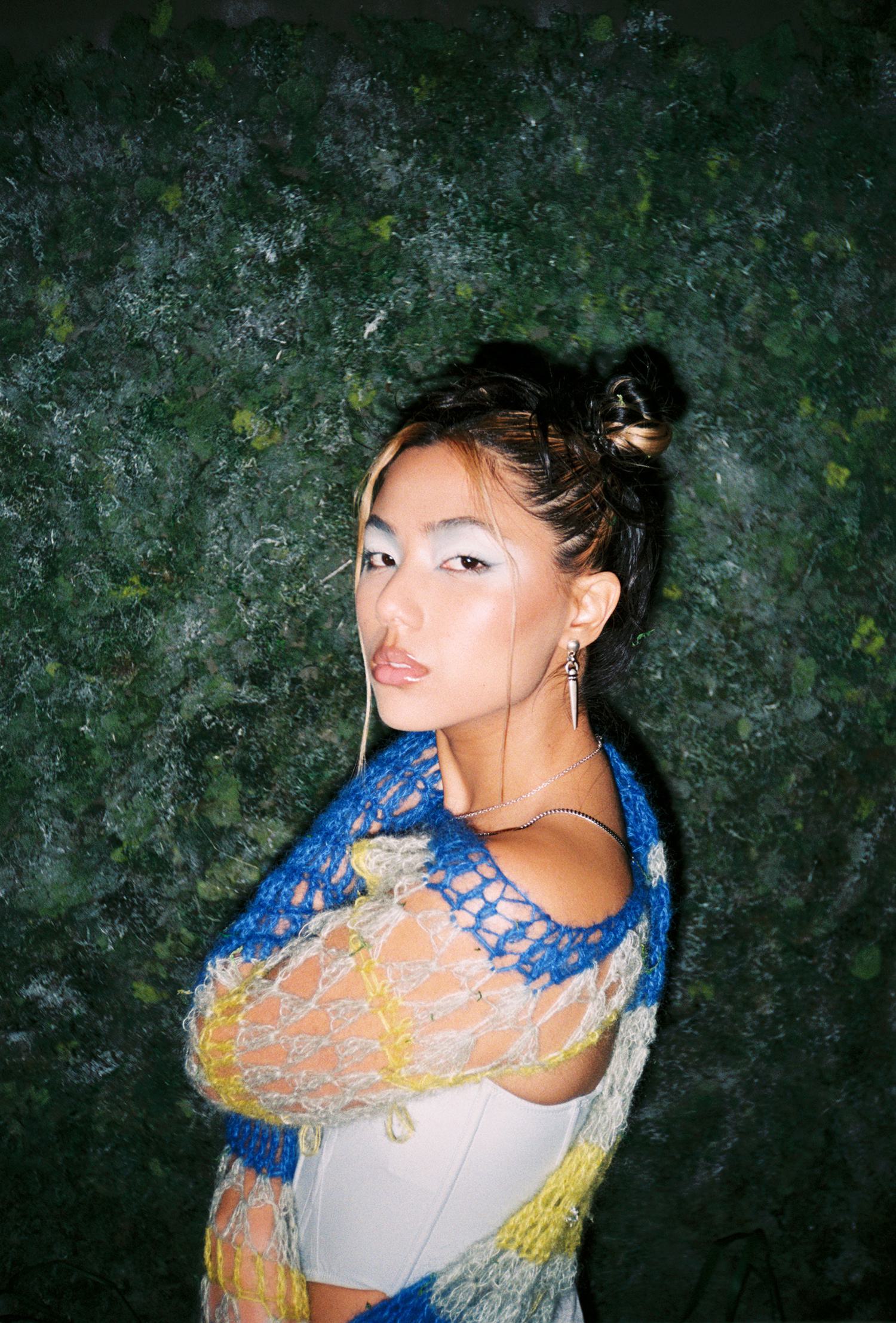 Klepto, her most recent EP, charts the amount of change she was experiencing at the time. It was, in her words, a period of "endless self-doubt" and anxiety that she was doing things incorrectly. "'Fetišh," the obvious standout on the EP, is larger-than-life and unapologetic, acting almost like a character that Chicha has both made up and longs to be. "I don't really have that many sexy songs, but this one I embrace aspects of being sexy. It's really fun to inhabit a different person for those like two and a half minutes. It's fun to have different personas. It's just a great way to escape."

Escapism is hard when you're living and working in Los Angeles, a mecca for musicians trying to make it in the industry. It's a city full of opportunity but a place where playing the compare game is easy. "It's one thing to be surrounded by it on social media, but when you're also physically surrounded by people that are killing it… It really forces you to build your own structure and confidence to not feel lost in it just because you're not doing as well as someone else," she says. "Los Angeles has so many people in pop music and there are some doing 3 or 4 writing sessions a day. I can't imagine finding sanctity in writing when you're doing it that much."
Instead, Chicha opts to take a different perspective on her own inner demons, choosing not to 'fix' her impostor syndrome but to view it as something that can push her up rather than press her down. "I feel like I'll always experience it [impostor syndrome] because music is so big and I can't ever imagine creating a song that good or an album that is groundbreaking. But I feel like I have been pushing myself more to just think about it in terms of creating something that I feel is my best work."

On Klepto, Spill Tab is credited as a producer for every song. She likes to dip into genres, bending them at her will, and creating something that sounds interesting and fun to her. She knows a song is a good one when she goes home and wants to listen to it again. "I'm trying to gravitate towards things that I come back to time and time again. I don't really know what that means because at the moment you never know if you're making the thing that you're going to be excited about or not — sometimes you're just trying to just try to make something."

Producing was a natural step for her — partly because she sees herself embedded within music for a while and, also because she hates having to over-explain to someone else what she wants done to a song. "I just genuinely enjoy learning new stuff about music because I like the idea that you can have a long career in it if you are trying to access new things. With that in mind, I just try and access something new when I can, as much as I can. That could mean me at my computer tracking my own vocals and moving stuff around, like chopping it up. I'm a bad communicator sometimes so I'd rather just do it myself. I think that's genuinely how I learned to produce — it came from not being able to explain it so I just did it myself to speed up the process."

With every release, Chicha has gone from strength to strength, carefully curating a discography of three EPs that have served as chapters of her life. With Klepto, she sees it as an ending and a beginning all in one. "I do view it as something ending. I'm on my third EP and I have a couple of songs that I'm really so excited to finish and share. I was really excited for this chapter to come to a close so I could really just focus on what's next and really put my whole body into making the next project feel super special and super different."

As she wraps up this chapter of her life, Chicha has big goals. "Honestly, this is so minimal, but I'd like to be able to jump rope for five minutes straight!" she laughs. "I tried this morning and I got 50 seconds in and I physically had to stop, I was feeling nauseous! So yes, I would love to be able to jump rope for five minutes straight by the end of the year." Not a hard goal for someone who has already battled her impostor syndrome demons and is, despite their hard efforts, is burgeoning.