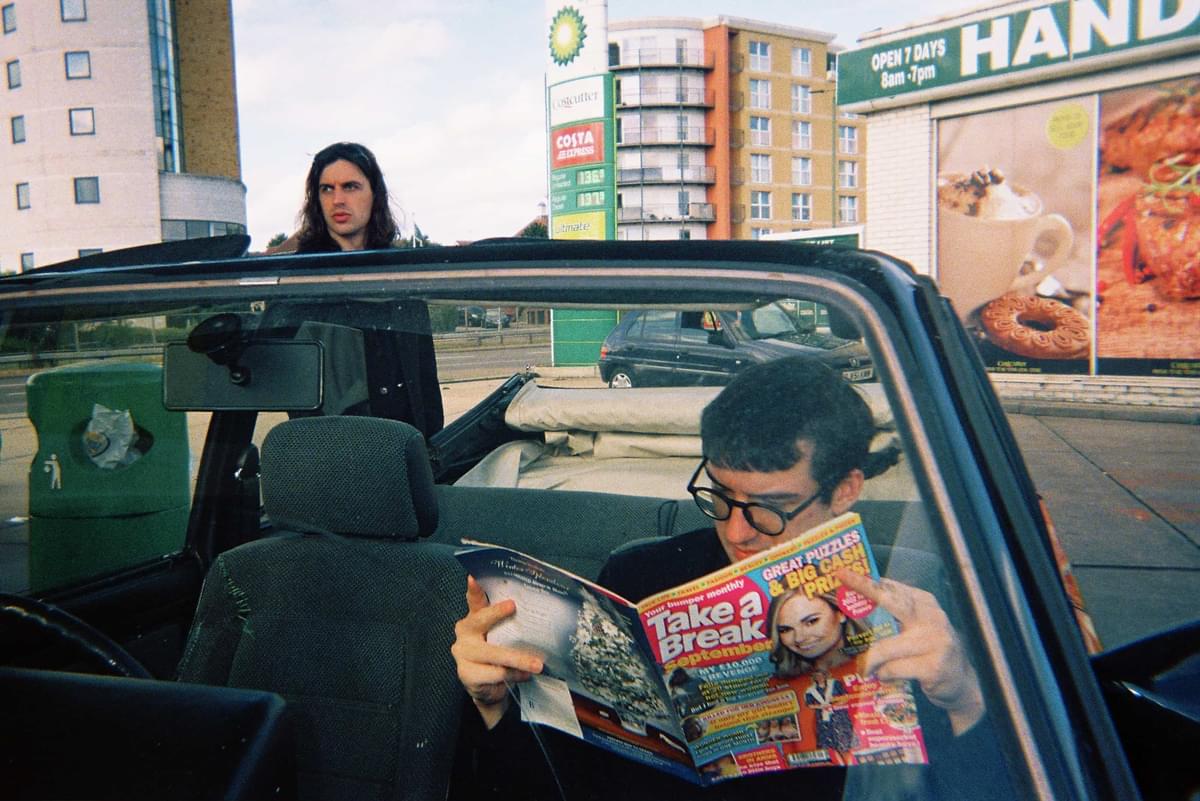 The rise, fall, and rebirth of Spector
04 January 2022, 15:15
Spector did their music career in reverse. Ten years ago - their debut album barely out - the London outfit played Coachella, then took off on a European tour with Florence + The Machine. By 2015, even Taylor Swift would go out of her way to get a signed copy of their Moth Boys record for her brother's birthday. But when the world (or just the indie music scene) needed them most, they vanished.
Spector never actually went anywhere. But their name grew ever smaller on festival posters, and updates became rare. Instead of conquering new heights, they lay low, regrouped, and made a new album — a process that took seven years. So what actually happened to the band that once was London's worst kept secret?
"We were getting dropped from our record label, so we needed to have a vision for our life beyond that warm and easy bosom," lead singer Fred Macpherson tells me, looking back at the end of the Moth Boys era and the band's departure from Fiction Records. "It was a nerve-wracking but exciting time. Are we going to keep doing this? Have we still got music to make and stories to tell?"
Spector's most noteworthy career highlights still date back to 2012, making it look like the band's better days are well behind them. With self-deprecation at the core of Macpherson's humour and lyricism, he would probably be the first one to agree, but I wonder how many of those earlier decisions were what they wanted? A big part of record labels, he tells me, is an A&R who gives detailed feedback on every piece of music a band makes. "We loved our A&R, but sometimes it's another voice that isn't needed," Macpherson reflects, wondering if their EP-compilation Non-Fiction would have come out at all, had they still had an A&R.
Spector tried their hand at the DIY approach with "Untitled In D" in 2018. Unsure what to expect, they put the song out via their own label Moth Noise and hoped for the best. The sound was different, but the fans' love was all the same, supplying the band with much needed motivation and confidence to move forward. "It did well enough for us to realise there's more to it than the music industry," Macpherson says of the song. "There's a fanbase to sustain our journey, and that made for an exciting transition." Spector funded their next track "Wild Guess" with money made during touring, and it ended up gaining almost as many streams as their older hits.
"Music takes a lot out of your mental health, which is why most bands break up. I would probably leave most bands if I was given the chance." - Fred Macpherson
The team of Fiction Records weren't the only people the band parted ways with in 2017. Their drummer Yoann Intonti left to join The Vaccines, and bassist Thomas Shickle quit music for the fashion industry. There wasn't any difficult phone calls, and their departure hardly came as a surprise. "Justin from The Vaccines called me and said that Pete [Robertson] had left," Macpherson says. "They wanted to audition Yoann, and we were very positive about that. If Nine Inch Nails offered Jed [Cullen, guitarist] to play guitar with them, I would say take him, you know what I mean? I don't think this band is any more important than anyone's individual career. As for Tom, I don't think music was right for him. It takes a lot out of your mental health, which is why most bands break up. I would probably leave most bands if I was given the chance."
With a new lineup figured out and their own label up and running, Spector were now ready to focus on new music, though they didn't expect a gap of six-and-a-half years between albums. In the press release, they describe latest offering Now Or Whenever as their first LP with live instruments. They admit it to be an exaggeration – Moth Boys and Enjoy It While It Lasts weren't made entirely on a computer with samples. It's just that live instruments are foregrounded on Now Or Whenever rather than used as an occasional addition. "It's more about how it sounds to you," Macpherson smiles. "Do you think it sounds more live? Maybe that won't be something that comes across? I think we're just trying to describe why it feels a bit different."
Despite all the talk about live instruments, Spector fans shouldn't count on the frontman playing one on stage any time soon. He hasn't played the guitar live since the band's first concert in 2011, at The Waiting Room in London. "I looked down at my hands, and I remember thinking, 'I don't know what chord I'm playing. I've got no idea.' That was the last time I ever played guitar," Macpherson laughs, happy to have focused on refining his vocals and stage presence. It is Cullen's guitar that pushes Now Or Whenever forward, while Macpherson's songwriting helps the album retain a central emotional core. "It's less downbeat or sad than Moth Boys, but I think it's more..." he begins to describe the record, then stops and thinks for a few seconds. "Mature is a boring word, but I think it's a step on through time."
Lyrically, Now Or Whenever somehow seems more abstract but also more specific than the band's older works. A lot of these lyrics will still spark a mild existential crisis or at least an Instagram caption, but most might leave you wondering – what on Earth is this guy talking about? "D-Roy" is about friendship, an album highlight Cullen wrote in the middle of the night, unsure if it came to him in a dream. "It's based on this emotional feeling, this idea of dreading missing someone," he elaborates. "When someone's about to leave, you know you're really gonna miss them. That bit before you actually miss them is the hardest." Other lyrics reference something simple and mundane from daily life. "You look around the kitchen, and there's an avocado, and you're wondering if it's ripe yet," Macpherson tells me about a line from the minimalistic ballad "This Time Next Year".
There is a reason Spector's reinvention into a true indie band has been so smooth. Even though the new album sounds nothing like its predecessor, it's not even going to come close to dividing the fanbase. If anything, they will probably celebrate the release with a meme competition before occupying the front rows on tour in hilarious homemade merch. In this tight community where everyone seems to know each other, many come to dozens of shows or travel abroad just to see the band and each other. What keeps them coming back? "If you connect with our music, you really connect with it," Macpherson suggests, lovingly describing Spector fans as a "small group of people with big problems."
"Obviously, it's great to have new people at our shows, this is what we want," Jed Cullen adds, "But at the same time, why are they there? Then I see someone I know, and it makes me feel grounded. At every show something happens, like someone trying to pass a goldfish bowl to the front. We were like, 'okay, send it back' and someone dropped it. I don't know what happened to the goldfish. But hopefully it was safe. It probably wasn't, it was a travesty."
Of course, as we get older and busier, we may find that the music itself is more interesting than whoever is playing it on a stage. "You have to check yourself and remember, they're not really fans of you as a human being," Macpherson replies when I ask about maintaining boundaries between artists and fans in the age of social media. It makes me think of a lyric from their breakthrough hit "Chevy Thunder": "I'm not what you want / You fell in love with an idea / And I was never never never never never enough." That song was never about fan culture, but this line might as well be. "When we're on stage for an hour, that is something completely separate," he explains. "That's a show, it's not an extension of how we are in real life. For some bands, maybe there's more of a blurred line, but Spector have always been more about performance, whether positive or negative. We're not as interesting, but we're also not as arrogant and overconfident as we might seem on stage."
Circling back to the new album, we conclude that Now Or Whenever might be another one of Spector's case studies on nostalgia and the passage of time. Isn't it fascinating how something that feels so acute is near impossible to articulate? "There are moments where suddenly time doesn't feel linear," Macpherson says when I point out that a lot of their songs feel interconnected, like the opener "When The Saturday Comes" and an old fan-favourite "Friday Night, Don't Ever Let It End"
"You zoom out and say, 'this happened fifteen years ago, because this was going to happen now,'" he adds, "That's my belief, we get echoes backwards through time. Certain situations prepare us for things that are going to happen and we don't know yet. Maybe this album, rather than being a callback to things in the past, will be a foreshadowing for what's coming next."
So what is coming next? Will Spector make us wait another seven years for the next album? "Maybe, maybe not," Cullen smirks, "I quite like the feeling in between albums, when you don't really know what's going to happen. I can't give you a good answer." Or maybe we will finally get to hear "Carburetor", an incredible song Spector played live during one of their tours and never again. Cullen claims it's still unfinished.
"It's funny, a few people mention it," Macpherson smiles, "I'm shocked anyone remembers the name of a song we'd literally played twice. It opens with 'why do babies never wear black', which has been on my mind lately because I want to buy my baby some black clothes but they aren't being sold anywhere! Anyway, we've been overthinking the chorus and lost our way. But I like the idea of a lost Spector song. Maybe someday it will make an appearance."
It is endearing how Spector have existed for ten years, yet they still seem genuinely surprised by fans caring when they release music. Even more surprised by fans caring when they don't release music. "I guess it's like, you know, a tree falling in a forest or whatever," Macpherson trails off. "When you turn away, maybe we don't exist. Maybe we don't exist when we're not making music. But we do exist in the music, and we love playing."
Now that Spector are back on their feet, maybe Now Or Whenever will, in fact, drive the band back into ubiquity, but I doubt it was ever the goal. No matter how rocky their journey has been, it ultimately led to the sound that feels right to them. Spector were never a band that takes themselves too seriously anyway — and that's a very big part of their charm.
Now Or Whenever is released on 7 January via Moth Noise
Get the Best Fit take on the week in music direct to your inbox every Friday