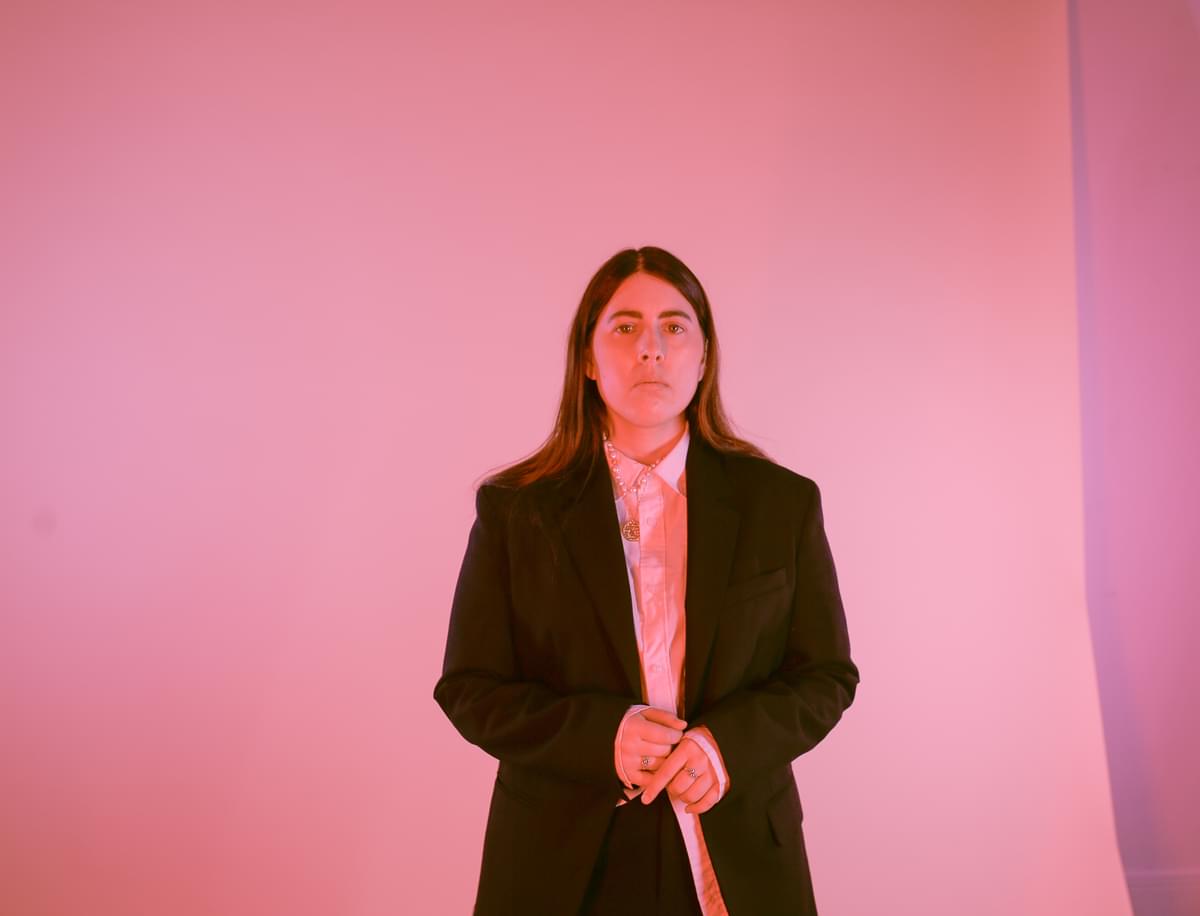 On the Rise

Sorcha Richardson
20 September 2022, 09:00
Original Photography by Molly Keane
While Irish songwriter Sorcha Richardson discovered her voice in New York, she's firmly found her footing in her hometown of Dublin.

"All I wanted to do was be a drummer," the indie-folk singer confesses as we catch up over Zoom on a sunny August afternoon. "Except, I also wrote songs and felt weird about other people singing them."

Speaking from a friend's house in Dublin ahead of the release of her second album Smiling Like An Idiot, she laughs as she recounts how she'd drum in bands as a teenager and then write deeply personal songs in her bedroom. It's a conundrum she's obviously overcome, although it took time.
Following the release of deeply affecting first single "Archie" and touring Europe with folk band Villagers in May, she performed special shows in London and LA in addition to supporting Mitski at her sold-out Belfast and Dublin dates in June. Now, catching a breath after a busy summer, she's gearing up to go it alone on her first headline European tour since the pandemic brought shows to a halt.
The 31-year-old singer-songwriter released her first EP after completing a degree in creative writing at the New School in New York, quickly attracting a committed fanbase and critical acclaim for her misty-eyed folk and breezy indie pop. Prior to releasing her debut album First Prize Bravery in 2019, Richardson had already racked up eye-watering streams on tracks such as "Ruin Your Night" and "Last Train" – and she can count on actress Chloe Grace-Moretz as a fan, setting Richardson's phone alight in 2017 when she tweeted the hypnotic track "Petrol Station" to her legion of followers.
Millions of streams notwithstanding, Richardson is still very much an underdog in the burgeoning Irish music scene, and this yet-to-breakthrough status is reflected by her refreshing candour and easygoing personality. She routinely punctuates her more serious observations and comments with self-effacing jokes, showing she doesn't take herself overly seriously.
Richardson's musical journey commenced as a guitarist and then drummer in bands at school. She went to a state school in Dalkey, a Dublin suburb known for its relative affluence. "When people joke about being from a place in South Dublin, the place where I grew up is where they joke about," she laughs. While her school didn't specialise in music, she was grateful to have a "really great" music teacher who furthered her musical inclinations.
Her first instrument of choice was the guitar, and by the age of ten Richardson had already formed a band with two friends from her after-school guitar lessons. "We'd show up to school with our guitars on our backs, and the place we'd go [for lessons] was about a ten minute walk away so we'd stop at the shop and get loads of sweets first."
The sugar rush accompanied a frenzied start as a songwriter. "As soon as I could play a few chords I just started writing songs. Two other guys in the guitar class asked me to be in their band and we had a rivalry," she recalls, smiling. "At that point I didn't understand you could be in two bands at one time; I felt loyal to my original band and I stayed with them."

Her dedication to band life didn't waver. "We took the band very seriously. We'd make posters for our band, and we'd question each other's commitment to the band. I mean we were ten but I loved it."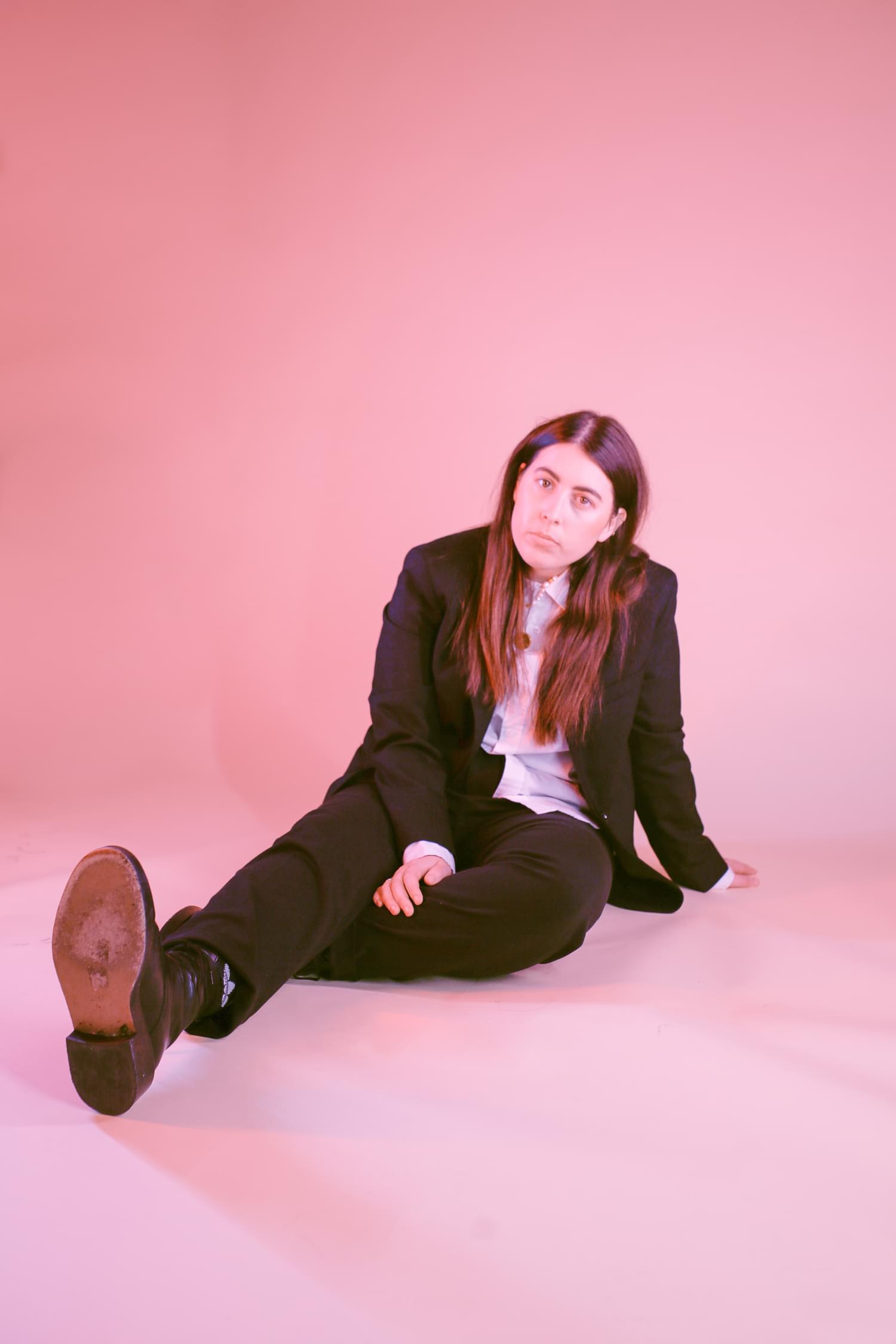 Despite remaining in musical groups all through her adolescence, Richardson stuck to her drum kit and shied away from the mic, content to keep her voice to herself. In fact, it wasn't until she was living as a student in New York – sans treasured drum kit – that she first unveiled her vocal pipes to the world (or rather to the ears of strangers at various open mics in the confines of basement Manhattan dive bars).
The fresh and frenetic energy of the Big Apple encouraged her to step into a more confident version of herself; someone who was no longer afraid to sing in front of people nor hesitant to brazenly chase her dreams. "I remember feeling that anything could happen at any moment. [I had] this unbelievable sense of possibility and spontaneity," she explains.
The celebration of open ambition and hustle that is intrinsic to American culture was a clear contrast to the more restrained and humble Irish way of life. "Sometimes in Ireland we can be a little bit shy about our ambitions but in America nobody is. People talk about their dreams and aspirations much more confidently than we seem to do here, but even then I wouldn't tell my friends in college that I was doing open mics. I did eight of them before I invited anyone."
As the late summer sunlight pours into the living room, Richardson recalls how she felt stepping onto the stage and singing for the first time. "I felt physically terrified. I was thinking, 'why did you put yourself in this situation Sorcha?'. There was so much dread, regret and almost serious annoyance with myself that all of my decisions had led me to this moment," she says, laughing. "Then I did it and I was like, 'that was bad, but maybe next time it'll be a bit better'. I had this idea that if I did it enough times, I would get less scared. My desire to do it was always greater than my fear of doing it," she reflects.

"To live in America is hard when you're not from that country and you don't have a lot of money. There's these things that you don't think about when you're 18 and moving to New York."
(S.R.)
Richardson was stateside for eight years and in the period after finishing her degree she released music online, toured the States, and collaborated with producers in Los Angeles who would go on to work on her debut and sophomore album. Her decision to move back to Ireland at the age of 26 was the result of being unable to afford to attempt to make it as a musician there any longer.
"I feel like I did everything I could do in New York – but I also felt like I didn't. To live in America is hard when you're not from that country and you don't have a lot of money. There's these things that you don't think about when you're 18 and moving to New York, like, I wasn't thinking about health insurance," she explains, before adding: "There was one time when I had to turn down a tour because I didn't have a car."
There's a line in her most recent single "Shark Eyes" that pointedly speaks to her experience of living in and leaving New York: "My love, you're the New York dream / we were nothing at all, we were everything." Alongside a dreamy soundscape of heartbeat synths and her signature spine-chilling vocals, through her lyricism Richardson evokes the mild psychosis of knowingly running headfirst into a relationship with someone who isn't as interested in you as you are them.

Across Smiling Like An Idiot, recorded in her grandparents' living room via Zoom sessions with LA based producer Alex Casnoff, there is a recurrent theme of self-sabotage in the midst of finding love and happiness. "Some of the first songs on the record are all about how I obstruct my own journey to happiness. 'Stalemate' is about letting someone in your life and being really happy about that and then all of a sudden being like, 'Oh fuck you're going to find out who I really am and what are you going to do when you know that?'. There are a few songs that are bouncing with joy, but even in those there's an undercurrent of anxiety around the prospect of loss."
In the case of the catchy "Spotlight Television", the cause of anxiety is external to Richardson as its lyrics grapple with unwanted attention; a side-effect of being queer and in love. Dealing with "situations in which you censor yourself a little bit because you see someone else getting uncomfortable," she admits it was hard to write, and re-wrote the song more times than any other track, although it's now the most "cathartic and fun to perform." Richardson has an eye for seeing the magic in the mundane, which comes across in the arrestingly forthright lyrics sprinkled across this record and her previous effort First Prize Bravery. She documents the moments between lovers that might look small or inconsequential on the outside, but are seismic exchanges that can dramatically shift the trajectory of a relationship.

Finding herself back in her parents' house, after eight years of living independently in one of the biggest cities on earth, felt as if the "rug had been pulled a bit under me," she says. "All of a sudden I was 26 and I felt I'd taken a big step back." She discovered her footing by once again picking up her guitar and writing songs in her bedroom. Richardson decided to consciously commit to "saying yes to any and every opportunity," and she quickly found herself anchored through a community of fellow musicians.
"The music scene in Dublin is very small, everyone knows everyone and it's not competitive at all – everyone is very encouraging of each other. Loads of my friends here are other musicians and I think that's really nice," she says. Grounded and content in her hometown but grateful for what New York gave her, it looks like she's staying in Ireland for the long haul. She adds, smiling: "The musical community and home that I was looking for was in Dublin all along, I just didn't know that."

Get the Best Fit take on the week in music direct to your inbox every Friday