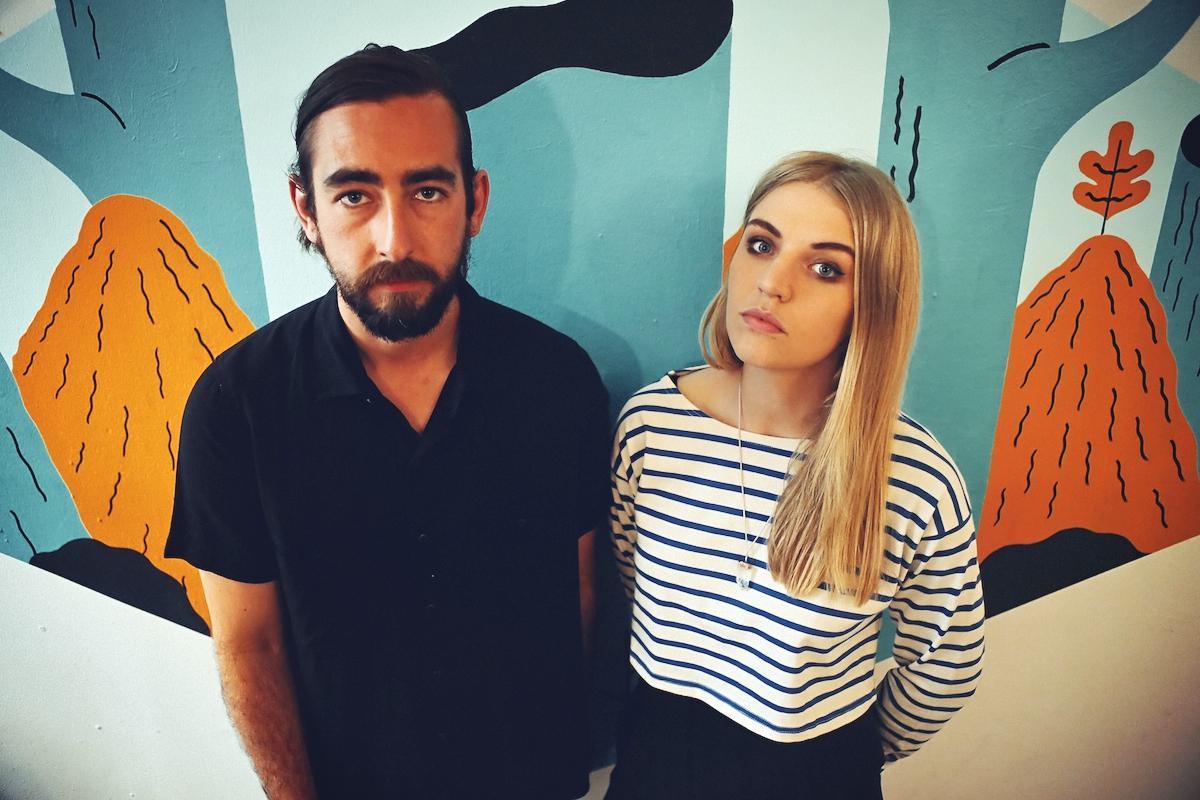 Slow Club: "We still get pretty excited if we've got two Travelodge rooms rather than one"
11 July 2014, 14:00
"This has literally been the best day of my life, bar none."
Much has, quite rightfully, been made about the assured step made by Slow Club mark three towards a whole new . Believe the hype – it's a sophisticated, soulful record, which should not just be heralded for the classy manner in with they polish the best of retro-pop with into a new, modern glimmer, but that they have made said leap feel like the most natural continuation possible of why you, me & our mums loved them in the first place. So is this a reflective mode that we find Rebecca Taylor in, musing on the remarkable journey undertaken from cutesy anti-folker to glamorous leading lady? Well, not quite. She's had a day shopping.
It takes approximately two minutes in the company of Charles and Rebecca (no journalistic convention can justify referring to people this friendly by surname) to realise why, since bursting onto the mid-noughties scene in a whirl of glass-heavy stage props and endearing folk ditties, the humour and charm that they've gone about their business has garnered them such a devoted cult audience of people who don't just love their music, but want to be their best friends too.
We meet this time in the break between the creative stint from which their third (and best) record, Complete Surrender, was born, and the touring schedule that follows it. It's a time that Charles refers to as a "frustrating, weird period where you've got loads of things to be doing that aren't music – you feel like you're ready to go, and it's like you're waiting for everyone else to catch up".
And catching up we are – with the record in question seeing release on Monday, it's gathered near-unanimous critical acclaim (not least from these pages), and sparked an excitement for the household name that Slow Club might stand on the brink of becoming.
Complete Surrender came together after a lengthy tour in a broad spread of venues to promote second album Paradise, and the realisation of what the physical implications of touring really involved. "You realise that whatever you put on the record, you have to tour for two years, and that's been a big influence on me, on what I want to sing – literally the notes I want to be hitting – and how I want to present myself vocally," explains Rebecca. This chimed with the feeling the band got from "doing these big support tours in America. It's a real test for a song, 'cause it needs to hit home a bit quicker with a vast audience like that. An audience of Mumford & Sons fans - it's a different bag to a Leeds audience of Slow Club fans". After a Christmas break to gather their thoughts, the duo came to a very similar conclusion – "the decision that it had to be as simple as possible," Charles explains. By resisting throwing the kitchen sink at every song, the focus on more traditional arrangements ("bass, drums, guitars, vocals – bit of brass, bit of strings") gave the band the blueprint for their more striking manifestation. "But with everything with our band, it'll never be a winning formula, there will never be a real trick to it," Rebecca adds, managing any sense of over-thought, "it just sort of seems to happen, and as long as Charles is smiling at some point throughout the day, and as long as I'm not crying, then that's something we can work with".
They both exude pride at what this simplicity means for their live show, however. Charles elaborates: "We've really tried to step it up this time – there's not a whole lot more going on, but just the way that we've approached it is a lot simpler, and a lot more achievable as humans to get to. When we started the band, we didn't want to be boring to watch live. That was one of the things we both agreed on – we don't want to go and watch a band pretend that the crowd aren't there. Because that just fucking sucks". For Rebecca, it's also being able to focus on what really matters about live interaction. "I've seen a couple of gigs recently – and I don't really go to gigs at all – and I've realised that I love our band, because each songs feels like a number that we're stepping up to perform – we're never going through the motions, and each one's special. And I know we have a laugh – but that's just a coping mechanism. The tears of a clown."
They found themselves in a different place personally, too – describing the joyous flippancy of their debut, Yeah So, as "just us being little children in Sheffield who just wanted to live their lives" and the intelligent, gentle chaos of follow up Paradise as focused on "lots of 'deep thinking'" – Complete Surrender was not just the product of a new found love affair with classic pop and 60's soul, but the ending of another, in Rebecca's case, as well the awareness of being older, and a natural progression to a different set of personal reference points.
Though it's none of these that Rebecca singles out as "key to the future of Slow Club" though – rather, it was getting obsessed with Rumours. "It helped me realise that every single song doesn't have to share a perspective on something, and can still be the same band. With [Fleetwood Mac], there's loads of different people's feelings being slung about, and everyone's involved and supporting each song. For the first two records, give or take a couple, songs felt like one of us stepping out for a moment alone, where now I feel like it's an album by a band. Obviously you can tell who's singing what and who's feeling what, and it's a testament to our friendship that Charles can sit by me and I'll play my song about feeling awful, and he can get on board and help me write that. And vice versa, I can sit by him and help him write songs about wanking, or whatever he writes them about."
The result is a record that's not bothered about being about "something", or sounding one particular way – but rather a portrait of two people at one point in time, knowing which moments can be boldly shared in the spotlight, and which hit harder in the intimate surrounding of a candle's warm glow; about what is fixed and dependable, and what is wandering; about what you can call home, and what is still to be discovered. In preferring this Rumours-inspired cast of voices, Complete Surrender is successful in the confidence with which it presents both sides of a situation, where two songwriters explore the emotional multiplicity of the record's context together, rather than tugging in two different directions. Songs at the start of the record can explode into searing, angry bursts of passion, before being answered by slender slivers of quieter reflection as the record is rounded off. The record's title operates in the way that they bring their wit and sensibilities to these experiences. "It wasn't intended to be this grand statement that would make people question stuff, it just seemed like two really beautiful words together, and it starts to take on more meaning the further away we get," Charles elaborates.
The skill with which they capture these binaries is not least due to the different creative personalities of the people writing it. Charles explains:
"We both work in different ways. Becky's very good at writing quickly, and I can't do that at all. I have to have months of stewing – "I'm not – too much telly to watch," Becky chips in.
" – I really love making demos, it's one of my favourite things to do, to go into that world. I think there was a lot of time spent making demos and trying the songs in as many different ways as possible. Last time, we didn't have the capabilities to make them usable, to go on the record, but this time we were much more prepared, and we used some of the demos as guides for the record. That's really helped – slowly, as a band, it will become just one process, as opposed to two".
Where Becky's impulse is more progressive, brimming with bold ideas that push towards new ground, Charles feels more engaged with more vividly rendering the limits of the territory they claim. It's something that's mirrored, to an extent, in their vocal styles, with the former's powerful delivery blended with Charles' mellower tenor. With these slightly different outlooks, I ask – would either of you ever consider working solo?
"I think we'll both make a record on our own. Just because there's things that I say no to that Charles likes, and there's things that Charles says no to that I like. I think it would be a really great exercise. I've actually started mine! It's filthy r'n'b. I'm thinking of finding a cool teenager, giving to her, and just sitting back and reaping the benefits. By the time I've got enough time to do it I'm going to be too old – no-one wants an old girl singing sexy songs by themselves….
Isn't that great though, that there's a whole lifetime to do it? And the more we do, the more I love the idea of Charles and me making so many records, and that we always come back to make another Slow Club record. I don't think we'd ever be 'going solo'".
For the moment, though – they're sitting on a record that, if not consciously, embraces a bigger, bolder sound that hints at a more mainstream audience. Recorded with Colin Elliot, best known for working with fellow Sheffielder (and Slow Club fan) Richard Hawley, and released through a larger label – I posit whether the record's blueprint was scribbled with a larger audience in mind?
"We're not trying to do anything – all we're ever doing is very selfishly trying to do something that we're going to enjoy," Rebecca responds. "I never wanted it to sound like a calculated effort to sound more broad ranging, but by happy coincidence the songs are a bit poppier, and people are taking to them a bit easier – and that's bloody lovely, and I'm loving every minute of it."
Whether the record proves to be the rip-roaring success it deserves or not does seem, very refreshingly, of secondary concern. Having skipped university to go full time with the band as they turned 20, being a two piece meant that thanks to a pair of supportive parents ("and a few crisp adverts in Australia"), the people who make up Slow Club seem wholly recognisable to the people they were when they started out – with their feet firmly planted on the ground.
"The idea of making any real money has never been on our radar, ever, and it still kind of isn't," explains Rebecca, "and that's a really great place to be making music from. We've never really tasted these finer things. Today, I've been shopping with a stylist, and it will never be better than this. And that's not the greatest expense to anyone – but people who get signed big time get used to these amazing vans, hotels, parties – you know, we still get pretty excited if we've got two Travelodge rooms rather than one. I think that the longevity of our band comes in that – I don't think we're going to feel very hard done by when we don't have a really nice van."
In the context of one friend group made up of insurance brokers saddled with £35,000 of debt, Charles describes feeling "really grateful that we were able to just jump off that conveyor belt. This is an amazing way to live and spend our youth. I hope that we can do it for another record. You're just at the mercy of people who buy records, and hopefully we've done enough to make another one."
"As much as I love celebrity gossip, I'm not poised for going out with Calvin Harris just yet. But I do feel this complete confidence in that fact that there's a throng of people that aren't going to desert us, and would always be there. I feel that if you like Slow Club, you're going to like the record – it's a very warm, comforting knowledge. And also, we're happy as bloody Larry at this point – so if we can reach a few more people, do a few more things, and can go to Topshop a bit more – great. But if not, we're pretty fucking lucky, and it's a lovely thing to have a creative idea and have somewhere to take it, and some amount of someone to give a shit about it".
It appears that amount of shits is about to blow up exponentially. Whether it's in person with each other, on-stage with their fans, or on record – Slow Club have always possessed a hugely enviable communicative power. On Complete Surrender, it has bloomed into a narrative that will keep you company all hours of the day – from the height of losing your rag dancing through your late-night lower ebbs. It's the spark you've always loved, just burning a whole lot brighter.
Complete Surrender is out Monday 14 June via Caroline International.