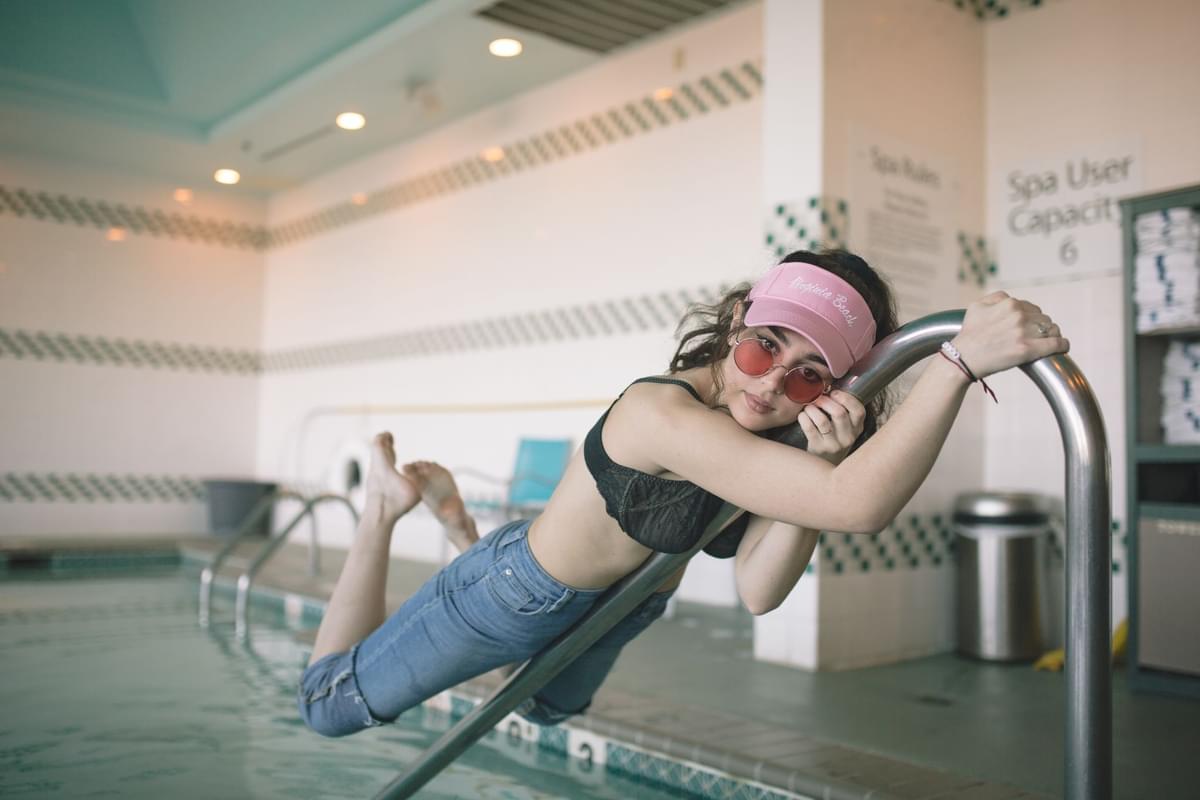 On the Rise

Samia
18 August 2020, 12:30
Coming of age stories aren't exactly new ground for artists when it comes to expressing themselves.
Just look at the reception of Greta Gerwig's award-winning portrait of adolescence, Ladybird, which turned her personal story of a small-town girl into a full-blown triumph. As you learn more about New York songwriter Samia Finnerty's teen years growing up in LA, it seems obvious to draw a cinematic comparison. Daughter to American actor Dan Finnerty, and actress and activist Kathy Ann Najimy (best known for her roles in timeless teenage classics, Sister Act and Hocus Pocus) Finnerty is no stranger to the bright lights and big city. Not least thanks to her swift ascent through the digital rankings early on her career.
The very same year that Gerwig was releasing her semi-autobiographical script, Finnerty was experiencing her own personal revelations. Fresh into her early twenties, the songwriter found herself regularly throwing roughly recorded tracks onto the internet just so that her friends would stop telling her to do it. 'Someone Tell The Boys' was one such track, written as a "joke to make fun of these boys who would sit in dorm rooms and wouldn't let us talk", she tells me from her home in New York. So it must've been surprising then, as she roamed around her parents' place one afternoon, to find that she'd jumped from 3,000 to 13,000 streams in one day.
"I didn't fully understand the power of Spotify until that moment and definitely didn't understand how they could have found my song. I was in my parents' bedroom, like, touching their stuff while they weren't there," she recalls, drolly. "I was looking at my stats which didn't seem like it was gonna yield any results because it had been the same the entire time that I've had music online and I was shocked." 'Someone Tell The Boys' first appeared on the platform's Discover Weekly playlist and has since racked up over two million streams.
But despite picking up the most plays for her as an artist and the added notoriety for the indie artist, the track remains something of an anomaly in Finnerty's body of work. "It's so funny to me that 'Someone Tell The Boys' resonated with people in the way that it did. It's such a cheeky satirical thing to me that I'm trying to be very supportive of the fact that it has such a sincere effect on other people and trying to be respectful of that, of course". It's been three-years since Finnerty's music first found its way to the masses and while you'll still find her tracks slipping into the platform's Fresh Folk playlist, the world has changed irrevocably and so has she.
Earlier this year, the musician shared a taste of her forthcoming debut. Gone are the mighty riffs from the guitar and instead we enter into more mesmerising melancholia. But the unifying presence between both phases is her staggering vocal range, gracefully flitting between octaves with the same bone-shaking power as equally soulful songwriter Lucy Dacus. By turning inwards and stripping things back, Finnerty has found a more authentic way to explore her vulnerabilities. On the process of making the debut, she reflects: "I started to be more intentional; who I was listening to, the people who inspired me and that definitely was a shift".
Finnerty documented that shift earlier this year with the release of the first single from the new record, 'Is There Something In The Movies?'. In the chapters of Finnerty's life, the song is a portal into those early years growing up in LA. Her deft lyricism referencing an awareness of the casual cruelty of an industry plagued by misogyny and its ill-treatment of young actors: "Everyone dies but they shouldn't die young / Anyways you're invited to set". Growing up in a household of actors, she became all too aware of the realities of fame and its impact on those around her. "I had felt disenchanted with the entertainment industry for a long time, not because of the behavior of anyone I knew who was involved with it. But more just like systemically how I saw it working and affecting people that I loved".
Rather than after school auditions and agents then, Finnerty became enamoured with the idea of songwriting and performing. From the age of fifteen, she would return home from school and immerse herself in the back catalogues of indie giants The National and Nirvana who gave her love for poetry a newfound focus. "It was kind of perfect timing for me because it was just when I became brave enough to take my guitar to an open mic night and fail..a lot", she says, emphatically. "And yeah, I mean, the environment [in New York] is so conducive to that kind of thing and I don't think it is as much in LA where I was before so I'm really grateful that I came when I did".
Finnerty quickly became curious to meet other like-minded music types, hanging out at dive bars and grassroots venues in Brooklyn where artists and creatives were supporting one another and expressing themselves freely and without criticism. A community and ethos that provided a welcome balm to previous flirtations with the arts on the West Coast, as she recalls fondly. "I found this sort of authentic bubble that would support me and not scare me as much as the other stuff". She soon found her footing in New York as an artist, touring the open mic nights of the Lower East Side and Manhattan.
Even with her allegiance firmly rooted in music-making though, Finnerty will admit she "dabbled in acting". In fact, you'll find her youthful face sporting a training headband and staring out from the online program of Pulitzer-Prize nominated playwright Sarah DeLappe's The Wolves. The play premiered Off-Broadway at The Duke at 42nd Street and explores the incandescent portrait of an all-girl, indoor soccer team bouncing off conversations around sanitary pads and menstrual cycles, hangovers, and Harry Potter.
I mention this to Finnerty as, it seems to me, that there's something of a symmetry between the play's exploration of raw adolescence that mirrors her reflections around identity in debut record The Baby, due out this month. "That's such an interesting observation that really rings true for me…" she agrees, thoughtfully. "That [experience] felt as authentic to me as music does, and that's due to Sarah DeLappe being a genius and being able to reflect the experience of a teenage girl in such a beautiful way. I was so inspired by the way she told stories of adolescence and that is absolutely woven into the way that I wrote The Baby".
DeLappe has opened up about her intentions for the script, explaining how she wanted to see "a portrait of teenage girls as human beings - as complicated, nuanced, very idiosyncratic people who aren't just girlfriends or sex objects or manic pixie dream girls but who are athletes, daughters, students, scholars and people trying to figure out who they are in this changing world around them".
In sound and subject matter, it's this exploration of self that The Baby also delivers. Much like DeLappe's group of misfits, Finnerty is looking to distinguish herself in her own right whilst remaining a good team player. And, conversely, how to show up for yourself when there's no one else around - a lesson that many of us are still trying to figure out. This sense of introspection was no more vivid than when she began heading out on the road across the States for the first time, as she recalls.
"We couldn't afford to tour with the full band for the first year and so I was touring just with me and another guitarist. Another friend. It was terrifying. It felt like an experiment and challenge for me to see if I could bring the energy that I had practiced for so long with the full band and do that in such an intimate way with just two people on stage". Especially when that stage happened to be supporting sizeable rock bands like Cold War Kids and Minneapolis emo rockers, Remo Drive. "That was nerve-racking. It felt like being 15 again, and bringing my guitar to an open-mic".
And just like those open-mic nights back in Brooklyn, Finnerty had found her community again. Many of her tourmates have become collaborators as she explains how she priortises working with old friends and kindred spirits. The songwriter workshopped early demos of The Baby with members of the band Active Bird Community. Likewise, the album was produced by Jake Luppen, Nathan Stocker, and Caleb Hinz, the former two best known as members of indie-pop rebels Hippo Campus.
"I spent two years doing a trial and error process with a lot of different producers and a lot of different musicians. I was trying to find the perfect way to communicate what I had in my head and to support the songwriting. And I struggled with that. We ended up just sort of releasing music that didn't have a through-line and wasn't necessarily consistent because I just couldn't figure it out. But I wanted to keep putting music out because I love doing it. It wasn't until I found that touring community with my friends from Hippo Campus that I…" she falters. "I'm just shy," she says, with a little laugh.
"I was having a hard time being as open and honest as I wanted to with people that I didn't know in a workspace. Once I started working with the guys from Hippo Campus, who were already really close friends of mine, who knew me and who I trusted, it was like, night and day. The difference between how I felt I could be creative with them". The final addition to the recording squad came in the form of LA producer, Lars Stalfors (Foster The People, Soccer Mommy) whose autonomy pushed Finnerty to feel the fear and do it anyway. "[With Stalfors] it was a similar immediate friendship. An immediate ability to be vulnerable. He would let me go off and do my own thing, experiment with stuff, and make mistakes".
"I'm excited to talk about The Baby with people who are affected by it in some way. That's my favorite thing... to hear how people have interpreted the songs and how it's resonated with them and experiences in their own life."
In June, Finnerty released follow up single 'Fit and Full' which harks back to the bright and breezy rhythms early doors fans will know and love. Immersed within the rosy guitar slides though sits the important discussion around our relationship with physical fitness and how lifestyle choices can impact our happiness. Written with her friend Tom, Finnerty "wanted to showcase the most dynamics that will exist on the record" alongside some of the slower tempo ballads. "Because a lot of the time it's what I'm listening to and how I feel most authentic communicating my feelings. But I loved the process of writing 'Fit and Full' and it's definitely the most upbeat song on the record".
It's these kinds of cross-collaborations where Finnerty clearly seems to thrive. The fine-tuned dynamics of her recording team are bound together through a common thread of shared values; authenticity, autonomy, and an innate ability to understand one's role within a far bigger picture. In this case, Finnerty's much-anticipated debut. The same chords are woven through her politics as an artist, particularly against this year's existential backdrop. Just as The Baby combats her vulnerabilities with fearlessness and maturity, Finnerty projects the same kind of importance to her social media presence as well.
Originally pegged for release earlier this year, the album's announcement moved back a couple of weeks as the dates came so close to the news of George Floyd's death. "That was absolutely not the time and place for my song about body image", she explains, stoically. When she did eventually announce the next single from the record, she pledged to donate all pre-sale proceeds to the NAACP Legal Defense Fund - a legal defense organisation fighting for racial injustice.
More recently, Finnerty took to Instagram to thank her fans for the kind words around latest single, 'Big Wheel'. In the same post, she takes the opportunity to direct their attention to the devastating explosion in Beirut urging people to donate to the Lebanese Red Cross via the link in her bio. Finnerty takes her name from her Lebanese American maternal grandmother, Samia Najimy.
This humility is also rife within The Baby's 11-strong vignettes which will fill the geyser shaped hole that Japanese singer-songwriter Mitski left after announcing her hiatus last June. Sparse, and sparkling, 'Stellate' finds the songwriter grappling with power imbalance and a fear of confrontation as she sings "​You buy me a big bucket / and I scream into that / and when it overflows you want your money back". Meanwhile, slow jam 'Waverley' conjures up the same sort of legendary storytelling of Suzanne Vega in 'Tom's Diner days, with an actor leaving his number on an old receipt.
Documenting your growth as an artist and as an adolescent is no small feat; for a self-professed introvert the process of inviting others to collaborate with your innermost thoughts must have been quite an intimidating. How did Finnerty cope with that intimate dissection? Again, it's back to #squadgoals as she explains. "[Caleb] Hinz is a producer and has a band called The Happy Children. He made one of my favorite records of all time that I would listen to on repeat the summer before we made the record. There was something so magical about being able to genuinely be a fan of someone and then be able to pry open their brain to make something for me. It felt almost disgustingly cool and it should not have been able to happen. It was staring at my heroes in a museum".
In the years between her early demos and releasing this full-length body of work, Finnerty has not only moved passed the legal age of drinking in the US (much to her Mum's relief, no doubt, who pops up on occasional old Instagram posts quizzing her on "what she's holding" about a darkly coloured liquid in a glass) but also into a new age of relatability.
The growth of Instagram Live during the pandemic proved that we're all looking for less polished, more candid connections. The Baby showcases the realities of growing up, of feeling the fear and doing it anyway. And not just for the 'gram. And it's this idea of shared experiences and personal interpretations that Finnerty is most excited about when it comes to the release, she reveals. "I'm excited to talk about [The Baby] with people who are affected by it in some way. That's my favorite thing... to hear how people have interpreted the songs and how it's resonated with them and experiences in their own life".
But, as Finnerty knows only too well, sometimes the conversation shifts in unparalleled ways so while she's keen to start reading the reviews, she's also mindful of our ever-changing news cycle at the moment. "I want to see what needs to be happening during that time and what we need to be talking about and try to focus on that first". You're left with the feeling that while Finnerty's youth might've swung between both sides of the States, community and compassion are deep in her roots. And sometimes that's as much about listening as it is about having the loudest voice.
"There's a great interview with Kurt Cobain where they ask him about "Aqua Seafoam Shame" (a line mentioned with the band's song, 'All Apologies')", she begins. A quick Google of this anecdote and you'll find a sprawling Reddit thread full of fan interpretations of his seafoam green guitar coupled with the shame he felt when Nirvana blew up. Finnerty continues: "And Cobain says I have no idea what that means. I just wanted to see what people would think it meant". I offer up that it's quite liberating to hear that as a journalist and reviewer as sometimes artists can get quite precious about analysing a song in the wrong way. In her best breezy, New York nonchalance, Finnerty responds: "I don't care at all. I just want people to listen".
The Baby is released on 28 August via Grand Jury Music
Get the Best Fit take on the week in music direct to your inbox every Friday