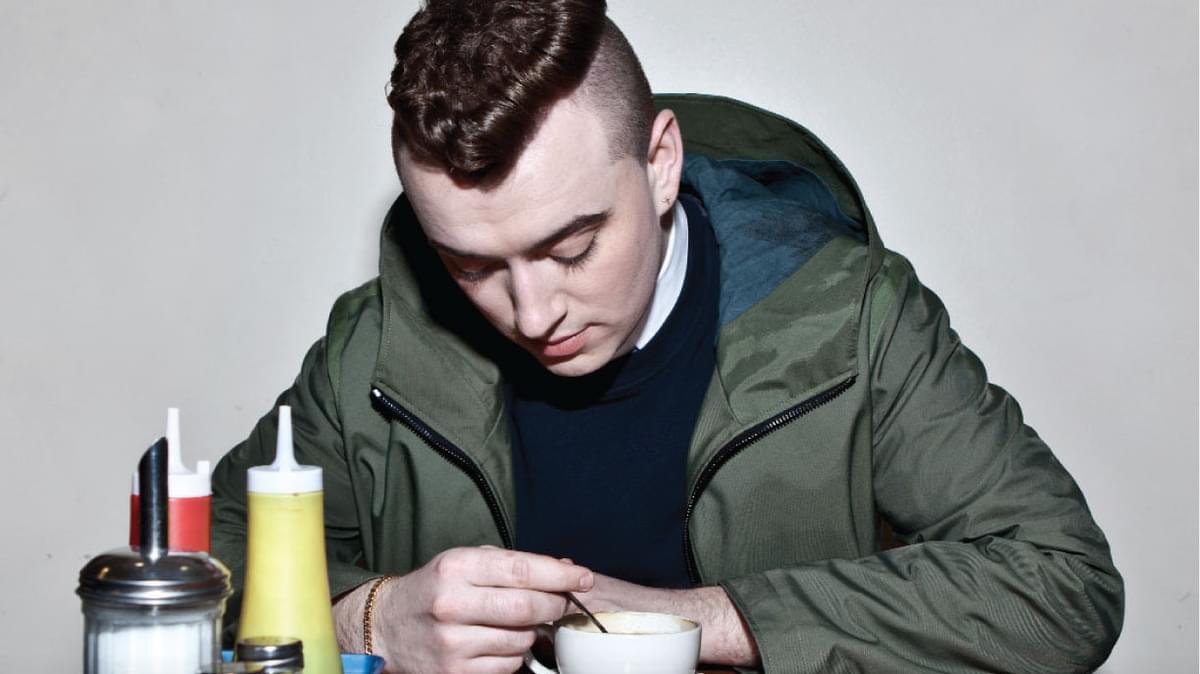 Sam Smith: "Every day I think about how insane this is"
14 February 2014, 14:00
Sam Smith is way more than your average crooner. The 21-year-old Cambridge singer was inspired by the R&B and soul singers that his mum would listen to in the car when he was a child, which then led him learning jazz and musical theatre. This combination not only taught him the discipline and technique to harness and control his voice but also push his vocal range to the limit.
Many people got their first taste of Smith from his collaboration with deep-house duo Disclosure on the song, "Latch", a track that combines of falsetto melodic vocals on top of a smooth electronic beat. He soon released his own track, "Lay Me Down", which quickly proved that he was well on his way to being the next big star. Critics and music lovers alike were drawn to his honest, thoughtful and emotional lyrics, which not only made him a mainstay in the limelight in the UK but also abroad.
"I've got a UK tour, an American tour and a European tour," he revealed to Best Fit, which are all sold out. "If I'm honest, I'm excited about the photo shoots and just to meet fans, and I'm also excited to travel. My mom and dad took me and my sisters everywhere as a kid, and I love seeing different places and eating different foods and experiencing different cultures. I'm really excited to travel the world this year and see the places I've never seen before".
And if you're still skeptical about this artist, he has the accolades to prove it. Not only did he win the BRIT for Critics' Choice in 2013, but he was also named BBC Sound of 2014 - all before he released his debut LP.
But not to worry, Smith is set on dropping In the Lonely Hour, which he said was essentially "his diary", on May 26, with his next single, "Money on My Mind", being released on Sunday.
Best Fit had to the opportunity to chat with Mr. Smith about his bartending beginnings before diving into the world of electronic music, putting together an honest album and how he maintains his high voice.
What's your first musical memory?
My first musical memory was my mum playing Whitney Houston's My Love Is Your Love album in the car.
You have a background in musical theatre. How did that influence your approach to music?
I started off in jazz bands, and then after that, I got into musical theatre. But while I was in musical theatre, I still had a passion for pop music. So I think it's a combination of those three styles altogether that made me sing the way I do now.
Your vocal range is just massive. You can hit the high notes and get back to the low tones. What was your first reaction when you realized you could hit the high falsettos?
Throughout my whole life I actually didn't start listening male singers till last year. I think the reason I sing so high is because I spent my whole life mimicking the likes of Whitney and Chaka Khan, and that's why I have a high voice. And it feels natural to me to sing like that.
What were some of the songs you were singing when you were a child?
I loved 'My Love Is Your Love' Whitney Houston]. I loved Chaka Khan's 'Through the Fire,' Aretha's 'I Say A Little Prayer.' Etta James' 'All I Could Do Was Cry,' that's one of my favourite songs of all time. Gosh, there's just so many. There's so many songs that I love.
You are quite emotional when you sing, especially on songs like "Nirvana", and you are only 21. Where does all this passion and emotion stem from?
I'm a highly emotional person. I think if you spoke to my mum, she will tell you that I've been that emotional since I was 12 years old. My family always wears their hearts on their sleeves. If we're feeling something, we tell each other. That's what I'm like with my music. When I sit and write songs, in the moment, I project the way I feel in the song. I think you can hear that. And every time I sing it, I feel what I felt when I was writing it.
Now onto your entrance into the spotlight. "Latch", the song you did with Disclosure, was essentially the way a lot of people were introduced to your sound. So how did this partnership happen? And what drew you to electronic music, considering your prior musical background?
Basically when I moved to London, I was working in bars for about two years. And my manager Elvin introduced me to Jimmy Napes , who wrote "Lay Me Down" with me and Elvin. Then managers loved it as well, and they showed it to Disclosure, who also loved it. It was just coincidence that they were working on their album. They got me into the studio, and to be honest, I didn't know a thing about dance music until I met them. And I didn't understand and all I really know was pop and soul and jazz. I didn't understand when I was listening to club tunes with lyrics in it. Then they were playing this beat, and I thought it was great. I thought it was wicked, and we basically wrote a classic song on top of it that day, the first day I ever met. It changed everything because it opened my eyes up to a whole new world of music.
Since dance music was not part of your repertoire prior to "Latch", and then you released "Lay Me Down" a months later, how did you feel about the positive reaction you got from the music community as a whole? Were you nervous at all about any of the releases?
"Lay Me Down" was when I was really scared I'd say. It's the very beginning of my career, and I was still working in a bar when we were working on this. That was the only the only time when I was actually quite scared. We released "Latch", and the response to it, me and, of course, Disclosure, was so positive. were talking about me after that song, which was great, and I kind of felt pressured a little bit. I've gotten into the music industry with this, but now do we stay safe and make an electronic record? But I knew that we had "Lay Me Down", and I knew that is where I wanted to be. Those are the songs I wanted to sing. So we did it. We recorded the video, and we put it up. And the response to that song has completely blown my mind. "Lay Me Down" is the reason I'm signed. That truly changed my life.
And now onto your debut album, In the Lonely Hour. It's being released on May 19, a week after your birthday. How does it feel to know that this entire body of work is finally going to be heard?
Just such joy, and it's surreal. Every day I think about how insane this is. This album is so personal. When I'm singing it, I'm not thinking about anything else. My feeling at the moment is that I'm releasing a body of work, which to me is like a diary. Everyone's going to know my business. That's my main feelings at the moment, that I'm just really proud of putting out something so personal. I just hope people get that and listen to it and understand how much I put out there on the line.
Since it's so personal to you, for people who haven't heard your music yet, what song do you think is the best way to get to know Sam Smith's sound?
There's one song on the album that's my current favourite. It's not going to be a single. It's nothing like that. It's going to be an album track. I wrote it with a guy called Eg White , and it's called "Good Thing". I think that is the most personal song on the record just because I'm not even properly singing on it. I was really sad when I was writing it. When we went into the studio, I was also numb when I was singing it. I wasn't trying to sing, and I think it's the most honest that I've ever been on the record, and so I guess I would share that one with people.
In the Lonely Hour isn't even out yet. You have a single currently out and one on the way. Yet you have already received a number of accolades including a BRIT and being named BBC's Sound of 2014. Do you feel that all of this put pressure on you to do surpass expectation?
I've been asked this before, and I say the same thing. I'm not. I would feel pressure if – one, my album wasn't finished, because I would have to finish it. And second of all, I would definitely feel the pressure if the hype around me was not my music and was about my personal life and not related to art. So I have this album that I'm so proud of and worked so hard on, and all I am is excited to show. It's so personal that if everyone hated this album, it doesn't matter because that's like someone saying I hate your diary. It's my emotions and that's what my life was last year. I can't change that, and I feel like I did everything I can to show the true me and be as true as I can.
The "Money On My Mind" single is released on Sunday. In The Lonely Hour, the full debut LP, is released on May 26th via Capitol Records.
Get the Best Fit take on the week in music direct to your inbox every Friday