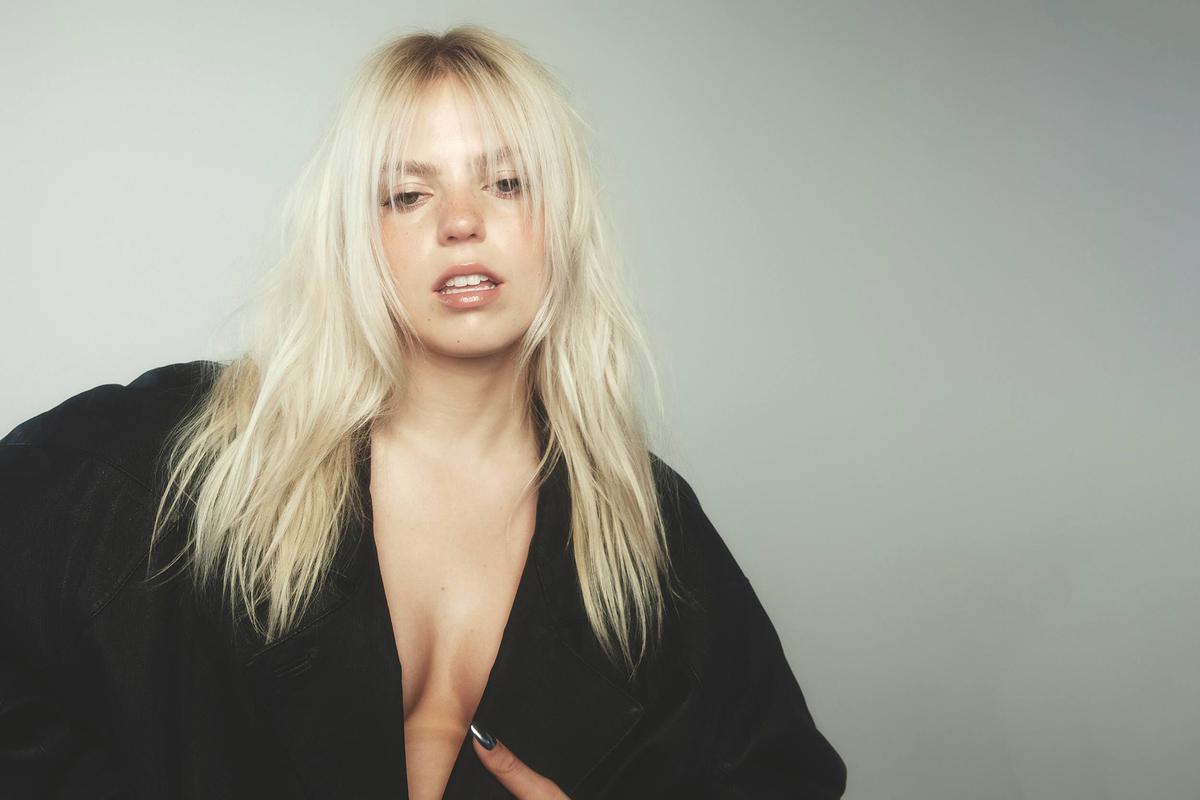 Reneé Rapp is done trying to convince people that she's an artist
11 August 2023, 06:00
Reneé Rapp is starting a new chapter with the release of her debut album Snow Angel, a body of work that doesn't hold anything back, she tells Kelsey Barnes.

When Reneé Rapp sits down to chat, it's the second attempt to conduct this interview — the first getting cancelled due to a delayed flight and a random freak storm. It might be a little on the nose when you think about how chaotic her life has been since the release of Everything to Everyone, her debut EP, which came out in November of last year.

Aside from a brief stint in a girl group in her teens and portraying Regina George in the Broadway musical Mean Girls, her EP marked her first foray into music. But, despite going viral and listeners finding solace in the tracks, it's not something Rapp feels connected to, especially as she approaches the release of Snow Angel.

"This album is a much better representation of who I am," she tells me. "Sonically this album makes a lot more sense in my brain — it's much more like music that I would listen to." So, how exactly does that differ from her EP? "I don't think I would really listen to a lot of those songs because I was just fucking trying back then. I'm glad other people did [listen to the songs] and that's amazing, but it's just not for me. This album has a lot of different themes. Thematically, it's more defiant and I'm sure of myself, even if it's in situations where maybe I didn't necessarily come out on top."

Rapp grew up in Huntersville, North Carolina and spent her childhood performing in musical theatre. Eventually this led her to New York, that aforementioned Broadway gig, and then to screens everywhere after landing her first TV role in The Sex Lives of College Girl. When it premiered, her character Leighton Murray, a rich girl from New York who realises she's a lesbian, resonated with audiences and instantly became a fan favourite. Although this catapulted her into the mainstream, it's something Rapp has always seen as, to put it bluntly, a means to an end. Just a few weeks after our interview, she'd let the world know that she'd be stepping away from the role entirely.

"I feel like this [pursuing music] has been the ongoing chapter that I've been trying to convince everyone of," she explains. "This [music] is the thing I was always most excited about. Other things that have happened along the way have been so sick — cool opportunities that have taught me a lot and it definitely put me to where I am now. But I'm so happy to finally be doing music. It just feels like me… I feel like a full version of myself when I'm doing this."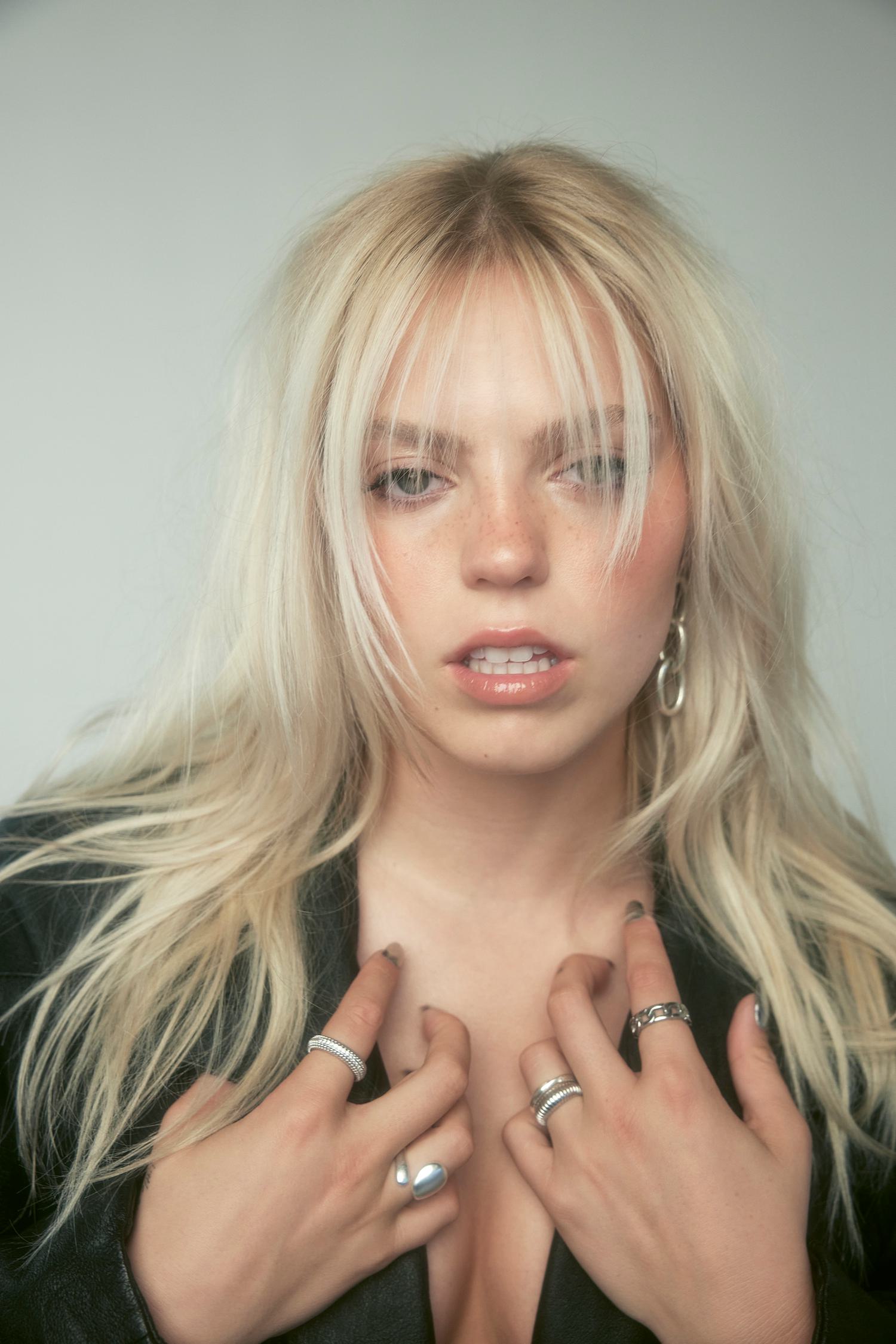 The crux of Snow Angel is Rapp at her truest: overthinking and over speaking as a way to say everything she never got to say or processed in the moment. She says it herself in "Talk Too Much", a song about her tendency to overthink: "Having said all that: do you still want to be with me?". This breathless question sets the tone for the entire record — a collection of songs that show Rapp trying to make sense of every feeling and experience.
A standout track on the album is "Gemini Moon", a song where Rapp sings "But really I should just be better to you", almost forcing herself to look in the mirror to face what she's been running away from. In true Rapp fashion, she finds those answers in the moon.

"Bad shit always happens to me on a full moon," she laughs. "Ever since I was a kid, I remember my 10th birthday was an awful birthday and it was a full moon. I've always just felt very in tune with that.. Not in a witchy way, just in a very sensitive way. I was in a relationship prior to the one that I wrote 'Gemini Moon" about and I got a call from this person and [what they said] was a really shitty thing to say and do to somebody," she explains. "I was so fucking pissed, sad, and alone. This was over the phone with somebody that I'd been with for years and it was just really jarring. I remember walking outside, and looking up and being like, of course, it's a full fucking moon."

Describing the situation as "wishy-washy" and "two-faced", qualities that are typically thrown in the faces of Geminis everywhere, when Rapp began to write the track she realised that day it was (surprise, surprise) a Full Moon in Gemini. "I was having this situation with my girlfriend where we just started dating and it's the first time I've been in a relationship since I was in love with someone. I'm afraid that I'm not doing a good enough job or that I'm psyching myself out, almost like I don't know how to feel. We looked it up and it was a Gemini moon and I said,'Jesus fucking Christ.' It is just insane. I'm a Gemini rising, so I've always felt very connected to the moon."

To call a female artist confessional is to fall into stereotypes in music where women are branded as 'honest' and 'vulnerable' when talking about their feelings and experiences through songs and men are just described as 'artists'. Some readers in past interviews have felt like Rapp is too cocky, almost bordering on being brash. On the contrary, she just knows what she wants. She is confessional even when it doesn't put her in the best light. And the degree in which Rapp resolutely refuses to be boxed in could be off-putting to some — but that doesn't mean she should mask parts of herself. In turn, this mindset weaves its way throughout the album.

"Don't get me wrong, when I was writing "Snow Angel", I didn't know if I'd love to put it out in the world," she admits. "But, at the end of the day, I'm not making music just to keep it for myself and sit on it. I'm just not that kind of artist. I think a lot of people are and I think it's cool as fuck. It's mysterious and exciting and sexy, and I am not very mysterious or very sexy."

The album was penned mostly with American singer-songwriter Alexander 23, a person who turned from collaborator to someone Rapp calls a "best friend." A breakthrough moment for the pair was writing the title track, an experience that she now recalls as a catalyst to the album's creation.

"It was immediate," she answers when asked about whether she knew "Snow Angel" would be the title track after writing it. After writing session after writing session, something with Alexander felt different. "He was one of the first people that I was talking to that I was like, Oh, you actually think that I'm interesting. I also think that I'm interesting, but it's really nice that somebody else also kind of sees that and was really intrigued by a lot of the quirks and things that I would say that I think would go over a lot of other people's heads."

The music industry is plagued by self-serving artificers, something that Rapp can sniff out instantly ("It's a lot of yes-men that don't give a fuck — they just follow a formula that works for them"). But with Alexander 23, she didn't feel like he was using her as a career move to open other doors.

"He was one of the first men that actually really listened to me and valued my opinion musically. We are very similar — everybody said we were going to be before we met. Then, from the second we met, we just started making fun of each other. I thought, 'We're just going to get along very well'. He also feels really comfortable checking me — if he thinks something that I'm doing is not good, he's going to tell me. I appreciate that. And if I think something that he's doing is not good, I'm going to tell him and he will accept it."
When touching on writing sessions — a thing that can be incredibly vulnerable — Rapp agrees with how jarring it can be to bare your soul to someone and not feel like you're being heard. "It's fucking annoying, so fucking annoying," she states. "I felt like I had to do it [writing sessions], but writing with him I realised I didn't and I stopped working with literally everyone else."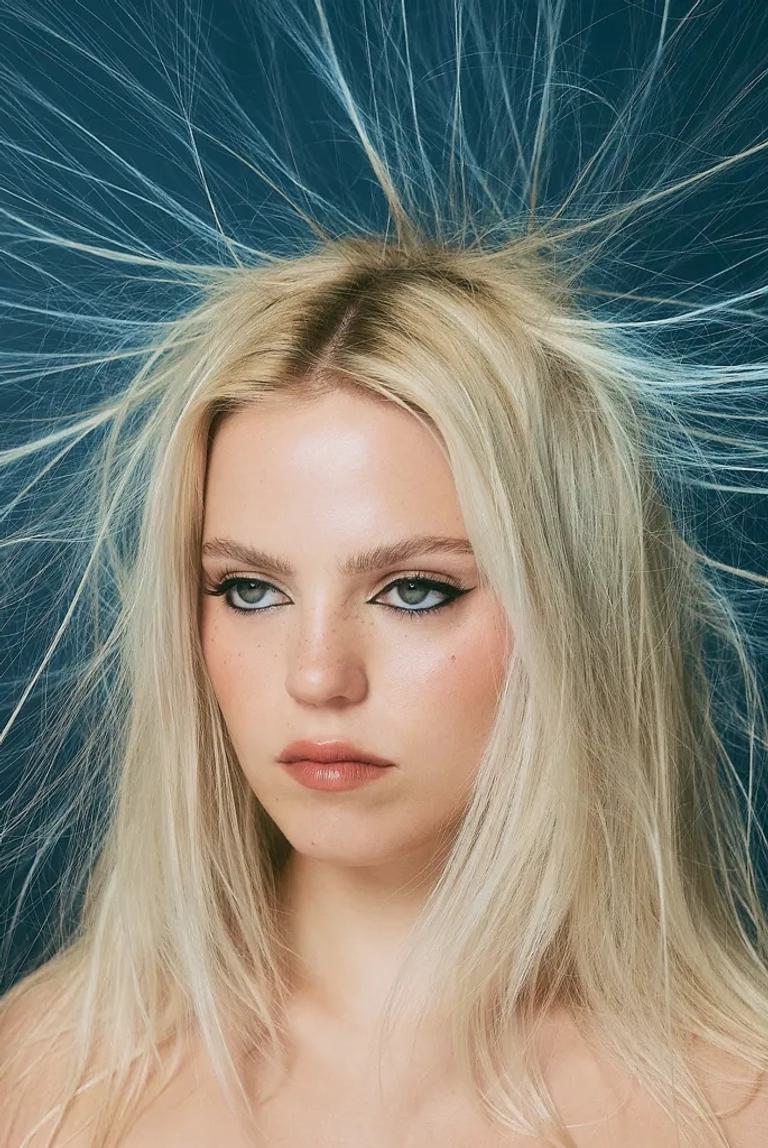 It's apparent that Rapp isn't afraid to speak her mind. On the punchy track "Poison, Poison", she sings "Yes I am a feminist / but bitch you're making it hard for me to be supporting all women". Some might find the lyrics jarring and anti-feminist, but it's a song where Rapp is reclaiming her power after a toxic situation.

"I had tried to write so many iterations of that song about this situation because it is so complex and frustrating and sad," she explains. "I wrote so many versions of it that were really sad and, for lack of a better word, I was already the victim in this situation. I've actually dealt with enough of like mental fucking strife so I'd like to maybe take my power back a little bit. I didn't want to do exactly the same thing that this bitch did to me. I'm going to do this in a way that is everything you have done and how you've made me feel and I am stepping back because I am never going to come for you like you have fucking come for me. It is not worth my time — heal on your own. I love to be able to rise above, but also after a couple years of rising above with somebody… I've actually had enough. If you don't like me, that's fine, but shut up about it. If you're obsessed, just say that."

In a past interview, Rapp stated that she retained "a lot of hateful stuff" growing up and still struggles with self-judgement. It's something that she is still working on, but even more so during the writing and recording of Snow Angel. "With this record, specifically, I was happily forced to look at how I was treating other people, how I was treating myself, and how that was affecting other people," she expreses. "In songs like 'Gemini Moon', that isn't a happy song but I'm not blaming somebody else for how I feel. It's me saying, okay, I actually need to do some work internally. I got to figure out my shit on this whole record."

As a whole, Rapp finds the album a lot more reflective than her EP, especially when taking songs like "Poison, Poison" and "I Hate Boston" into account. "I've actually gotten past the point of hurting like that," she says, referencing the themes in "Poison, Poison". "Now I'm in this space of like, damn, bitch, I was really rooting for you. Now, it's like, what do you want me to do? I tried to be your friend and I tried to be your friend's friend. What do you want?". Whether it feels like she is looking at a mirror and addressing everything she needs to say is something she's in agreement with. "I'm not necessarily proud of… I don't cosign those feelings," she declares. "I'm not saying that it is correct."

On her last EP, fans relished in the queer subtext throughout the songs, especially with the track "What Can I Do", a track about the experience of holding your friend's hand while your boyfriend is in the bathroom. On Snow Angels, "Pretty Girls" takes it one step further — a song that juxtaposes a really powerful pop beat with a sad undertone.

"We made that song really fun to listen to. 'Pretty Girls' is just the classic gay experience, at least for me. This friend — who was not even really my friend, the bitch was just there — was super drunk and asking me if I was happy with my girlfriend or if we were having problems. At first, I thought, 'Wow, this is really flattering but then it's also really weird.' This song is me addressing how I don't love how that feels. 'Pretty Girls' feels more like where I am right now as opposed to being sad."
On "Tummy Hurts", Rapp mentions someone that hurt her and how, eventually in 2043, they'll have a kid and they'll get hurt the same way she was. It's an interesting perspective to take and can seem callous, but it's something she had to work through in order to let go.

"It didn't even feel cathartic to write, it just felt very throw away — like, you're pathetic," she laughs. "I wrote all of these songs not from a place of hurt but more from a place of feeling nonchalant. Of course I'm affected by this but I've so outgrown this version of myself. I'm so sad that now you've moved on, it's congratu-fucking-lations now the next bitch gets to deal with your lack of closure and empathy. I pray this woman does not have a terrible time. 'Tummy Hurts' is not even about one person — it's about a couple of different people that I was seeing that all just have the same qualities of just being shitty people… So I guess it's just my poor judgement."

"I write about everybody. If you don't want to be a part of my music career, just don't be a part of my life."
(R.R.)
For such an open and honest songwriter that doesn't really leave anything up for speculation, it's hard to imagine just how many people potentially come up to her and ask whether a song was written about them.

"I cannot tell you how many times I've heard from friends or mutual friends that my exes are saying a song is about them," she snickers. "You are not significant enough in my life for me to write a song about you. With all due respect, I'm not thinking about you. I don't miss you. I hope you're doing well. I heard you're not, but that's not my problem. It just is what it is. Odds are it's not about you, but if it feels like it is, then please run with it. Most of the time, it's just men who assume it's about them and it's not. Or if it is, I hope it keeps you up at night," she grins. "I write about everybody. If you don't want to be a part of my music career, just don't be a part of my life."

This openness is what made her debut EP go viral with fans, but she only ever really writes for herself. "I don't think I really do," she admits when asked how she carves out a space for fans to find themselves in her music.

"The thing is that I say exactly how I feel. Therefore it's so accurate and authentic to me that whether you've been through the same exact experience as I have, like when it comes to 'Snow Angel' or 'Pretty Girls', it doesn't matter. It feels as authentic to you even if the words don't feel the same way because the feelings are all there. My mom is straight and she loves "Pretty Girls". I don't think she's ever been in that experience before but she really understands it. Eventually I will talk about it, but nobody knows what 'Snow Angel' is about and everyone relates to it in their own way. I just write as authentic as I can to myself and what that experience was and then let it go."

"I Wish" is a beautiful yet poignant track about saying a goodbye that lasts for good. On it, Rapp sings "I've been mourning since I was 10 years old," and discusses longing for a time where she could view the world through her parent's eyes. It's a track that started in the studio as a song about looking at your younger self but turned into something else entirely. "When I was a kid, I remember realising that my parents were not immortal and I was so freaked out. There were a couple years of my life where I just wasn't really sleeping because it just scared the living shit out of me. From there on out, I couldn't believe that was going to happen. I just remember how intense of a feeling that was when I was a kid, it just kind of shaped how I looked at my parents from there on out."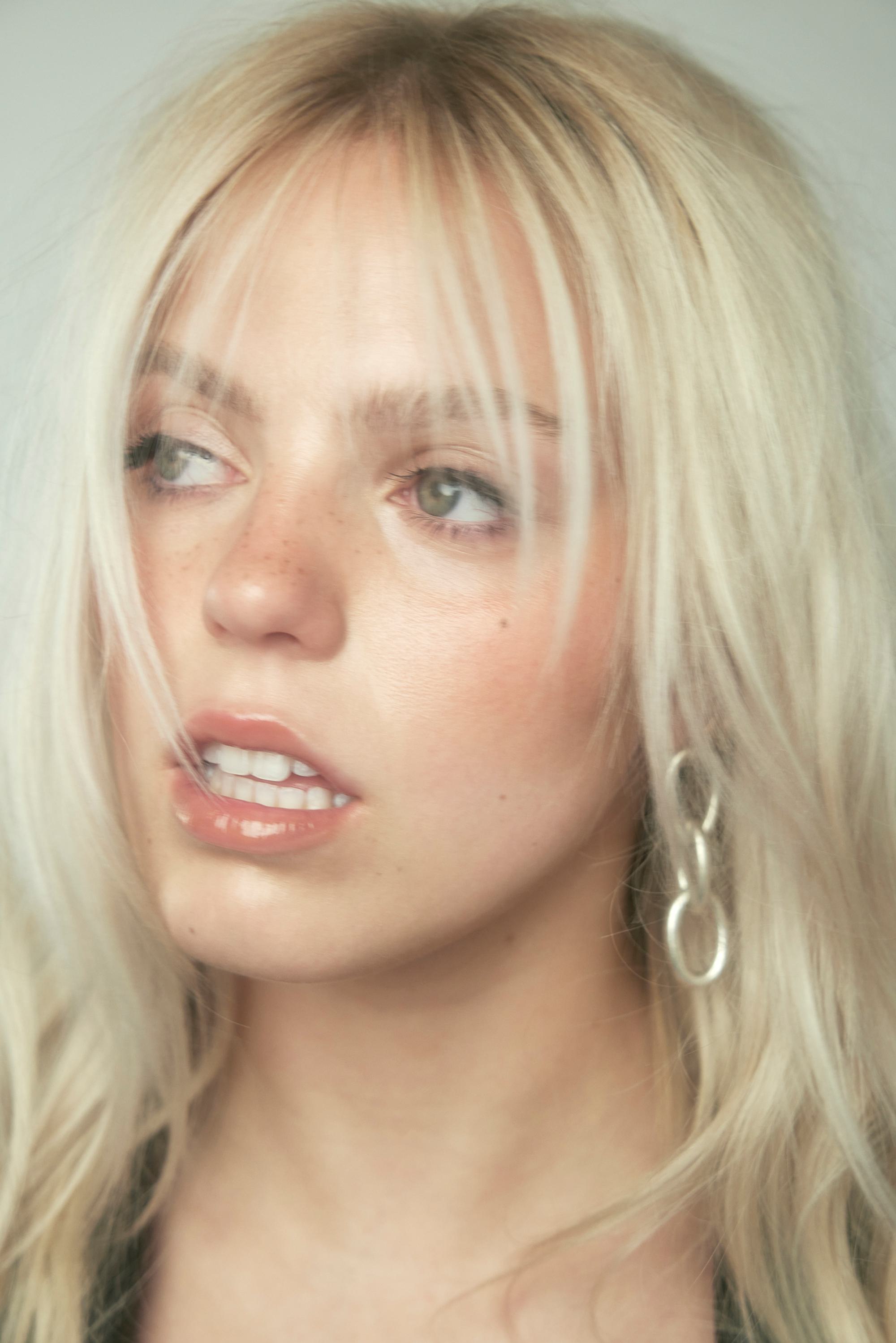 At 23, she's already lived a lot of life. The aptly titled closing track to Snow Angel is named after her current age, a song that was written around the time of her birthday in January. It's Rapp at her most honest — hoping and wishing that she cares less as the year goes by. How is that working out for her? "Good in a lot of ways," she admits. "I have reached a point in my life where I care so much, but I do not give a fuck.That is where I'm at. I don't even really know what that means, but it feels so accurate every time I say it. I care much less about the things that I did when I was 22. I'm also just growing up — I'm better at communicating now even though I actually still let people walk all over me. I'm much more passive now. I can care but it doesn't keep me up at night anymore."

As the album approaches, the only other thing on Rapp's mind is touring. Her show in London earlier this year was upgraded not once, not twice, but three times due to overwhelming demand. It's something that she describes as "exciting" despite not believing that people actually want to see her perform live.
"We're going through tour rehearsals and stuff right now. Even though people were there last year, I still feel like it didn't really happen. I was just kind of there. I'm trying to work on mentally enjoying myself more so that I can be more present on tour this year because, for the last couple shows, everybody was like, 'Oh, my God, we had so much fun, it was just so amazing.' And I was like, no, actually, not for me! Glad it was for you but I actually didn't experience that," she laughs. "So I would like to have that happen this time."
As she looks back at her whirlwind year, Rapp is taking stock of what matters. For her, she just hopes Snow Angel isn't just a blip or something that people digest once and move on from. "Yes, absolutely," she confesses when asked if the speed in which the industry churns out music and the fickleness of listeners keeps her up at night.. "It is a benefit for some people — it benefitted me when I first started putting out music. Now I just have to make sure that I continue to do that thing that has helped me so far."
Despite saying earlier that music is first and foremost for her, Rapp does hope that the one thing Snow Angel does is move people. "I hope that it has an impact on people, whatever that means to them," she says. "I just hope that it doesn't become one of those things that gets thrown into the void, exists for two seconds and then goes away. It means much more to me than that. I understand that the music business is very quick now and things don't have as much longevity, and sometimes they do. And that's amazing. I just really, really want it to be one of those things."