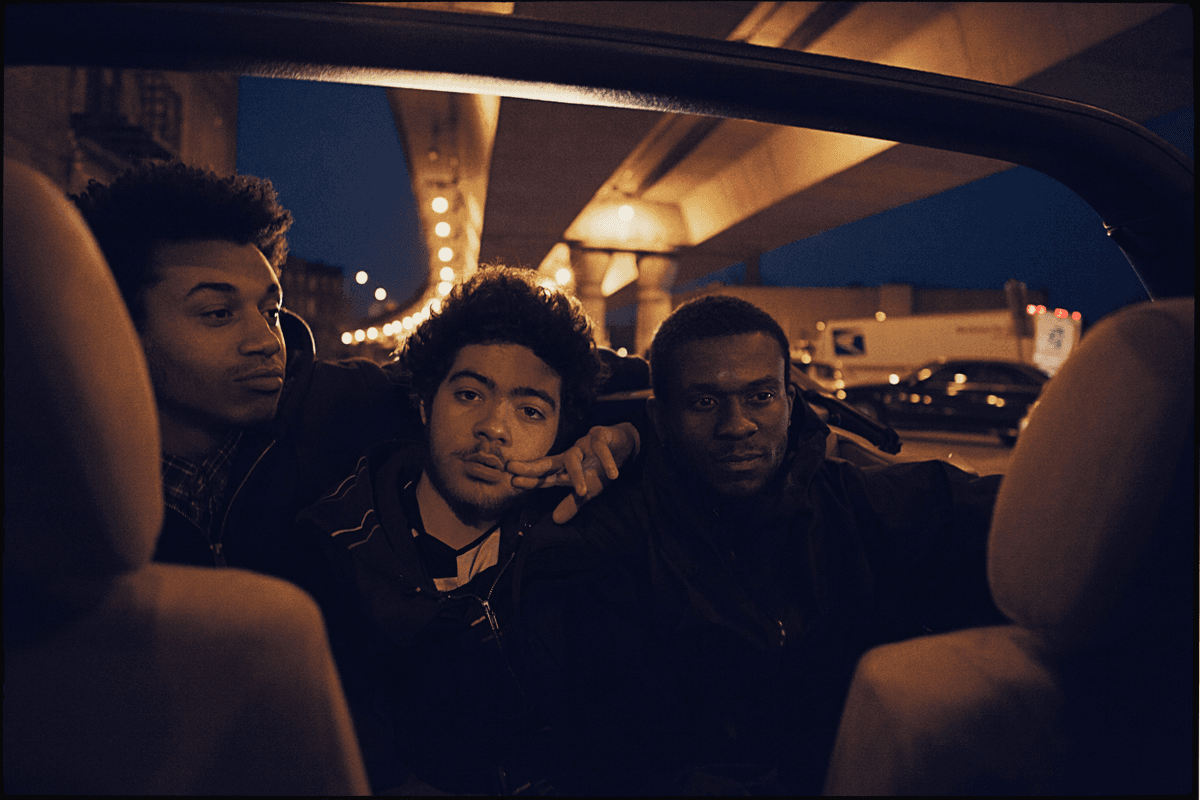 Ratking: "These are the sounds of our jungle"
20 June 2014, 14:00
"This ain't 90s revival, it's earlier, it's tribal revival," raps Wiki on 'Protein', a track he later tells me can be best described as a "futuristic jungle". It's a fitting statement from the Upper West Side MC that resonates throughout much of Ratking's debut album, So It Goes, but one that only begins to highlight the audio-cinematic transportation to Ratking's New York.
When I arrive at XL's West London base, Wiki, Hak and Sporting Life (aka Sport) are chilling out upstairs, smoking and listening to music from a laptop. Hak, probably the quietest member of the group - spending the majority of the interview either in deep thought or busy going through his phone - asks where he can grab a pair of my Reebok Classics. I recommend Sports Direct, a store where everything is constantly reduced by at least 50%, before divulging some of London's less dependable offerings. You know - like the weather (it just so happens to be "a proper London day with the rain," notes Wiki) or catching the stare of a crazy person on the Northern Line.
This may seem like the chatter of an awkward first date, but it's the sounds of a city - their city, even - that engulfs the entirety of So It Goes. Thematically, the blend of Wiki and Hak's lyricism depicts Korine-esque tales of New York, yet it's through Sporting Life's production that you can literally hear the sounds of their jungle - be it the audible compression of subway doors or a live recording from an NYPD stop and search. "I'm influenced by a lot of groups that use found sounds and field recordings, so this is our version of the same kind of things, the sounds of our jungle," describes Sport, the eldest member of the group at 32, who continually drives the conversation like a wiser older brother. "It was experimental because it was run through a bunch of things that are non traditional to how hip-hop production really goes," he continues, before noting the mastering input of Young Guru (who has mixed records for the likes of Jay Z, Beyoncé and Kanye West).
So how do Wiki and Hak provide the narrative to Sport's soundtrack? "I think it was just written at a time where that was what we would have naturally been writing about," says Wiki, jumping into conversation sporadically during Sport's verbose descriptions of the record. "You know what I mean, it was like so it goes… being a kid and shit. Being a teenager," the album title now engrained within their lexicon. It's this expression, however, that not only doubles as a Kurt Vonnegut reference, but provides a fitting commentary on hip-hop as a whole. "The idea of the book is that time goes on. It's basically looking at it like no matter what, so it goes, it just goes on," explains Wiki. "So, I feel like it was kind of connected to how you could say, 'hip-hop is gone, it's dead, music is not what it used to be.' But it's like so it goes."
So if the cycle continues, where exactly would Ratking pinpoint their influences? "I feel like Ratking is on some 80's hip-hop shit too because if you think about it, it's like carrying your PA with you, plugging up to whatever you can… I try to decipher the whole shit," says Sport, before asking: "You know the whole 20 year rule?" Preparing himself to go deep into the subject (something that he does continually throughout our 30-minute conversation), he explains: "Everything that was done 20 years ago comes back in time. There is probably a way to find out exactly what kind of song to make if you can pinpoint the era." Taking a second to process where this might leave us in 2014, I tentatively ask whether the Internet fucked that up? "For people who had bought into how things turn, the Internet was just like [makes explosion sound], so now people have so much knowledge about shit that [previously] took so much time. The cycles are going to be much more subtle coming around. It's not going to be like, 'oh here's is the punk era, you see all those fifteen kids rocking punk jackets'," he analogises, while myself, Wiki, and Hak listen in like we're about to find out THE answer. "You're not going be able to see it coming anymore. All these things are just going to come out of nowhere."
But with all these musical developments growing within the web, how did Ratking make their mark? "That's why it's so important, at least to me, to start playing our shows live really early. Understanding how playing music live influences the song writing process and the arrangement of the song. So now you have the best of both worlds," concludes Sport, finally exhaling and leaning back into the sofa. And it's clear that generating this DIY ethos has had the desired effect. "In New York, before our album came out, there were songs that we played live so much that people knew the lyrics even though they weren't out, just from going to the live shows", highlights Wiki, seemingly amazed by their recent success.
In a sense, the trio's balance and ultimately, their success, can almost be analogised by the way the individual members linked up to form Ratking. While Wiki and Hak had known each other since second grade, Sport's contribution progressed naturally. "There were certain things that he would play and we connected. We were both really into hip-hop but then we both had an open mind to other things," reveals Wiki, before Sport offers a suitably profound take on the group: "Plus it balanced out the elements to it, it was like the experimental tech side, the raw side and then the thoughtful side of it. The elements balanced each other out really well."
And I think that's it, the sound of Ratking's jungle is the disparity of these three elements, with it all coming together to put a sonic narrative on what's going on in their city. Who knows, maybe in another 20 years we'll see 15 tribal kids walking down the street in North Face jackets, waxing lyrical about a futuristic city, with it all and soundtracked by the next generation of Sport-inspired production. But for right now, we've got the sounds of Ratking. So it goes, I guess…
So It Goes it out now on Hot Charity.
Get the Best Fit take on the week in music direct to your inbox every Friday