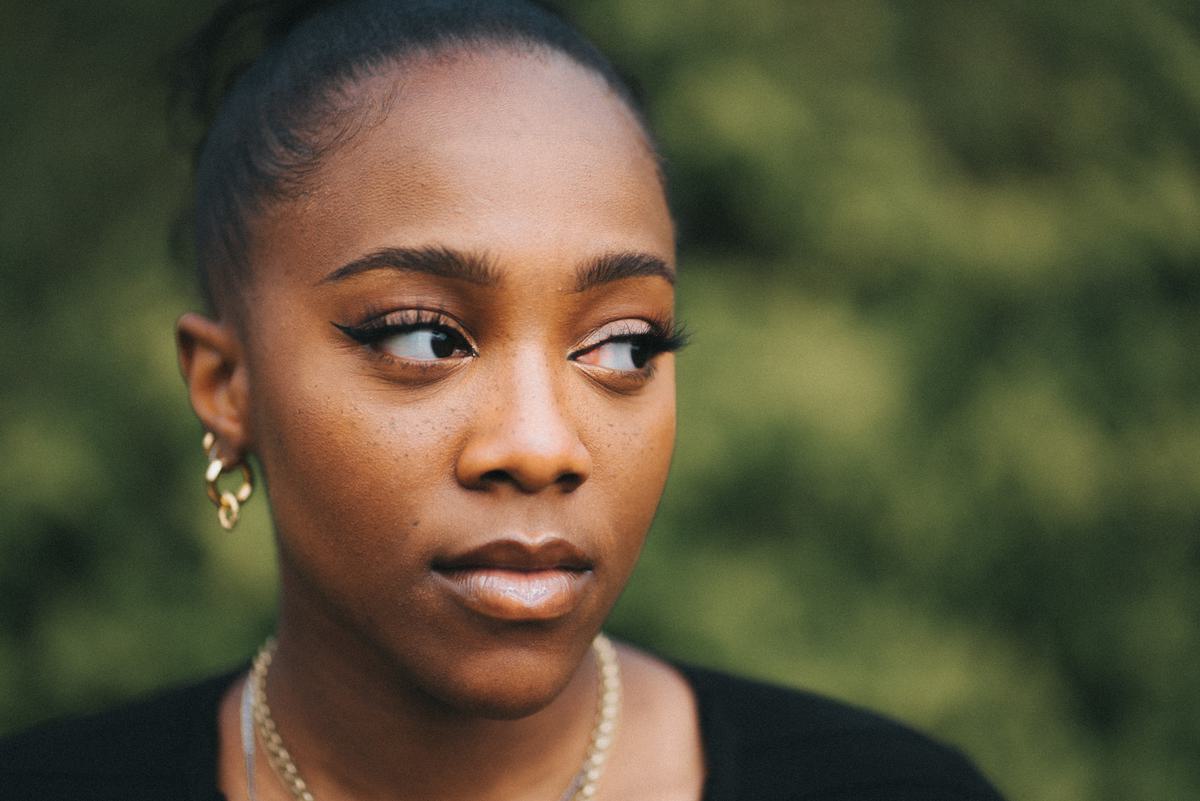 On the Rise

Rachel Chinouriri
25 May 2021, 10:45
"Somebody who understands me – girl, that is so spot on!" shouts Rachel Chinouriri through the other side of a Zoom call. We're discussing a Twitter post that she made back in 2020 that said she had decided to make a career out of writing songs about heartbreak despite only having had her heart broken once. It's a partly tongue-in-cheek statement that epitomises Chinouriri's dry humour, but it is also rooted in truth. I mention that it seems, as a fellow Scorpio and creative, it is easier to find inspiration when you're in a dark space and in need of catharsis.
"I literally cannot write when I'm happy," she continues. "There was a phase where I went to therapy and then I ended up being so happy, and knowing how to deal with the negative things in life, that I went through the biggest writer's block I've ever had! I was like, 'maybe I need to stop going to therapy?' I could not think of a single thing to write about – at all. Clearly, I'm just going to have to be depressed for me to be able to withstand being creative!"
Coming from a Zimbabwean family, who held music at the heart of everything they did together, it was only natural that Chinouriri would be involved in the music industry at some point in her life. It was an effortless choice for her – as easy as breathing – some might suggest, but in actual fact, her shy disposition almost got the better of her. When she left school at the age of sixteen, she was torn between either suppressing her natural instincts to be a musician by becoming a criminal psychologist, or to simply apply for BRIT School in order to overcome her fears and learn how to be a performer. Unable to make the choice, she left the decision up to fate, applied for both colleges, and in 2015 found herself studying musical theatre at BRIT School in the same year that black midi, Olivia Dean and Blossom Caldarone were walking the hallways.
Around the same time that she was throwing herself in the deep end at BRIT School, performing and building up the confidence to sing in front of other people, she was working on an EP at her home in Croydon with the help of her mother's laptop and a £20 microphone. Perhaps in a twist of irony for all of the years spent convinced that she would never be able to share her music with anybody other than those closest to her, Chinouriri released Bedroom Tales – an aptly titled 5-track acoustic EP on April Fool's Day in 2016. "I've got the shackles that cut up my skin / the pressure that's boiling within / all I know is that I want to sing / but I've got the weight of the world", she sings on its opening track with a vulnerable voice that contains quivers of youthful nervousness as it expresses true honesty at the journey she had taken to get to this point.
Indicative of the kind of growth you would expect from a musician over a six-year period; the person that sits before me is unrecognisable to the naivety of her 16-year-old self. As we discuss her transition from meek bedroom-pop musician to a certified artist who is signed to a record label; has partnered with Boots and The Hygiene Bank for their 2020 Christmas advert; raised over £6k for the NHS in partnership with artists Jazz Grant and Ben Smallwood; reached over 100k followers on TikTok just four months after setting herself the challenge; and has also had a song featured in I May Destroy You – one of the most significant and critically acclaimed TV series of the twelve months – Chinouriri is as engaging, self-deprecating and humorous as you've come to expect from her social media presence. As we discuss her influences, she erupts into songs citing both Daniel Bedingfield's "If You're Not the One" and Destiny's Child's "Jumpin Jumpin" as her earliest musical touchstones, as well referencing the rich harmonies of South African acapella group Ladysmith Black Mambazo who were constantly playing throughout her childhood home. Chinouriri is all charm and confidence, and this progression is her proudest achievement to date.
"My first day in BRIT School, I burst into tears singing 'Somewhere Over the Rainbow' in front of a class of 20 people," she tells me. "Even just the idea of putting a song on the internet I was like, 'that's not going to happen!' I look back at my younger self and I could've just said 'no, I'm too shy' and given up… I have to give myself props because I'm here pouring out my heart and soul and being vulnerable for the whole world to see." Being able to take a step back to truly appreciate how far she has come hasn't been the easiest ride for Chinouriri, and her manager often has to remind her to take a deep breath.
Back in 2019, Chinouriri was on the biggest video shoot of her career to date for "Animals" –her collaboration with producer Preditah. On the day of the shoot, she was rushed to hospital with meningitis and had to relearn to walk after spending 5 days in hospital. Not being able to do the shoot racked her with guilt and she thought that she had ruined her career, but in the most reaffirming of outcomes, almost a year to the day of that shoot, she spent two days filming the video for "Give Me A Reason" which was serendipitously of the same calibre as "Animals" would've been.
I was curious about how the cyclic experience had affected her – especially after having a year of reflection and reassessment of her career, thus far. "It made me remember that I am a 22-year-old who is able to pay rent and bills through a pandemic, just from doing what I love. I need to remember that this was fun before I was getting money from it. This was something I loved to do," she says with a humble smile. "I think you forget that as it transitions and becomes your job. My managers always tell me that it's their job to stress out, not mine. I want to be so on top of everything, but when am I ever going to enjoy the work I'm making [if I'm stressed out]? I could be in a way worse situation and I'm so grateful for what this is."
As a naturally empathetic Scorpio, Chinouriri often finds herself unable to switch off from engaging with injustices and the stresses of a world that is unwilling to change its archaic mindset which is geared toward the support of a patriarchal society. Nowadays most people have access to the internet and are essentially given a platform to use their voices, but not everybody knows when to stay silent. The past year has seen a rise in activism both online, and in the streets – with a specific focus on people of colour and queer communities – and Chinouriri has been incredibly prolific with using her platform to elevate voices of marginalised people, and to highlight those who are using theirs will ill-intentions. "I was a bit scared because being political and being black [can put you at risk of backlash]. Only now do I feel proud to do it because, before, I didn't want to be seen as the angry black girl," she reveals.
I wondered how Chinouriri managed to protect her sanity when constantly inundated with the act of trying to make light out of overwhelming negativity. Her answer requires no thought: "I don't – that's why I'm a musician," she deadpans before bursting into a quick laugh. "That's why I've gone to therapy, because I don't. That's my biggest problem. I very much indulge myself in other people's traumas in an attempt to try and help them, hence why my music is dark and sad. But then when these problems are now world problems, I'm like 'we need to sort this out' and I just put my whole heart into it but things aren't changing how I want them to change, which stresses me out, so I've got to write about it and chat shit on Twitter all day," she says half-joking, half-not.
Taking social commentary and turning it inward is something that Chinouriri has done for many years, but her latest EP appears to have more of a focus on pointing the finger inward. Four° In Winter is all about the juxtapositions between wanting love and repelling love. This binary is a direct aural encompassing of the ways Chinouriri contemplates the multifaceted nature of human existence and the inevitable process of change. Created with the help of Daniel Hylton-Nuamah and Oli Bayston, the EP sonically sits in a disparate realm from the summery hues of 2019's Mama's Boy EP, and captures the essence of being wrapped up in the reverie of seeing the world through candlelight or trying to catch the last moments of stillness at sunset as dusk slowly creeps its way to the fore. Vulnerability oozes out of the sombreness, with Chinouriri's hushed vocals ruminating on the burdens of love. Much like Moses Sumney's græ, which was released in two parts over winter and spring; Chinouriri has released an EP that sits in direct contrast to the season in which it has been released.
"The title just kind of sets the tone of winter; the frost; the cold – and four is my lucky number so hopefully this does well," Chinouriri says with a laugh and two crossed fingers. "I think it shows what's within me and hopefully letting it out will heal other people the way that it healed me. 'Mama's Boy' was where I was trying to showcase that I can do happier sounding songs but Four° In Winter is definitely the closest to the sound that I want to achieve as a musician, going forward. It's my most vulnerable body of work. As much as it's about heartbreak, there are things in there about suicide and toxic traits that I've had to address about myself such as 'Plain Jane' – it's me being as honest as I can about who I am as person."
With soundscapes that resonate and then linger sparsely like a sharp exhale on a cold night, it's an EP with a title as onomatopoeic as they come. On songs such as "Plain Jane" and "Through The Eye", Chinouriri plays with delicate vocal acrobatics akin to the likes of FKA twigs and SZA as she explores jealousy and insecurities over lo-fi ambient electronic soundscapes that are reminiscent of the evocative textural vignettes created by RY X and altopalo. Elsewhere on "Give Me A Reason" and "I.D.R.N" she channels a more alluring and self-assured version of herself as the beguiling hypnotism of her words reveal the self-destructive residue that sticks with you off the back of unhealthy relationships.
Never one to be completely defined by a singular reference point, or boxed into any specific genre; Four° In Winter may be Chinouriri's most experimental release to date, but it is a sanguine exploration which documents a bedroom-pop artist who is beginning to find their individuality amidst a sea of voices.
Four° In Winter is out now via Parlophone