After releasing a stunning debut record way back in 2005, The Duke Spirit have returned refreshed and ready to release their new album. The Line Of Best Fit caught up with Toby Butler on the joys of touring, new album details and the state of the UK music scene.
Tell us a little about the new album. Whens it coming out and what can we expect from it?
We've finally started recording the new album now. We found ourselves in the position of promoting the release of the first album in America a year after it was released in the UK. This meant we couldn't even start writing this album until we got back in July of last year. Then we found our relationship with Polydor breakdown. So we left them and found ourselves writing an album without a label to put it out. So, the end of last year was a strange time for us. Happily, we've now signed to new label 'You Are Here' and are recording with the aim to get it out by the end of the summer.
How did you approach the writing and recording process this time round?
I think we've always viewed ourselves as having influences that not many people pick up on. So in writing this album we had definite sources we wanted to draw on. We all listen to a lot of soul music, and do, in part, consider ourselves a soul band. So that's an influence we've tried to infuse in the writing process. We basically want to draw the boundries of our music outwards, the quieter songs quieter and the bigger songs bigger.
How relevant to what's going on in the UK music scene in 07 do you think you are – and do you care?
Being relevant is of course important, but not to a scene. We want people to think of us as being a great contemporary band, but we don't need to fit into a scene to do that. The greatest bands always trod their own paths. I feel totally confused by the British music scene most of the time. I don't understand how these bands that keep emerging now, still sounding like the Libertines, (who were never that good anyway) can have any self respect. It just seems to be a game of 'I can act like a rock star' and nothing to do with music.
You spent pretty much all last year in the States. Apart from the whole stolen gear incident, how did you find it?
It's a pretty mental place to spend time touring. We were there for four months, going round it nearly three times. It's amazing scenery to take in, and as a guy in a band, playing places like Chicago, Nashville, Detroit, New York and LA, where so much great music came from it's teenage fantasy territory. We felt compelled to make small pilgrimages to places like the MC5′s house in Detroit and the studio in New York where Springsteen recorded Born To Run. The whole stolen gear thing was pretty shit, lots of vintage stuff taken, but whoever did it will see their reward.
Any memorable on the road stories of debauchery you'd like to share with us?
Well, breaking my elbow moonwalking down a corridor of the Venitian Hotel in Las Vegas, under the influence of Margheritas, was pretty traumatic, rather than debauched. I managed to play the Coachella festival the next day infront of a pretty big crowd, thanks to a large dose of Vicodin!
It must have been great to play the SXSW festival last year, any plans to return in 2007?
We are actually on tour in Europe at the same time as SXSW this year, so won't make it. We've played there for the last two years, so it's not too disappointing. Last year we played about five shows there in three days, and were right in the middle of a US tour, so felt like we were playing really well. The year before was a stranger experience, as we flew in just for the festival, got really drunk and played quite badly. But hey, you learn.
The covers EP was an unexpected treat, how did that come about?
We've always liked covering other peoples songs, many of our b-sides have been covers. The thought that we might pass all the way through 2006 and not release anything seemed annoying to us. We were desperate to get on with the next album but had to sort a new record deal out first. A friend asked us to play an Arthur Lee tribute night when he died, where we played about five of his songs, and this got us thinking about recording a few of them along with a few other songs by heroes that had also died around the same time. So, we took our studio down to a big period house in Somerset, drank lots of red wine, cooked for each other, and recorded these four songs.
Best gig you've ever been to and why.
I don't think i've got just one favourite gig, a few stick out in my mind. Seeing the Dirty Three at Shepperds Bush Empire about four years ago was an amazing show. The noise and emotion the three of them can make is incredible. I've seen them a few times, but that gig they seemed to be really on form…… or on something. Around the same time I also saw Queens of the Stone Age for the first time at Brixton Academy. The loudest, dirtiest, most melodic band i've ever seen, and that show took my head off.

What do you make of the new chart rules in the UK? Do you think chart success is as relevant nowadays and does it even bother you?
It seems to be more and more important to record companies, because it's the only gauge they have now of whether they have a successful act. I think it's obvious to most people that bands don't need to enter the top 10 with their first single to be a good lasting band. Downloads and the internet in general is taking the power away from record labels, which is on the whole a good thing.
Rumour has it that the London Astoria is closing down, with flats being built in its place. Its been a pretty important venue for you guys – how do you feel about yet another London venue closing down.
It is a concern, although that I read recently that the Astoria isn't closing down now. Too many good venues are either being demolished, or regenerated into awful beer sponsored t.v. studio style places. Live music is bigger than it's ever been in the UK, so that brings both positive and negative effects to the venues. Unfortunately, the negative being big corporate companies start to get involved when they see the change flying out of kids pockets.
2007 is seeing a fair few bands reforming and releasing new material. Dinosaur Jr, Crowded House, Rage Against The Machine, The Police – to name but a few. Who would you most like to see get back together?
I'd love to see the Cocteau Twins reform so I can see my friend Simon Raymonde back on the big stage with his bass strapped on pumping out those melodies.
What was the last record you bought?
The last record (as in l.p.) I bought was Supersnazz by The Flamin Groovies, the last current record was Robbers and Cowards by Cold War Kids.
Fantasy festival time. Who would you share the bill with – dead or alive?
Ok, in no particular order: Patti Smith, The Clash, Queens Of The Stone Age, Sam Cooke, Sly And The Family Stone, Nirvana, MC5, Archie Bronson Outfit, Bill Hicks, Martha Reeves and the Vandellas, George Carlin. Dirty Three, Nick Cave and the Bad Seeds, Gallon Drunk.
From a songwriting point of view who are your main influences?
To be honest, I find it hard to draw directly on influences while writing, as I always end up feeling like i've just copied it, and I see the similarities starring me in the face. So I guess writing is more of a subconscious thing. We write until we like the sound of something, or like direction the song is going. It's at that point when we tend to draw on our influences more, for sounds and vibes.
Can we expect a UK tour this year?
Yes, the album is our main priority at the moment, so once that is done then we'll tour. The end of the summer is probably when we do our own tour, as well as any festivals we do during the summer.
Toby Butler photo taken by Justin Evans
Band portrait taken by Ben Corrigan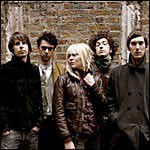 Download a live session the band recorded for US radio station KEXP.
1. The Duke Spirit – Cuts Across The Land (live)
2. The Duke Spirit – Hello To The Floor (live)
3. The Duke Spirit – Win Your Love (Live)
4. The Duke Spirit – Love Is An Unfamiliar Name (live)