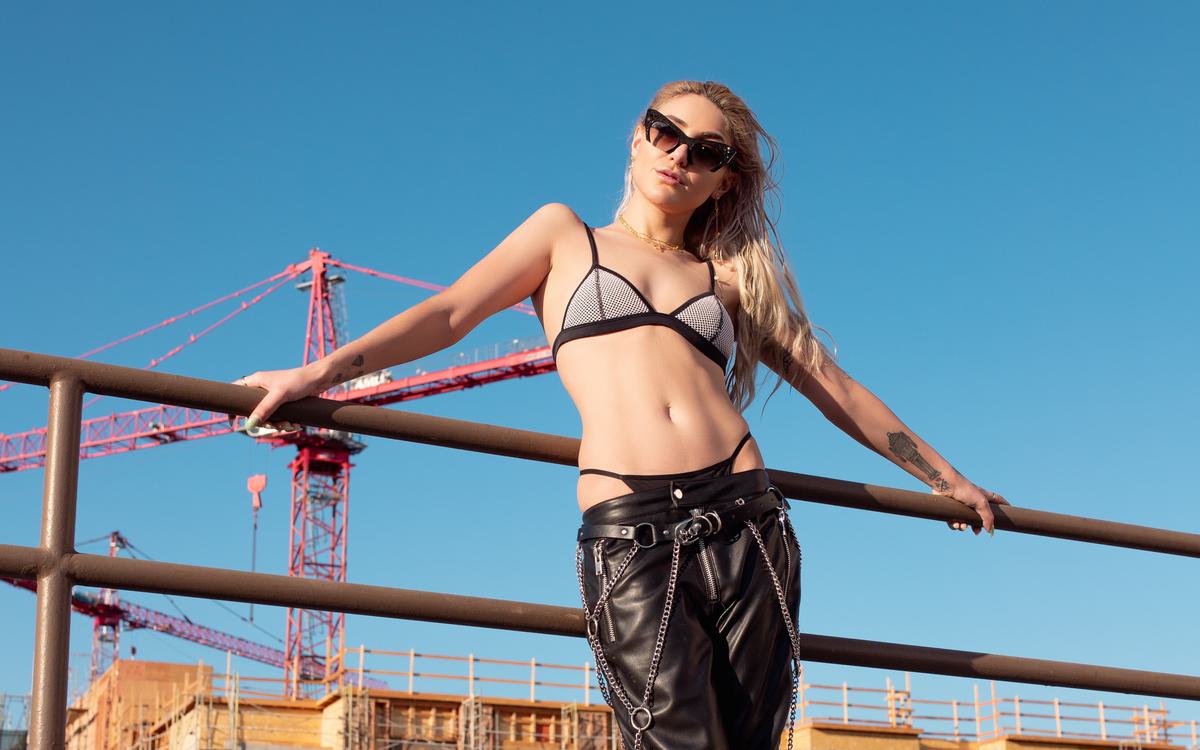 On the Rise: Push Push
15 October 2020, 14:43
Inimitable alt-rapper Push Push already has Pussy Riot and Tommy Lee collaborations under her belt. Now she's finally dropping the debut EP she's never felt able to.
"Excuse me Andrew, I look absolutely horrendous", Push Push apologises. "I bleached my eyebrows and then they started growing back in, so I shaved off half of them, and now I look like a fucking alien."
It's 1am in Los Angeles where the South African rapper and singer lives. But, "don't worry about me, I'm nocturnal" she reassures me. Push Push – aka Nicci St Bruce – makes outlandish, club-ready anthems with piercing lyrics and ear-worm hooks. She also usually heads to bed at 10 or 11am: ideally, she would turn in when the sun comes up, but she needs a couple of business hours to run her errands. "The problem with being nocturnal is that I miss out on some things like the post office or the bank," she explains. "Being able to call PayPal and shit them out for having my money on hold. You know, all of that shit."
Her idiosyncratic sleeping pattern began as a means of keeping in touch with her family back home, who are eight hours ahead of her US time-zone. However, now it's become second nature. "The night is my time," she tells me. "I like to miss the hustle and bustle of the day. The sun is good, I realise that we need it... but personally, I could live without it."
Push Push's debut EP No Gods comes five years after her first single under her current alias – she was previously part of Cape Town rap outfit Oh! Dark Arrow. "I've always put out singles because I said to myself that I would only make an EP when someone was gonna fucking pay me to do it", she explains. "When I could take the time out of my fucking dumb life, to coherently string five songs together that had a running theme."
"But I could just never do that." The EP reflects her eventual acceptance of her haphazard approach to creating. "I'm just an all over the place kind of girl. It took me a bunch of time to realise that it doesn't actually fucking matter, just do [the EP] with what you wanna do it with. So, none of the songs sound the same, and that's fine."
Push Push has Attention Deficit Disorder, which is partly why she was drawn into performing as a child in the first place. "I had to find stuff to do with people, that took up my time and made me tired because I was ADD. Basically so my parents could sleep at night."
She spent her teenage years at a boarding school an hour and a half from her Port Elizabeth home, in South Africa. "When people hear about boarding school, they're like 'Oh well your parents must have sent you', but I really wanted to go to this school". For her, it was a cultural oasis in an education system devoted to sport and academia. They allowed her to swap the standard compulsory PE lesson for dance and miss academic classes for music tuition. "I was like: 'Um, that's perfect!' I just did every instrument, because I was like 'Fuck this, I can literally spend a third of the week in music classes if I do this properly'."
But it was her peers' musical cravings that helped broaden Push Push's horizons beyond her violin lessons. In primary school, she began curating cassette playlists for friends that she recorded from the radio. "And then they began getting handed around school and kids started coming up to me and being like 'can we buy ones from you?'"
By the age of 11 she was burning online downloads onto CDs. "I would stay up all hours of the night," she explains. "I was one of three kids in my class with internet, and the next day I would have fucking orders to meet, bitch."
"That's how I found out about rap music, because first, someone asked me to get them the song "Gravel Pit" by Wu-Tang Clan. It was very big on MTV at the time." From there Push Push fell down internet rabbit-holes that introduced her to American rappers like Cannibal Ox, Rob Sonic and Aesop Rock: "All these fucking insane artists who weren't generally on MTV, so you couldn't find them unless you really looked for them."
"But I was a small, white child at the time. I mean I am still a small white child, but I had no business listening to the Wu-Tang Clan. However, I had a single mum who was busy, so that kind of slipped under everyone's radar."
She's glad it went unnoticed. "When I was 14, Kanye West's first album came out. By then, I was ready, I had been primed. I was like: 'This is the greatest thing I'd ever heard'."
"Front Door", the lead single of her own debut body of work, extracts lyrics from a poem she wrote aged 17. "The lyrics to that song are fucking old," she admits. They were pulled out of her notebook in a recent studio session with producer MNDR and songwriter Evan Bogart. "I was just so on the spot... I was like, 'Do these people think that I'm gonna like freestyle for them? Like I'm not gonna do that. I'm not an on the spot girl'."
That collaboration is her only dalliance with co-writing to date. "I do still prefer to write by myself, which I know is probably gonna be some sort of professional obstacle. Hollywood loves a room session, when there's like six or seven people there. They love it. I don't like it."
"Sometimes there's like nine writers on a song, and I'm like, 'Can everyone please relax?'. And the lyrics are not crazy. I'll look the lyrics up of the song and I'll be like 'How did it take nine people to write this?'. And sometimes, half of the people aren't even good people."
Moving from Cape Town to the global music industry's epicentre has been an adjustment ("this place is fucking crazy, let's be honest.") But Push Push met her husband – the producer Moon Bounce – stateside in 2018, and never went home. Despite the rigid industry conventions in the city, she wouldn't stay anywhere else. "I love Los Angeles," she says. "I would live and die here." She laughs and quickly touches wood. "Let me not say that because I don't actually wanna die."
"The city has its own pitfalls. The mayor is an idiot, the fucking chief of police is a moron obviously." However, the abundance of amenities is a boon. "In Cape Town, I couldn't just order a cake at 2am. Here, it's like four in the morning, and I'm like, 'I think I want eight fucking donuts and some wasabi nuts... I think I'm just gonna, like, get that'." And the legalisation of cannabis in California means she can order pre-rolled joints at her convenience. "It just hits differently, like opening an app on your phone and getting loyalty points," she laughs.
For the long-time pop culture aficionado, Tinseltown's streets are also a playground. "Being here, everything's a fucking movie" she says. And her own musical inspirations are now her neighbours. "I just remember creepily feeling like I'd always known him," she says about recent collaborator, Mötley Crüe founding member Tommy Lee. "Like I've seen his face a million fucking times before."
Push Push is now friends with Lee and his wife, Vine star Brittany Furlan, and recently secured a feature on his solo single "Tops". She says going around to their house is "like a beautiful escape. It's just a paradise where nothing is ever wrong, and you can go over there and swim in their beautiful pool overlooking the hills of Calabasas, and just imagine what it's like to be a rockstar."
She embodies a rockstar's outlook in her own lyrics – for instance, in fearless single "Sleepwalk", she shouts: 'When you get sad you get by / when I got sad, I got signed.' In her bolshie lines in "Tops", she snarls: "The textbook told me I was disgusting / fuck a textbook I'm revolting."
But Push Push's skittish verve and wry profanities are offset by visceral moments of introspection. "Sometimes I have weeks where I'm like… I am fucking indestructible," she tells me, regarding her fluctuating imposter syndrome. "And I don't know how to explain this without sounding like a neo-liberal piece of shit. However, when you're a woman and you do stuff in music, you're always wondering if it's because you're actually good, or if people just wanna fuck you, and that never goes away."
Performing live, she says, is like "spending three months making a meal to eat it in four minutes. Which you know, people might do. I love that for them. I love being on stage, but the worst fucking thing about it is that I only love being on stage while I'm up there. The minute I'm off, I'm critiquing everything I did, and all the moments up to being up there I want to die from anxiety."
She spent a period working as a stripper, which she describes sarcastically as "probably the most interesting job that anyone could ever do". Her nonchalance about it makes sense – she also worked in music blogging, fashion, modelling and attended law school before settling on music.
However, her community in Cape Town wasn't as unphased by her work in the sex industry. "It was like this huge fucking deal that I was working at a strip club. I couldn't walk around without people in the corner of every room I went into being like 'There's the stripper'. As if strippers are like a cretin, or are like these crazy animals." She jokes: "I think a lot of people were scared that I would fuck their dads... which they had every right to fear, because I did."
"Half the town was on my side, and half of them weren't," she says. But the experience has helped arm her with the mettle it takes to navigate the music industry. "Sometimes I have to remember that I'm a powerful fucking woman, and I've done some crazy fucking shit to survive."
As our hour ends, there's still so much to ask Push Push. "That's always my problem – I'm so sorry," she says. However, what is clear is that the 30 year old is finally just doing what the hell she wants. "I like making music that I would listen to. And the music that I listen to is what I like hearing. And – if I like hearing it – then there's got to be other people that like hearing it too."
Push Push's new EP, No Gods, is out 16 October.